Pit Chat: What not to ask Mick Schumacher…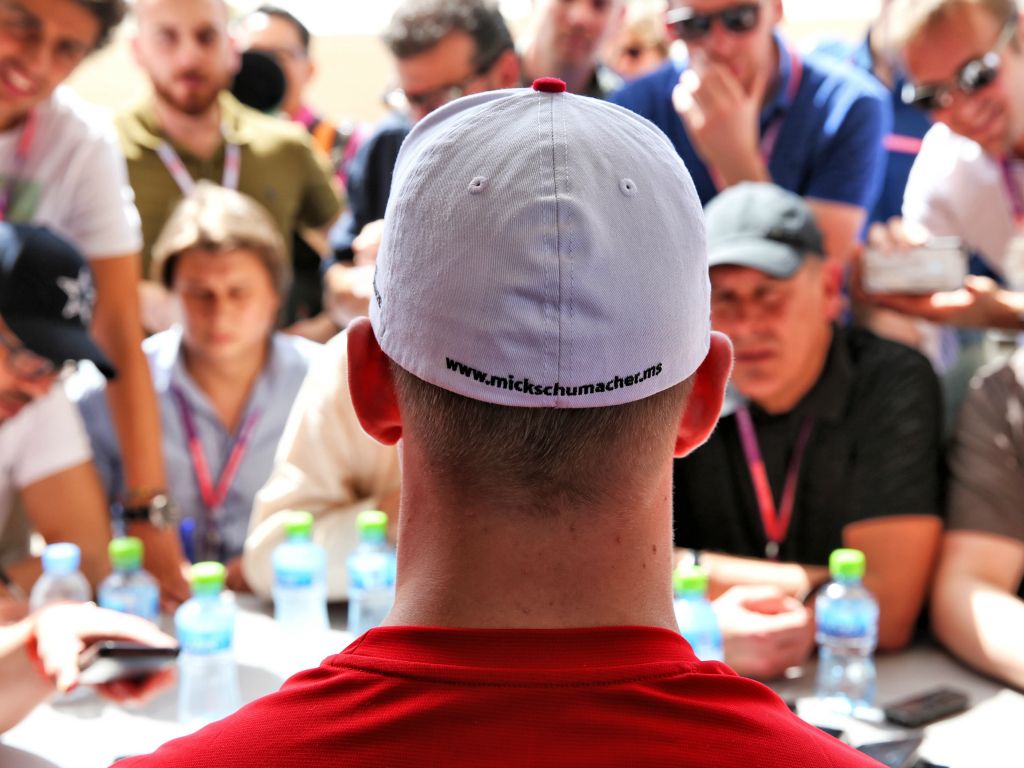 A reporter goes a big step too far with Mick Schumacher, but there was still plenty to enjoy from Bahrain. It was finger-lickin' good in fact…
But first…
It started with a tweet
The build-up to the Bahrain Grand Prix weekend started on a sassy note with two former drivers feeling the need to bite back on social media.
Fernando Alonso took issue with the official Formula 1 account…
😂😂😂😂😂😂! It had to be a reason not to follow this account until now. Today you remind me again!! President never said that. Specially after scoring 80% of the points for our team. We race hard, together, with all our heart and we fought until last race for championships ✊️

— Fernando Alonso (@alo_oficial) March 26, 2019
We won't tell Fernando that he never scored as high as an 80% share of the points during his time with Ferrari…
But Alonso's tweet would be overshadowed by the unlikely figure of Marcus Ericsson. How about this for a comeback?
https://t.co/aKIHgG09mF
That's me overtaking 2 time world champion Fernando Alonso for 10th in Japan 2015. When did you ever overtake in F1?

— Marcus Ericsson (@Ericsson_Marcus) March 27, 2019
Boom. Mic drop.
Whilst on the subject of Twitter, Ferrari are slowly but surely getting the hang of engaging with other teams on there…
We heard facial hair influences performance 👀…

— Scuderia Ferrari (@ScuderiaFerrari) March 29, 2019
But they are still some way off, even Red Bull Spy can do better tweets for the Scuderia…
SPY: Ferrari have got much quicker since they hired Bane as a motivational speaker. #RBspy 🕵️‍♂️ #BahrainGP 🇧🇭 pic.twitter.com/ULN2Ew0F8U

— Aston Martin Red Bull Racing (@redbullracing) March 29, 2019
The intro round
Strong content was also provided by those who still haven't got messing around with the Formula 1 intro out of their system.
Strictly Come Formula 1 anyone?
Strictly Come Formula One. Another weekend, another edit 😂😂 #F1Memes #WTF1 #F1 #Motorsport #Sport #BahrainGP #Edit #Strictly pic.twitter.com/qL3LaJopDa

— Sam Hall (@samhallsport) March 29, 2019
Or how about a Friends mash-up?
So no one told you life was gonna be this way #F1 pic.twitter.com/KWu1dYPmDr

— Dimitris Bizas 🏁 (@The_Bizman_) March 30, 2019
But the only one that absolutely should be making it onto TV is Sky's intro with Fleetwood Mac's 'The Chain' making a return. It's ridiculous how well it goes together.
Kimi corner
It doesn't quite go as well together as Pit Chat does with Kimi corner. Another weekend where the great man did not disappoint.
Can someone help Kimi, please 😂#BahrainGP 🇧🇭 #F1 pic.twitter.com/qa1qWyFIc1

— Formula 1 (@F1) March 30, 2019
And this is just absolutely textbook…
And talk about like father, like son. The uninterested look has been passed down superbly.
Bwoah pic.twitter.com/0RRiBYNlnq

— Kimi Räikkönen #bwoah (@Kimi7iceman) March 30, 2019
When Charles Leclerc clinched pole position in Bahrain, this tweet caused a stir…
Two weeks is a long time in #F1. Congrats to @ScuderiaFerrari on the turnaround, and to @Charles_Leclerc on a fabulous qualifying session. First pole. So composed. Kimi who? #BahrainGP

— Tom Clarkson (@TomClarksonF1) March 30, 2019
Kimi who?
Tom Clarkson who!?

Kimi's first race weekend with Ferrari:

First pole w/ Ferrari: Check
First race win w/ Ferrari: Check
First hat-trick w/ Ferrari: Check

Still the latest champion for Ferrari and latest GP winner for Ferrari

…so please delete your tweet, you look stupid https://t.co/XxvQyCEsj4

— b w o a h (@CokeFIN) March 30, 2019
That's Kimi who. As good as Leclerc is, it is certainly not coming at the expense of Kimi being rubbish. Raikkonen's overall record in Formula 1 speaks for itself.
Good guy Lewis
While Leclerc does deserve most of the plaudits, some credit must go to Lewis Hamilton for the way he reacted to what was an incredibly fortunate win.
And this too was a lovely touch…
A lack of class
But not everybody behaved with class, dignity and respect in Bahrain…
Mick Schumacher was absolutely hounded by the press ahead of the F2 season opener and whilst most acted professionally, someone massively crossed the line…
Point presse écrite avec Mick Schumacher dans le paddock F2..jamais vu autant de monde..un journaliste a osé poser une question sur les relations des familles Schum/Verstappen à l'époque,..en demandant qui était le meilleur skieur..!…quel manque de tact..!..#rtbfsport pic.twitter.com/oP8kpDo0TK

— VIGNERON GAETAN (@VIGNERONGAETAN) March 28, 2019
That translates to: "Press point written with Mick Schumacher in the Paddock F2, never seen so many people. A reporter dared to ask a question about the relations of the Schumacher/Verstappen families at the time, and asked who was the best skier! What a lack of tact..!"
That is absolutely reprehensible behaviour.
Any other business
Let's lighten the mood again, shall we? It's good to see there is still a sense of humour at Williams despite their current plight.
It's not always easy recording race preview videos… pic.twitter.com/IcnaxCQNUD

— ROKiT WILLIAMS RACING (@WilliamsRacing) March 28, 2019
While Carlos Sainz looks a bit jealous that Lando Norris has stolen his best mate…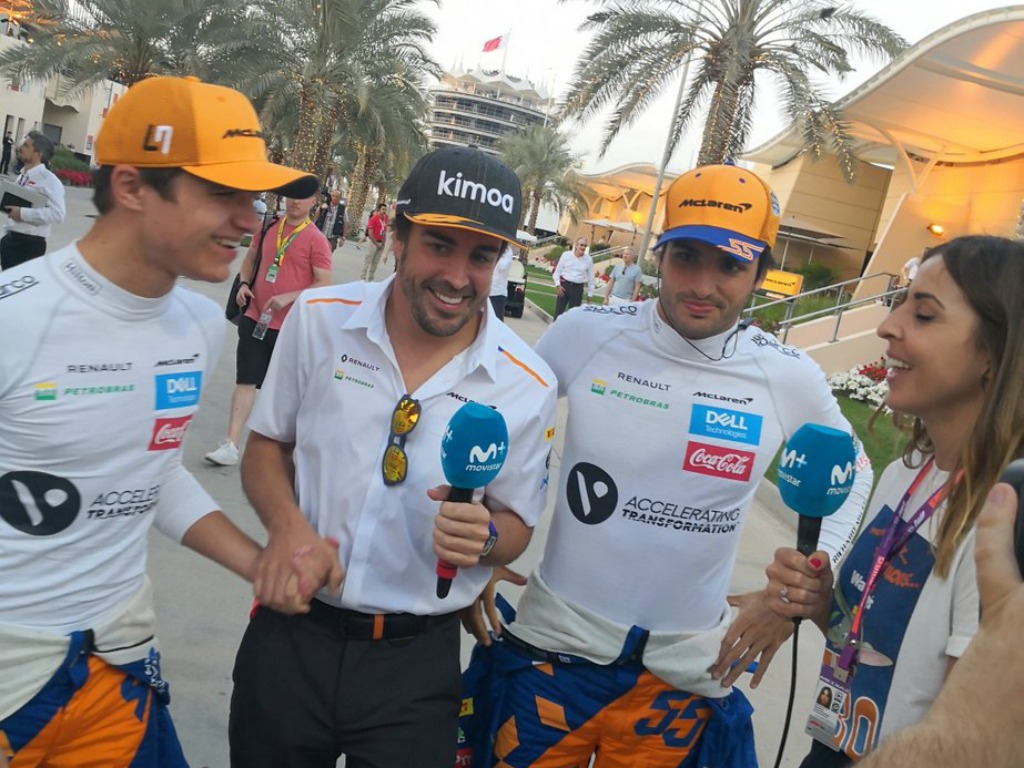 But not all drivers are getting on, are they Daniil and Antonio?
Cringe moment of the weekend came courtesy of Martin Brundle, who got Guy Ritchie mixed up with some guy who looks like Ritchie.
Whoops. Not Guy Ritchie. #F1 #BahrainGP pic.twitter.com/yTOmeKOGlp

— Matt Archuleta (@indy44) March 31, 2019
But he took it in good spirit at least…
Anybody seen Guy Ritchie anywhere?

— Martin Brundle (@MBrundleF1) March 31, 2019
Also on very good comedic form was Nico Hulkenberg, who still has the clash with Kevin Magnussen at the 2017 Hungarian Grand Prix very much in mind…
And the Hulk also tells Netflix where to go when they get a little bit too close with the microphone.
When the Netflix microphones get a little too close…#F1 pic.twitter.com/TOgEYTKNJf

— Planet F1 (@Planet_F1) April 1, 2019
And finally, F2's Sean Gelael has emerged as the driver with the best helmet. It's not even up for debate.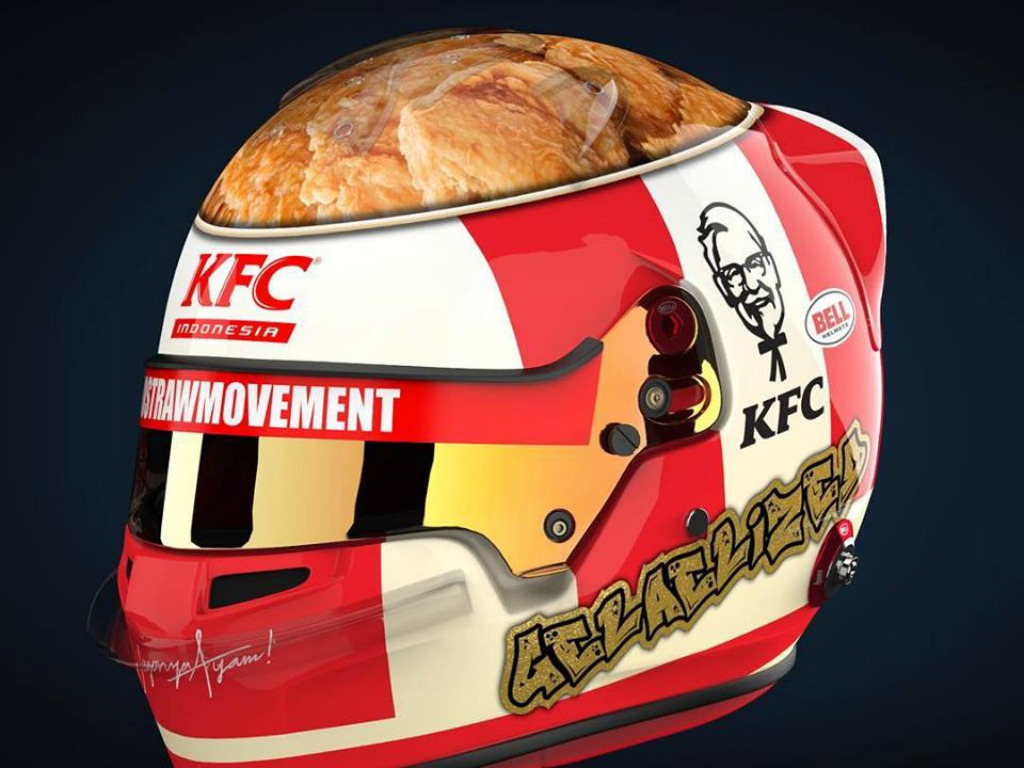 The perks of the job when your father is the sole franchise holder of KFC Indonesia….
Last word
More of a last look at Sebastian Vettel's costly spin in Bahrain. We shouldn't laugh…but come on!
Too soon? #F1 #BahrainGP #Vettel pic.twitter.com/JIKHXufJ4B

— Mattzel89 (@Mattzel89) March 31, 2019
Until China…
Follow us on Twitter @Planet_F1 and like our Facebook page.