PF1's Verdict: Hamilton and Verstappen's Monza crash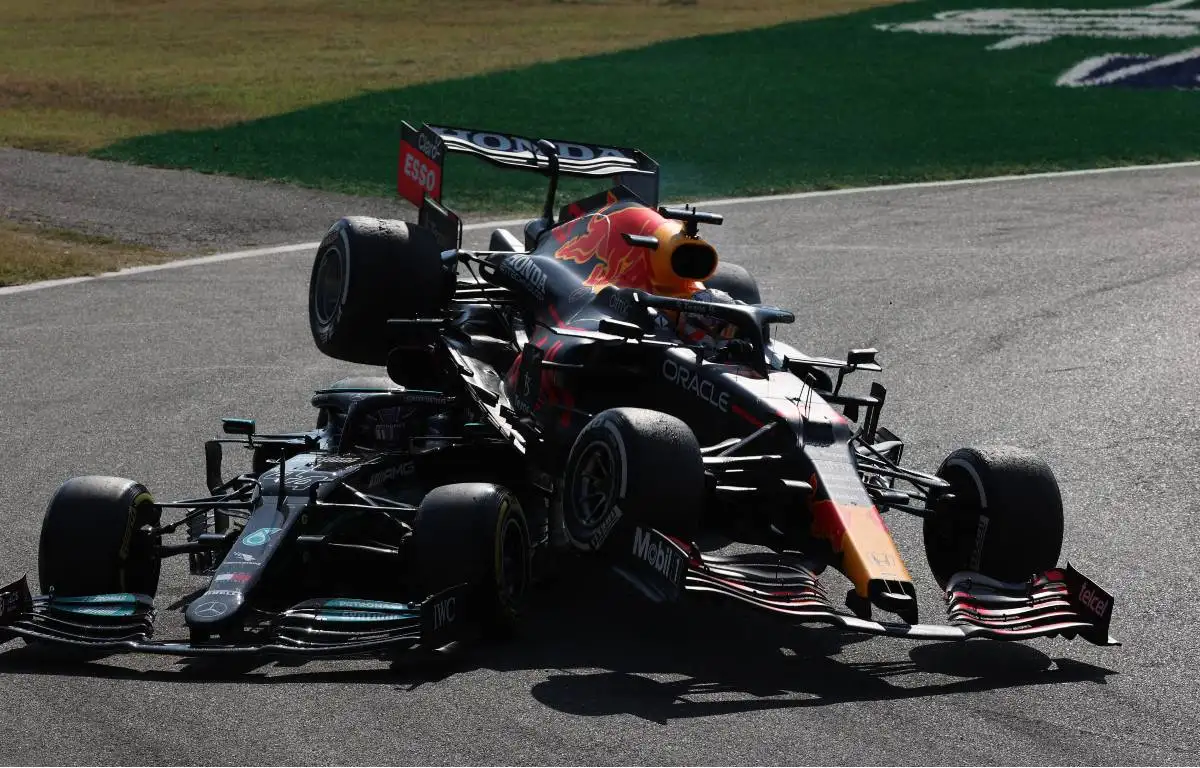 Max Verstappen and Lewis Hamilton were at it again at the Italian Grand Prix, both drivers out of the race in a crash that had the stewards pointed the finger at Verstappen.
If he was at fault, was it deliberate? And if he wasn't, should Hamilton shoulder some of the responsibility?
PlanetF1 gives its verdict of the Monza crash.
Michelle Foster
It is fair to say the friendship between Max Verstappen and Lewis Hamilton is over, after all they've both almost killed one another once this season. Here's hoping now that the scores are level, it will stop.
Hamilton was in the wrong at Silverstone, and Verstappen was at fault at Monza. But was his latest crash with Hamilton deliberate? I can only pray not but the Dutchman's own words leave me questioning that.
"That's what you get when you don't leave the space," he said as his RB16B came to a rest on top of Hamilton's Mercedes. I know Verstappen's words were said in the heat of the moment but I fear his actions were just as heated.
Having sat behind Valtteri Bottas throughout the 18-lap sprint race and admitting he just didn't have the pace to close those final two seconds, Verstappen – already frustrated by his inability to pass the McLaren of Daniel Ricciardo for the lead, and that being compounded by an 11-second pit stop that put him in the position of having to fight Hamilton – knew that if Hamilton was ahead after the Rettifilo chicane, that was the race win over.
He had two choices, concede the win or stay the path knowing that it was going to end in tears. The only question was who'd be crying? Verstappen? Hamilton? Or both? So happens he did a good enough job that both title protagonists were out of the race, Max keeping his lead in the standings.
I hope when Verstappen watches the replays of that crash, he'll see how close his actions came to hurting another person, only the Halo saving Hamilton from what could have been a serious head injury.
RESPECT, find out how it won't kill me – or you.
Another hugely dramatic moment in the Verstappen/Hamilton title battle 💥😮#ItalianGP 🇮🇹 #F1 pic.twitter.com/P4J4bN6wX2

— Formula 1 (@F1) September 12, 2021
Jon Wilde
Quite simply, it was a move Verstappen did not need to make, especially as the chances of pulling it off were so low.
It's hard to believe it was based on anything other than bravado, machismo and a sense that if it all went wrong, as it did, the Dutchman would still be leading the World Championship.
Damon Hill suggested it might have been "calculated". That's probably going a bit too far, but there was probably a bit more to it than a sudden rush of blood to Verstappen's head.
Would he have tried it on any other rival? Surely not. On several occasions this season, Max has clearly wanted to show Hamilton who's boss, that there is a new king of the roost.
That's all part of the masterplan Red Bull clearly have to usurp Mercedes as champions by unsettling them, rattling them, not letting them have things all their own way, as they have for so long.
The problem is, neither the aggression nor any trash talking is necessary. Red Bull as a team, and Verstappen as a driver, have shown they have enough in their title locker without all that.
Just focus on being faster, and pick your fights carefully. That's the best way to ensure the rewards will come.
Mark Scott
I can't quite believe I'm saying this but…the stewards got this one spot on. Hamilton gave Verstappen just enough room at Turn 1 to operate and at no point from there until the crash was Verstappen ahead of his title rival. He certainly had no right to dictate how Turn 2 should play out between them.
Max had a clear opportunity to back out, but we have had more than enough evidence over the years to know that, in these situations with a lot on the line, it's Max's way or no way…so no way won on this occasion. From Max's on-board, it just said to me 'well if I'm going out then you're coming with me'.
I don't think for one second that there was a malicious motive from Verstappen, it was just the actions of a driver who, in that moment, was very much well aware of the bigger picture.
To come away from a Mercedes stronghold with a World Championship lead intact and only a three-place grid penalty to overcome in Sochi, which is nothing given the car he has at his disposal, is mission accomplished as far as Verstappen and Red Bull are concerned.
The rather muted reaction from the Red Bull camp compared to the Silverstone incident speaks volumes. I think deep down they will know that the stewards' decision was the right one.
Jamie Woodhouse
As Michelle mentioned earlier, Verstappen and Hamilton are now one apiece in regards to the outcomes of the Silverstone and Monza crashes respectively.
Silverstone boosted Hamilton as he cut deep into Verstappen's healthy Championship advantage at the time, and by virtue of their Monza collision, Verstappen walked away from his battered Red Bull with P1 still intact, at a track which Red Bull's Christian Horner had called a "bogey" circuit.
Of course there has been great debate about this latest crash as countless ex-drivers rushed to offer their verdict, but the one that really matters was that of the stewards, and a three-place Sochi penalty for Verstappen was the right call.
The Dutchman knew contact was highly likely as he stuck it out for the inside line at Turn 2. He talked of a need for Hamilton to work with him on such overtake attempts, but with passing proving difficult even at Monza, Hamilton was never going to allow Verstappen to complete such a move, and deep down I'm sure he knew that.
This title battle is so finely poised that I fear any wheel-to-wheel situations which arise for the remainder of the season between the pair, will end in contact.
So let's just hope the outcomes are not severe from a health perspective, as it so nearly was for Hamilton at Monza. Once again, we owe a debt of gratitude to the Halo.