PlanetF1 awards: Red Bull v Sky, Sergio Perez's class act and more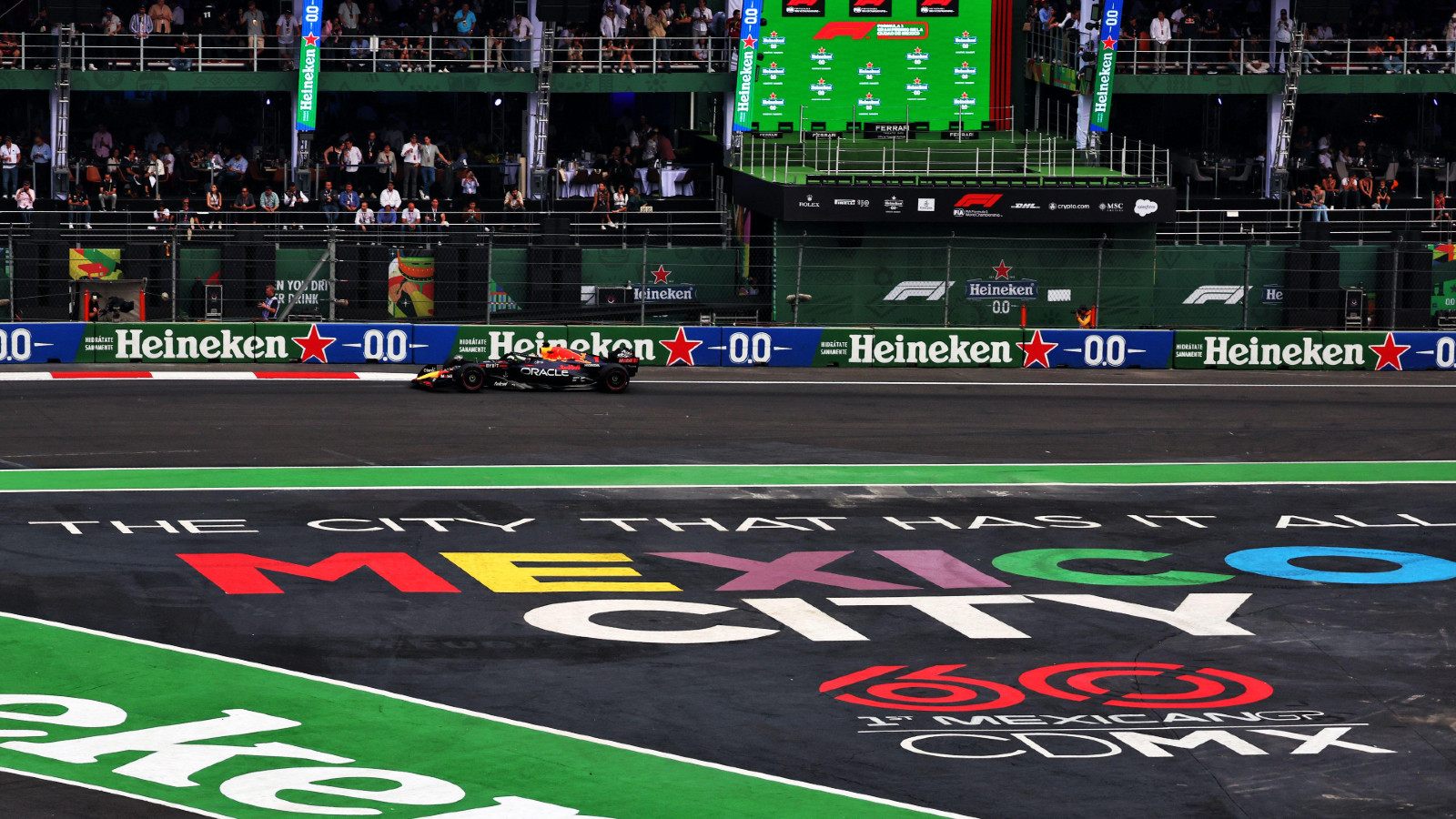 Looking back over the Mexico City GP, here are the official PlanetF1 awards to reflect on all the on and off-track action.
The Mexico City Grand Prix probably won't feature heavily on the highlights reel for 2022, but there were still plenty of notable moments to make it a memorable weekend.
Red Bull claimed yet another victory, but it was Mercedes who brought the fight to the champions as Ferrari struggled for pace throughout the weekend.
But the weekend was dominated by off-track dramas, such as Red Bull going incommunicado with Sky F1, as well as their addressing of the budget cap breach from 2021…
Best driver: Max Verstappen
While there was little drama to Verstappen's race in Mexico, it was a quietly dominant victory from the two-time World Champion. Having claimed pole position, the main danger to his race was at the very start – due to the 800-metre sprint to Turn 1 and having to fend off two slipstreaming Mercedes.
However, Verstappen nailed his start to move across to the inside line and force George Russell to try going around him into Turn 1. Russell couldn't replicate what Verstappen himself managed in 2021, and the Dutch driver negotiated the first apexes while Lewis Hamilton sprang upon the wrong-footed Russell.
From there, Verstappen soaked up the pressure from the relentless Hamilton in what could have been mistaken as one of their tension-filled face-offs from last year. The RB18 proved to have just a smidge more overall pace, with Verstappen moving into a bigger lead after the stops – the only question mark over his win being whether the medium tyre would prove to have the longevity, which it did.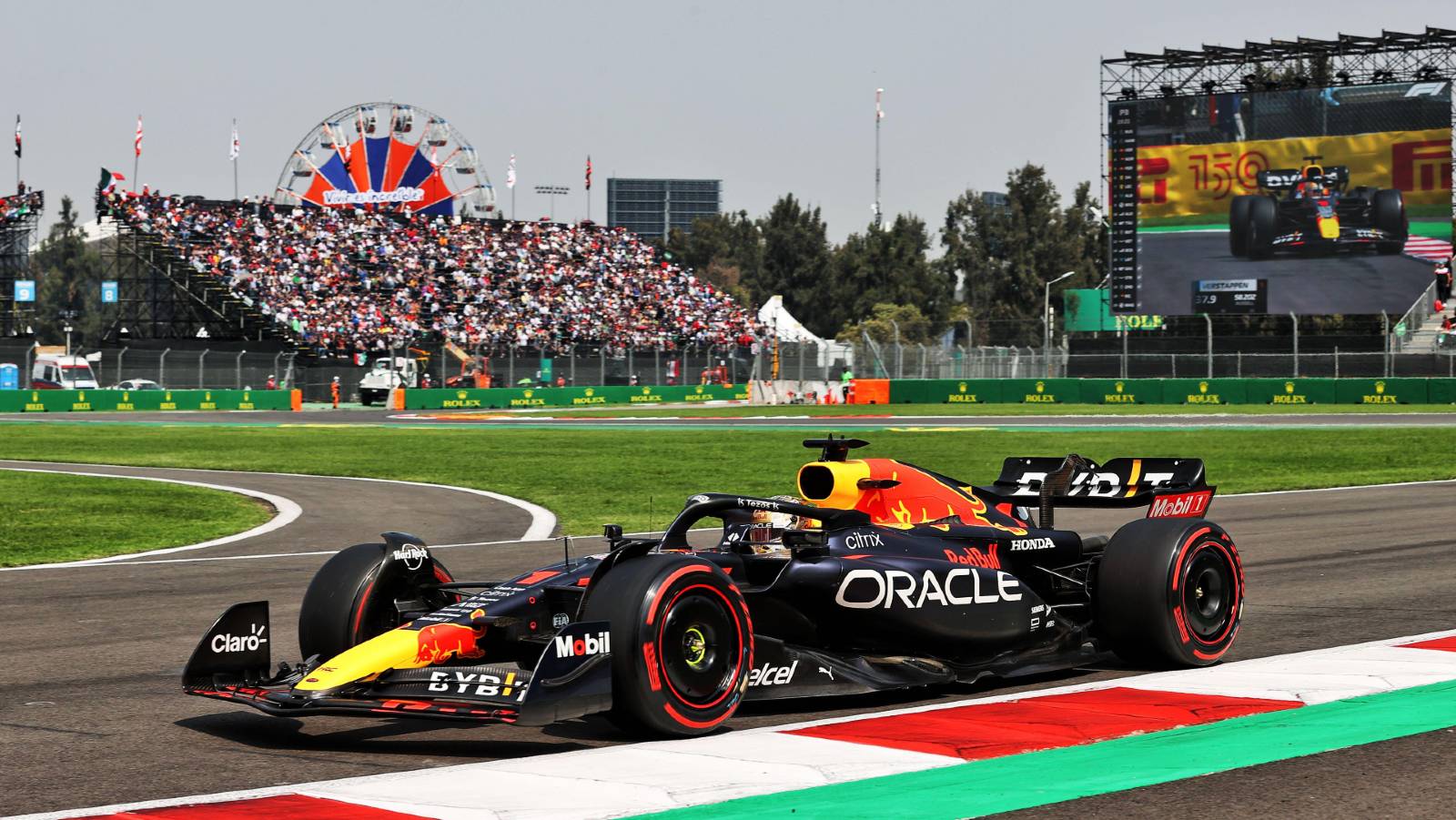 But it was Verstappen's metronomic consistency that was most impressive this weekend. Between Lap 2 and Lap 24, the lap before he pitted, Verstappen pumped in 1:23s without fail. Following his stop, Verstappen did 1:22 on every single lap until the chequered flag – just two laps outside the 1:22s due to the Virtual Safety Car.
Hamilton almost managed to match Verstappen's consistency throughout but was powerless to stop Verstappen from easing away to a 15-second lead by the chequered flag, not helped by using the hard compound tyre for the stint.
It wasn't a dramatic display of audacious bravery or skill from Verstappen, but a silent demonstration of just how in harmony he and the RB18 are now in.
Biggest spanner: Red Bull's pit crew
Red Bull really should have had a 1-2 finish, but that chance went up in smoke when Sergio Perez had a slow pit-stop on Lap 23.
Having got ahead of Russell on Lap 1, Perez had roughly kept pace with the leading duo – falling away to four seconds behind Hamilton at the time of his stop.
However, Perez ended up having a five-second pit stop that meant Mercedes had little reason to worry about the undercut attempt – an attempt that likely would have succeeded as Mercedes aimed for the one-stop to hards.
Perez explained his chance of beating Hamilton disappeared as a result of the stop.
"We boxed relatively early for the medium, which was going to be an undercut on Lewis, but unfortunately, we had a bad stop," he said.
"We just came out behind the Ferraris, a bit too far, and that meant that we were just… we lost too much time going through them. So yeah, that was, I think, what really prevented us getting Lewis because I could see he was struggling in the early laps with the hard tyre, and that was our opportunity."
While Red Bull were the envy of the pit lane at the start of this season, the pit crew have fumbled stops in Mexico and the United States – perhaps an indication of tiredness at this late stage in a season full of travel and top-notch performances. But while Red Bull have slipped, McLaren have improved even at this late stage – they popped in a 1.9 second pit-stop!
While Verstappen was able to correct for the Red Bull error at COTA, the lack of overtaking opportunities in Mexico meant Perez wasn't able to make up for their second error in two races – with the early excitement of the crowd dropping off as a result.
Honourable mention to the Renault power unit in the back of Fernando Alonso's Alpine…
Best overtake: Zhou Guanyu on Sebastian Vettel
In a race which wasn't filled with on-track overtaking, there weren't many contenders for this category.
Esteban Ocon made a good move to pass Valtteri Bottas around the outside of Turn 1 to take the inside line for Turn 2, but Zhou Guanyu pulled off a similar move on Sebastian Vettel.
While a big tyre delta made it a seeming inevitability, Vettel didn't make it easy for Zhou as he forced the Chinese driver to negotiate his way around the outside of the Aston Martin – Vettel conceding the place was lost before the apex of Turn 2.
Best comeback: Daniel Ricciardo
Having put himself into a strong position with a long first stint on the medium, Ricciardo's day looked like falling apart when he was given a 10-second time penalty for his collision with Yuki Tsunoda.
On any other race day in 2022, Ricciardo would have fallen apart and plummeted down the field. But, perhaps light-headed from the lower oxygen levels in Mexico City, Ricciardo set about rescuing his race by putting in some great lap times on the soft compound tyre – finishing on track in seventh place and, even after the penalty was applied, retaining that position.
"It was a rollercoaster of a race. Ultimately, I'm happy," he said afterwards.
"I wish it was more of a smooth race in terms of you never want to have contact, and you never want to receive a penalty. So that's a little bit of a cloud over what was otherwise a good day, but ultimately it still didn't change the outcome for us.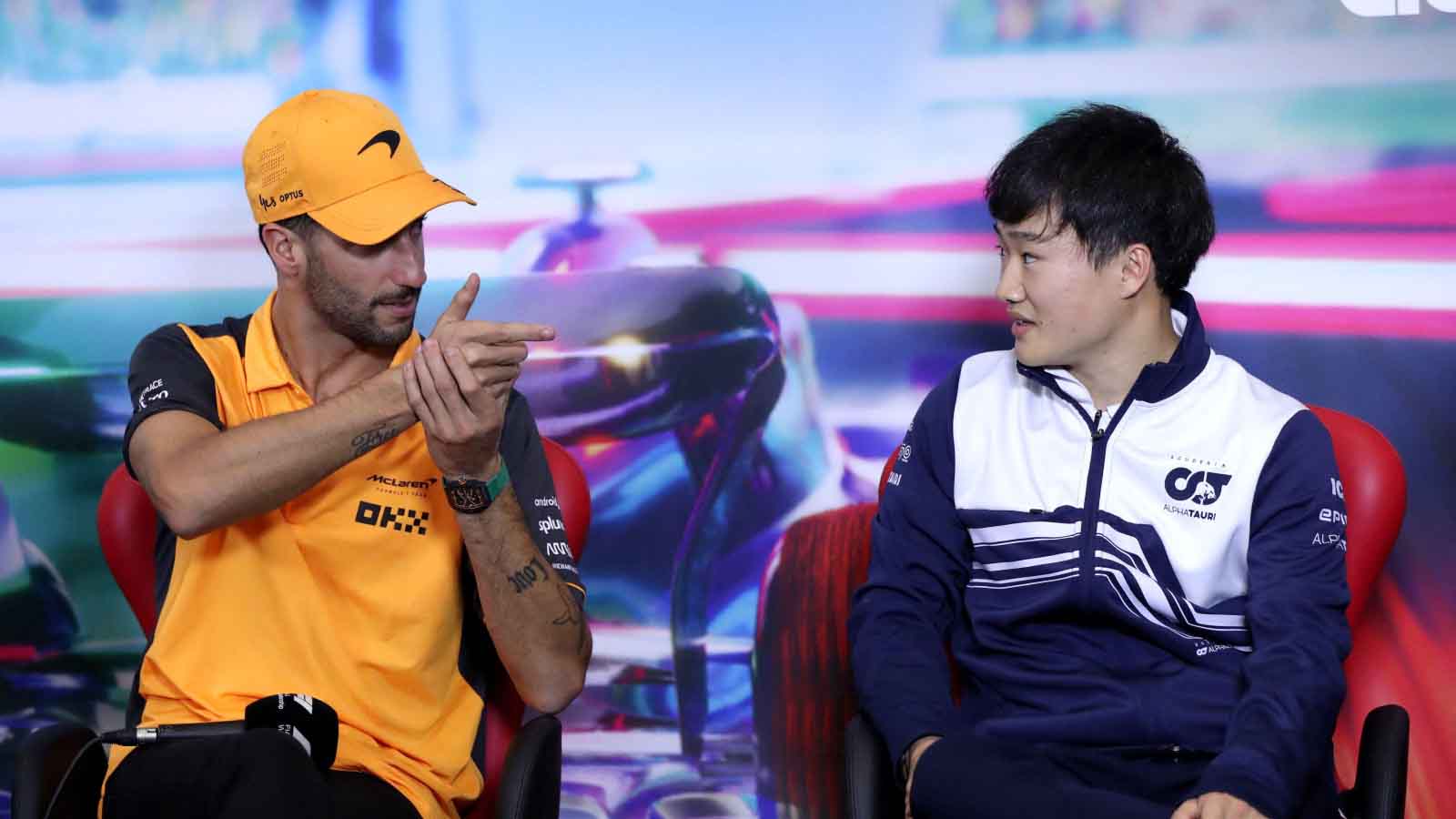 "I was pretty down when Tom [Stallard] came on the radio to tell me I had a 10-second penalty because it's the one race where we had pace and I had a chance, but I still felt that I had pace on the soft so I just got my head down and got on with it.
"Lando let me by, so that let me keep attacking, and when I saw the Alpines right in front of me, I was like 'alright, it's game on here'.
"I knew if I kept George [Russell] behind me and didn't lose the few seconds to the blue flag, I had a real chance. That was tense for a few laps – but then he pulled in for fastest lap and that gave me a bit of breathing space."

With the end of his current career just weeks away, it was nice to get a reminder that the old Ricciardo is still in there somewhere.
Unexpected rivalry: Sky v Red Bull
One of the big storylines of the weekend was that Red Bull withdrew media privileges for the Sky F1 team – meaning no one-on-one interviews with Verstappen, Perez, Christian Horner or any of the other Red Bull bigwigs.
This was in response to perceived disrespect from Sky following a segment on Ted Kravitz's Notebook after the United States Grand Prix, in which the broadcaster made comments about how Hamilton was 'robbed' in 2021 – something both Verstappen and Horner took umbrage with.
"I think an accusation of championships being robbed is something that we don't feel is an impartial commentary," Horner said. "That is, we don't feel, in any way fair or balanced.
"Max was very upset about it, and as a team, we support him fully. We were equally upset about it. As a team, we took the decision this weekend, I took the decision that we'll have a weekend off."
It's a rare feat for a TV station to annoy a team or driver to the extent that they'd choose not to speak to them, especially given Red Bull's primary reason for being in F1 is for marketing.
Sky Germany and Italy were also unable to speak with Red Bull, and it was clear from Kravitz's post-race notebook that he had taken the message seriously as he was effusive in praise for Verstappen.
Broadcasting and journalism to an international audience, as Sky UK are, requires impartiality and balance, regardless of the personal opinions held by the broadcaster themselves. Some members of Sky's presenting crew aren't particularly good at hiding their biases on occasion, and Red Bull have taken the opportunity to make it clear that they're not happy about it.
It's within their rights to do so, but the 'buddy-buddy' style of relationship broadcasters often enjoy with the drivers and teams means that it's sometimes forgotten the media are there specifically to prevent them from presenting a perfect PR-groomed image at all times. But it's also on the media to ensure that they present their information in an impartial and fair way – not doing so will obviously result in a lack of co-operation.
"This year it's been a constant… yeah, like daily being disrespectful, especially one particular person. And it's enough, I don't accept it," Verstappen explained.
"You can't live in the past. You just have to move on. Social media is a very toxic place, and if you are constantly being like that live on TV, you make it only worse instead of trying to make it better.
"You keep disrespecting me, and at one point, I'm not tolerating it anymore. That's why I decided to stop answering them."
Of course, not giving the comments any power might have been the better approach, as now it looks as though Kravitz has just struck a nerve…
Wholesome moment: Supportive fathers
Another year, another opportunity for Sergio Perez's dad to win the hearts of the world with his wholehearted love of everyone in F1 and the world his son has ended up in.
In what appears to be becoming a tradition, Perez senior posed for pictures with Anthony Hamilton, Lewis' father, as the pair seem to hit it off every time the race rolls in for the Mexico City GP.
"Welcome to Mexico friend, make it a great race for our children!!!" he tweeted, as Hamilton and Perez faced off on track for the second season in a row – the outcome resulting in Hamilton beating Perez to second place once again.
It's a wonderful sideplot to the Mexican weekend, no doubt helped by the fact Perez and Hamilton have never really had any contentious on track moments together.
Bienvenido a México amigo 🇲🇽🙌🏻
Que sea una gran carrera para nuestros hijos!!! pic.twitter.com/66PR06Od6T

— ANTONIO PÉREZ GARIBAY (@AntonioPerezMEX) October 30, 2022
Separately, Perez could also be seen attempting to ask the home crowd not to boo Hamilton in the stadium ahead of the podium celebrations, as the Mercedes man met with a frosty reception.
Checo wagged his finger at the Mexico crowd for booing Lewis during his interview.

Respect 👏 pic.twitter.com/CtxY6XO58N

— ESPN F1 (@ESPNF1) October 30, 2022
Nice touch, Sergio.
Best team radio: Carlos Sainz
The Mexico City Grand Prix weekend was one to forget for Ferrari. It feels like a lifetime ago now that we were classing them as genuine title contenders.
One thing we won't be forgetting in a hurry, though, is this absolutely glorious mix-up between Sainz and his engineer in Friday practice.
This is going to happen a lot next year isn't it 😂 #MexicoGP pic.twitter.com/PbH1XJ1uaV

— WTF1 (@wtf1official) October 28, 2022
We look forward to see Nyck De Bris in action next year.
Next stop: Brazil!
Read More: Max Verstappen speaks out against 'really damaging and hurtful' social media culture