Happy Birthday Michael Schumacher: The beating heart of Ferrari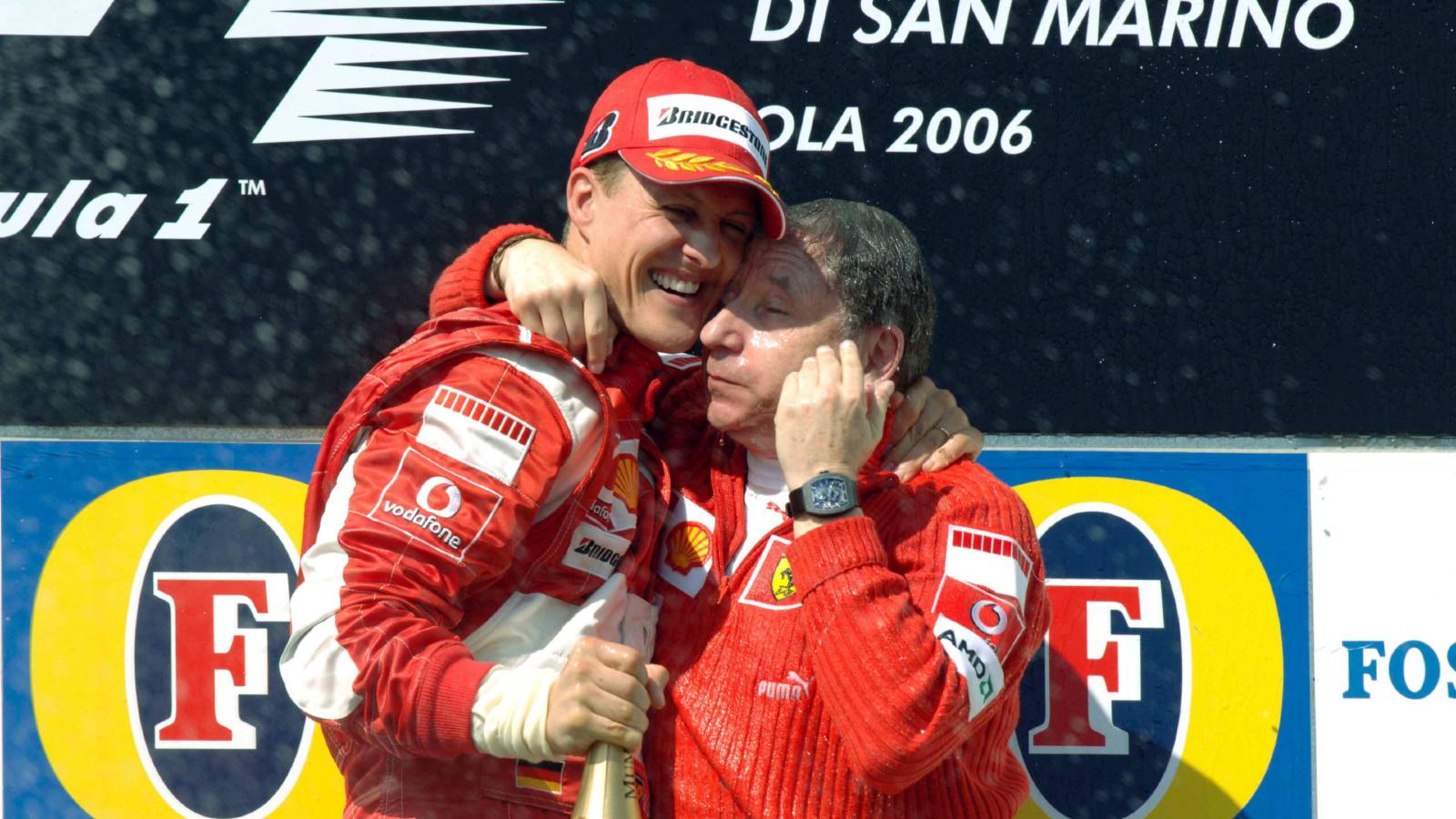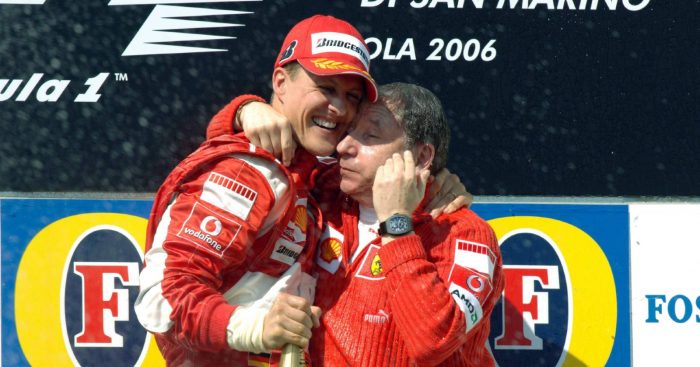 One of the great Michael Schumacher anecdotes was relayed by his professional soulmate, Jean Todt, in December 2017.
Speaking at his absent friend's induction into the FIA's Hall of Fame in Paris, Todt recalled a moment in the months after Schumacher became the first Ferrari driver in a generation to win the Formula 1 title in 2000.
Schumacher would later come to regard his Championship-clinching race at Suzuka as the greatest of his career but as he surveyed the view from the summit of the mountain, at the peak of his powers, he came to Todt with a question.
Would it be possible, he asked tentatively, for a private test to be arranged at Ferrari's Fiorano test track?
The reason? He needed reassurance. He needed to prove – to himself – that he was still fast enough, that he could still do it.
"He made his testing," Todt confirmed. "And he was not too bad."
Even he – the great Michael Schumacher with his seven World Championships, 91 grand prix victories, 68 pole positions and 77 fastest laps – was not immune to the moments of isolated introspection and self-doubt that stalk us all.
That he felt compelled to keep questioning himself even in the aftermath of his crowning glory reveals the secret to his enduring excellence – not that there was a secret, as such.
More than anyone, Schumacher showed that sport mirrors life, that there is no great trick to success beyond the basics of hard work, commitment and establishing and maintaining relationships.
If it sounds disarmingly simple, that's because it was. No driver in history has better understood the many components required for success in this sport and combined them all to such devastating effect.
Keeping up appearances was just one part of the battle for Schumacher, who throughout his career was conscious of projecting a public image of strength, confidence and control in a quite deliberate plot to undermine and intimidate the opposition at every possible juncture.
"It was very important to Michael that nobody in the team ever noticed when he was really struggling, gritting his teeth, maybe even having doubts or feeling desperate," his manager, Sabine Kehm, explains in the 2021 Netflix documentary on Schumacher's life.
"He was extremely good at hiding that because outwardly, when he went to the garage or anywhere he could be seen, he was energetic and dynamic."
This is the man, credited for revolutionising fitness in Formula 1, who would climb out of the car with barely a bead of sweat on his brow before celebrating vigorously on the podium, each stomp of the famous Schumacher leap seeming to reinforce his superiority.
He would take a glass-sided mobile gym to testing so at the end of a long day's running, as his peers massaged their aches and pains, they would chance across this freak of nature still pushing himself harder, faster, stronger.
There is a wonderful photograph of the scene in parc ferme following yet another Ferrari one-two finish in Melbourne in 2004. As Rubens Barrichello, second again, is still in the process of removing his helmet, Schumacher is already climbing the stairs to the podium. Always one step ahead…
In the days of unlimited testing, his work ethic was evident not only in the gym but on the track, Schumacher always making himself available whenever the call came from Ross Brawn and driving until dusk, until the main source of light was the glow from tired brake discs.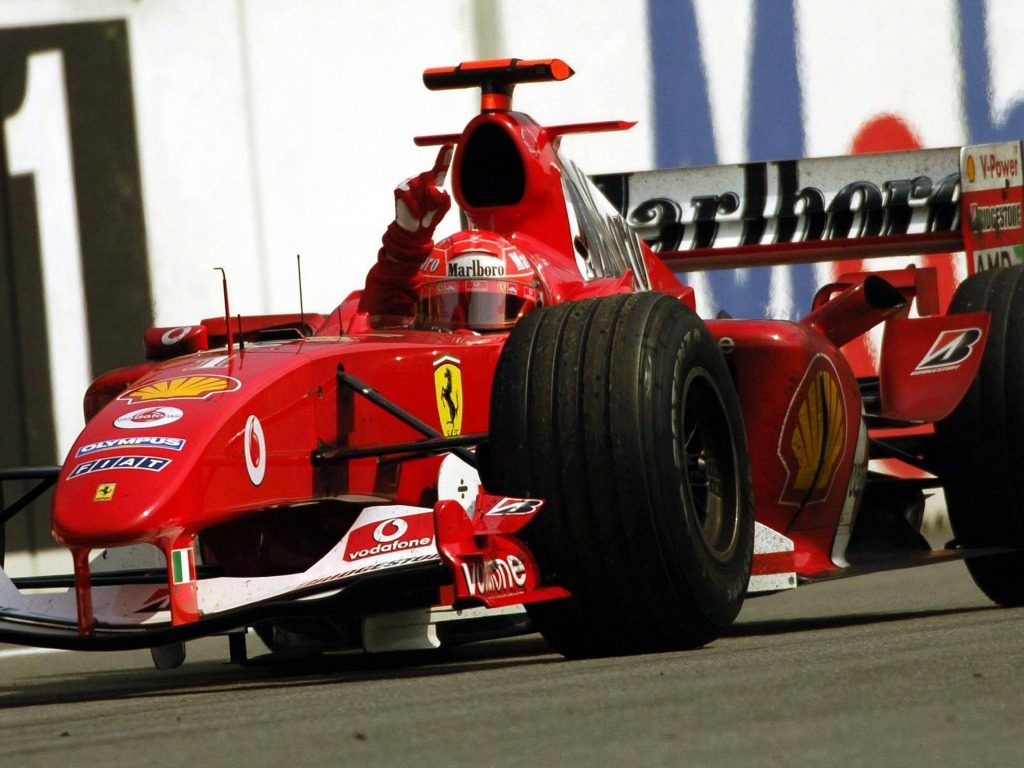 All that work was conducted with a human touch, Michael not only memorising the names of his mechanics but those of their wives and children. Simply being noticed by him – his eyes meeting theirs for a fleeting moment in the garage – would have been enough to build a connection.
That he took an interest in their personal lives to such a degree turned colleagues into disciples as they fell under his spell, strengthening their will to make him succeed. Little wonder both Brawn and Rory Byrne followed him from Benetton to Ferrari within a year of Michael making the move in 1996.
He would become not a mere cog in the machine at Maranello, but the beating heart – the point around which Ferrari's entire world revolved.
It was Schumacher who spotted the endless possibilities of marrying the might of Bridgestone to the splendour of the Scuderia, Ferrari repositioning the political pawns at the turn of the century to leave themselves running almost exclusively – but for a few smaller teams posing no threat at all – on Bridgestones.
With McLaren, Williams and Renault all squabbling over the Michelins, Michael and Ferrari, with tyres effectively tailor-made for them, had become the masters of their own destiny. That way greatness lies, the cars conceived and victories achieved between 2000 and '04 almost blurring into one.
Very few drivers in the history of motor racing would have the vision to recognise the vast potential of such a partnership; perhaps only he would inspire the devotion for the dream to be converted into crushingly dominant reality.
For a team whose heritage is lined with tales of tragedy and glorious failure, the winning culture and impossible standards set during Schumacher's tenure have become a chain around the necks of all who have followed.
Schumacher's career, of course, was not without its controversies and his collisions with Damon Hill and Jacques Villeneuve at Adelaide 1994 and Jerez '97 respectively, as well as his blocking of the track at the climax of qualifying in Monte Carlo in 2006, are still regarded by some as coffee stains on a competitor's integrity.
It is Mark Webber of all people, who sat to Schumacher's left in a tense post-qualifying press conference at Monaco '06, with the most compelling explanation for what Brawn politely describes as Michael's "aberrations."
"At times did he really have, always, the belief in himself that he was doing the right things?" Webber asks during the Netflix documentary. "Was there this paranoid perfection that he needed always to do more to prove more to himself?
"Because, ultimately, a lot of the time he was racing himself. He was battling himself that, 'have I done enough today? Do I want to do more? How am I going to destroy the opposition? What do I need to do to continue to be the main man?'"
In other words were these the moments Michael's private doubts came closer than ever to coming to the surface and his instinctive reaction, like some cornered animal, was to take a bite?
His return to F1 with Mercedes between 2010 and 2012 failed to meet expectations, Michael possibly underestimating how severely the title-winning team of 2009 had to be eviscerated just to survive the transition from Honda to Brawn GP the previous winter.
Time had finally caught up with Schumacher, in terms of both age and the length of his absence from the cockpit, but do not dismiss also the effect of the serious neck injury he sustained in a motorcycle accident in 2009.
Only the F1-grade strength of his neck allowed Schumacher to survive an injury his physician at the time said, according to the esteemed reporter Mark Hughes, results in death in 90 per cent of cases and causes lasting damage to neurons integral to inner ear balance.
If the destination was ultimately disappointing, the true joy of his comeback was instead to be found in the journey itself, Schumacher a softened, more human figure in public than at any time during his first career. Winning may have been beyond reach, but still there was no place else he would have rather been.
"In the past six years I have learned a lot about myself," Schumacher reflected on his personal development from his first retirement to his second at Suzuka in 2012. "For example, that you can open yourself without losing focus; that losing can be both more difficult and more instructive than winning."
And how differently might those Mercedes years be remembered had he been allowed to keep the pole position he set on the streets of Monaco earlier that season?
On that day in history, on one of the few circuits where the driver can still make a discernible difference, Schumacher at 43 was quicker than Sebastian in the Red Bull, Fernando in the Ferrari, Lewis in the McLaren and Kimi in the Lotus.
His skiing accident in December 2013 cruelly denied him the fulfilling retirement he deserved and if there is frustration in some quarters about the continued lack of information on Michael's condition, you would defy anyone to contest the closing words of his wife Corinna in the Netflix film: "Michael always protected us, and now we are protecting Michael."
"Life is about passions," read the message on Schumacher's helmet for his final race. "Thank you for sharing mine."
The pleasure was all ours.
Read next: Michael Schumacher's wife recalls how he asked her about Ferrari move and Jean Todt