PlanetF1's Hall of Fame: Niki Lauda – F1's fearless fighter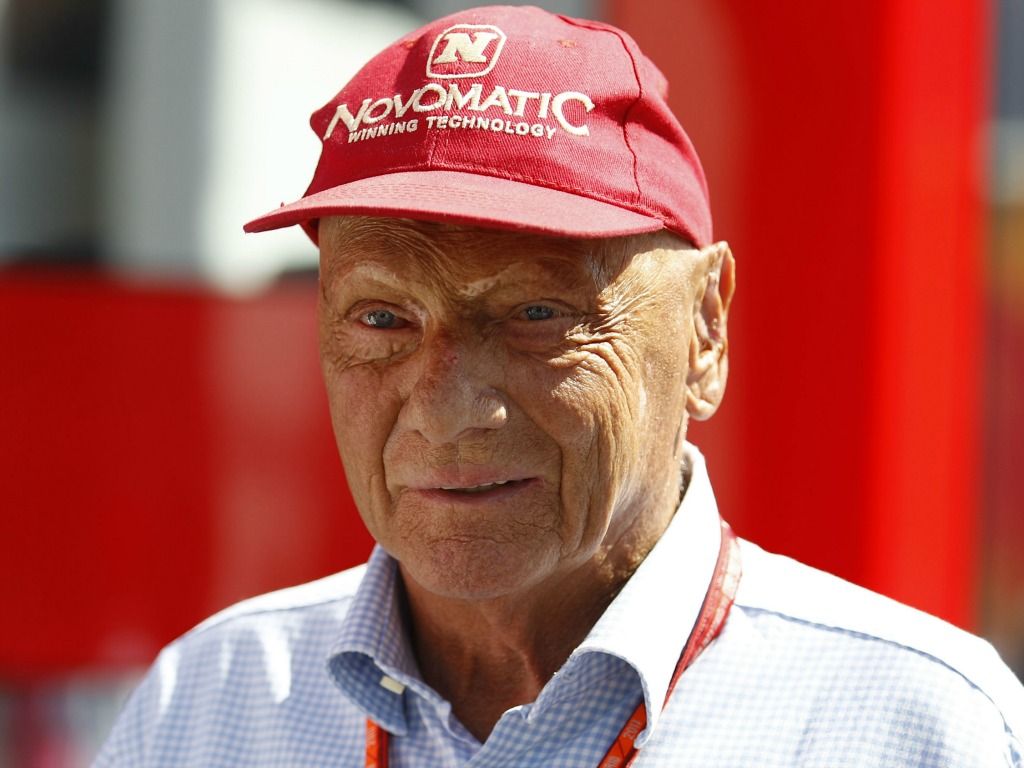 What would Niki Lauda say? Even now, more than three years after his death, that remains the first thought to come to mind whenever anything happens in Formula 1.
What would he have said on the day Lewis Hamilton became World Champion for the record-equalling seventh time? When he finally met his match in Max Verstappen? How would he have called the events of Copse and Abu Dhabi 2021?
What would he have made of the decline of Sebastian Vettel, still a shining light when Lauda last attended a grand prix, and how might he have evaluated the potential of Charles Leclerc, George Russell, Lando Norris?
The Grosjean fire? The Zhou shunt? Gasly at Monza? Ocon in Hungary?
We will never know, left only to imagine how Niki, with that twinkle in his eye, would confront the issues of the day barking his signature brand of anti-bullsh*t.
Few have ever lived an F1 life as full as Lauda – not only three times a Champion but a valued voice within three teams at various points and a respected television pundit, all while balancing a separate existence as an aviation entrepreneur.
Lauda would air his dissatisfaction with many aspects of modern F1 – his suggestion that even a monkey could drive an F1 car famously led to his theory being put to the test in a 2002 outing for Jaguar – but his love for it never diminished. If it truly had, surely he would have fled this world long before his faltering health forced him away.
That he could never tear himself away, that his passion for the sport remained unblemished, was all the more admirable given the scars it left him with.
He will forever be defined by his accident at the 1976 German Grand Prix, which not only took Lauda to death's door but prodded him to make himself at home.
The details of the incident itself – his Ferrari slammed into an earth bank and burst into flames early in the race at the Nurburgring, the fire becoming an inferno when Lauda, whose helmet came off in the initial impact, took a secondary hit from an oncoming car – remain shocking enough.
But it is Lauda's own account as he fought for survival in hospital, his brain fully functioning but his body fading, that is most harrowing of all.
He would focus all his remaining energy, all his concentration on nearby voices – the sounds, the words – to resist the overwhelming urge to sleep, because if he did let go and allow himself to fall into the big black hole beckoning him, where exactly may it lead?
He accepted the offer of a priest's visit under the premise it could do no harm, only to be left in despair when the holy man, rather than addressing him directly with words of comfort, read him the last rites.
Like so many others – not least Enzo Ferrari, already offering his drive to Emerson Fittipaldi, Ronnie Peterson and Carlos Reutemann, an individual Lauda despised and whose signing irritated him into accelerating his return – even God had given up on him. Which, of course, only fuelled his determination to prove the lot of them wrong.
That I'll-show-you mentality was a theme of Lauda's life from the moment he decided to pursue a racing career against his family's wishes and was never more evident than on the day, just six weeks on from his crash, he settled back into the seat of his Ferrari to race again at Monza.
The peeling off of his blood-stained balaclava told a tale of physical toil – journalist Ian Woolridge likened his encounter with Lauda that weekend to interviewing a roasted chicken – but the psychological and emotional wounds were the hardest to overcome.
The work to prepare him for his comeback even extended to his trainer Willi Dungl setting alight a ball of rolled-up newspaper and suddenly throwing it at Lauda to test how he would react in the event of another accident.
Lauda handled that challenge rationally, confirming to Dungl that his mind was ready, but he was consumed by fear as he tentatively returned to the track, only gradually building into a rhythm after returning to his hotel on Friday and telling himself to either do it properly or not at all.
The result was the most hard-earned fourth-place finish anyone had or ever will achieve in motor racing.
Racing drivers who survive major accidents tend to take on an ethereal aura, becoming walking reminders of the fragility of life and the inherent dangers of their profession. Such was the universal admiration for Lauda – the unimaginable things he had experienced, the incomprehensible courage he had shown – that he came to be held in a reverence normally reserved for a war veteran.
The greatest act of bravery in sporting history was followed by another six weeks later when the drivers were sent into battle in dreadful conditions in Fuji by F1's generals, just beginning to wake up to its potential as a television spectacle.
His parking of a healthy car after just two laps left James Hunt, who had also intended to withdraw early but was encouraged to continue by his McLaren team, with an open goal to take the title, but proved some things – a man's sanity, for one – are more important than sport.
Not everyone agreed – Lauda wrote in his autobiography that Il Commendatore's reaction "was less than dignified" and contained "none of the legendary Ferrari greatness", their working relationship never the same again – but most understood.
An against-the-odds win on home soil for Niki Lauda #OnThisDay in 1984. 🇦🇹

After losing 4th gear with around 15 laps to go, he fought hard to take the victory. This determination would help Lauda win the Drivers' Championship by half a point over Prost by the end of the season. pic.twitter.com/fckOma5b63

— McLaren (@McLarenF1) August 19, 2022
In that moment Lauda had single-handedly made it fashionable to say no and his explanation to Max Mosley for his refusal to race on confirmed that even those capable of seemingly superhuman feats can only be stretched so far.
After all he had been through, Lauda admitted, there comes a point when "the rats get in your head."
Lauda has the distinction of making two extraordinary comebacks, the second coming after he had initially retired during practice in Canada in 1979 and left behind his helmet and overalls, at Brabham owner Bernie Ecclestone's request, to be used by his replacement.
Drivers are conditioned to believe they are the best out there, often ignoring the evidence of their own eyes, simply because they must. To even consider the alternative would be to question the very point of their own existence.
Alongside Alan Prost at McLaren, in one of those alluring F1 rivalries in which the new generation grinds against the old, Lauda had no choice but to accept the younger man was much faster and find another way to win.
He would not claim a pole position in 1984 and take five victories to Prost's seven, but through the pragmatism for which he was renowned it was Lauda who stood as World Champion by half a point at the season's end.
If other drivers pride themselves on their mechanical sympathy, Lauda's gift was more of a mechanical certainty.
His victory at the Osterreichring in '84 was achieved despite losing fourth gear in the closing laps, second-placed Nelson Piquet assuming Lauda had merely backed off as normal and only becoming aware of the issue, and an easy win lost, when Lauda told him as they went to the podium.
Lauda's denouncement of Ferrari's car as "a piece of sh*t" after a matter of laps at Fiorano in late 1973 risked making the worst possible first impression, but the success of the changes he proposed to the front suspension, gaining eight tenths, instantly won the Old Man's trust.
Lauda's technical knowledge, combined with his direct personality and political adeptness, made him the most complete driver F1 had seen until that point.
In Maurice Hamilton's biography, McLaren marketing man John Hogan recalls Lauda beckoning over the president of sponsor Philip Morris from his car on the Silverstone grid in 1983 to pressure Ron Dennis and John Barnard into accelerating the arrival of the TAG-Porsche turbo engine.
After flying to Philip Morris's headquarters the following morning, Lauda drew attention to a clause in their contract with McLaren that the next development had to be used the moment it was ready and soon got what he wanted when the president threatened to withdraw Marlboro's backing.
For an indication of Lauda's knack for getting things done and exploiting an opportunity, look no further than the red cap he would wear to cover the scars from his accident and successfully persuade a variety of companies to sponsor over the years.
That red cap would become the first sign of trouble and had effectively been upgraded to the status of a trademark at the time of his death, Mercedes carrying a single red star on their car in tribute to Lauda ever since.
With the news of his death on a bright morning in May 2019 came the silencing of the most distinctive and authoritative of all F1 voices and the arresting realisation that none us are indestructible.
Lauda, however, came closer than most to achieving immortality.
PlanetF1 Hall of Fame entrants: