After dishing out the prizes in our more traditional awards ceremony, we now move onto our alternative F1 2019 categories to pay tribute to those that stood out for the right (and wrong) reasons.
Personality of the Year: Lando Norris
Sorry Daniel Ricciardo, you are going to have to make way for some young blood this year: step forward one Lando Norris. The 20-year-old said he struggled for confidence and even doubted whether he was even good enough for Formula 1. Two things became very clear to us: he did a very good job in hiding said lack of confidence and he absolutely is good enough.
Given it was his first season in Formula 1 and at a prestigious team like McLaren, you would have totally understood if he was 100% Mr Serious. But instead he has made his own lasting impression by conjuring up the same level of innocence, giddiness and excitement of approximately 10 puppies.
He is just as likely to take p*ss out of himself as he is of other situations that arise in Formula 1 and his dynamic with team-mate Carlos Sainz in particular has been a rip-roaring success. They must have been a joy to work with this year.
A constant source of entertainment both on and off the track, Norris is another unique, refreshing personality on the Formula 1 grid and just off the basis of the 2019 season alone, we hope he sticks around for many, many more years to come.
Come on, nobody should be having this much fun in a Thursday FIA press conference…
Motormouth of the Year: Nico Rosberg
Trying to pick a winner for this category was almost as hard as it was for Williams to make it out of Q1 this year but, after much deliberation, we settled on Nico Rosberg.
You could make very strong cases for Jacques Villeneuve, Eddie Irvine, Eddie Jordan, even the good old doctor himself Helmut Marko, yet Rosberg, with the help of his YouTube channel, has seen them all off.
When he retired from the sport after winning the World Championship, we were under the impression a quiet life away from the sport awaited. We were very wrong.
His crowning 'achievement' this year was calling Max Verstappen "a narcissist", prompting the Dutchman to officially declare Rosberg as the new JV in wanting to constantly share controversial opinions.
Rosberg is trying to change his ways, though, bless him. The all caps headlines on YouTube titles such as 'MAX VERSTAPPEN GOING TO MERCEDES 2020?!' are a thing of the past and he throws in "perhaps" and "maybe" when discussing Formula 1 now just to take the controversial edge off a little bit.
Still not enough to avoid winning this particular award though. For sure.
WTF Moment of the Year: Monza Q3
What an absolute sh*tshow this was!
If you happened to watch F3 qualifying – where no fewer than 16 drivers were given penalties for driving unnecessarily slowly – then you may have had a sneaky suspicion of the exact same thing happening in Q3.
The power of the slipstream at Monza meant that nobody, absolutely nobody, wanted to be at the front of the queue giving tows to everyone else, leading to two bizarre, hilarious minutes of drivers being oh so incredibly polite to each other.
"After you."
"No I insist, after you."
The whole incident deserved the sh*tty flute treatment and that's exactly what it got.
Iconic Moment of the Year: Sebastian Vettel in Canada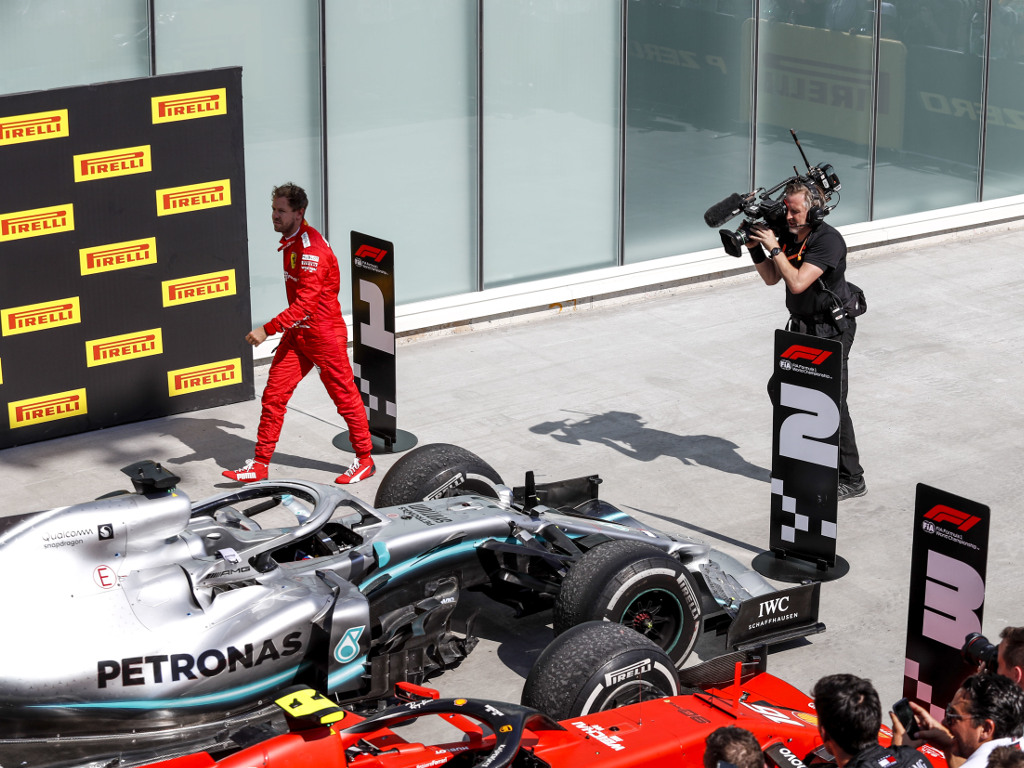 "No, no no, guys. No, no, no, not like that. Not like that. No, no, no. Seriously…you have to be an absolute blind man to think you can move through the grass and control the car. I was lucky that I didn't hit the wall. Where the hell am I supposed to go? This is a wrong world. I'm telling you…this is not fair."
The words of Sebastian Vettel after the five-second penalty slapped on him by the FIA cost him the race victory in Canada. We thought that radio reaction was the highest level he would go up to on the p*ssed off scale, but his swapping of the numbers boards will go down as one of the most iconic moments of Vettel's career and this modern-day era of Formula 1.
Vettel has had a pretty disastrous season, all things considered, to the point where you really do suspect that 2020 may well be the last we see of him. Whether you love him or hate him, you will miss him (even just a tiny, tiny bit) when he produces moment of gold like this.
Worst Race of the Year: French Grand Prix
The season finale in Abu Dhabi tried it's very best once again to make a late grab for this award, but we're not letting the French Grand Prix get away with the torture they put us all through back in the summer.
The 'race' at the Paul Ricard circuit was the mother of all processions and acted as a pretty telling reminder that some tracks on the Formula 1 calendar do not encourage and promote good racing at all and the current cars do not suit the circuits either.
At least there are about 3,400,000 different configurations of Paul Ricard to choose from and the promoters are all set on making changes so we hopefully never have to see a race that dull again.
What happened in France, or, more accurately, what didn't happen, certainly made us more thankful for the races that followed before the summer break kicked in. Austria, Silverstone, Germany and Hungary more than made up for it.
Follow us on Twitter @Planet_F1 and like our Facebook page.