Lewis Hamilton made history by setting a new record of 92 Formula 1 wins in the sport's first ever race at the Algarve International Circuit near Portimao.
Here are our conclusions from a Portuguese Grand Prix that could also have a significant influence on next year's driver line-ups.
Hamilton the class of 92
Officially the most winningest driver in Formula 1 history!

Lewis Hamilton can't find the words right now to describe his achievement.https://t.co/b1SsrgxYSO #F1 pic.twitter.com/lSkoM27Fr9

— Planet F1 (@Planet_F1) October 25, 2020
Lewis Hamilton is an Arsenal fan rather than a Manchester United supporter, but the Class of 92 tag attributed to some of the Red Devils' greatest homegrown talent now also applies to F1's most frequent race winner – although perhaps only for one week.
It was always inevitable that Michael Schumacher's record, which Hamilton equalled in the previous race at the Nurburgring, would soon be surpassed – albeit there were doubts it would happen in Portugal soon after lights out when the Mercedes cars struggled for grip on the medium tyres.
But after Carlos Sainz had a brief moment of glory, leading on his soft-tyred McLaren, it became business as usual and Hamilton passed his team-mate Valtteri Bottas on lap 20 of 66 to move ahead, from then on having far more pace than the beleaguered Finn and coming home 25 seconds clear.
All that remains now is for Hamilton to dot the I's and cross the T's not only on an inevitable seventh World Championship title to equal Schumacher's other big record – he is 77 points ahead of Bottas – but also on his new contract with Mercedes.
It does appear strange that the Briton and his team have not found time to finalise a new deal – Bottas' was done months ago – but we are all being assured at every turn it's merely a matter of placing the relevant pieces in the jigsaw.
Unexpected things do happen in F1 – Nico Rosberg's sudden retirement a day after becoming World Champion in 2016 is an example – yet Hamilton said in a pre-race interview with Sky that he "plans to be here next year".
He may be making things boring at the front with eight wins out of 12 this year, but the 35-year-old is quite simply in a class of his own and his supreme quality should be – and hopefully can be – admired and enjoyed for as long as possible.
Win No 93 may well come at the Emilia Romagna Grand Prix at Imola next weekend.
Horner hints at Albon exit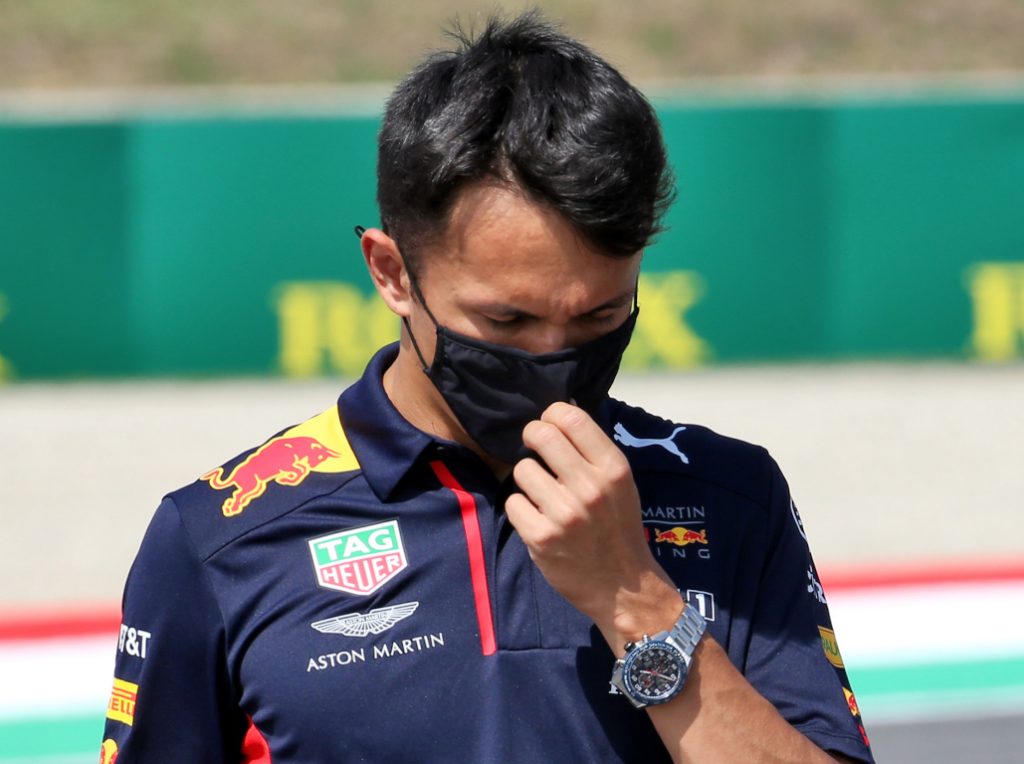 It was a case of Poor-timao for Alex Albon as he suffered another abject race and his Red Bull fate looks likely to be sealed in the next couple of weeks.
From being a staunch defender of the London-born Thai driver all season, Red Bull team principal Christian Horner admitted on Saturday the seat was Albon's "to lose" and that a decision would be made soon. The visit to Portugal did nothing to help him.
It was a drive all too reminiscent of those produced by Pierre Gasly in the first half of 2019 that led to his demotion from Red Bull and the consequent promotion of Albon.
Starting a respectable P6, Albon finished P12 and a two-stop strategy meant he ended up behind Kimi Raikkonen's Alfa Romeo – and also lapped by his own team-mate Max Verstappen.
Barring a podium as an absolute minimum requirement at Imola, it looks as if Halloween may yield its own kind of horrors for Albon in terms of his job prospects.
The results here will not make pretty reading for Albon, especially as two of the contenders for his seat finished well in front of him – including Gasly, who turned in another superb performance for AlphaTauri by finishing fifth…
Perez pushing his case
LAP 35/66

And now it's Ocon and Perez fighting hard

Perez prevails and is P5! #PortugueseGP 🇵🇹 #F1 pic.twitter.com/ElqXAosJvU

— Formula 1 (@F1) October 25, 2020
So, if Albon is indeed toast, will Red Bull keep things internal by restoring Gasly to his former place or look outside? If the latter, Sergio Perez did his chances no harm.
The race could have gone so much better for the Mexican but for a first-lap collision with Max Verstappen when he spun his Racing Point and dropped back to last. Perez fought his way back up superbly to P5 before losing a couple of places towards the end when inconvenienced by running on heavily blistered tyres.
Yet it was another great advertisement of Perez's talents as he continues to show why it is something of a travesty that he is being pushed out of Racing Point to make way for Sebastian Vettel.
Realistically, which of those two would you want in your car, never mind Lance Stroll?
Perez has said he is close to confirming he will remain in F1, but could that be with Red Bull?
It does sound, though, like there is a difference between the timescale he is talking about in terms of an announcement and Horner's outline for the Albon decision, albeit Red Bull have intimated they are aware that plumping for Perez or Nico Hulkenberg could be their best option.
But then there is Williams, who are being strongly linked with Perez as a potential replacement for George Russell due to the sponsorship revenue he brings, allied to his tangible ability.
It would actually be a shame to see Perez jump into a less competitive car than the one he is currently driving so well – he has finished in the top seven in eight of his 10 races this season.
If Perez does end up at Williams, it will obviously be better than nothing. But he has shown this year he deserves a car in which he can fight towards the front rather than the rear of the pack.
Stroll has turned into a stagger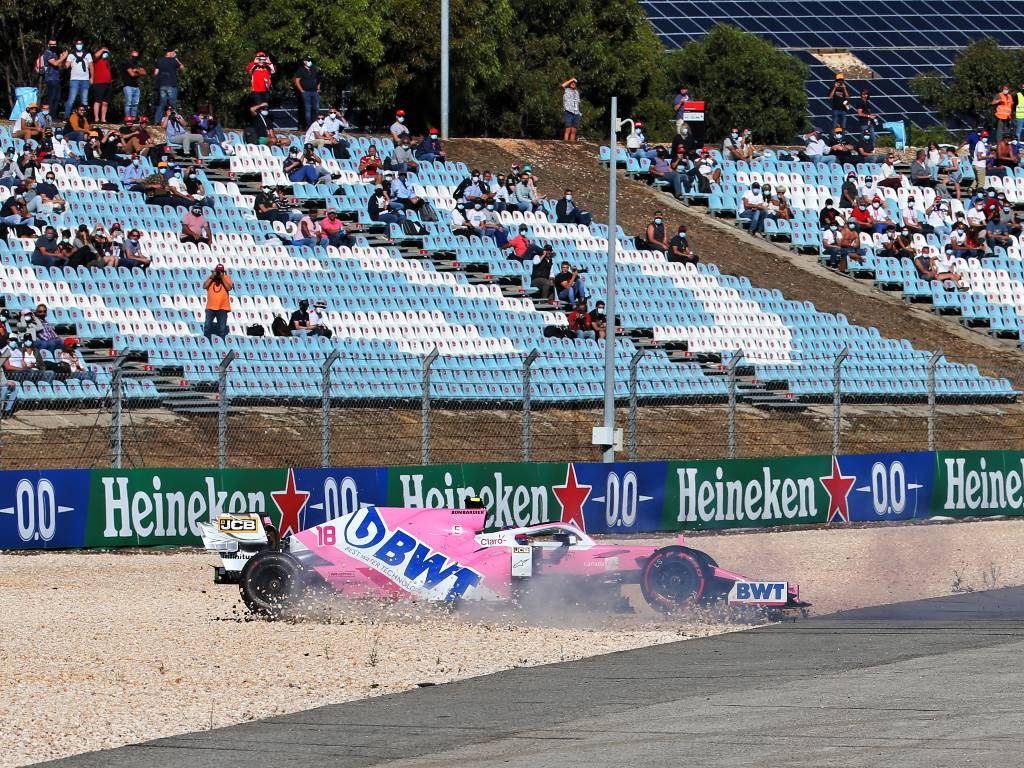 What must be all the more galling for Perez is the recent lack of achievement from his team-mate Lance Stroll – but we all know why his seat is under no threat whatsoever.
A highly promising first half of the campaign for the Canadian, which culminated with a podium finish at Monza, has nosedived badly – he has retired from three of the last four races  and did not start the other due to illness.
Portugal was particularly bad for Stroll. After a collision at turn one with Max Verstappen in FP2, Stroll again came off worse when tangling with Lando Norris in the same place during the race and earned a five-second penalty both for that and also continually exceeding track limits.
Eventually, Stroll's car was retired by Racing Point as he was running last with no hope whatsoever of scoring any points.
Again, we go back to the team's decision to pair Vettel and Stroll next year, when they will be rebranded as Aston Martin, and release Perez.
Racing Point have certainly not been the winners of F1's PR battle this season for a variety of reasons and you fear their 2021 driver line-up is something else that could end up backfiring on them.
Jon Wilde
Follow us on Twitter @Planet_F1, like our Facebook page and join us on Instagram!