With little experience of Portimao, the Portuguese Grand Prix was a huge challenge for the drivers. Some rose to the occasion, others didn't.
Here's how we rate each of their performances at race number 12 of the season…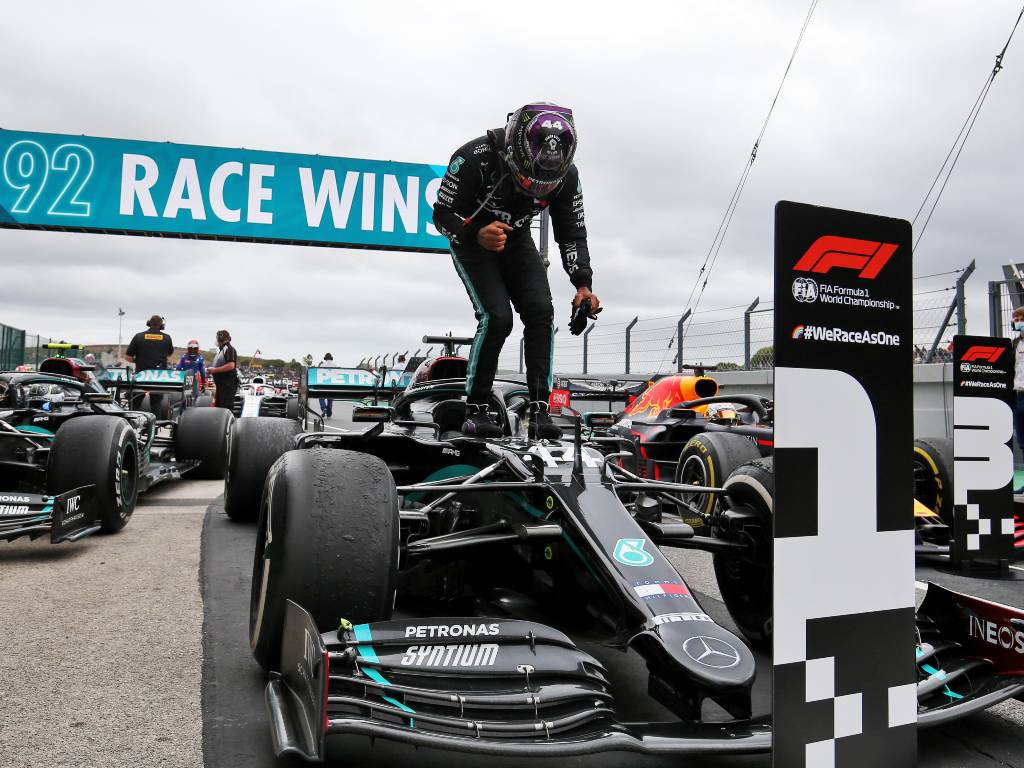 Lewis Hamilton: What an achievement it is for Hamilton to surpass Michael Schumacher's record-tally of 91 wins, and boy did he do it in style, with one of his most dominant drives of the season.
Prior to qualifying, he had been the slower Mercedes all weekend, and that looked to be the case again when, after he and Valtteri Bottas recovered from poor starts, the Finn led and held a steady gap. However, around 15 laps in, Hamilton picked up the pace, quickly breezed past his team-mate and disappeared into the distance.
He was impeccable from that point onwards, putting in fastest lap after fastest lap and managing his tyres perfectly. His 25-second lead over Bottas at the finish line was the biggest margin between P1 and P2 this season. He now has 92 wins in the bag, and that performance suggested that that number will continue to rise for quite some time. 10
Valtteri Bottas: It was an all too familiar story for Bottas in Portugal. He looked strong in all three practice sessions but just didn't have an answer to Hamilton when it really mattered.
It initially seemed as if losing out on pole was just a blip as he passed his team-mate and, after clearing Carlos Sainz, led in the opening stages, and comfortably at that. As soon as Hamilton put his foot down though, Bottas couldn't come remotely close to matching the pace he was setting.
His request to be put on the soft tyre for his final stint was a sign of desperation, and he should be thankful that it was ignored given how poorly that compound performed. Even on hards, he continued to lose ground to the leader and was briefly being caught by Max Verstappen. It was ultimately a poor race from Bottas, and not the first this season. 6
Max Verstappen: "It was an all too familiar story for Verstappen as, once again, he was leaps and bounds clear of everyone but the Mercedes drivers, who he couldn't fight with." That's what we said in our driver ratings for the last race; the fact that it applies equally as well for this one says it all.
2020 really is becoming something of aGroundhog Day scenario for the Dutchman, and there's little he can do about it.
Granted, if he was a little less punchy at the start, he could have avoided Sergio Perez and been the one to take advantage of the slow Mercedes pair to take the lead, but even so, the final result would have most likely been the same.
All in all, it was another excellent drive from Verstappen, one that deserved more than another lonely P3 finish. Give him a better car, Red Bull. Please. 8
Charles Leclerc: Leclerc was one of the stand-out performers in qualifying as he managed to secure a second-row start, and he was every bit as good in the race, finishing where he started. He did admittedly have a better Ferrari under him, but it was his own abilities that got him 12 points.
At the start, like many, he struggled to warm up his tyres and dropped down the order. However, he then got them working quicker than most and made four overtakes in quick succession to get back to P4. Once there, he never looked in danger of losing the spot.
He was quicker than those behind by quite some margin and continued to be after switching to the hard tyre. In fact, for most of the race, he was closer to Verstappen in P3 than he was to the drivers fighting for P5. Considering he didn't have a considerably quicker car than them, that's mightily impressive. It was, in short, the perfect drive. 10
TOP 5 TODAY!!
We will never stop pushing👀
Thanks to my amazing guys for giving me such a car. I had so much fun out there!! Next Imola!🇮🇹
Congrats to @LewisHamilton for making history again! pic.twitter.com/ljtM4LMJKo

— PIERRE GASLY 🇫🇷 (@PierreGASLY) October 25, 2020
Pierre Gasly: There are many who feel that Gasly is the driver of the season, and that opinion would have only grown more popular after his efforts in Portimao.
After losing a place at the start, he handled the soft compound tyre considerably better than most and made a number of overtakes to fight his way up to P5. He was just as good in his second stint as he quickly cleared Daniel Ricciardo and had enough pace to catch and pass Sergio Perez.
12 races in, he now has the same number of points as he did after the same amount of rounds at Red Bull in 2019. That speaks volumes about how much he has improved as a driver. He's also just one point behind Alex Albon this season and is in far better form. Watch this space… 10
Carlos Sainz: Sainz will have mixed feelings about his race. When he took the lead, he would've known he was never going to stay ahead of the Mercedes drivers and Verstappen but would have hoped to finish as the best of the rest after such a strong start.
However, he struggled on soft tyres and suffered worse graining than those around him, causing him to continue to drop down the order after the top three passed him.
He fared better on his second set of tyres and had strong enough pace to catch and pass Perez at the end with a move that could prove crucial in the fight for P3 in the Constructors' Championship. He'll be disappointed that he couldn't get Gasly too though, especially given he had a faster car. 8
Sergio Perez: Perez's race had as many ups and downs as the Portimao track itself, but he can be largely pleased with how his rollercoaster ride ended.
After colliding with Verstappen at the start and dropping down to the back of the field, the chances of points looked slim for the Mexican. However, on a fresh set of mediums, he was flawless in every area. He managed them well, had strong outright pace and didn't put a foot wrong when wheel to wheel, as shown by his battle with Esteban Ocon.
Therefore, by the time he came in for a pair of softs, he was back where he started in P5. Unfortunately for him, he wasn't quite as strong in his final stint and, with a few laps left, his tyres were too worn for him to keep Gasly and Sainz behind. Nevertheless, finishing in P7 isn't half bad at all considering where he was at the end of the first lap. 9
Esteban Ocon: Ocon became the tyre whisperer in Portugal, completing a remarkable 53 (!) laps on the medium tyres he started the race on. As he managed to stay out for so long, he was looking set to finish in the top six when he rejoined in P8 with fresh softs.
Like many though, he struggled with the compound and couldn't catch those ahead of him, despite having tyres in a far better condition. Even so, finishing in P8 and ahead of his team-mate is a step in the right direction for the Frenchman. 8
Daniel Ricciardo: After finishing in the top six for five races in a row, Ricciardo won't be too happy with either his result or his performance as a whole at Portimao.
He made a decent start to move up two positions to P8, but struggling with tyre wear, dived into the pits early. He then did a solid job making his way through the field but didn't have the pace or tyre management to trouble those ahead of him. 6
Sebastian Vettel: One on hand, Vettel finished five places up on where he started and scored a much need point. On the other, he was, once again, worlds away from his team-mate.
After dropping down to P16 at the start, the German did a decent job of recovering and was on the verge of the top 10 by the time he pitted. He then took that all-important P10 from Raikkonen and set off in pursuit of Ricciardo.
His team-mate had earlier passed the Renault with ease, but Vettel didn't have enough pace to do so. If he really does have an identical car to Leclerc as Mattia Binotto claims, the gap between the two is simply too big. 6
Kimi Raikkonen: Watching Raikkonen's frankly unbelievable start, in which he gained 10 places, all I could think was: how good would he be if this was anything more than "just a hobby" to him. It was some of the best driving of the season.
From P16 to P6 😎

An amazing start for Kimi Raikkonen at Portimao 🚀#PortugueseGP 🇵🇹 #F1 pic.twitter.com/cRneQ4dw2O

— Formula 1 (@F1) October 25, 2020
He rapidly dropped down the order after that and couldn't hold on for a precious point. Given the car he had though, it's a testament to his abilities that he was ever in contention at all. 9
Alex Albon: After a frankly terrible showing at the Nurburgring, Albon desperately needed a strong performance. Unfortunately for him, things were just as bad as they were in Germany.
He made a poor start to drop out of the points and struggled to make up any ground in the opening 20 laps. He then dived into the pits and came out in P19. Again, he wasn't nearly good enough in overtaking those in slower cars.
His race then got even worse when, after making his final stop, he was lapped by his team-mate, which is nothing short of embarrassing. What will be even more humiliating is if Gasly ends the season with more points than him. If so, Red Bull will struggle to justify keeping him on for another season. 4
Lando Norris: Things were looking good for Norris in the opening stages as he climbed up to P4. Even after dropping down to P7, he still looked set to score a decent number of points, but Lance Stroll had other ideas. There was little the McLaren driver could do about the collision that ruined his race, and his anger towards the Canadian is understandable.
Because of the incident, we never really got the chance to see how good he was around Portimao as he spent the rest of the race well outside the points. Better luck next time, Lando. 6
George Russell: With rumours swirling regarding his future, Russell would have been desperate to show the new Williams owners just how good he is, and he made a pretty compelling case for himself.
So often this season, he's impressed on Saturday and struggled on Sunday, but that wasn't the case this time as he finished where he started, thanks largely due to a strong first stint that saw him run as high as P7.
Sure, some points, at last, would be nice, but in the car he's in, there's little more he can do. One thing is certain – he deserves a seat in F1. 7
Antonio Giovinazzi: Raikkonen is a legend of the sport, but he's 41 and, if we're honest, doesn't really give a sh*t these days, so that the fact that Giovinazzi was so far off him again is a little embarrassing for the Italian.
While the Finn battled with those at the top of the midfield back, Giovinazzi remained one of the backmarkers and, with Romain Grosjean breathing down his neck, always looked more likely to go backwards than forwards.
It looks as if he'll get another year on the grid, but that's almost certainly due to Ferrari's orders, not his own performances. 5
Kevin Magnussen: Given the announcement that Haas won't be keeping him for next season, these could well be the last races of Magnussen's time in F1, and he'll be hoping he has a better car and puts in a better performance in the next ones.
He was slower than his team-mate all weekend and it wasn't particularly close between them on race day. On the bright side, unlike Grosjean, he did manage to obey track limits and therefore finished ahead as a result. Hurray. 5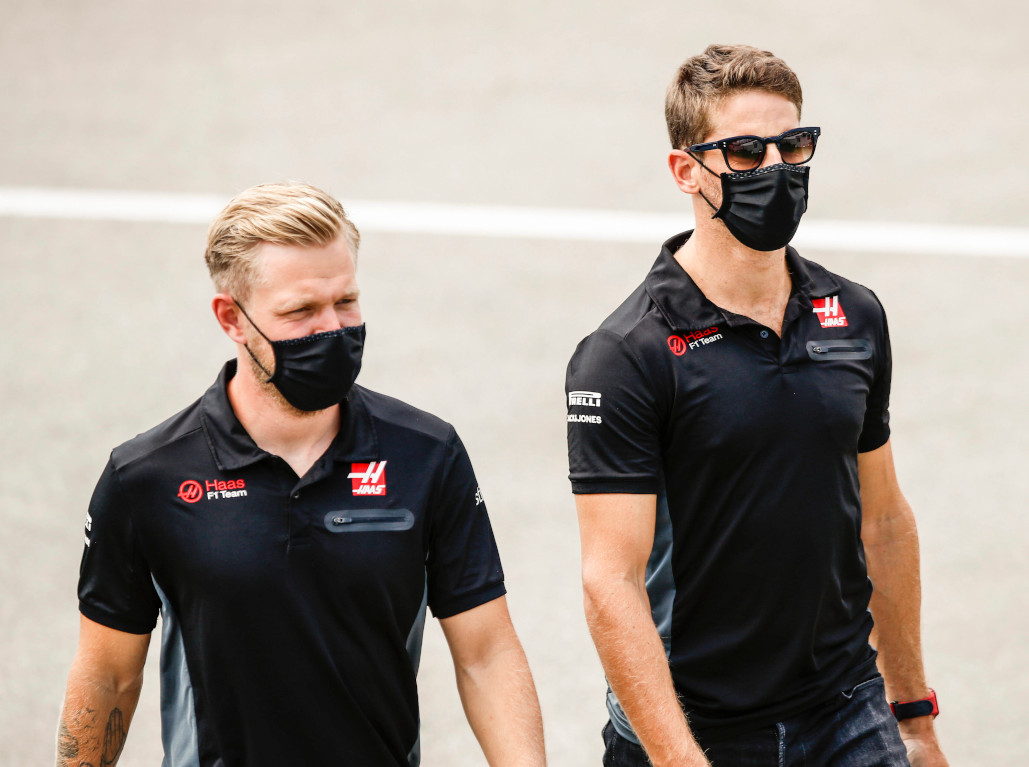 Romain Grosjean: Everything worth saying about Grosjean's weekend was said above. He'll feel good about the fact that he out-qualified Magnussen and spent an entire race ahead of him, but will be equally as frustrated that he finished the race behind the Dane, all because he couldn't stay within the lines. 5
Nicholas Latifi: If Russell does lose his seat, Latifi will be thanking his lucky stars that his dad is absolutely loaded, because, in terms of performance, there's no way he's a better option than the Brit.
He was a full second slower than his team-mate in qualifying and never got anywhere near him in the race. Still, at least he wasn't the worst performing Candian… 5
Daniil Kvyat: The only thing we remember about Kvyat's race is that he was under investigation for ignoring blue flags, and got a five-second time penalty for exceeding track limits. Not great.
Even worse is the fact that he finished stone dead last while his team-mate finished in the top five. Yuki Tsunoda looks set to replace him next season, and he isn't doing much to change his team's mind. 4
Did not finish
Flashpoint between Lance and Lando 👀

And tempers flare as the pair collide 💥#PortugueseGP 🇵🇹 #F1 pic.twitter.com/itWq791bzW

— Formula 1 (@F1) October 25, 2020
Lance Stroll: This was quite frankly a nightmare weekend for Stroll as the only things of note he did were crash, first with Verstappen in practice and then with Norris in the race.
The first wasn't entirely his fault, but the second was. His late move on the McLaren was certainly brave, but there's a fine line between brave and stupid, and he crossed it. If he wants to prove he's not just in the sport because of his dad, he has to do better. 3 
Finley Crebolder
Follow us on Twitter @Planet_F1 and like our Facebook page.