Conclusions from the Qatar Grand Prix
Lewis Hamilton chalked off the second of the four straight wins that would secure a record-breaking eighth Drivers' World Championship.
Here are our conclusions from an inaugural Qatar Grand Prix that will have left Red Bull increasingly worried that both titles are slipping away.
Two down, two to go for Hamilton
A great win for our first time in Qatar. #TEAMLH you keep us going, we keep pushing and we feel your energy more than ever. It's been one hell of a year but I love this battle. Getting right back to work, focused and ready for the final two races. We win & we lose together. pic.twitter.com/sGHFwBcV8c

— Lewis Hamilton (@LewisHamilton) November 21, 2021
Let's not forget, Max Verstappen could still be crowned World Champion at the Saudi Arabian Grand Prix.
Even if the Dutchman finished second and Hamilton failed to score, it would be all over before Abu Dhabi.
But after an electrifying performance in Sao Paulo and a completely dominant victory as Formula 1 visited Qatar for the first time, the momentum is now massively on Hamilton's side.
Despite trailing by eight points, he has become the hot favourite for that unprecedented eighth title which will be his if he adds further wins at Jeddah and Yas Marina.
Red Bull are undoubtedly rattled now, trying every trick in the book to question the legality of the Mercedes, and a protest against the rear wing of the W12 cannot be ruled out.
Christian Horner even sounds like an under-pressure football manager blaming the referee with his criticism of how Verstappen's grid penalty was issued – a complaint that will end in him taking part in a stewards' programme early next year.
Certainly Toto Wolff was much the more smug of the two feuding bosses at the end of the weekend in Lusail, and not only because Hamilton had coasted home unchallenged.
The Austrian also knew his man had triumphed without being powered by the brand spanking new engine that had been likened to a "rocket" in Brazil – by a rival in Helmut Marko, no less.
That engine will be back in the car for the elongated Saudi layout, only serving to give Mercedes and Hamilton even more confidence of securing their most dramatic championship yet.
As for the Constructors', with the gap only five points in Mercedes' favour there is still a big part for Valtteri Bottas and Sergio Perez to play – but the 15 available for third place, and one for fastest lap, looks more and more like the most they can hope for, barring mishaps.
Alonso's reverse psychology?
When Fernando Alonso finally calls time on his racing career, the one thing he should not become is a tipster.
Leading up to the Qatar Grand Prix, the Spaniard had sounded off about the endless media commitments he has to fulfil during a race weekend which he finds "very boring, very repetitive" at having to answer the same old questions time and again.
In particular, he had addressed the prospect of finishing on the podium for the first time since his return to F1 with Alpine this season.
"I've read some things that said 'on the podium in Qatar' or 'it's podium time in Qatar'. And you would like to answer 'no, there is no podium'," said the 40-year-old double former World Champion.
"We've done so many races and we've finished eighth sometimes, ninth sometimes. It will be no different in the last three races. I'm sorry to say that."
But Alonso will not be sorry that he was wrong. That eighth or ninth became third at Losail International with a 'Driver of the Day' performance that owed a little to good fortune but also plenty to a fine early move that got him ahead of Pierre Gasly and up into second.
The fortuitous aspect was the grid penalty for Bottas which probably had a bearing on Alonso's podium finish, but this was a circuit where the inconsistent Alpine car was at its best and The Fonz, as Sky F1's Ted Kravitz calls him, took full advantage.
So did it come as a genuine surprise to Alonso to be up there with Hamilton and Verstappen with his first podium finish since 2014 or was it a bit of reverse psychology?
Possibly the latter, although he is unlikely to admit it. "This podium is exactly what I was trying to find out in this comeback," said Alonso. "The feeling again of being competitive, the champagne. This is a good momentum we can carry on."
We were ready for a different driver to be spraying that fizz and Alonso's was a very welcome face to be seen up there after going 104 races without doing so.
AlphaTauri endure more Sunday struggles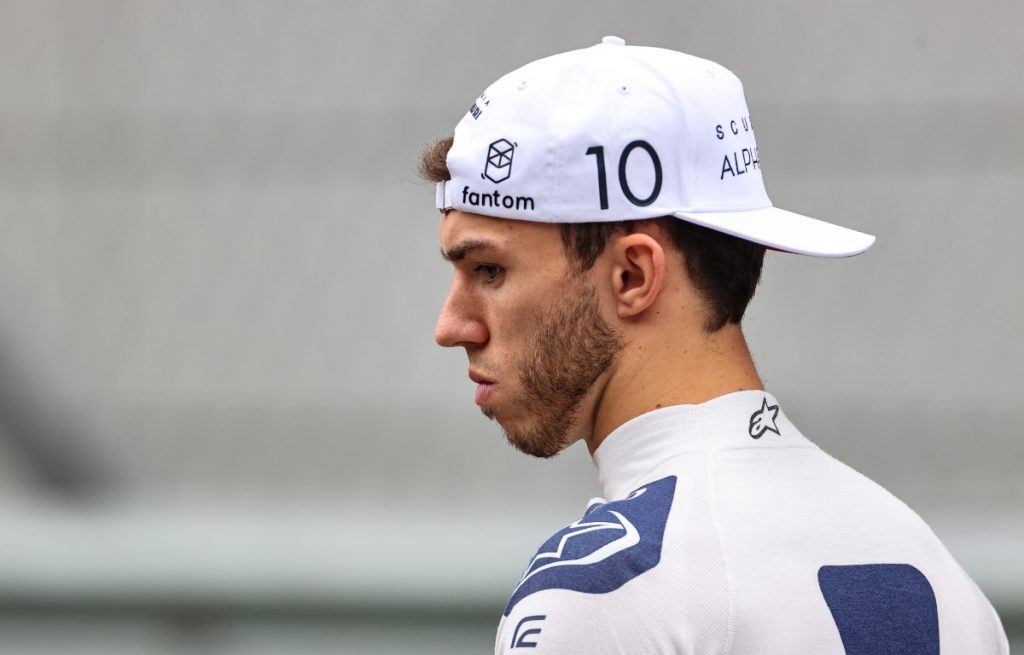 On a weekend when Ferrari and McLaren were both some way below their best, it was refreshing to see different teams featuring more prominently.
But there was yet more compelling evidence of the strange disparity between AlphaTauri's performances on Saturdays and Sundays.
Like Alonso, Pierre Gasly was shoved two places up the grid by the penalties given to Verstappen and Bottas and all of a sudden, AlphaTauri found themselves on the front row for the first time since their rebrand from Toro Rosso.
Gasly was seen receiving some words of encouragement, shall we say, from Helmut Marko pre-race, clearly no coincidence given he was starting alongside Hamilton.
Instead of getting involved with the race winner though, the Frenchman was overtaken early on by Alonso, then ran wide at the last corner in what appeared an orchestrated move to be passed by Verstappen and eventually tumbled down the order to finish out of the points.
Based on his stellar one-lap displays this season Gasly ought to be significantly higher in the standings than ninth, but AlphaTauri just cannot seem to operate at the same level on race days – he described this one as being "very frustrating" with a "shocking" lack of pace.
Stroll gets into his stride
Wholesome content alert. 💚 #QatarGP #F1 pic.twitter.com/ogbQ26dQGP

— Aston Martin Cognizant F1 Team (@AstonMartinF1) November 21, 2021
A one-stop turned out to be the more successful strategy, having enabled Alonso to hold off Perez for third – and it also helped Lance Stroll to his best result of the campaign in sixth.
We mentioned inconsistency earlier and Stroll also fits that description, but he has the occasional good result in him and this was another example – especially as he started two places behind, and finished four in front, of his team-mate Sebastian Vettel.
He is not the easiest driver to warm to, by a long chalk, but now and again the Canadian provides a little reminder of the ability he possesses.