Driver ratings from the Qatar Grand Prix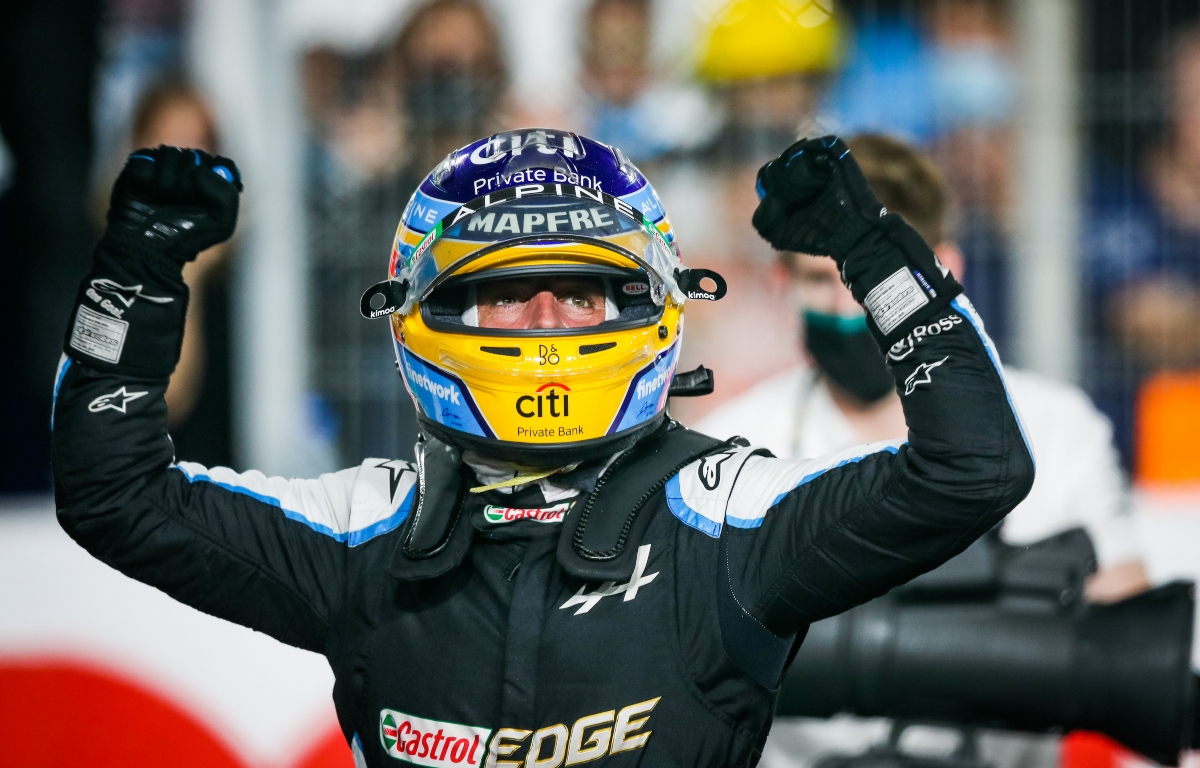 It may have been a new race, but it was the older heads on the grid that impressed most at the Qatar Grand Prix.
Here's how we've rated every drivers weekend at Losail International Circuit…
Lewis Hamilton: For the second race in a row, Hamilton was untouchable. That was in large part due to his superior machinery, but his driving wasn't half bad either.
He claimed pole position with ease, going almost half a second faster than any other driver, and remained equally dominant on race day. With Verstappen quickly getting up to P2, the Brit had to make sure he didn't make any mistakes and was ultimately flawless from start to finish.
He was rapid when he needed to be and balanced pace and tyre management perfectly when he didn't, and never looked in any danger of being challenged by his title rival. The only downside is that he wasn't able to claim the extra point for fastest lap that really should have been his given his machinery, with that going to the Dutchman.
Given he had the best car and his rivals started further down the order, winning was always going to be fairly easy, so a perfect 10 would be a little kind, but it was still an excellent performance and couldn't have been much better. If he can produce two more, he could well become an eight-time World Champion. 9.5
Max Verstappen: He may have seen his lead in the standings shrink once again, but it was still a good weekend for Verstappen in terms of both the performance and the result.
The Red Bull man simply didn't have the car to challenge Hamilton in qualifying and did well to beat Bottas, but he made life hard for himself when he failed to slow down for yellow flags and earned himself a five-place grid penalty. How he recovered on race day was immensely impressive though.
He made a stunning start, gaining three places on the first lap, and then made easy work of Gasly and Alonso. He then started to catch Hamilton but perhaps pushed too hard with him dropping back from his rival soon afterwards and unable to close the gap again.
The Dutchman could have perhaps got closer to Hamilton if he managed his pace a little better and didn't earn himself a penalty, but even so, it was a very, very good drive. 9.5
What a legend. Welcome back to the #F1 podium @alo_oficial #QatarGP 🇶🇦 #F1 pic.twitter.com/zSvMvJIZw2

— PlanetF1 (@Planet_F1) November 21, 2021
Fernando Alonso: Seven years after last doing so, Fernando Alonso stood on a Formula 1 podium again, and with the performance that he delivered, boy did he earn it.
His starting position was already good after he took P5 with an excellent qualifying performance, but it got even better when penalties for Verstappen and Bottas moved him up to P3. He couldn't then take the lead at the start but did at least get ahead of Gasly with a good move. With both Red Bulls having excellent starts though, his chances of finishing on the podium were slim.
He went on to defy the odds, getting every drop of potential out of his car and tyres. In both stints, he made his rubber last as long as possible while also maintaining very strong pace. How he managed to be fairly quick in the closing stages while not picking up a puncture is nothing short of miraculous.
Admittedly, he did receive a bit of luck in the form of a Virtual Safety Car late on, but he deserved it. There's little doubt that, in a top car, he could still fight for titles. Over to you Alpine… 10 
Sergio Perez: How often have we said the Mexican "had a weekend of two halves" this season? Well, that was the case once again in Qatar.
He's been making good progress on Saturdays in recent times but was back to the Checo of early 2021 this time around as he failed to make it to Q3, struggling to find pace. However, that wasn't the case on race day as he charged through the midfield.
Both his speed and his overtaking were very impressive with him doing a much better job at getting back towards the front than Mercedes counterpart Bottas. So much so that if his team put him on a better strategy and didn't pit him so early and send him back out into traffic, he probably would have taken P3 fairly comfortably.
Because of that strategy and a VSC, he didn't get the podium his Sunday performance deserved, although he has to shoulder a lot of the blame himself given his poor qualifying. 8.5
Esteban Ocon: His team-mate may have stolen the limelight and deservedly so, but Ocon enjoyed a strong weekend in Qatar too even if he was no match for the Spaniard.
Qualifying was solid but not spectacular with him making it to Q3 but going four-tenths slower than his team-mate in it. He was much more impressive the next day though, moving up to P6 at the start and having enough pace to keep himself in with a chance of a top-five finish in the closing stages.
He ultimately got it thanks to punctures for Norris and Bottas and some excellent defensive driving at the end with a queue of cars behind him. He may not have been on the same level as Alonso, but there's no shame when the 40-year-old is on such good form. 8
Lance Stroll: Stroll needed a good result after starting to play second fiddle to team-mate Vettel in recent weeks, and he got one with one of his best drives of the season.
While he was beaten by the German in qualifying, he went from P10 to P12 at the start of the race before gaining another place with a good move on Tsunoda. The Canadian settled into a good rhythm after that and undercut Sainz despite having a slower car, ultimately earning him P6 due to punctures ahead of him.
If not for the VSC, he could well have secured a top-five finish in machinery that wasn't near the top of the midfield. Asides from a fairly average qualifying, he was simply very impressive. 8.5
Carlos Sainz: It was a bit of a mixed weekend for Sainz, with him being the stronger Ferrari driver but dropping back on a race day in which he struggled to find pace.
Starting in P5, he would have fancied his chances of scoring some seriously big points, but such chances became slim when a poor start saw him drop down to P8. To make matters worse, he then wasn't quick enough to stop Stroll from undercutting him, but did at least keep those behind him at bay.
In his defence, the Ferrari wasn't as strong at the circuit as it has been at others and, bearing that in mind, P7 wasn't a bad result. While he didn't drive badly though, he'll be rueing the poor start that he made. 7
Charles Leclerc: After a disaster of a Saturday, Leclerc recovered fairly well to score a handful of points for himself and his team.
While he admitted he hadn't fully found his feet at the track, his Q2 exit was caused more by a chassis crack than his driving, although he didn't look at his best on race day either, gaining most of his places through issues or poor strategies for those ahead of him.
Hie deserves some credit for taking advantage though, not making any major mistakes himself, while his pace was decent. He'll be hoping for better in Saudi Arabia though. 7
Disappointing result, but the pace was there. 👊

Hear from @LandoNorris after the #QatarGP. 🇶🇦 pic.twitter.com/uUd7lo4UYO

— McLaren (@McLarenF1) November 21, 2021
Lando Norris: Norris was one of the unlucky victims of a sudden puncture towards the end of the race, causing him to finish down in P9. His performance deserved more than two points.
He got everything out of the on both Saturday and Sunday, staying ahead of his team-mate and Ferrari counterparts throughout while also making a good move on Gasly on race-day to gain a top-four spot. While Perez would have overtaken him even if he didn't get a puncture, he still would have taken P5 which would have been an excellent result.
You could maybe criticise him for not looking after his tyres more, but given his team saw no issues just before disaster struck, you can't blame him for failing to do so either. Just a case of bad luck. 8
Sebastian Vettel: Vettel was one of the more impressive performers in qualifying, making it to Q3 ahead of faster cars, but undid that good work with a shocker of a start to the race.
Scoring multiple points was all but impossible after that, but he did put in a solid recovery drive to gain one after looking after his tyres well and successfully pulling off a one-stop strategy.
That recovery and his qualy would earn him one of the best ratings on the grid, but that costly poor start takes it down a few pegs. 7.5
Pierre Gasly: Gasly started an F1 race on the front row for the first time after yet another stunning Saturday performance (and the penalties to Verstappen and Bottas of course), but that was as good as things got for the Frenchman.
He didn't do too much wrong early on in the race but was pitted far too early by his team, causing him to rejoin in traffic, and he didn't have the pace to get through it, losing a lot of positions as a result.
To be fair to him, that's largely due to the fact that his car didn't have the best race pace, but he'll perhaps feel he could have done a little better in terms of overtaking too. 6.5
Daniel Ricciardo: It was another really poor weekend for Ricciardo with him struggling to compete with his team-mate and the rest of the midfield throughout the weekend.
The Aussie went out in Q2 in qualifying while Norris got well inside the top 10 and he then backwards at the start of the race. After that, he didn't have the pace to get back into the fight for points but did at least move back up to P12 thanks to some good tyre management.
After a string of bad races, his post-summer resurgence seems a distant memory. He'll just be looking forward to the end of the year now. 4
A three-way fight on Lap 9 in Qatar as Yuki, Valtteri and Lance went at it under the lights ⚔️ 👀#QatarGP 🇶🇦 #F1 pic.twitter.com/MoFEs9hXhZ

— Formula 1 (@F1) November 21, 2021
Yuki Tsunoda: There were some positive signs for Tsunoda in Qatar, but ultimately it wasn't a positive result with him, like his team-mate, losing a lot of places.
He was decent in qualifying, securing P8, and made a solid start to stay there early on in the race. Pitting lost him track position though and he didn't have the pace to recover.
As with Gasly, his poor result can be put largely down to the car, although he didn't exactly set the world alight either. 6
Kimi Raikkonen: Few drivers had as quiet a race as Kimi. The Alfa Romeo was not fast enough for him to fight with the midfield runners after starting down in P16 ahead of his team-mate.
The Finn made a great start, moving up four places, and managed to stay there for a good while. Ultimately though, he didn't have enough speed to keep P12 on a two-stop strategy. In hindsight, saving his tyres and only pitting once may have been a better bet.
Deciding the strategy isn't his job though, driving is, and in that regard, he had a decent weekend. 6
Antonio Giovinazzi: The same can't really be said for his team-mate with Giovinazzi being out-qualified by the Finn and Latifi before failing to challenge the Iceman on race day after making a decent start. 5
Mick Schumacher: This was one of Schumacher's better weekends of the season. As per usual, he was a lot faster than his team-mate, and he managed to get close to the Williams and Alfa Romeo cars too.
In qualifying, he was only two-tenths off Latifi and Giovinazzi and managed to get past the Canadian early on in the race too before inevitably being passed again. 7.5
George Russell: A puncture lost Russell a fair few places, but things hadn't been going amazingly before that anyway.
He did well to make it to Q2 on Saturday but there wasn't too much to shout about after that as he lost out to the Alfa Romeos at the start of the race and couldn't recover. On the bright side, he was at least stronger than Latifi all weekend. 6
Nikita Mazepin: Due to issues in practice, he headed into the business end of the weekend with very little experience of a new track, but it was still a pretty poor performance.
While Schumacher managed to fight the other backmarkers, the Russian was absolutely nowhere near him on Saturday or Sunday with the gap looking as big as ever. That really shouldn't be the case at this stage in the season. 3
Did not finish:
Nicholas Latifi: Not much of note happened to Latifi all weekend except for the late puncture, with him out-qualifying Giovinazzi but only able to stay ahead of the Haas pair in the race. 5
Valtteri Bottas: Bottas looked excellent throughout the practice sessions, but couldn't replicate that form later on in the weekend when it actually mattered.
Sure, he could have finished on the podium if not for a puncture, but if he had made a better start rather than dropping down the order and struggling to pull off overtakes as he so often does, Mercedes could have played it safe and put him on a two-stop race.
He was good at times, eventually making some good passes and finding some strong pace, but it was undoubtedly a pretty poor race for him. 5