Qualifying wasn't the only shambles in Monza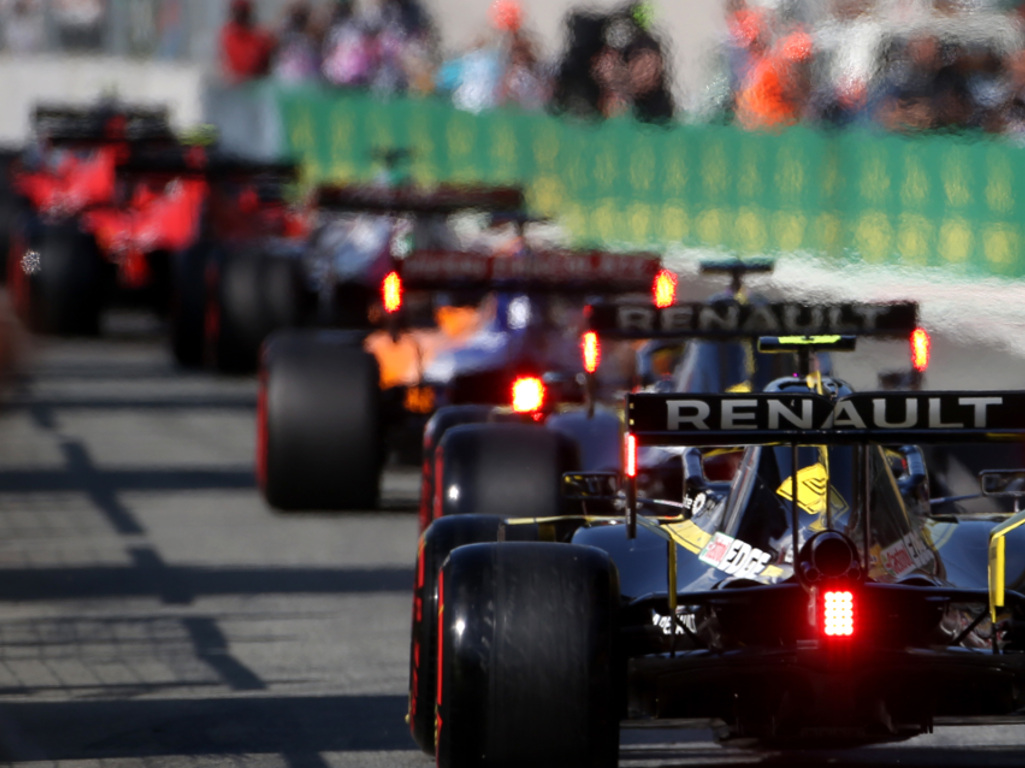 Formula 1 has stood firm on not putting permanent stewards in place but maybe after Monza the powers-that-want-good-racing will finally reconsider.
There were no fewer than five questionable calls from the stewards at Monza, three alone in qualifying.
Let's start there…
Prior to Saturday's action the FIA announced a new minimum out-lap time for the drivers to adhere to during qualifying.
They were set a minimum time of 1:45 in which to complete their out-laps in order to avoid them, yet again, dangerously tripping up over one another.
The drivers didn't listen, and the stewards did nothing about it.
Nico Hulkenberg, Lance Stroll and Carlos Sainz were all found guilty of driving "unnecessarily slowly" because they didn't want to be the lead car, rather they wanted a tow from someone else. The end result was a farce of qualifying.
With Hulkenberg making a 'mistake' and running off the track at Turn 1, all the drivers braked and waited for him to retake a position at the front. You could have thrown a Ferrari flag over all nine (Kimi crashed out earlier)!
Absolute shambles of a qualifying.😅😂 They didn't even make it to the flag in time! I have never seen anything like this in F1. #F1 #ItalianGP pic.twitter.com/m3Y7OkqHtw

— Suleman Zaki (@sulzak01) September 7, 2019
Lewis Hamilton called it dangerous and summed it up: "It won't be until someone crashes that they'll change it, most likely." Don't know about you but I've seen enough crashes this season to last a lifetime.
Earlier in the weekend the stewards came down hard on the F3 drivers for backing up into Parabolica in the final stages of their qualifying. A total of 13 drivers, including championship leader Robert Shwartzman, were handed five-place grid penalties for unnecessarily slowing down.
So how the FIA can issue a directive for F1 and then hand out absolutely no punishment of note – the trio were reprimanded – when it is broken, is beyond me.
But that was the story of qualifying; break the rules and get away with it.
Earlier in Q3 Sebastian Vettel had been on a hot lap, a hot lap that in parts was off the track.
The FIA again issued a directive, this time informing the drivers – prior to FP3 so they had some practice – that they would lose not one but two lap times if they put all four wheels off the track at Parabolica.
Masi wrote: "A lap time achieved during any practice session or the race by leaving the track (all four wheels over the white track edge line) on the outside of Turn 11 will result in that lap time and the immediately following lap time being invalidated by the stewards."
4 horas después y aún no le quitan el tiempo a Vettel por salirse de la pista en la parabolica antes de acabar la vuelta.. @fia pic.twitter.com/3MyVsidO7l

— Sampedro (@SAmP3DaViiD) September 7, 2019
The stewards, though, declared that a camera angle from above "appeared to show that part of the front 'wheel' may have been within the bounds of the white line." They gave Vettel the benefit of the doubt. Looks clear cut to me.
Then there was Valtteri Bottas' qualifying time… he got to keep his P3 time despite the red flag being waved for Raikkonen's crash before he crossed the finish line.
Bottas was on a hot lap when Raikkonen met the barriers. The marshal post closest to the stricken Alfa Romeo triggered the red flag but, because it takes a moment in time for the message to travel from the post to the FIA's timing system, the Mercedes driver kept his time.
When is a red flag not a red flag? Apparently when it is F1.
Moving onto Sunday's 53-lap grand prix where Charles Leclerc put his elbows, and more out, as he robustly defended against Hamilton. The Ferrari driver was shown the black-and-white warning flag for his antics. No penalty but they let him known that he was walking a fine line.
Leclerc left Hamilton some space, not much but there was still asphalt under at least half of his W10:
Compare that to Austria where even part of Max Verstappen's car was off the track as he pushed Leclerc wide:
Max got the win, Leclerc a warning.
The stewards, though, did get one right on Sunday, Sebastian Vettel's penalty versus Lance Stroll's. Although both were found guilty of unsafe returns to the track after spinning, Vettel received a 10-second stop-go penalty whereas Stroll was only given a drive-through.
But whereas Vettel's unsafe return resulted in contact with Stroll and the Racing Point driver's subsequent incident, Stroll only – and I'm sure Toro Rosso don't see it that way – forced Pierre Gasly to take avoiding action.
1/5 is not a passing grade.
Michelle Foster
Follow us on Twitter @Planet_F1 and like our Facebook page.