Race: Verstappen wins, Mercedes suffer double DNF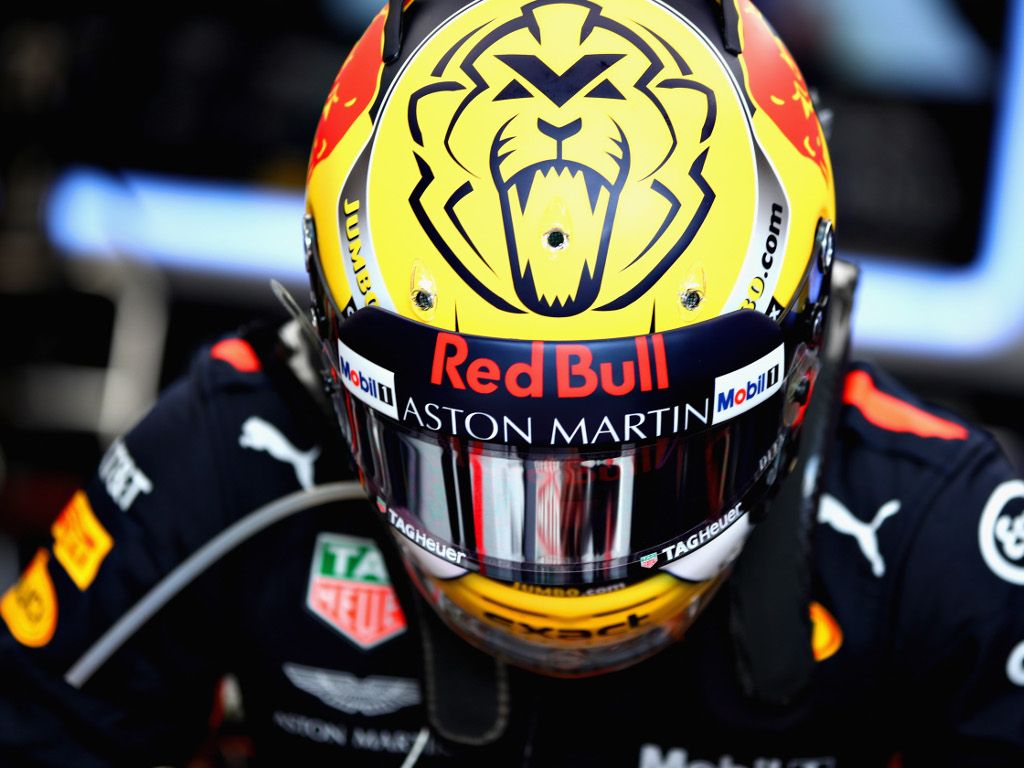 Max Verstappen and Red Bull took advantage of a VSC for Valtteri Bottas' retirement to win Sunday's Austrian GP ahead of Kimi Raikkonen while Lewis Hamilton was a late retirement.
On a hot Red Bull Ring, some 20'C warmer than Friday afternoon's FP2, F1 witnessed arguably the best lap – or three – of 2018 as Hamilton shot through from second on the grid to lead the race while Kimi Raikkonen sandwiched his Ferrari between the two Mercedes in the run to the first corner.
The Finn took second with Max Verstappen coming through for third and pole-sitter Valtteri Bottas falling to fourth. Turn 1. However, Raikkonen ran wide at Turn 3 and Bottas came through to make it a Mercedes 1-2, Verstappen also overtook the Ferrari driver.
WATCH: Amazing start to the Austrian Grand Prix
Behind them Daniel Ricciardo ran in fifth place ahead of Romain Grosjean and Sebastian Vettel, which then became Vettel and Grosjean with a bit of contact between the Ferrari powered cars at the start of lap 3.
Behind them Stoffel Vandoorne pitted for a new front wing after he made contact with Pierre Gasly at Turn 3, Esteban Ocon ate dirt as he battled Carlos Sainz and Charles Leclerc ran wide and off the track at Turn 5 and had to work his way around the gravel trap, dropping to last bar Vandoorne.
"A lot of debris down in Turn 3" @LewisHamilton radios to his team. Looks like remnants of @svandoorne's front wing… #F1 #AustrianGP pic.twitter.com/CJ8hTL5bmk

— Peter Leung (@BaronVonClutch) July 1, 2018
After the frenetic start the race calmed down with Hamilton building up a lead over Bottas who in turn put some distance between himself and Verstappen.
At the very back of the field Fernando Alonso told McLaren they need to do something with his strategy was he "won't be here" for some 70 odd laps stuck behind the Toro Rosso of Brendon Hartley.
They were running P17 and P18 when Nico Hulkenberg had the dubious honour of being the first retirement. He reported he had "lost power" and the plumes of smoke and flames coming from the back of his RS18 hinted at just that.
Moments later pole-sitter Bottas was the second man out as his W09 released a blue haze of smoke and parked his car. "We've lost hydraulic pressure," was the message from the pit wall.
VIRTUAL SAFETY CAR ⚠️ (LAP 15/71)

BOTTAS IS OUT! The polesitter's rotten luck continues 💔

A reported hydraulic issue ends his race in Austria#AustrianGP 🇦🇹 #F1 pic.twitter.com/nTNreBf9hP

— Formula 1 (@F1) July 1, 2018
The VSC came out with Red Bull and Ferrari stacking their drivers. They came out Verstappen, Raikkonen, Ricciardo, Vettel with Hamilton still running in the lead and yet to pit.
Ricciardo, the overtaker of the season, did just that to Raikkonen to run third as he seemed to have the better of the soft tyres while Raikkonen struggled for pace. Hamilton, still to pit, Verstappen, Ricciardo, Raikkonen, Vettel on lap 21 of 71. Magnussen in sixth was also yet to pit.
Lap 25 the order changed as Hamilton pitted with Verstappen taking the lead, four seconds ahead of Ricciardo, Raikkonen up to third and Hamilton down to fourth having emerged from his pit stop just ahead of Vettel. Kevin Magnussen, who had yet to pit, was P6.
Hamilton, despite immediately beginning to catch Raikkonen who in turn was closing in on Ricciardo, was not impressed. "I want to say something, but…" He added: "Leave me to it, Bono."
Clear air allowed Verstappen a bit of freedom as he built up a six second lead over Ricciardo, who had Raikkonen less than a second behind him and Hamilton 1.5 behind the Ferrari driver with the other Ferrari a second behind him.
It looked to be a game of chess as drivers waited for tyres, pit stops or mistakes from those ahead. The only one of the top five not waiting was Verstappen.
Ricciardo pitted lap 39, his soft tyres shot, and put the supersofts on. Meanwhile Vettel overtook Hamilton, drawing alongside him on the run down to Turn 3 but squeezing his way inside his championship rival to run third.
LAP 39/71

The Ferraris are on the move!

Vettel squeezes Hamilton for third place 💪#AustrianGP 🇦🇹 #F1 pic.twitter.com/xjec2VsroA

— Formula 1 (@F1) July 1, 2018
James Vowles, the strategist down at Mercedes, told Hamilton that he, not Hamilton, had "thrown away the win" but that Hamilton had the ability on his own to make it right. "We trust and believe in you."
Lap 41, Verstappen, Raikkonen, Vettel, Hamilton, Ricciardo and Grosjean, who had pitted. Lap 51: Same order, same gaps, only Verstappen seemed happy with his tyres.
Reporting that "these rears are not going to ****ing last", Hamilton pitted on lap 53 for supersoft tyres. Lap 53: Verstappen, Raikkonen, Vettel, Ricciardo, Hamilton and Grosjean. Lap 54: Verstappen, Raikkonen, Vettel, Hamilton, Grosjean and Magnussen as Ricciardo retired with a gearbox issue. "Gear sync, gear sync," was the unhappy message from F1's birthday boy. Brendon Hartley joined him on the sidelines.
LAP 54/71

Ricciardo is OUT! 😭

He pulls over reporting a gearbox issue… on his birthday 💔#AustrianGP 🇦🇹 #F1 pic.twitter.com/Nvg6eJT9Jd

— Formula 1 (@F1) July 1, 2018
With tyres in play, old and new, Ferrari began to put pressure on Verstappen with Raikkonen closing the gap and Vettel keeping his team-mate honest. Hamilton, in fourth place, was a further 21s off the pace.
"How are their tyres compared to mine?" Verstappen asks Red Bull. He's told: "They are OK on their tyres at the moment. We are happy with yours." In turn Raikkonen was told: "Kimi, we have no concern anymore, you are free to push."
Hamilton's chances of getting involved in the fight ended on lap 64 as he added his name to the list of retirements. He reported a loss of power and parked his W09 on the side of the track, handing Vettel the lead in the championship race. It also brought Hamilton's 33-race point-scoring run to an end.
LAP 64/71

HAMILTON IS OUT!

It's a double-retirement for Mercedes 😱#AustrianGP 🇦🇹 #F1 pic.twitter.com/42cU8Zdlw9

— Formula 1 (@F1) July 1, 2018
Verstappen raced to the win, his first of his season, by 1.5 seconds ahead of Raikkonen, who did his best to close the gap, even setting the fastest lap time of the race, while Vettel was third. He lapped everyone up to and including fourth placed Romain Grosjean, who finally scored his first points of this season.
Kevin Magnussen, Esteban Ocon, Sergio Perez Alonso, Leclerc and Marcus Ericsson completed the top ten.
Result
1 Max Verstappen Red Bull
2 Kimi Raikkonen  Ferrari 1.504s
3 Sebastian Vettel Ferrari 3.181s
4 Romain Grosjean Haas 1 LAP
5 Kevin Magnussen Haas 1 LAP
6 Esteban Ocon  Force India 1 LAP
7 Sergio Perez  Force India 1 LAP
8 Fernando Alonso  McLaren 1 LAP
9 Charles Leclerc Sauber 1 LAP
10 Marcus Ericsson  Sauber 1 LAP
11 Pierre Gasly  Toro Rosso 1
12 Carlos Sainz Renault 1 LAP
13 Lance Stroll Williams 2 LAPS
14 Sergey Sirotkin  Williams 2 LAPS
15 Stoffel Vandoorne McLaren 6 LAPS
Did not finish
Hamilton Mercedes engine
Hartley Toro Rosso hydraulics
Ricciardo Red Bull gearbox
Bottas Mercedes hydraulics
Hulkenberg Renault engine