Exclusive: A race weekend in the life of Schumacher's engineer
PlanetF1 caught up with Mick Schumacher's engineer Gary Gannon to discover just what happens over the course of a grand prix weekend.
As fans and watchers of the sport, our viewing of a grand prix weekend is largely limited to the time the cars spend out on tracks but for those within the sport, the elongated weekend lasts from Wednesday through to Sunday.
Having been a race engineer at Haas since March 2015, Gannon has seen his fair share of change to a weekend's calendar, including a revised schedule for the 2022 season, and has been race engineer for both Kevin Magnussen and Romain Grosjean.
Now he is the man in the ears of Mick Schumacher and PlanetF1 spoke to him on the Tuesday before the Azerbaijan Grand Prix to get a day-by-day rundown of a typical race weekend.
Wednesday – The weekend begins
"We generally will travel on a Wednesday," says Gannon. "This week, we're going to Baku so we're at the factory at 6:30am on Wednesday to take a coach to the airport.
"The mechanics and everyone have gone already, they're in Baku right now. They're bothering us saying 'where's our set up sheet and stuff.' Generally, the engineers will arrive Wednesday evening and then that evening is our only free time until Saturday night. So we will try to go for a run in the town where we are and then go eat somewhere have a good dinner.
"Now with the 2022 schedule, the days are very compressed. They've given us a curfew so that we're not at the track too long. But it also means we have to pack a lot more in each day."
Thursday morning – Meetings, meetings and more meetings
"We're allowed to arrive at the circuit 30 minutes before the curfew ends. We have breakfast and then these first 30 minutes, you're trying to figure out what are we going to do straightaway, because inevitably, there's something we have to nail straightaway.
"So after the curfew ends, I have about 15 minutes until our first meetings of the day. So in those first 15 minutes, I'm out checking in with the car crew. They've worked on the car the last day and a half and I need to find out if they have any questions or any key things they're missing for the setup or the work they need to do that day."
"Then we have a sequence of four or five meetings for about an hour. There are meetings with different departments: Ones with IT to check if we have any IT problems at the circuit, ones with electronics, what tests are we going to run on the cars.
"Then we have meetings with our Ferrari suppliers that they give us the power unit, the electronics and the gearbox. We have a meeting with them talking about our plans for the weekend.
"After that sequence of meetings, we have another small gap so again, I'm checking in with the car crew, and then we are getting ready for our next meeting, which is the pre-event meeting.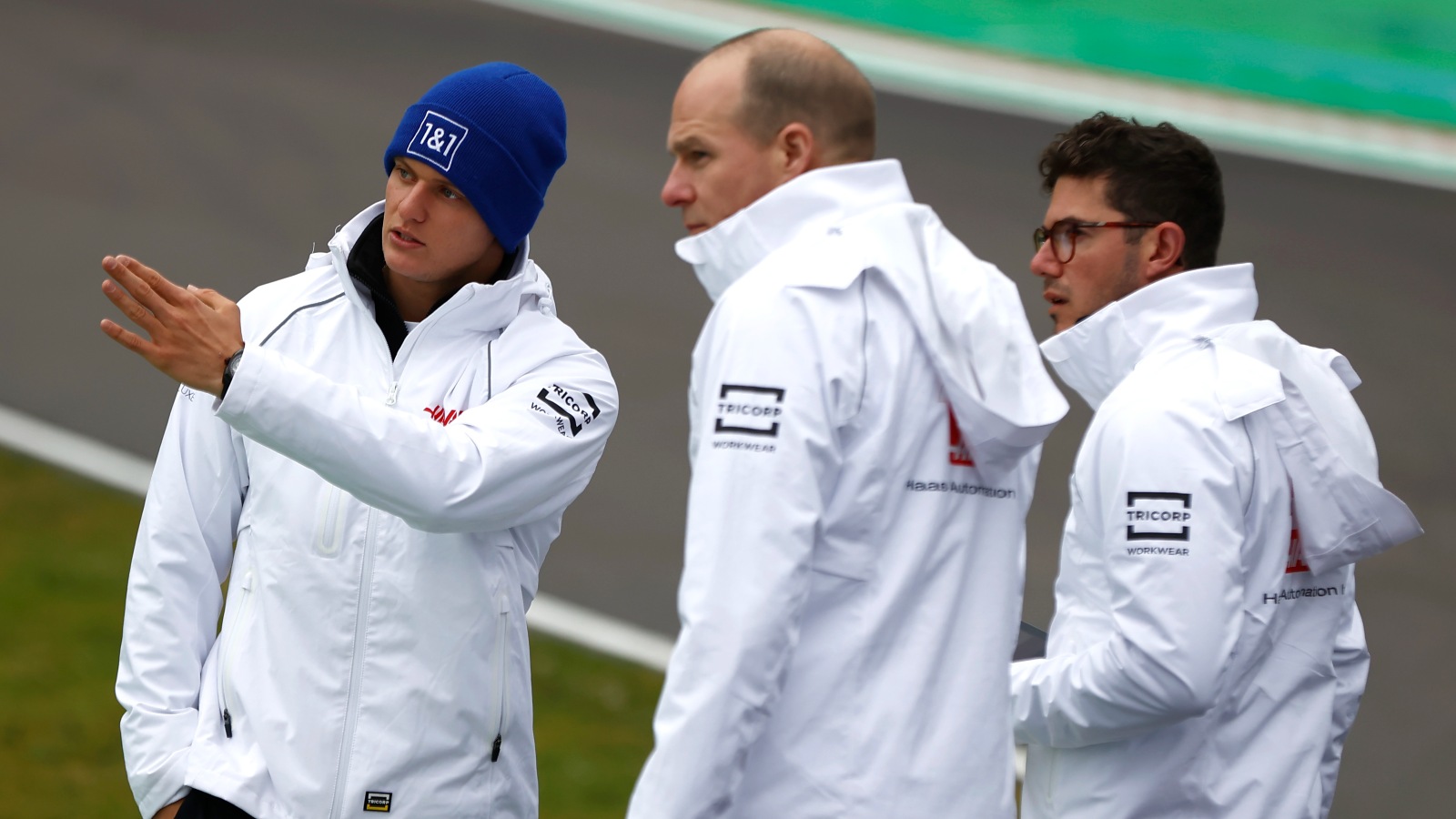 Haas' Mick Schumacher gestures as he talks to his race engineer Gary Gannon during a track walk. (Photo: Haas)
"This is where we run through all the engineering plans for the weekend. What's the weather expectations? What tyres are we running? What do we expect them to do? What tests do we have planned? What are the setup ideas we have? That's an hour on Thursday, then, as soon as that ends, we are into the track walk.
"Then the drivers arrive. Each car crew goes with their driver and we do a walk around the circuit. A lot of the circuits, the drivers have been there so they don't even need to walk around them anymore. But it's team building where we get to spend time with the driver, away from any of his commitments. So there's no one that can bother him or anything.
"We talk through some of the key points we had in our earlier meetings like 'this is what we're going to do with the test in FP1. This is how we're going to run the car for the afternoon, etc'. Also, we get to check the circuit updates. Have they changed this curve? Has the wall been moved away?
"So that's the three purposes of the circuit walk, and that takes about an hour hour 15. When we come back from the circuit walk, it's now time to eat again, which is a highlight always. So we have lunch."
Thursday afternoon – Completing the car's set-up and legality checks
"After lunch, we're straight into the systems check where everyone goes to the garage, and we test out all the radios, the intercoms, the data systems on the car. Then as soon as the systems check ends, it's time for our next meeting, which is the run-plan meeting.
"That's where I and the other race engineer read through our plans for the session on Friday. What are we going to do in FP1? What tyres are we using? How many laps? What's the fuel load? What's our test plan? What changes are we making between the runs?
"We get everything aligned and make sure everyone understands so when we say we want to do this particular test the power unit guys say 'okay, you're gonna have to run this different mode, because of this reason, temperatures or whatever'. So it's another big information sharing meeting.
"That takes us up to around 3pm or 4pm then we have a meeting with Pirelli to give us their updates for the weekend. Then, as soon as that last Pirelli meeting ends, then my focus shifts from meetings and drivers to the garage.
Gary Gannon on the three purposes of a track walk
Why F1 drivers and engineers do a track walk
"Now, the car has gotten along in its progress to where we need to do the setup on the car. The performance engineer works with the mechanics to do the setup where we're setting things like camber, tow, ride height. Then I come out and make sure everything's going smoothly.
"If there's any decisions to be made, like 'we can't quite get the camber we want, which way do you want to go with it?' I give direction for that.
"Then as soon as that setup is complete, we perform some legality tests and checks on the car. This takes about 45 minutes, where we're using a laser and camera system to measure all the different dimensions on the car and makes sure they're legal. Also test the stiffnesses of things, there's very strict regulations on how stiff things need to be.
"So we'll always have some kind of tests to perform. This involves me and other engineers, basically working with the car crew and this equipment to measure all the things on the car. It ends up generating a job list of things we need to adjust to get ourselves legal.
Thursday evening – Fire up and spending time with the driver
"Then it's 4 or 5pm and that's time for fire up. I'm not too involved in the fire up so I might be able to spend some more time with the driver. Thus far I've had the hour truck walk with them but not any other time.
"I'll sit down with Mick and try and talk through it in a little more casual way like what do we hope to get from the weekend? What are our goals? We have already had one or two conference calls with Mick in the week leading up to the race.
"Then very quickly, it's the Thursday curfew, so then that we have to leave the circuit. If things have gone really well and we're ahead on schedule, then we probably can go out to dinner again or go for a run on Thursday night.
"But if we're a bit behind, which we usually are, I need to be very focused on Thursday night and make a very clear plan for Friday morning, because now, some of our Thursday work wasn't completed and we need to get it done Friday morning before the car runs. And it's essential to have it done.
"So Thursday night, I'm trying to get my final plans in order and make sure I have all the details, right for a run plan. The running time is so short in Formula 1, and the tyres are so limited that you have to have every detail perfect and planned out.
"You can't afford to waste anything in terms of like 'oh, shoot, we didn't have the right setting when we went out. We have to box.' That's a disaster for your whole weekend. It's all about being really organised and focused going into Friday morning."
Friday morning – A frantic Friday
"So Friday morning, we can come into the circuit four hours before the car runs. Again, we have breakfast time before the legal entry time then we're straight into work on the car.
"I'll probably spend about two hours in the garage, working with the mechanics to get all these different jobs done on the cars to make sure they're ready to run, test items are installed, etc. and then the remaining two hours are working with the drivers and the engineers aligning all our plans and expectations so that we know after the first run we're looking for.
"One hour before the session, we have a runtime meeting again, this is with all the engineers and drivers, and we walk through every step again. What we're planning to do, the driver might say, 'wait, why are we doing that? I don't know how to do that, etc.' So it's a final check with the drivers so that they're aware what their job is.
"Then 30 minutes before this session, I go to the garage, I put my radio on, I connect to the intercom. I do a radio and intercom check with everyone at 15 minutes to go. I make sure I have all my documents printed out, I get the driver in the garage at 15 minutes to go and I weigh them so we know their weight before every session.
"Then at 12 minutes to go after this final fire up we put the driver in the car. 10 minutes to go I start radio-checking the driver has been belted in by mechanics that takes about seven minutes to get the driver fully installed in the car. And then once he's fully ready to go, we give him his driver drop down screen and we will run through the plan one more time.
"What tyres do we have? What's the run plan? What switches they need to do so that it's all freshly in the driver's head before he goes. Then with three minutes to go we fit the tyres for the session. It's already on the plan to fit the tyres but I give a final confirmation to our number one mechanic Toby [Brown] that we need to fit tyres at that time.
Friday, FP1 – First tests of the new set up
"Then we're waiting for the green light. Usually in FP1 you're going out straightaway because the car has been freshly built. You want to get on track as soon as possible and find it if you have any issues. If not then sometimes in Fp3, you might wait a bit because you know the current status and you want to wait for the track to clean up,
"Then we generally will do in FP1 three runs. A first run which may or may not have like a special test on the car like a rake or something and then come back in the garage, look over the car and make a change go again on that same set of tires. Then on the final third run, we might get the fuel up to high fuel load or not and then run.
"During the run when the car is on track, I'm monitoring two things. One, I'm talking to the driver. Two, I am watching on my upper screen the GPS and track data. My main responsibility is to make sure the driver knows everything that's going on around him.
"What's traffic doing, who's on a push lap, who's on a back off lap. We try very hard not to put the drivers in any dangerous situations or causing the impeding for other drivers.
"Then my secondary thing that I'm watching is car data. I'm not primarily responsible for the car data, but I need to see what's happening with the balance, what's happening with the tyre temperatures as the car's running. So using our Atlas software, and watching the live telemetry data.
"We have between three and six engineers also looking at all the car data as we run and they're more responsible for like are the brakes too hot? Is the tyre too cold? They're going to tell me what's happening.
"When the cars running in the intercom, I have anywhere between one and six people talking to me at any time telling me what's going on with the car. The driver's talking to me, asking for info, I'm giving the info back to the driver.
"It's very disruptive and confusing at times, because there's so many people talking about so many different things, but I have to just filter through it and then pass the right info on to the driver and make sure everyone's focused on what the driver's needs are.
"Then when we come back in, we debrief with the drivers, so we have a standard list of items he should explain to us after each run. And then we ask any further questions about a test we did or something, and then we decide what we want to do for the next run.
Friday, after FP1 – Driver debrief and making changes
"As soon as the session ends, I give the guys an electronic job list of things we need to do on the car. Things we need to fix from the last run, things we need to change for the next session. Once we've done that job list, then I'm straight back to the office and we're into the debrief with both drivers.
"Five minutes after the session ends, we have a 15 or 20 minute time where the driver explains everything they experienced. Then we go around the room and every engineer either gives some info or asks a question. Once that's has completed, then we have two hours for the next session.
"We need to quickly determine what our set of changes should be for the next session. We have planned set of changes and then we also may react to whatever our performance problem was in the first practice. So to do that, we need to analyse data.
What a race is like from in the garage
Life inside the garage on race day
"Myself and the other engineers look through the data from all the runs. We're also communicating with people back in Banbury to see what ideas they have and what things they observed in data and ultimately ask them to come up with options for us.
"For example, we might say 'our limitation is understeer in Turn 3, can you come up with a package to fix that?' and then the people back at home will try and have a go. They'll come back to us with some ideas but the timer is always going. It is running away quickly because we want to get this set of changes to the crew by one hour.
"So we only have about 30 minutes to think through all the things we could possibly do to get the car changed. So then with that one hour to go before FP2, we'll give setup changes to the mechanics and go out and make sure they understand what we need to do, especially if it's something complex, we want to get involved and make sure there's no questions.
"They get the car ready, they make the setup changes again half hour to go before the next session, I'm into the carriage. Doing the same radio checks, intercom checks, driver weighing, radio check with the driver, telling him the plan again and then going out and doing FP2.
Friday, FP2 – One final debrief and a very busy Friday night
"Again we're doing three runs of low fuel and then a high fuel run preparing for the race. We get through Fp2 then the session ends and again, we're back in the office for another debrief.
"30 minute debrief after the end the day of running and then more meetings with the guys at the factory. Again, trying to spend time in the garage to understand what issues we had on the car, how they're getting on with the Friday night jobs.
"Friday nights incredibly busy now because the curfew is earlier, they generally have to change an engine, they possibly have to change the gearbox. Ideally, we should be firing up once we've done those changes on Friday night, but we rarely have time. Now that all shifts to Saturday morning.
"We work straight up to the curfew on Friday night trying to determine the setup ideas for the next day but we don't really finish. When we get back to the hotel, I'm working away further for a few more hours trying to make a plan for the next day what jobs we need to do on the car.
"I need to go through the data again and try and find driving improvements for the drivers, setup changes we should be doing, making a menu of all our setup changes that we possibly could do so that when they come in Saturday morning, we have our exact job list for the car crew done. We have our setup decisions ready to be made."
Saturday morning, – FP3 and finalising a qualy strategy
"When we arrive on Saturday, we have this setup meeting where we finalise our setup for running on Saturday across cars. Then, because we didn't finish a lot of jobs Friday night, because there's not enough time, we're doing some of these legality checks in the garage and the setting up of the car, which things are traditionally done the night before.
"But now with the F1 schedule, we're doing them Saturday morning. Saturday morning used to be calm, and you could think through what your plan was. Now it's very busy spending a lot of time in the garage to get the car going.
"One hour before the session, we have our run plan meeting with everyone, and then 30 minutes before the session, I'm in the garage. FP3, generally, we have two new tyres so we're trying to do just quality simulations and ten what our final setup should be for qualifying.
Saturday afternoon – The all-important qualifying 
"Then the gap to qualifying is again two hours so very busy. Get the final set of changes to the drivers quick as we can. Go through the data, try to find every little bit we can to get time for the driver, how he should do his out lap, how he should prepare the tires, gather all that info, get out in the garage 30 minutes before and then we get into qualifying.
"Qualifying is really, really fun because it's where all the work comes together. The drivers are doing their best. We're trying to get all the timing just right. We're watching all the traffic, where should we fire up the engine, when should we send the car, we need to get a tow on the first run, we need to be aligned with these guys because they're on a back off lap etc.
"Working with the other car engineer and the chief race engineer to align all our car movements on track and then hopefully put it all together, keep the driver focused, get them aware of what we're trying to do on each run.
"First run, just get a lap time on the board. Second run, try and maximise your lap time. Do all that and then qualifying ends and then you sort of can relax for a few minutes after qualifying, we have a debrief, which either can be very positive or very dark and depressed.
"Then after the debrief, we have to check the tires because we're using the same qualifying tires again for the race. So we look over each tyre physically to check for any cuts. We're making our final analysis of qualifying because we have a meeting later to explain why were we poor in the second run etc. And it's about thinking what we're going to do for the race.
Saturday evening – The calm before the storm
"Then, eventually, Saturday night, they put the car covers on we've had all our meetings and then again, we have a chance to possibly go for a run, we run the circuit, maybe a couple of laps, or we go back to the hotel and run on the beach if it's in a nice location or go for dinner.
"After dinner I do a few more hours work preparing for the race. Things like what was the balance like in FP2 when we ran high fuel? How did other people manage their tyres? We have everyone's GPS data so we can see where people are lifting in corners to try to build up lots of information before Sunday morning when we do our race planning.
Sunday morning – Race prep
"Five hours before the race we come in on Sunday morning. We immediately have a catch up with the strategy engineer and the chief race engineer to tell us their rough plan for the race. And then at that point, we can ask questions or we can say well, I'm worried about that tire because in FP2, I struggled to get the balance right, etc.
"We have a kind of second loop of what our strategy options are. Then we are meeting with the drivers straightaway to give them the strategy plan. Tell them how we think we should be driving the car to make the plan work in terms of pushing or managing tires. And then a few more meetings before the race to finalise the plans and make sure everyone's aligned.
Sunday afternoon – Lights out
"Then 40 minutes before the race is when the formation lap starts. So we go to the garage one hour 10 minutes before the race for our final pre race prep, radio checks, get the driver and weigh them etc. 40 minutes before we do our three laps to grid.
"Sometimes we can do a practice start on the way out which is very valuable and then the drivers getting a final balance check and when check for the conditions on Sunday. We have about 25 minutes on the grid. The driver goes to the national anthem.
"We look at data. I'm talking on intercom to the guys in the office and at the track for what we saw on the laps and what we see from other people.
"Finally, the race starts. They start the formation lap and I'm standing next to the car on the grid. The car fires up. The car goes off on the formation start and then we run back to the garage, get plugged back in, we check everything's okay. Make sure we have the our tyre sets lit for the pitstop because like I light up, which is the next tire set, we should be running.
"Then finally we're watching the race start and then at that point, you think you can relax and kind of watch but actually, you have to be ready for anything. There could be a first lap pitstop, if you break your front wing or a puncture, there could be a rapidly changing weather condition.
"Like in Monaco, even on the grid, we were jumping around changing tyres left and right so it was very wild. You have to be ready for anything the whole time.
"You have this hour and a half race, where I'm trying to give the driver lots of information to keep them aware of the overall race situation. How are they making or losing time? What they should be working on with their tools, we can help them adjust the balance on the car with all the different car tools.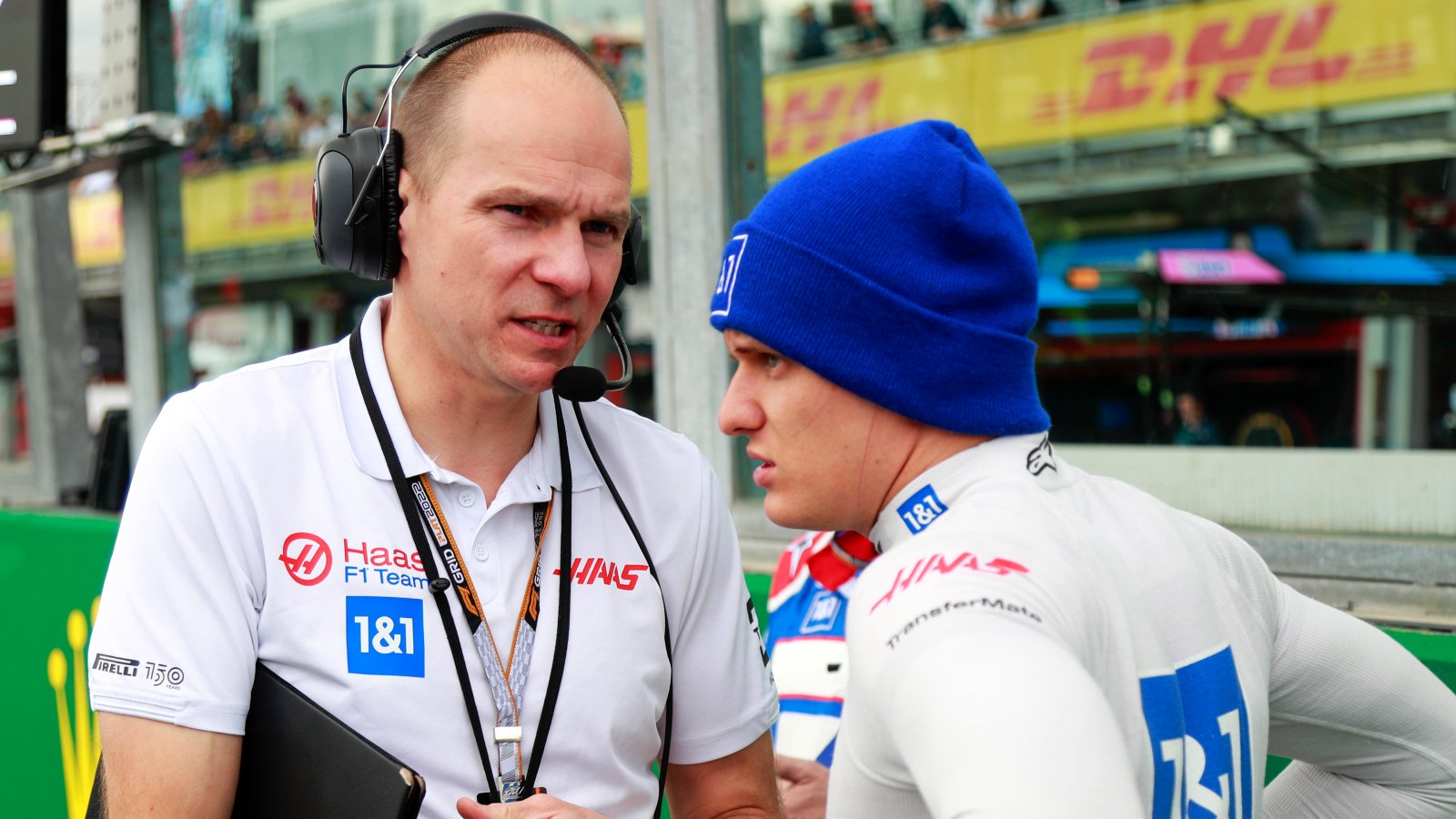 "And interacting with all the other engineers like, how can we make the car better? What's happening with strategy? When's our pitstop lap? How are we trying to go longer on this tyre? Should I be saving or pushing? So just gathering lots of information into me and out to other people, especially the driver to try and keep them well informed.
"Finally, the race ends and then you think, 'okay, it's another spot where you can relax' but no, we can't relax, because we have to have the debrief. Then we have to quickly pack our bags and then get to the airport as quick as we can. Because we have a flight and we're about to be late to the flight.
"We change clothes in the truck, run to the car, drive as fast as we can to the airport, return the hire car, try to get some food at the airport but usually all that food places are shut and then you're frustrated with that. And then we get on the plane. It's delayed for an hour and a half.
"Then we fly home land at 1am at Luton, then our van isn't there and then we get home at 3Am or something and then we go to work on Monday to reflect on the weekend."
Mick Schumacher's engineer Gary Gannon runs us through a race weekend
Gary Gannon runs us through a race weekend