Kimi Raikkonen's pre-season did not get off to the best start as five minutes after the green flag, he brought out the first red.
After months of waiting, Formula 1 woke to blue skies but chilly conditions as everyone prepared for the first official day of testing.
Gooooooooood morning!! Best Monday ever! We are testing! Welcome to Barcelona! #F1Testing pic.twitter.com/hQK6Kgy7qH

— Circuit de Barcelona-Catalunya (@Circuitcat_eng) February 18, 2019
Haas kicked off the day's action, albeit in the pit lane and not on the track, as they took the covers off their 2019 car, the VF-19.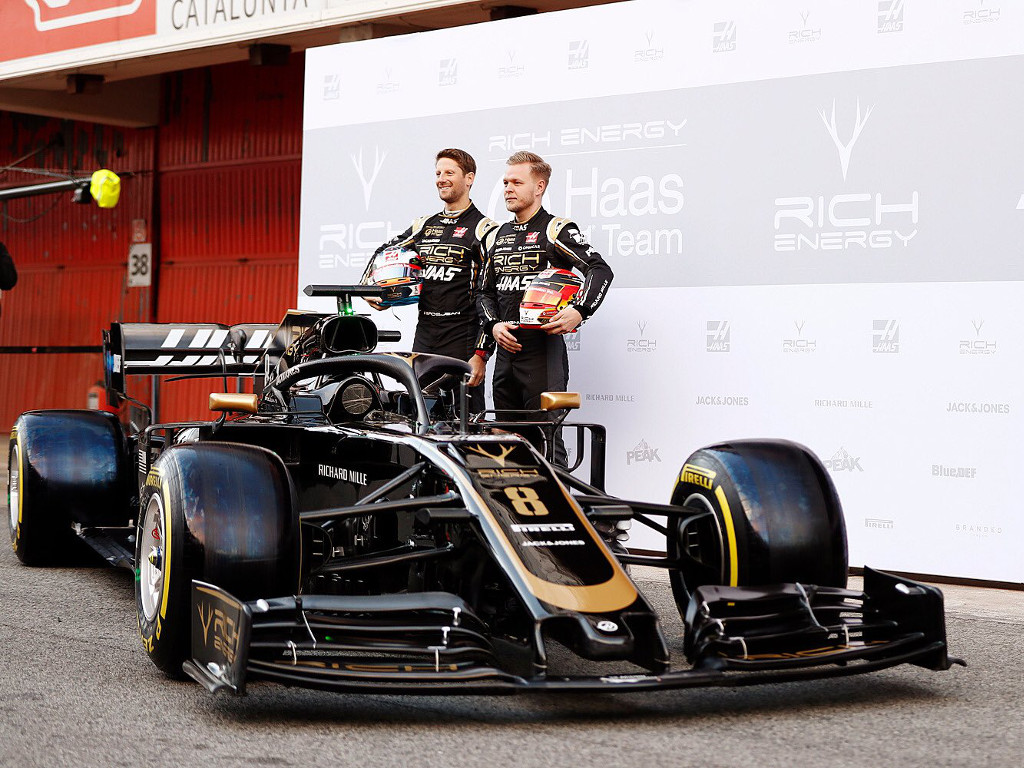 That was followed by Alfa Romeo's official unveiling of the C38, which will be driven by Kimi Raikkonen and Antonio Giovinazzi this season.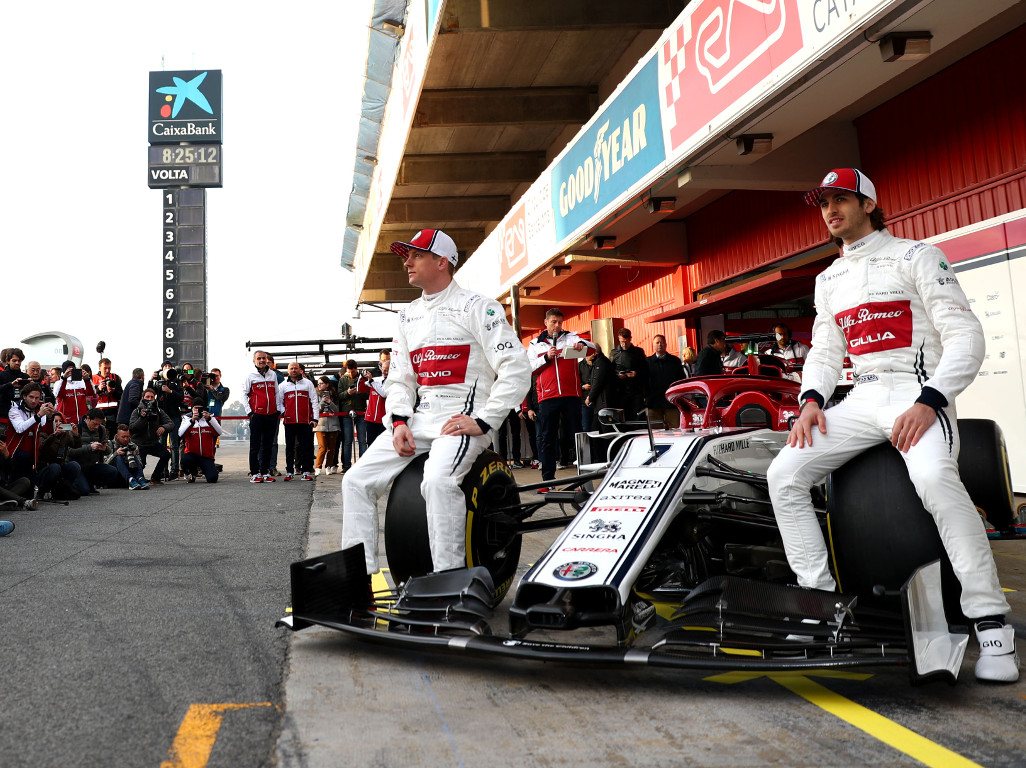 9am, green flag, and Valtteri Bottas is the first man out in the Mercedes.
9am on the dot, ready to roll! 👊 #F1Testing starts here!! pic.twitter.com/9RyjT0GOQq

— Mercedes-AMG F1 (@MercedesAMGF1) February 18, 2019
It was a tough start to testing for Raikkonen in the newly-launched Alfa Romeo as just five minutes in he was stuck in the gravel.
That brought out the first red flag of the pre-season.
Oh Kimi 🙈#F1Testing pic.twitter.com/sIrzhbgLda

— tami. (@Vetteleclerc) February 18, 2019
Raikkonen returned to the pits but without his car. Ooops. That was returned a few minutes later on the back of a flatbed truck.
Kimi back to box! #F1Testing pic.twitter.com/MupiyrY8qA

— Circuit de Barcelona-Catalunya (@Circuitcat_eng) February 18, 2019
Although it was noted prior to testing that the wings on the Ferrari SF90 were vastly different to their rivals', this photo is all about the aero sensors. Sebastian Vettel was driving the car on Day One.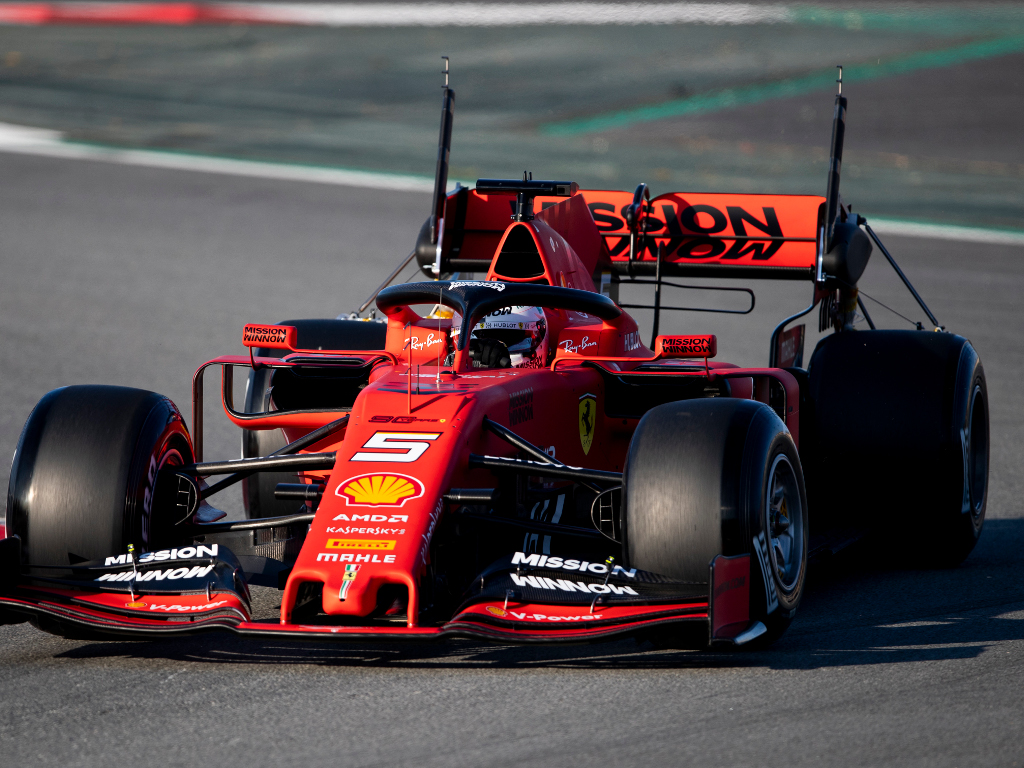 Romain Grosjean was really happy to be back in the car.
So good to be back on track! That winter break always feels too long! #F1Testing @HaasF1Team @rich_energy https://t.co/EpPlrnA547

— Romain Grosjean (@RGrosjean) February 18, 2019
There was a first look at Renault's RS19 as the team only launched the livery last week. Nico Hulkenberg has the honour of putting the first laps on the new car.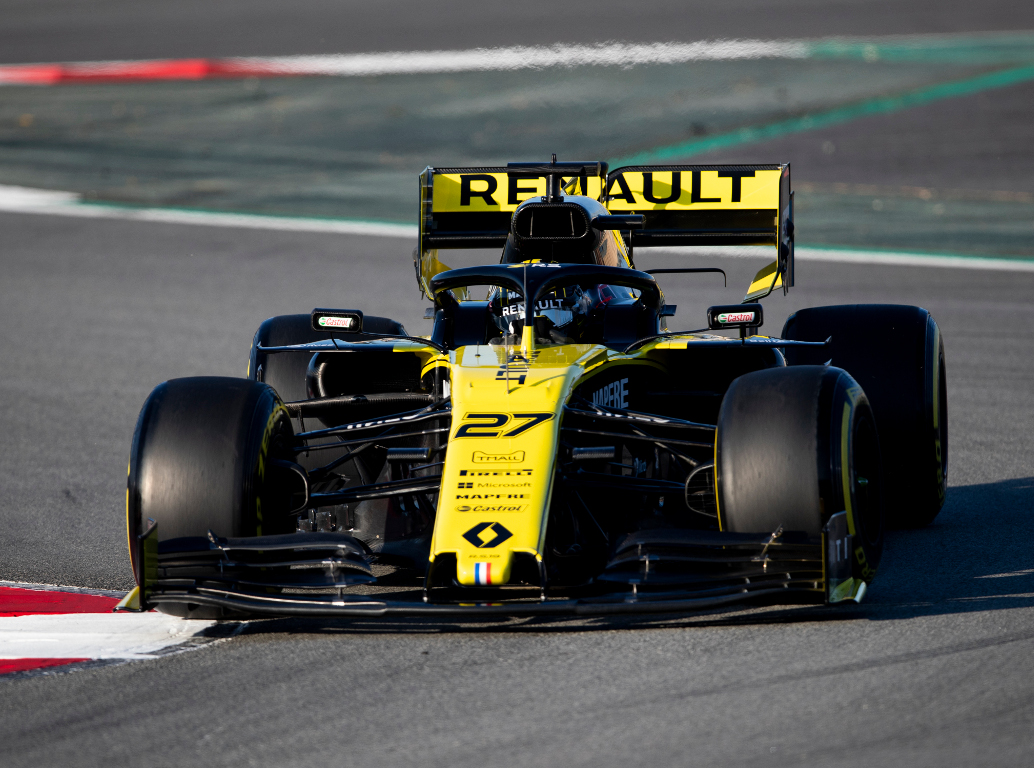 Racing Point's RP19 hit the track. It was a first sighting of the Mercedes-powered car with Sergio Perez behind the wheel. Lance Stroll will get a run later.
She's alive! The RP19 heads out! #F1Testing pic.twitter.com/2l7WCcdKOw

— SportPesa Racing Point F1 Team (@RacingPointF1) February 18, 2019
It wasn't only new cars that were being tested, nor new drivers, as McLaren trailed a new tyre marker system that takes the mechanic out of the equation.
McLaren are testing new tyre markers when the car stop's at the box. Instead of a mechanic with a mark on his arm they have attached two markers that are hanging from the pit structure over the front tyres! When the car stop's they are automatically set up aside. pic.twitter.com/PvwNn2SQG4

— F1Writers™ (@f1writers) February 18, 2019
Romain Grosjean brought out the second red of the morning as his VF-19 ground to a halt at the final chicane. Haas reported that the car lost fuel pressure.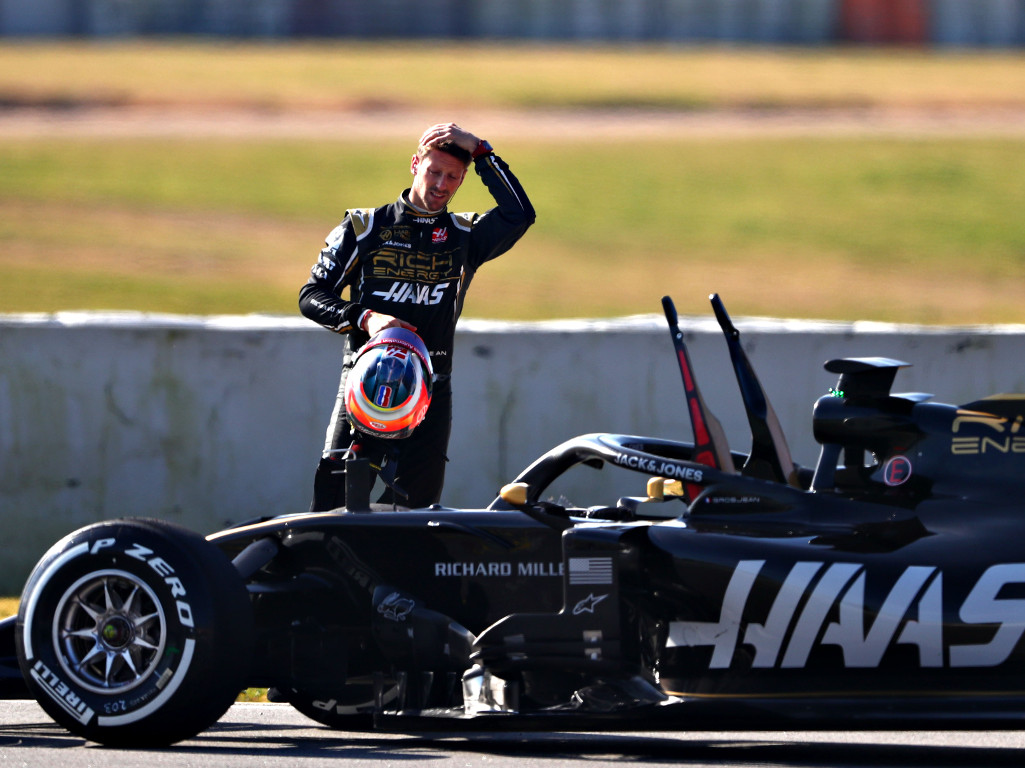 P1 for Sebastian Vettel…
Sebastian Vettel goes again quickest : 1:18.161 😉

Still P1 for Seb, 65 laps done.#F1Testing #Seb5 #Ferrari pic.twitter.com/P0uQ7zGkJr

— Scuderia Ferrari F1 News (@UpdatesFerrari) February 18, 2019
Lunch break over. It was time to see the five-time World Champion in action for the first time after taking over duties from Valtteri Bottas.
He's back 🤜🤛 #F1Testing starts here for @LewisHamilton! pic.twitter.com/N1fNI3eH8X

— Mercedes-AMG F1 (@MercedesAMGF1) February 18, 2019
McLaren's afternoon did not get off the best of starts, however, with Carlos Sainz "losing drive" just beyond the end of the pit lane exit and forcing a red flag.
But unlike seasons past, it was just a short delay for the Woking team.
Is it really pre-season testing until a McLaren car has stopped on track? #F1 pic.twitter.com/MYZdthcrdC

— Planet F1 (@Planet_F1) February 18, 2019
Hamilton wasn't the only driver racking up his first laps of the season on Monday afternoon. Step forward Daniel Ricciardo at his new team Renault.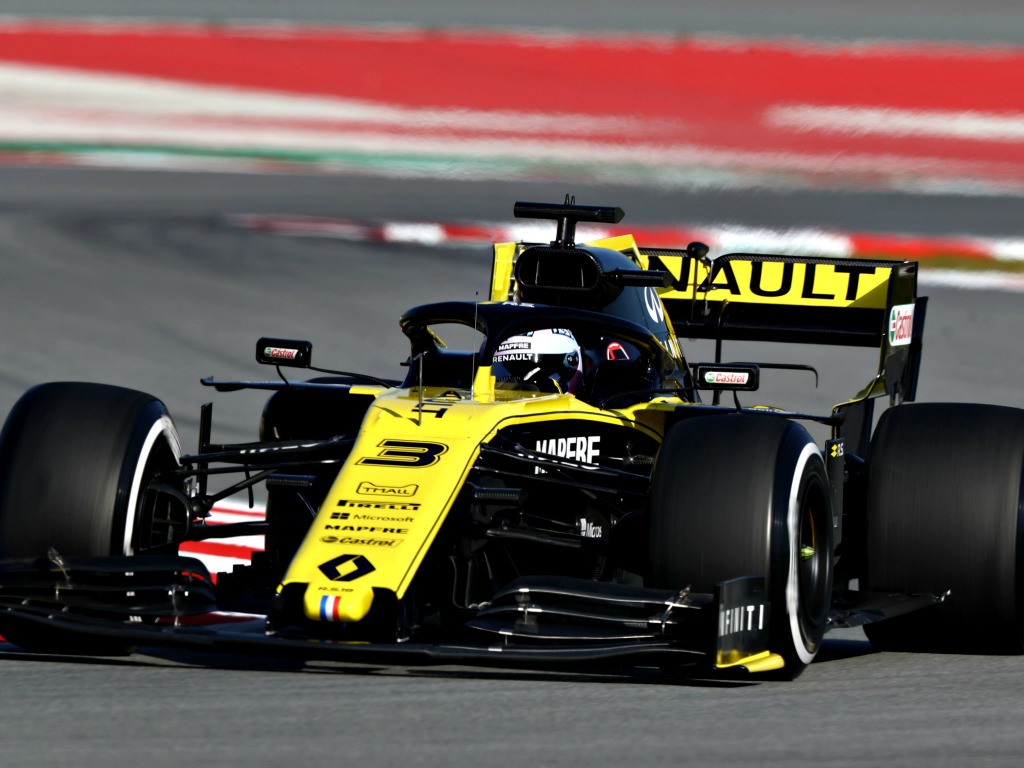 Vettel, meanwhile, continued to quietly set the opening statement of pre-season as he completed more than two Grand Prix distances at the Circuit de Catalunya.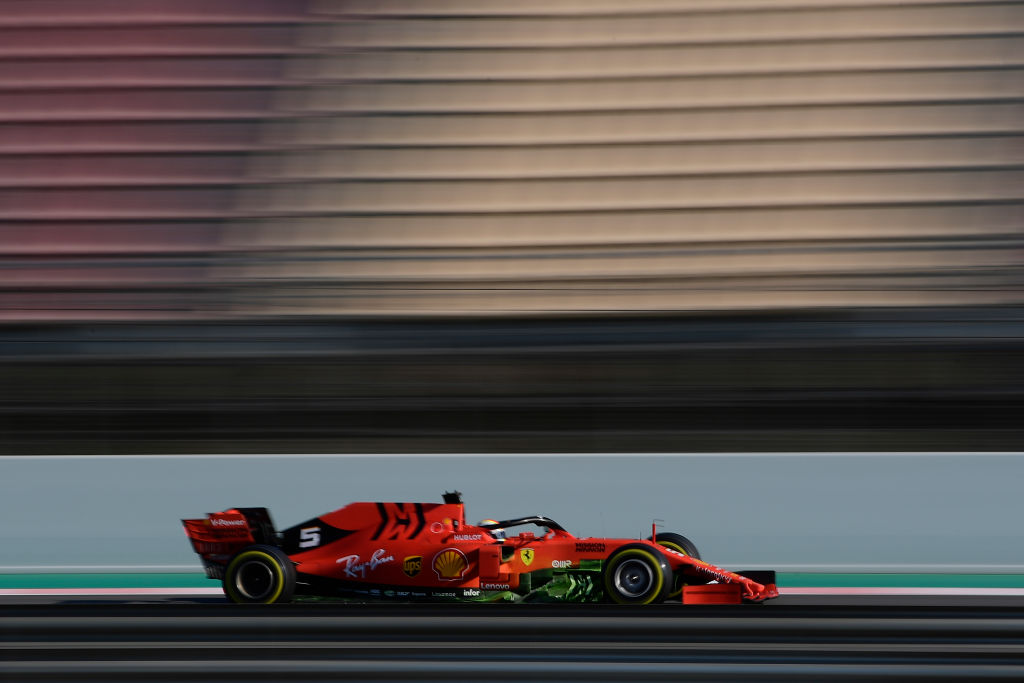 And still had the quickest time to boot once the chequered flag waved to signal the end of the first day's running…
The first day back at school is officially over. Here's what happened on day one of #F1testing @Circuitcat_eng👇 pic.twitter.com/O6Kwid3Gki

— Pirelli Motorsport (@pirellisport) February 18, 2019
Follow us on Twitter @Planet_F1 and like our Facebook page.