Ranked: The 10 best F1 driver pairings of the 21st century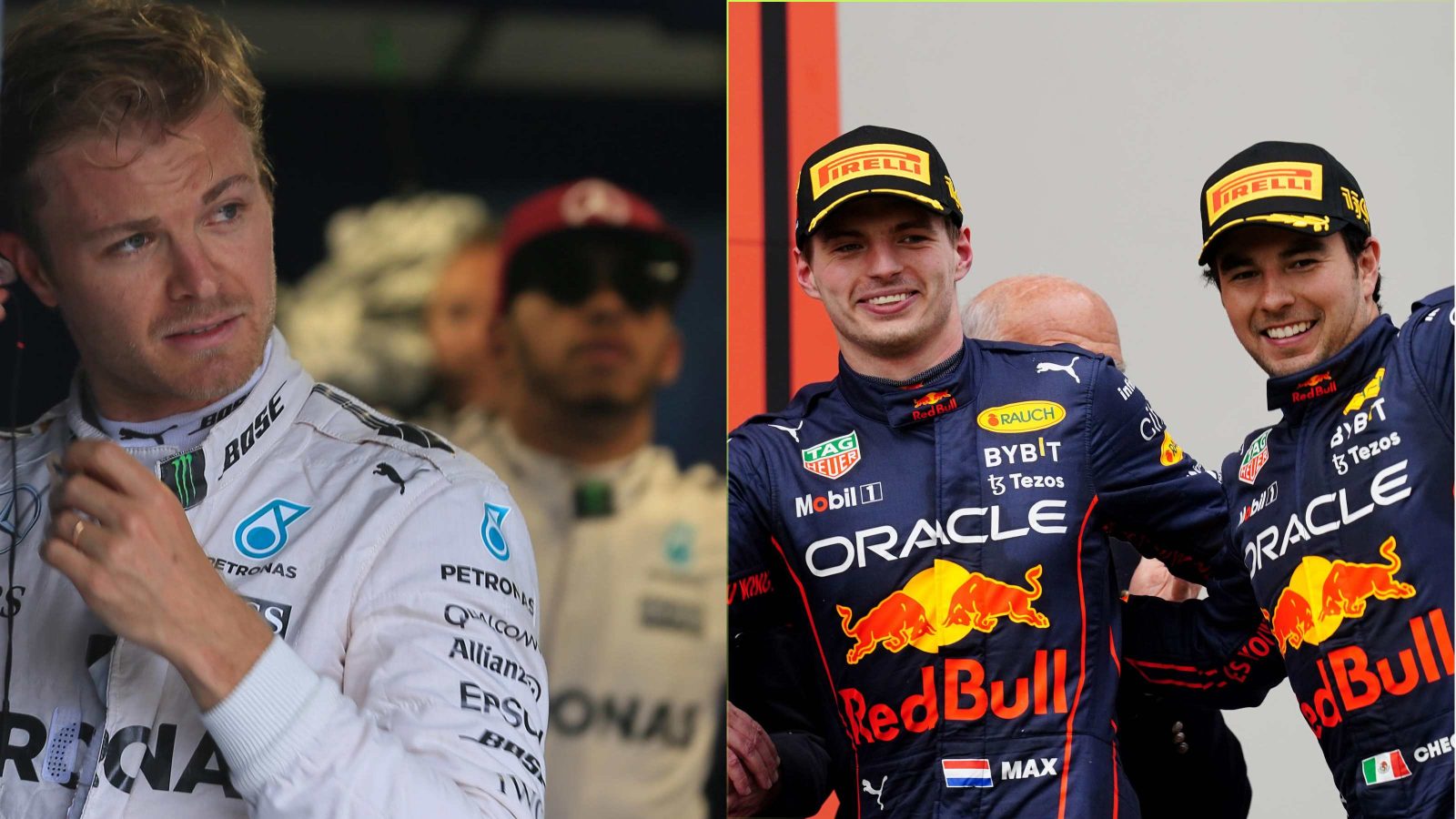 Being a team-mate in F1 is unlike any other sport – for while you want your partner to do well, you don't want him to do as well as you.
By definition, F1 is a team game as much as it is an individual one with the current 10 constructors battling it out for a championship of their own – but ask any driver which one of the titles is the most important and it's an easy answer.
That means teams, and crucially team principals, find themselves in the difficult role of peacemaker, encouraging both drivers to do well but not to the detriment of the team itself.
But how do they rank in comparison? Well PlanetF1.com has taken a look at the last 23 years to determine just who have been the best driver pairing of the 21st century.
It's important to state that this list is not solely based on statistics but instead on how talented and competitive both drivers in a pairing were.
With that in mind, let's get started…
10. Daniel Ricciardo and Max Verstappen (Red Bull 2016-2018)
Just sneaking into this list is Ricciardo and Verstappen, for while they perhaps did not show their best form during their time together it proved a pivotal moment for the pair of them.
Ricciardo has impressed in his Red Bull career so far but following Vettel's departure, a young Verstappen represented the hardest challenge he would face.
The Dutchman set his stall out early, winning his first race in the seat, and together they would win nine grands prix together, a figure that could have been a lot more had Mercedes not been so dominant at the time.
Their time together would be most remembered by that infamous crash in Baku in 2018 but ultimately it would be Verstappen who would win. Ricciardo sensed which way the wind was blowing and departed for pastures new at Renault.
9. Rubens Barrichello and Jenson Button (Honda/Brawn 2006-2009)
Button and Barrichello earn their place on this list for keeping their cool despite being at the centre of one of the biggest stories in F1 history.
Both drivers entered 2009 not just out of the title running but almost questioning what was left in their career.
Button was 29 with just one win to his name and a career-best of P3 in the Drivers' standings. Such was his desperation to stay in the sport, he opted to take a pay cut to stay with Brawn following the takeover of Honda.
Meanwhile, Barrichello was 36 and in the twilight of his career. Even the year started with rumours that he may be about to be replaced by the nephew of a man he had once driven against in Ayrton Senna.
But the miracle did happen. The double diffuser invention set Brawn a cut above and Button in particular made the most of their early advantage to secure a hold on the title. The other teams would cut the gap but Button held on while Barrichello finished third, helping Brawn to secure both titles in what would be the team's solitary year of competition.
8. Charles Leclerc and Sebastian Vettel (Ferrari 2019-2020)
The master teaches the student, not that Vettel would have seen it that way. Charles Leclerc's arrival into the Ferrari pen coincided with a new rise of talent in the F1 world.
The Monegasque joined the Maranello outfit in 2019 and gave him a new team-mate in the form of four-time World Champion Vettel.
While the German's stock was not as high as it was during his Red Bull days, he was still considered one of the best drivers on the grid and had the Mercedes car not been so dominant during that period, then perhaps he would have been the first driver since Kimi Räikkönen to win the title for Ferrari.
Leclerc meanwhile was one of the hottest prospects for a long-time, showing genuine speed with an effortless that made him seem tailor-made for Ferrari.
Ferrari may have wanted to give the baton to Leclerc earlier than Vettel would have liked, ruining the German's relationship with the team but crucially not with his team-mate, but there could be no doubting either's ability.
7. Kimi Räikkönen and Sebastian Vettel (Ferrari 2015-2018)
Wrong place, wrong time could sum up Räikkönen and Vettel's time together as team-mates. Both moved to Ferrari in 2014 with Räikkönen returning for the first time since 2009 and while there could be no doubting of either's talents, it was simply Mercedes' time.
Starting with the F1 W05, Mercedes would create a stranglehold on the championship for years to come but it was Vettel and Räikkönen who put up the biggest fight.
They finished second in all but one season and had time been just a little bit kinder maybe they could have gone one step further.
6. Sebastian Vettel and Mark Webber (Red Bull 2009-2013)
There's nothing like the arrival of a young talent to really make you up your game.
Australian Mark Webber had been at Red Bull for two years before a fresh-faced Vettel arrived and both drivers may have fallen short of the Brawn miracle in 2009, but soon they kicked into a winning machine.
In 2010, almost half of the races were won by a Red Bull driver with Vettel winning just one more than Webber and although statistics will show the German had the beating of his Australian team-mate, that was not always the case.
The infamous multi-21 incident wouldn't have happened if Vettel didn't believe that either. Here were two drivers pushing each other to be better and together, they dominated the sport in the early 2010s.
5. Sergio Perez and Max Verstappen (Red Bull 2021-present)
Perhaps it is a little too early to add this duo to the list but their achievements together already help warrant their inclusion.
Before Sergio Perez's arrival, Max Verstappen had developed into something of a team-mate killer. Pierre Gasly, Alex Albon, even Daniel Ricciardo to a certain extent had fallen victim to him with the Red Bull car reportedly built to the Dutchman's liking.
Such was their desire to find a competent team-mate, Red Bull switched up their recruitment tactic and instead of promoting youth, they brought in experience.
Perez was facing a future out of F1 but early on, he proved himself capable of occupying one of the hottest of hot seats.
In 2023, the two look unstoppable and it is looking increasingly likely that every race will have a Red Bull crossing the line first.
But the question always will be, is Perez up to the challenge of Verstappen?
4. Valtteri Bottas and Lewis Hamilton (Mercedes 2017-2021)
Like Barrichello before him, in the early days Bottas was more than happy to be Hamilton's wingman. Together they won four consecutive Constructors' championships for Mercedes, propelling the team up the all-time table and the duo won 60 races together.
As with Ferrari before them, Hamilton played the Schumacher role but Bottas proved more than capable. The Finn won 10 races with 58 podiums and contributed to 739 points in 2019, the third most in a single F1 season.
PlanetF1.com recommends
Laurent Rossi should look inwards if searching for who to blame at Alpine
Spain 2013: Remembering Fernando Alonso's last Formula 1 win 10 years on
3. Rubens Barrichello and Michael Schumacher (Ferrari 2000-2005)
History books will show Michael Schumacher's five successive Drivers' titles but what is perhaps a little more neglected is Rubens Barrichello in them.
Sergio Perez has been praised for his teamwork but it was Barrichello who defined the role. Together they won 56% of the races they competed in, ended on the podium 126 times and secured 24 one-twos.
They added five Constructors' titles to Ferrari's cabinet and yes, Schumacher was the star and focal point, but Barrichello showed what it meant to put the team first.
This star-wingman role came to be the formula for success in F1 and is something both Mercedes and Red Bull have replicated.
2. Lewis Hamilton and Nico Rosberg (Mercedes 2013-2016)
A team-mate pairing that was known for its explosiveness and almost pushing Toto Wolff to the edge of firing both of them but one that was brutally efficient.
The drivers who had raced against each other as kids were reunited at Mercedes in 2013 and at a time when everyone was questioning just what Hamilton was thinking.
His decision would go on to be vindicated multiple times over as he and Rosberg benefited from dominant Mercedes cars.
But there can only be one and for a few years, it seemed that would always be Hamilton.
18 points difference in 2013. 67 points in 2014. 59 points in 2015.
And then came 2016. There would be few who would argue that Rosberg was as talented as Hamilton but in 2016, he gave everything to be as good as him. That season was the climax of years of tension, years of always being just a step behind and years of friendship coming to an end.
Just two races that season were not won by Mercedes as they recorded an F1-high points total of 765 in a single season but while the Constructors' was wrapped up, the question always was: could Rosberg do it?
The answer was yes, the German's strong start was enough to hold off Hamilton who won the final four races of the season.
It was a year of two drivers giving everything to be the best and elevating each other to new heights. After the confetti settled in Abu Dhabi, an exhausted Rosberg retired and Wolff breathed a heavy sigh of relief.
1. Fernando Alonso and Lewis Hamilton (McLaren 2007)
If you were to write the events that occurred in 2007 for a movie, many would claim it was too Hollywood.
A young rookie joining the sport alongside a two-time World Champion at one of the most historic constructors on the grid, battling it out blow-by-blow over the course of a season. Stories of underhand tactics, bribes within the walls of the garage and increasingly frayed relations.
And, just like the first Rocky movie, it was not to be a fairytale ending for either of them.
Alonso and Hamilton's single year of being team-mates harked back to the days of Senna v Prost. There was bad blood, there was a tight championship battle but most of all there was driving excellence.
The two pushed each other to a new level that year and it is rather poetic just how similar both of their years would be. Four wins each, the same number of podiums and ultimately, the same number of points.
In the end, neither would finish as champion, that honour went to Räikkönen, but it was a glorious year of racing.
In terms of pure racing talent combined, Alonso and Hamilton are the current No.1 pick of a very strong top 10 line-up.