Red Bull have an underperforming driver, and one of the best on the grid is free for 2021, so why exactly hasn't Sergio Perez been signed?
As the Mexican continues to excel and Alex Albon continues to struggle, it's a question that is being asked more and more throughout the world of Formula 1, and one that has a number of potential answers.
Here are a few of them…
He could upset their golden boy
Max Verstappen has been the apple of Red Bull's eye ever since he won his first race for the team back in 2016. He came through the team's driver programme, is one of the most exciting drivers on the grid and has become one of the sport's biggest superstars.
In the last two seasons, in particular, he has been near flawless and has forged a reputation as one of the very few drivers on the grid who would be capable of going toe to toe with Lewis Hamilton over the course of the season. He just needs the car.
Red Bull have yet to provide him with said car, but he's opted to stay nonetheless, largely because he's the undisputed, unchallenged number one driver week in, week out. If Perez was to come in and challenge him, which he most likely would, that could change.
With no young drivers as good as him available, and their rivals boasting the likes of Charles Leclerc and George Russell, the team simply can't afford to lose the Dutchman if they want to win titles again in the future, and may be worried that hiring a team-mate who could cause him problems may increase the chances of that happening.
Intra-team conflicts could return
Not only could putting Perez alongside Verstappen cause issues further down the line, but it could also hurt the team in the short term.
Red Bull are no stranger to inter-team clashes. Sebastian Vettel and Mark Webber famously butted heads, while Max Verstappen and Daniel Ricciardo did the same in their final season as team-mates. Those sorts of things are bad not only for morale but can lead to poor results too if the drivers come together.
It's no coincidence that Verstappen has performed better than ever since Ricciardo left. While having a number two driver nowhere near him hasn't been ideal, it has had its upsides. There have been no issues with team orders, no crashes between the two cars and the Dutchman has never lost points as a result of fighting with Pierre Gasly or Albon.
Perez would be much closer to Verstappen on track and, alongside Esteban Ocon at Racing Point, has shown that he's not always the best team player. While he may score points than Albon, he could also cause Verstappen to score less than he currently does. What's more, the last thing Christian Horner will want is to have to handle another multi-21 situation.
They could see it as an admission of failure
Red Bull haven't hired a driver outside of their own programme since Mark Webber joined way back in 2007. Helmut Marko is rather proud of that and is undoubtedly reluctant to bring that streak to an end.
As far as he's concerned, developing young talents and turning them into world-class drivers is one of the best things he and Red Bull have going for them. "Sure, Mercedes may have the best car right now, but we always have the best talent pool," he boasted.
By signing Perez, Marko would have to swallow his pride and effectively admit that is no longer the case. Anyone who knows anything about him will know that it's hard to see him doing such a thing unless it's absolutely necessary for the sake of the team, which brings us onto our next point…
They're not too fussed about 2021 anyway
With no major regulation changes for next year, the pecking order is likely to stay the same, with Mercedes dominant and Red Bull comfortably the best of the rest. Given this, Marko and co are probably wondering just how much they could gain from having a better second driver.
Sure, with Perez alongside Verstappen, they could challenge the German team on a more regular basis, but it's hard to see them doing so enough to put together any kind of charge for either World Championship.
Therefore, they may ultimately feel that it's not worth ending their streak of hiring drivers from within just for the sake of some stronger showings on individual race weekends. 2022 will be their real chance to challenge Mercedes, so they can afford to keep Albon for now and reassess things at a later date.
This is a risky strategy though. With McLaren getting Mercedes engines and Daniel Ricciardo, and Racing Point becoming Aston Martin and adding a four-time World Champion to their ranks, it could lead to Red Bull looking nervously over their shoulders next season.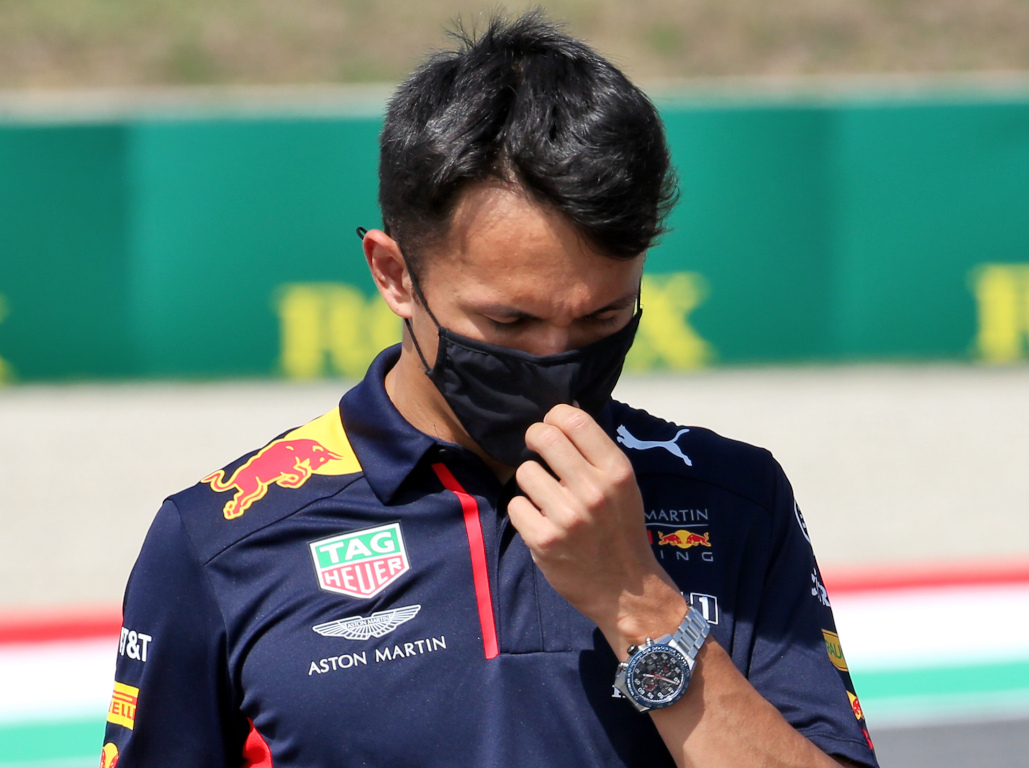 There's no room for Albon elsewhere
When Red Bull have dropped drivers in the past, said drivers have been sent back to Toro Rosso, now known as AlphaTauri. They don't have the option of doing so with Albon.
Pierre Gasly has been one of the drivers of the season and is quite simply indispensable to the sister team, and it seems certain that F2 driver Yuki Tsunoda, a hugely exciting talent, will partner the Frenchman next season.
That means that if Red Bull opt to replace Albon with Perez, they'll be kicking him out altogether, which would be a big blow to his development. Furthermore, he could then leave the Red Bull family. Given he still has potential and is from the same country as the company, thus providing important connections, they won't want that to happen.
There is a chance that someone outside the Red Bull circle may take a chance on Gasly in 2022 f he continues his fine form. That would lead to a spot opening back up for Albon there should he continue to struggle next year, and Red Bull may well feel it's worth the wait, especially with 2021 something of a write-off anyway in terms of title chances.
Finley Crebolder 
Follow us on Twitter @Planet_F1 and like our Facebook page.