Red Bull junior team: The 12 drivers looking to rise through the ranks to F1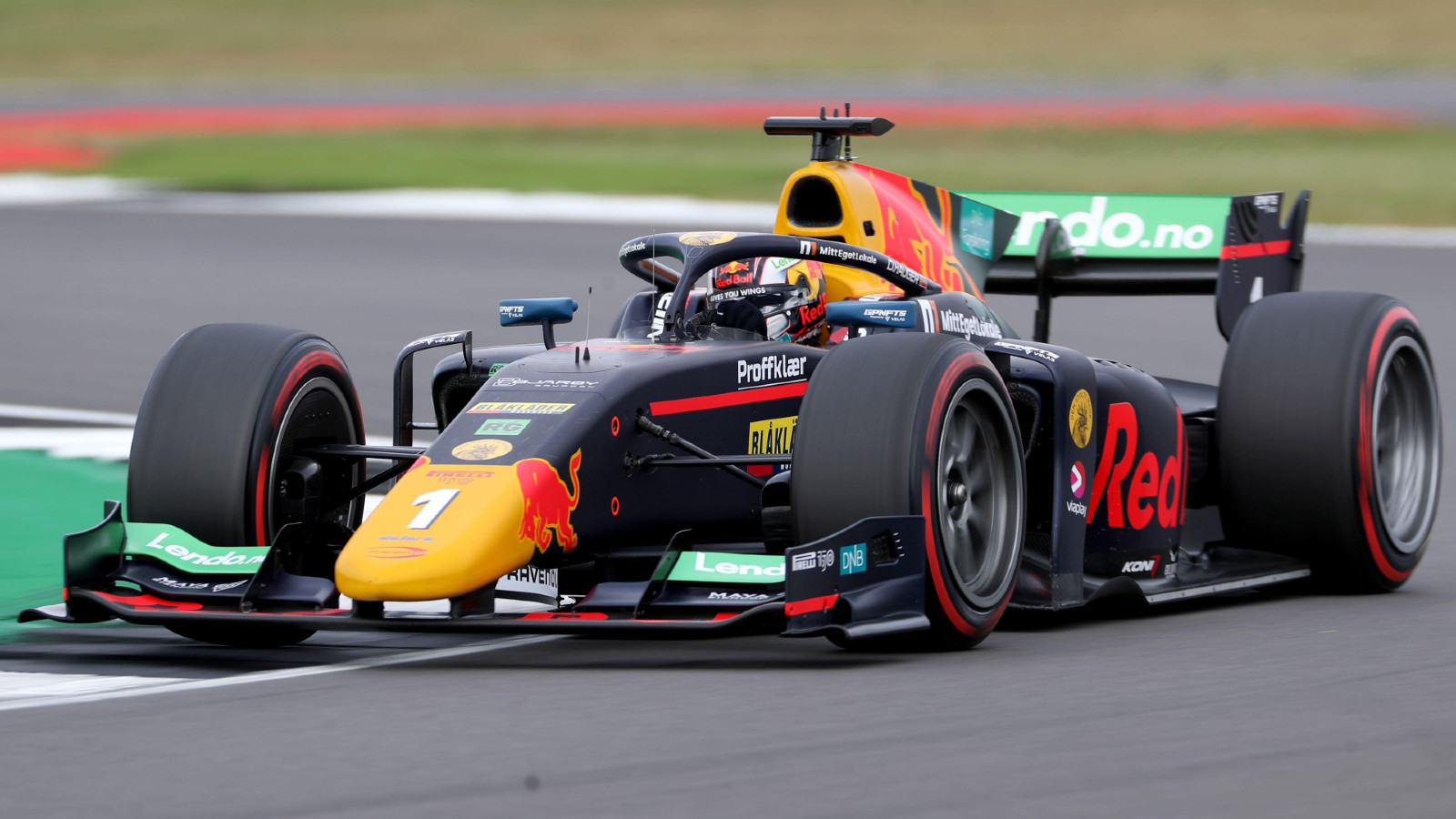 Red Bull's junior programme is well-stocked with promising young drivers, all of whom are hoping to make their mark in 2023.
Red Bull's junior programme is well known for being one of the most productive, if fearsomely ruthless, junior driver programmes in motorsport.
Headed up by Red Bull motorsport advisor Dr. Helmut Marko, here are the drivers that currently make up the roster of names aiming to impress Marko and take a step closer to Formula 1 during the 2023 motorsport season.
Who has been kept on to stay with the Red Bull junior team in 2023?
Dennis Hauger
19-year-old Norwegian Dennis Hauger has been part of Red Bull's junior programme since September 2017, while still in karting.
Hauger has shown steady progress since then, winning the 2019 Italian F4 Championship with Van Amersfoort, as well as the 2021 Formula 3 Championship with Prema.
He raced for Prema for his maiden campaign in Formula 2 in 2022, finishing 10th overall, and claiming two victories – one in Monaco, and one in Baku.
He's set to race for MP Motorsport in Formula 2 in 2023.
Liam Lawson
Signed as a Red Bull junior in early 2019, Lawson will serve as a Red Bull and AlphaTauri reserve F1 driver in 2023 alongside a racing campaign in Japan's Super Formula, having finished third in the 2022 Formula 2 Championship. He will race for Team Mugen for what will be his fifth season as a Red Bull junior.
The Kiwi had caught the eye in 2018, having finished second in German Formula 4, as well as dominating his one-off appearance in Asian Formula 3.
Lawson had an average first year in F3, finishing 11th overall, but finishing second overall in Euroformula and winning the Toyota Racing Series.
Climbing to fifth in F3 in 2020, he earned a step up to F2 with Hitech – finishing ninth overall in his first season with a race win, and second overall in a Red Bull-backed Ferrari in DTM.
Racing with Carlin in 2022, he won four races and replaced Juri Vips as Red Bull's leading junior after the Estonian landed himself in hot water after using a racial slur while streaming himself gaming online.
Jak Crawford
17-year-old American racer Jak Crawford has been part of the Red Bull programme since early 2020, as he embarked on a German F4 campaign.
Finishing second in that championship with Van Amersfoort, he finished sixth overall in Italian F4.
Moving to Formula 3 with Hitech, a solitary podium finish netted him 13th overall, but a stronger showing with Motopark in Euroformula Open saw him finish third overall with eight race wins.
He stayed in F3 in 2022, with Prema, where he won his first race with victory in the sprint race at the Red Bull Ring.
He's due to step up to Formula 2 in 2023, and will race with Hitech GP.
Isack Hadjar
18-year-old Isack Hadjar is set to race in Formula 2 in 2023, and is formally confirmed as joining Hitech – he tested for the team in Abu Dhabi in the post-season test, having raced for them throughout 2022 in Formula 3.
The French driver finished fourth overall in F3 in 2022, as well as third in Formula Regional Asia.
He was signed to Red Bull in mid-2021, en route to fifth overall in Formula Regional Europe, and sixth in the F3 Asia Championship. Marko has described him as Red Bull's 'little Prost', and has very high hopes for the Frenchman.
Ayumu Iwasa
Ayumu Iwasa has quickly risen to become one of Red Bull's leading juniors, with the Japanese racer confirmed as competing in Formula 2 in 2023 with DAMS.
Iwasa was signed by Red Bull in early 2021, fresh off the back of his victory in the French Formula 4 championship. He had dabbled with some part-time single-seater racing in 2017 and 2018, before winning the Suzuka Racing School's single-seater series in 2019 in his first full season.
Signed by Honda in 2020, he was sent to France for the F4 series before landing the backing of Red Bull. He finished 12th overall in Formula 3 with Hitech in 2021, but still did enough to secure a promotion to F2 for '22, finishing P5 in the standings. His dominant Feature Race win in France showed just how fast he can be.
Souta Arao
17-year-old Japanese racer Souta Arao raced in French Formula 4 in 2022, finishing in third place overall. Impressing Red Bull during his first season as a junior, Arao moves to the UK for 2023 where he's set to race in British F3 – he will drive for Hitech GP.
Arvid Lindblad
15-year-old Arvid Lindblad steps up from karting for 2023, having just turned old enough to race in F4 in August '22. Lindblad is set for a full F4 calendar in 2023, racing with Hitech GP in F4 in the United Arab Emirates series, racing with Prema in Italian F4, and 'other selected F4 races'.
What new names have been signed to the Red Bull junior team?
Enzo Fittipaldi
Another new signing to the Red Bull junior programme, Fittipaldi is the brother of long-time Haas reserve/tester Pietro, and grandson of F1 World Champion, Emerson.
The 21-year-old will race with Carlin in Formula 2 in 2023, after a solid campaign with Charouz in 2022 without any F1 affiliation. Fittipaldi raced with Charouz in both F2 and F3 in 2021, finishing with zero victories in both series.
His last race victory came in 2019, driving for Prema in the Formula Regional European Championship, where he finished second overall after winning the Italian F4 title in 2018 and third overall in German F4.
Zane Maloney
19-year-old Zane Maloney is one of Red Bull's new recruits for 2023, with the Barbadian finishing second in the 2022 Formula 3 Championship after a year with Trident.
Maloney also had the chance to race for Trident at the season finale of the F2 Championship in Abu Dhabi, before testing for Carlin.
Maloney will race in Formula 2, driving for Carlin.
Sebastian Montoya
The surname should give away just where the 17-year-old Colombian picked up the racing bug – he's the son of F1 race winner and former thorn-in-Michael-Schumacher's-side Juan Pablo.
Scoring points in his two Formula 3 appearances in 2022, Montoya has been signed by Red Bull for 2023 and he's set for a full F3 campaign. He'll kick things off with Hitech GP in Formula Regional Middle East.
Enzo Deligny
14-year-old French racer Enzo Deligny has been signed by Red Bull to race with Campos Racing in Spanish F4 this season, following on from two years of successful karting.
Enzo Tarnvanichkul
Thailand's Enzo Tarnvanichkul has joined the Red Bull junior team, with the 13-year-old winning the karting world championship in the OKJ category in 2022.
"I am very proud to announce that I will be joining the Red Bull youth programme in 2023," he wrote on his social media.
"I am looking forward to my new journey. Thank you for this opportunity, I will try to do my best on the track and in my career."
He will be contesting the Karting FIA European & World Championships with Prema Academy, supported by Kart Republic.
Which names will not continue with the Red Bull junior team in 2023?
Jonny Edgar
18-year-old Jonny Edgar was signed to the Red Bull programme in late 2017, having won the CIK-FIA European Championship in the OKJ-category at his first attempt.
Remaining in karting in 2018, his best finish out of the various championships he entered was third in the WSK Super Master Series, before moving up into car racing in 2019.
Competing in Italian F4 and ADAC F4 in 2019, he dominated the German championship in 2020 to win his first car racing title. Edgar moved up to Formula 3 in 2021, although had a tough year with Carlin as he finished 18th overall.
Switching to Trident in 2022, Edgar struggled for pace but later revealed a diagnosis of Crohn's Disease – he opted to sideline himself briefly in order to concentrate on building up his health. He became a regular points scorer in the second half of the season, finishing 12th overall.
He will remain in Formula 3 in 2023, driving for MP Motorsport, but has not been included in Red Bull's junior roster for 2023.
Jehan Daruvala
The 24-year-old had been part of Red Bull's junior programme since early 2020, but appeared to be on thin ice with Red Bull after a poor 2022 F2 championship.
He has signed up as a reserve driver for Indian outfit Mahindra in Formula E for next season, while other racing plans are yet to be firmed up.
Daruvala finished seventh overall in Formula 2 in 2022, racing with Prema, replicating his championship position of the previous season when he drove for Carlin, a step up from 12th in 2020.
He finished third overall in the 2019 Formula 3 Championship, with only one other top-three finish amongst the myriad of championships he's competed in since stepping up to car racing in 2015.
Daruvala has been dropped from Red Bull's junior programme for the 2023 season.
Yuto Nomura
17-year-old Yuto Nomura raced in French F4 with Red Bull backing in 2022. The Japanese driver has not been included in Red Bull's plans for 2023.
Ren Sato
A product of Honda's Formula Dream Project, 21-year-old Ren Sato joined the Red Bull programme last year, and is immersed in the Japanese racing scene as he raced to 12th overall in the Super Formula championship with Team Goh.
He is set to race with TCS Nakajima in 2023. Sato, who is not related to former F1 racer Takuma, has only raced outside of Europe as a guest racer in the French Formula 4 championship – finishing behind Ayumu Iwasa that season.
He has not been included in Red Bull's plans for 2023.
Read More – Ferrari Driver Academy: What has happened to every former Scuderia prospect?