Red Bull's earliest sackings analysed as Nyck de Vries faces mounting pressure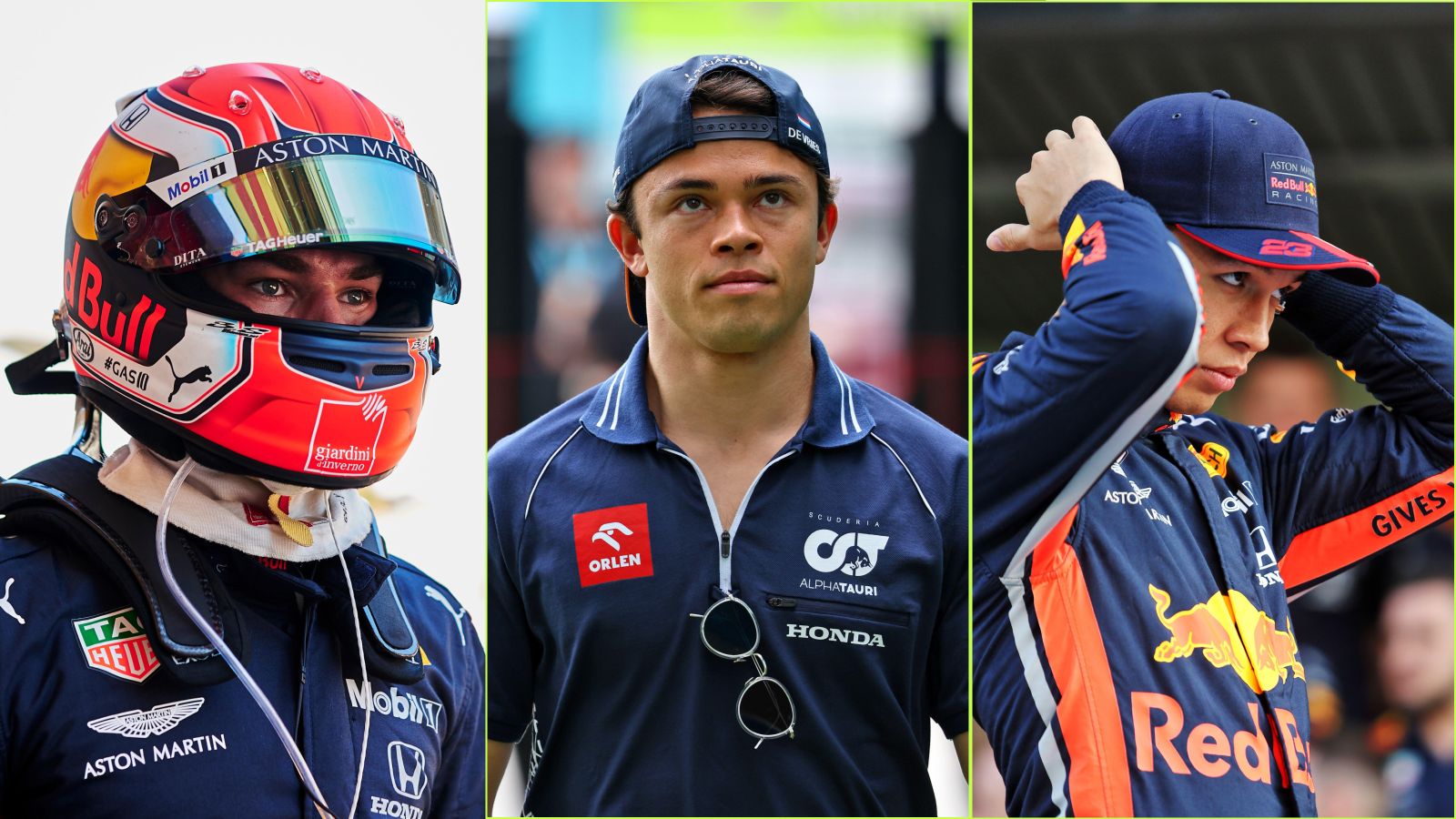 Nyck de Vries' F1 career has got off to a disappointing start and questions are already being raised about his future with the Red Bull stable.
Having produced a super-sub performance in Monza last year, De Vries has so far failed to match that high bar of expectation.
He is bottom of the standings, just one of two drivers without a point, and has already had enough crashes for some of the AlphaTauri and Red Bull higher ups to start having a serious look at the future of their newest drivers.
Red Bull after all are a team known for their ruthlessness and are not afraid to cut their losses if they believe it is the right thing to do.
With that in mind here are the five earliest sackings in Red Bull and Toro Rosso/AlphaTauri history and the context behind them:
Christian Klien – 28 races with Red Bull
There seems no better place to start than to go right back to the beginning of Red Bull and to the one of the very first drivers to be given a full-time seat: Christian Klien.
Klien was a survivor of Red Bull's takeover of Jaguar and was present alongside David Coulthard in the team's debut season in 2005. Given Red Bull's background, it seemed the perfect fit to have an Austrian onboard but he was made to work for it. With Coulthard's place secured, Red Bull weighed up going with either Klien or Italian Vitantonio Liuzzi.
Klien was given the first three races, with a best finish of P7 but was replaced by Liuzzi for races 4-7. The Italian did not make the most of his opportunity though and Klien secured the seat permanently from then on.
But unreliability and poor performance put Klien's head on the chopping block in 2006 and he was gone with three races to spare, replaced by Robert Doornbos.
Alex Albon – 26 races with Red Bull (12 with Toro Rosso)
Alex Albon is often paired with Pierre Gasly when discussing drivers who did not quite make it at Red Bull but the situations of the two are quite different.
For starters, Albon made 14 more appearances than Gasly and had luck (by luck read Lewis Hamilton) gone his way then his career at Red Bull may well have lasted longer than the 26 races that it did.
He entered in quite dramatic circumstances with Gasly's public demotion shoving Albon into the spotlight but he met this increased pressure with encouraging performances early on.
A run of seven consecutive finishes no lower than sixth was only ended in Brazil when Hamilton sent him spinning, costing Albon his first podium.
Hamilton would repeat the trick at the opening race in Austria in 2020 at a time when it looked as if Albon was not only on for a podium but perhaps the win as well.
That result in Spielberg would set the tone for the Thai-British driver. A run of six successive points scores off the podiums was undermined by the form of Verstappen who picked up six podiums including a win in that time.
Albon's cause was not helped by a P15 finish at the next race in Imola and even his first podium in Tuscan Grand Prix was not enough to put certain rumours to bed.
One points score in his next four races heaped pressure back on him and by the time the season ended, Red Bull had opted to change things leading to that famous Drive to Survive moment of Christian Horner calling Sergio Perez and offering him the seat.
Brendon Hartley – 25 races with Toro Rosso
Of all the drivers on the list, Brendon Hartley is the only to never actually make it to the Red Bull seat but he sure did come close.
In 2008, the promising New Zealnader was just 18 years old when he was given a chance to drive the STR3 at a Red Bull shakedown in Riyadh and later in the same year he was in the Red Bull car for a test after Mark Webber broke his leg.
He was appointed test and reserve driver for both Red Bull and Toro Rosso in the 2009 season but unable to get his super licence until April, he was replaced initially by Coulthard.
Hartley finally fulfilled the role in the Spanish Grand Prix in May but was replaced by fellow Red Bull junior driver Jaime Alguersuari for the second half of the season.
In 2010, he was again appointed reserve driver alongside his Formula Renault 3.5 team-mate Ricciardo but was dropped altogether by Red Bull due to not winning a race in the junior series.
After spending some time as simulator driver for Mercedes, Hartley was finally given a shot in an F1 race when he was named as Gasly's replacement at Toro Rosso as the Frenchman returned to Japan for a title-deciding race in the Japanese Super Formula (the race was eventually cancelled due to a typhoon).
Harley finished 13th and was given the chance to end the season with Toro Rosso before being named permanent driver alongside Gasly for 2018. But just three points scores in 21 races meant that Red Bull were once again happy to dispense with his services.
PlanetF1.com recommends
'Massive' Mercedes and Ferrari upgrades on the way, claim Red Bull
Concerns voiced over Charles Leclerc's driving ability: 'He's win or bin'
Daniil Kvyat – 21 races with Red Bull (89 races with Toro Rosso/AlphaTauri)
The name Max Verstappen has come up quite frequently with many of the drivers mentioned on this list but Daniil Kvyat was the first to make way for the Dutchman.
Kvyat made his first step into Formula 1 in 2009 when he, alongside Carlos Sainz, joined the Red Bull junior driver academy.
It would be another five years before he was given a shot at Toro Rosso as Daniel Ricciardo's replacement but he did score points on his debut and finished that season 15th in the Drivers' Championship.
With four-time World Champion Sebastian Vettel departing for Ferrari, Red Bull looked within and promoted Kvyat up to the first team. His first race did not even get going though as his gearbox failed on the way to the grid.
When he did get going, he secured P9, the same result as his Toro Rosso debut, but only once did he make it to the podium that season.
Truth be told, the RB11 is perhaps the worst car ever produced by Red Bull with both Mercedes and Ferrari clearly ahead in terms of pace, while Williams would also finish ahead of them that year. Even Ricciardo could only manage two podiums that season.
Come 2016, Kvyat may have thought his seat was safe having survived the winter but following another DNS in Australia and a 15th-place finish in his home grand prix, he was given the boot for Verstappen who duly won his first race with the team.
Like Gasly in later years, Kvyat moved back to Toro Rosso but was replaced by the Frenchman in 2017.
Kvyat returned to Toro Rosso in 2019 before racing for the final time with AlphaTauri in 2020.
Pierre Gasly – 12 races with Red Bull (96 with Toro Rosso/AlphaTauri)
Perhaps it is because it became the centre point of a Drive to Survive season but when you think of infamous Red Bull sackings, it tends to be Pierre Gasly who you remember.
Granted, Gasly has gone on to enjoy a successful career after Red Bull, becoming the highest appearance holder for its sister team and now moved to life with Alpine, but his time in the Red Bull main seat was nothing short of a failure.
With Ricciardo departing for Renault, Red Bull in 2019 were just about to discover how difficult it would be to find a team-mate for Max Verstappen.
Gasly, with 26 Toro Rosso appearances under his belt, seemed like the natural candidate to be promoted up but his problems were evident from as early as pre-season testing.
The Frenchman crashed into the barriers at Turn 13 in Barcelona, forcing the Red Bull engineers to try anything to conceal the floor as the brand new RB15 was hoisted into the air, and his opening race did not go much better as he finished outside of the points.
Gasly improved with back-to-back points finishes in Bahrain and China but his record was only made to look worse next to the impossible yardstick of Verstappen.
Over the 12 races they spent as team-mates, Verstappen out-qualified and finished ahead of Gasly on all but two occasions and by the time of the summer break, the Dutchman had 181 points to the Frenchman's 63.
Having said the week before that the team had faith in him, Gasly was given the boot during the summer break and replaced by another young driver, Albon.
Were Red Bull too impatient? Was it too soon for the 23-year-old Gasly? Could anyone have partnered Max Verstappen in 2019? These are all questions that have hung over Gasly ever since but unlike some of the names on this list, he has rebuilt his career with some excellent performances at AlphaTauri and is now trying to go one step further with Alpine.