Only 108 individuals hold the distinction of calling themselves a Formula 1 Grand Prix winner and Robert Kubica can count himself a part of that list.
The only Pole to race in Formula 1, Kubica left Williams, and consequently the F1 grid, at the end of the 2019 campaign.
Whilst it's easy to evaluate drivers on results in a results-orientated industry, Kubica does not deserve to be remembered for his post-crash record, he deserves to be remembered for even returning in the first place and for the talent he was.
With that in mind, here we review five of Kubica's defining moments.
Race 3. P3.
Making his debut at the 2006 German Grand Prix in place of Jacques Villeneuve who was deemed to be unfit, Kubica was cruelly denied debut points in his BMW. Despite finishing seventh, the car was underweight leading to a disqualification.
Keeping his position within the team, Kubica soon bounced back at the Italian Grand Prix as he achieved a podium finish in just his third F1 race.
Michael Schumacher, on his way to his 90th career victory, sped away at the start with Raikkonen in hot pursuit, leaving Kubica in a heated battle for third. Demonstrating exemplary defensive skill, Kubica kept the Ferrari of Felipe Massa at bay.
Where Massa failed, Fernando Alonso succeeded as he narrowly got past the Pole following a round of pit stops but fortune favoured Kubica as Alonso's engine packed in ten laps from the end. This allowed Kubica to race off into the distance and claim the podium spot.
A Pole on pole
Only seven teams have made more Grand Prix appearances than Sauber have, yet only one of their drivers has ever achieved a pole position, that man is Robert Kubica.
Following a solid 2007, Kubica and BMW Sauber started 2008 strongly with his second career podium in Malaysia. He then followed this with a sublime performance in qualifying at Bahrain as he held off Massa, Lewis Hamilton and Kimi Raikkonen to claim first on the grid.
He would ultimately fall behind the two Ferraris in the race but even better times were on the horizon…
What difference a year makes
In 2007, Kubica was involved in one of the most dramatic crashes in recent memory as he was launched into the wall following contact with Jarno Trulli at the Canadian Grand Prix.
The violent crash kept Kubica out for only one race, which seemed something of a miracle considering how it looked.
On his return to the Circuit Gilles Villeneuve, Kubica got the ultimate retribution by storming to his one and only F1 victory.
In a chaotic grand prix in which Hamilton famously collided with Raikkonen in the pit lane, it was the two BMW Saubers fighting for the win as Nick Heidfeld's one stop went head-to-head with Kubica's two stop.
Kubica made the most of clean air when Heidfeld let his team-mate through and built enough of a gap to come out ahead even with an extra stop.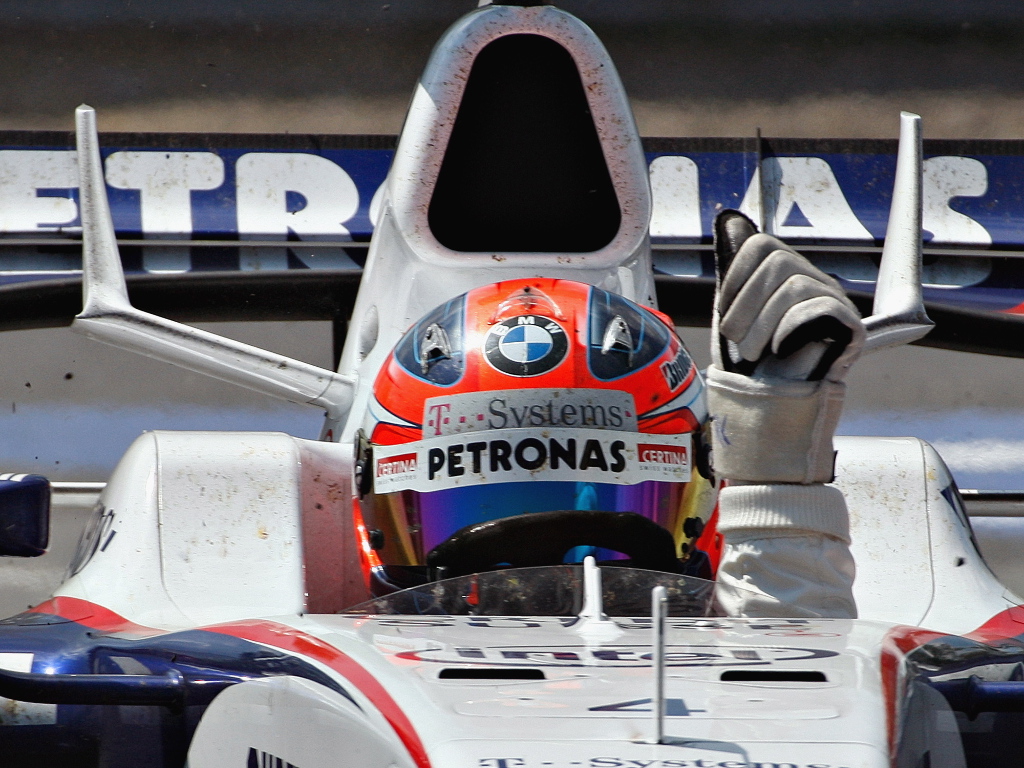 The maestro of Monaco
Many consider 2010, Kubica's final 'pre-injury' season, his best in Formula 1. In a Renault that was likely the fourth or fifth quickest car on the grid, Kubica regularly maximized the car's performance to claim strong results, including a few podiums.
One of those podiums came in Monaco. A sensational qualifying performance put Kubica on the front row alongside Mark Webber and whilst he ultimately lost out to both Red Bull drivers, he did enough to see off the challenge of Alonso, Massa and Hamilton. A star-studded cast to keep at bay.
The comeback
Eight years on from a devastating rallying accident, and nine years on from his last F1 season, Kubica made a return to the sport as he secured a Williams seat for 2019.
The season itself might only have yielded one point and contained a 21-0 loss to his team-mate in qualifying but the year was a success the second he stepped into the cockpit of the car and completed lap 1 of the Australian Grand Prix.
A crash that was nearly fatal and delivered permanent damage to his arm and hand, that much would keep many away for good but Kubica's 2019 tale of resilience and determination is one that deserves everlasting adulation.
Ben Hocking
Follow us on Twitter @Planet_F1 and like our Facebook page.