Russian Grand Prix 2021: Time, TV channel, live stream, grid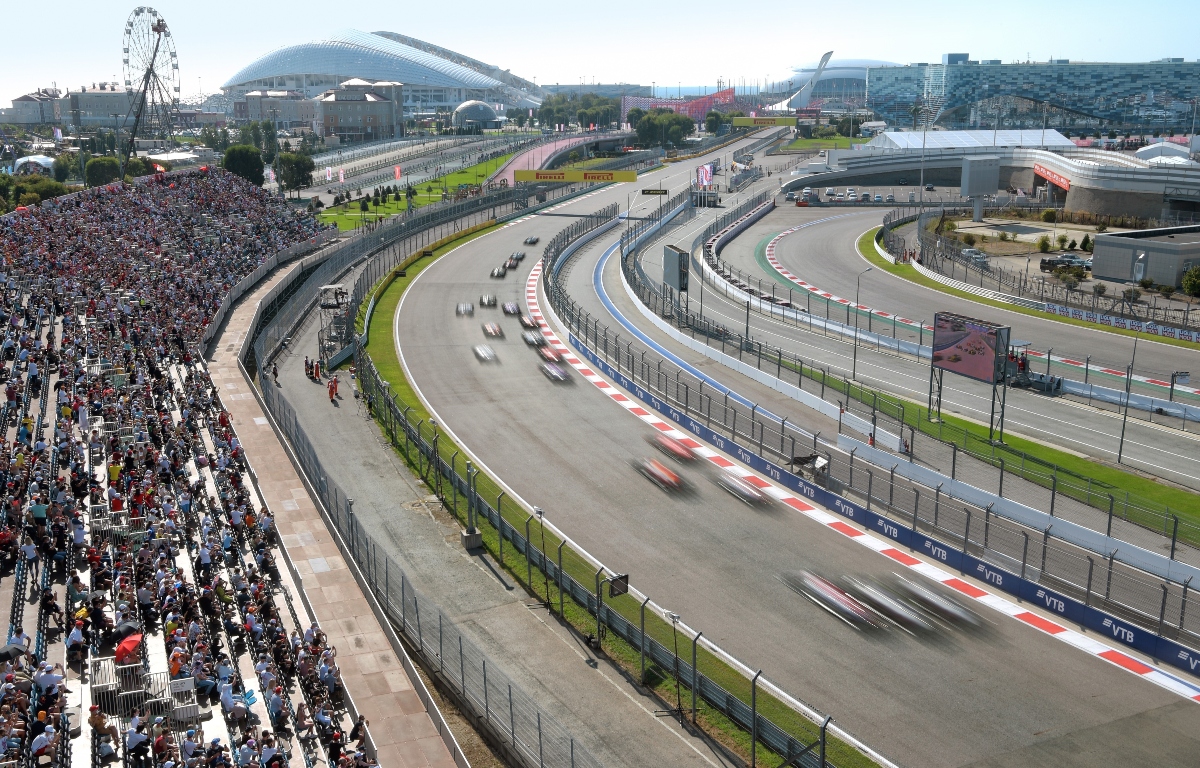 Formula 1 is heading east for round 15 of the 2021 campaign, returning to Russia for the eighth year in a row.
The two title contenders, Max Verstappen and Lewis Hamilton, certainly are not heading to Russia with love after coming together last time out in Monza, with the collision forcing them both to retire.
That left the Dutchman still narrowly ahead of his rival in the standings, but the Briton will fancy his chances of changing that in Sochi.
Not only will Verstappen have a three-place grid penalty as a result of the incident in Italy but the track also happens to be a Mercedes stronghold.
Here is everything you need to know ahead of the 2021 Russian Grand Prix…
When is the 2021 Russian Grand Prix?
Practice 1: Friday September 24, 1130-1230 (0930-1030 UK time)
Practice 2: Friday September 24, 1500-1600 (1300-1400 UK time)
Practice 3: Saturday September 25, 1200-1300 (1000-1100 UK time)
Qualifying: Saturday September 25, 1500 (1300 UK time)
Race: Sunday September 26, 1500 (1300 UK time)
Where does the 2021 Russian Grand Prix take place?
A bird's eye view of Sochi Autodrom 😍 #F1 pic.twitter.com/kROkQu1I3x

— Sochi Autodrom (@SochiAutodrom) August 26, 2020
The Sochi Autodrom was opened in 2014 and has hosted a Formula 1 race every season since then.
The circuit, designed by renowned architect Hermann Tilke, is built around Sochi Olympic Park, where the 2014 Winter Olympics were held, and is 5.848-kilometres, making it one of the longest tracks on the calendar.
It is also one of the fastest, with an average lap speed of around 134mph and speeds of almost 200mph being reached on the straight between Turn 1 and Turn 2.
On a lap, drivers have to negotiate 18 turns in total, with some high-speed sweeping sections and others of a more technical nature.
This makes it an interesting track for qualifying, but it has received criticism from fans and drivers alike due to the lack of overtaking opportunities on race day.
Where can I watch the 2021 Russian Grand Prix?
For UK viewers, every session, from the start of FP1 to the end of the race, can be found on pay-TV broadcaster Sky Sports. A live stream of their coverage can also be accessed via Now TV. Highlights of both qualifying sessions and the race will be shown on free-to-air broadcaster Channel 4.
If you have F1 TV Pro, you can watch all the action live from Sochi. Please check to see if F1 TV Pro is available in your country.
Subscribers to the official F1 app can access live data throughout the race weekend and listen to radio commentary there on race day.
PlanetF1 will carry live timing and expert commentary on every session of the weekend, with coverage beginning 30 minutes before each practice and qualifying, and one hour before the race.
The Russian Grand Prix will be shown live on TV on the following outlets in other key markets:
United States: ESPN
Canada: RDS (French), TSN (English)
Australia: Fox Sports
France: Canal+
Italy: Sky Sport F1
Germany: Sky Sport F1
Spain: DAZN
Netherlands: Ziggo Sport
Brazil: Band
Japan: DAZN
What are the odds for the 2021 Russian Grand Prix?
Here are the latest odds from Planet Sport Bet on the winner of the Russian Grand Prix:
Lewis Hamilton (Mercedes) – 4/5
Lando Norris (McLaren) – 10/3
Valtteri Bottas (Mercedes) – 11/1
Max Verstappen (Red Bull) – 11/1
Carlos Sainz (Ferrari) – 12/1
[Last updated Sunday September 26)
What is the starting grid for the Russian Grand Prix?
1 Lando Norris McLaren
2 Carlos Sainz Ferrari
3 George Russell Williams
4 Lewis Hamilton Mercedes
5 Daniel Ricciardo McLaren
6 Fernando Alonso Alpine
7 Lance Stroll Aston Martin
8 Sergio Perez Red Bull
9 Esteban Ocon Alpine
10 Sebastian Vettel Aston Martin
11 Pierre Gasly AlphaTauri
12 Yuki Tsunoda AlphaTauri
13 Kimi Raikkonen Alfa Romeo
14 Mick Schumacher Haas
15 Nikita Mazepin Haas
16 Antonio Giovinazzi Alfa Romeo
17 Valtteri Bottas Mercedes
18 Nicholas Latifi Williams
19 Charles Leclerc Ferrari
20 Max Verstappen Red Bull
What is the weather forecast for the 2021 Russian Grand Prix?
Sunday September 26 – 23c, cloudy
Directions to the Russian Grand Prix
Sochi is a resort town located on the Black Sea in the region of Krasnodar Krai.
There are no direct flights there from any major airports outside the country, so those arriving by plane will most likely have to first fly to Moscow or Istanbul.
From central Sochi, the circuit is easily accessible on race weekends with buses and trains running to the Imeretinskiy Kurort station which is within walking distance of the track.
Which drivers have won the Russian Grand Prix?
Sealed with a kiss 😘🏆 @ValtteriBottas is flying home with extra carry-on tonight! ✈️#RussianGP pic.twitter.com/vtcdwXML2k

— Mercedes-AMG PETRONAS F1 Team (@MercedesAMGF1) September 27, 2020
To say Mercedes have been dominant at the Russian Grand Prix since the first official edition in 2014 would be an understatement.
The German team have claimed victory in each of the seven races, with Lewis Hamilton doing so four times in 2014, 2015, 2018 and 2019.
His current team-mate, Valtteri Bottas, is also a multiple winner at Sochi, standing on the top step of the podium twice, in 2017 and 2020, with the former being his first ever victory in F1.
The only other man to win at the circuit in F1 is Nico Rosberg, with the German triumphing in 2016.
The seven winners of the Russian Grand Prix are as follows:
2020: Valtteri Bottas (Finland, Mercedes)
2019: Lewis Hamilton (Great Britain, Mercedes)
2018: Lewis Hamilton (Great Britain, Mercedes)
2017: Valtteri Bottas (Finland, Mercedes)
2016: Nico Rosberg (Germany, Mercedes)
2015: Lewis Hamilton (Great Britain, Mercedes)
2014: Lewis Hamilton (Great Britain, Mercedes)
What are the latest F1 Championship standings?
Drivers' Championship
Max Verstappen – 226.5 points
Lewis Hamilton – 221.5 points
Valtteri Bottas – 141 points
Lando Norris – 132 points
Sergio Perez – 118 points
Constructors' Championship
Mercedes – 362.5 points
Red Bull 344.5 points
McLaren – 215 points
Ferrari – 201.5 points
Full F1 championship standings are here
Tyre choices for the 2021 Russian Grand Prix
Pirelli will be taking the softest possible selection of tyres to the Russian Grand Prix, with the C3 compound serving as the hard, the C4 being mediums and the C5 being the soft option.