Russian Grand Prix driver ratings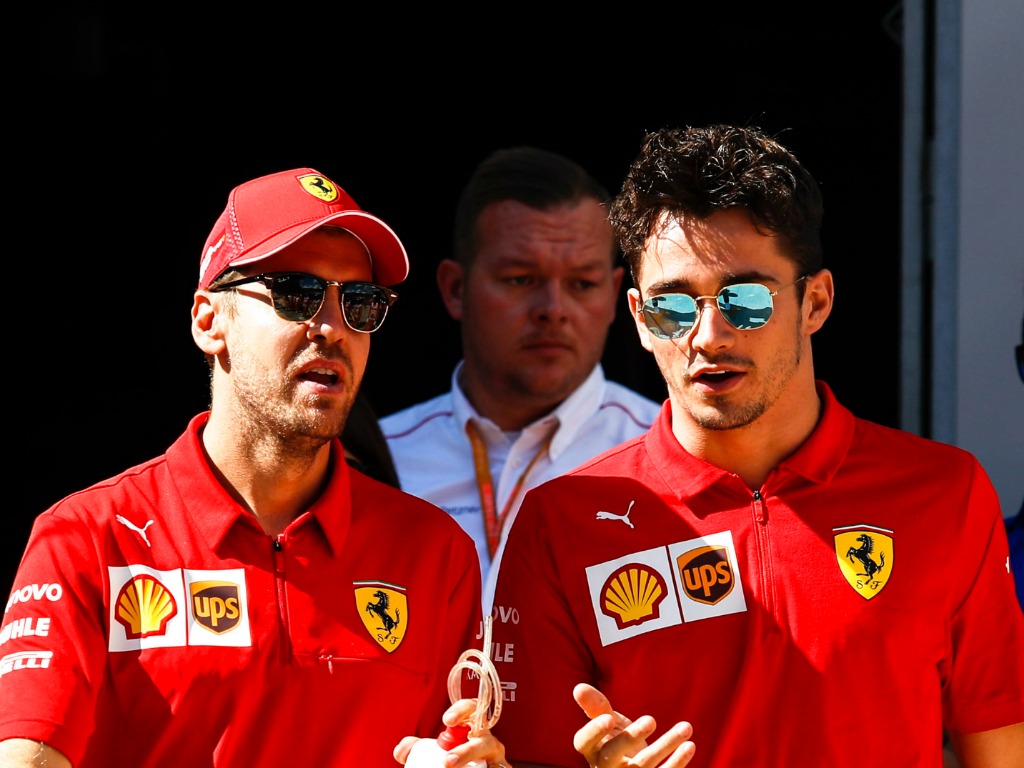 Ferrari somewhat caused their own downfall at the Russian GP, and Mercedes were there to capitalise as Lewis Hamilton headed a one-two finish. Here are our Russian Grand Prix driver ratings.
The Silver Arrows were finally able to put a stop to their rival's run of victories, but in the midfield we saw solid drives from the likes of Carlos Sainz and Sergio Perez.
For others, it's time to leave Sochi behind both physically, and mentally.
Lewis Hamilton: It was the start that Hamilton had feared in Russia – from P2 he had no tow during the long run down to Turn 2, that instead being provided to Sebastian Vettel by Ferrari team-mate Charles Leclerc, allowing the German to go from P3 to P1.
From there the Brit was able to stay in touch with the leading duo and when Vettel's MGU-K gave up, Hamilton used the Virtual Safety Car period to pit and rejoin the track ahead of Valtteri Bottas and Leclerc as the race leader.
With Bottas backing up Leclerc nicely, Hamilton sailed off to victory and yet again showed his supernatural ability to win when he doesn't have the fastest car. He first displayed that on Saturday with an awesome lap to knock Vettel off the front row. 9
Valtteri Bottas: The Finn never really had the pace to contend for victory at a circuit where he is usually strong, but after reclaiming the place he lost to Sainz at the start, Bottas proved his worth.

As Mercedes principal Toto Wolff said, Hamilton's win would have been in danger if Bottas hadn't have been able to keep Leclerc behind in the closing stages. But Bottas' defence was strong and he again did the job for his team-mate. Sadly though, that has now left him 73 points behind Hamilton in the Drivers' Championship. 6
Charles Leclerc: Nobody does soap operas like Ferrari. Whatever agreement Leclerc had with his team-mate Vettel before the race, it didn't work as intended.

After Vettel took the lead at the start thanks to the tow from Leclerc he was soon ordered to relinquish it back to his team-mate, an order he ignored.
Mercedes gambled on a Safety Car when going long in their first stint, and how ironic that it was Vettel who brought out the VSC that gave Mercedes the one-two.
Leclerc tried his hardest to recover ground after pitting again for fresh softs under the SC, but it wasn't to be. 7
Max Verstappen: Starting from P9, the Red Bull man had targeted a P5/4 finish in the race, and he achieved it.

The Austrian outfit had no answers for Mercedes or Ferrari, and even after the SC had bunched the pack up, Verstappen couldn't lay a glove on the Leclerc/Bottas duel.
So, while the race was "boring", Verstappen had a job to do and did it very well with P4. 7
Alex Albon: It had been a very poor weekend for the youngster, and after starting from the pit lane owing to engine penalties and his qualifying crash, the recovery was perfect.

We would see some great overtaking from the Anglo-Thai driver who battled braking issues in the race, including what felt a rather personal pass on Pierre Gasly.
Without the SC Albon may not have had the chance to take Sainz for P5, but he wasn't the only one that weekend to be saved by it. 8
Carlos Sainz: McLaren moved very early in the season to confirm Sainz for 2020, and it's obvious why.

The Spaniard cleared Bottas the start and had a good run on Hamilton, and even when the dust had settled he was able to hold Bottas off until Lap 7.
Ultimately Verstappen and later Albon would get through to re-establish the usual top order, but as Sainz said, McLaren need at least another half a second to make it worth fighting Mercedes or Red Bull in the context of their races. 8
Sergio Perez: It was a solid first stint for the Mexican who pitted before the SC, but still he secured P7 ahead of Lando Norris.

Perez has now scored points in three of the four races since returning from the summer break, as SportPesa Racing Point continue to back up their promise of a strong finish to 2019. 7
Lando Norris: The Brit was one of those who lost out under the SC, and without it had a good chance of P7.

Still, P8 was a cracking effort from the teenager as he stretched his points-scoring streak to three races, his longest of the season, and earned McLaren another double-points finish. 7
Kevin Magnussen: The VSC transformed Magnussen's race, promoting the Haas driver to P6. Perfect timing from the team.

From there Haas usually tumble down the order, and although he lost places to Albon and Perez, he defended P9 to earn his first points since Germany, and Haas' for that matter. 7
Nico Hulkenberg: It was a tough weekend for Renault in general, and Hulkenberg was no different.

A problem with the jack, causing it to drop his R.S.19 too early during the stop, cost him heaps of time, while the Safety Car also did him little favour.
In the end though he was able to hang on to P10, earning a welcome point in a poor race for the team. 7
Lance Stroll: The SportPesa Racing Point driver pitted two seconds behind Magnussen under the VSC, but he couldn't quite make as bigger gain as the Dane. He would put pressure on Hulkenberg for the final points-paying position, but it wasn't quite enough. 6
Daniil Kvyat: Two stops would actually be required for Kvyat under the VSC due to an issue with the tyres. The damage was done and Kvyat got lost in the midfield train at his home race, finishing P12. 6
Kimi Raikkonen: The last four races have been "nightmares" for Raikkonen in his own words, and that can't be argued against.

His race was ruined before it started, that being because he started too early and received a drive-through penalty for that jumping of the red lights.
It would have been better if he had have just kept going rather than stopping again, the sheer loss of momentum sent him hurtling to the back of the pack, while the penalty only rubbed further salt in the wound.
P13 would be his finishing spot – and still no points since Hungary. 4
Pierre Gasly: His battle with Albon was fun, it went to show how drivers will defend their position if something is on the line despite the clear difference in performance of their cars. Albon won out as expected, while Gasly, like his team-mate, got lost in the midfield and finished P14. 5
Antonio Giovinazzi: Lost his front wing at the start and a slow pit stop followed. P15 wasn't what the Italian wanted coming off of strong performances at Monza and Singapore. 4
Did not finish
George Russell: Crashed out under the VSC, prompting the full Safety Car to come out. It's now back-to-back DNFs for Russell, and he was understandably frustrated with the events of Sochi. 5
Robert Kubica: The Williams driver was told to retire the car shortly after Russell's crash.  Everyone thought it was due to them fearing a similar problem could crop up for Kubica, but apparently they wanted to save parts. A strange one. 5
Sebastian Vettel: A very messy race for Ferrari and Vettel was at the heart of it. His refusal to yield to Leclerc sent Ferrari to Plan C, and the team would switch things around from Singapore, giving Leclerc the undercut to pass Vettel. A punishment perhaps for not obeying the team?
The MGU-K failure would be the cherry on a rather bitter cake for the German, but at least he followed up on his win in Singapore by showing further signs that the old Vettel is still there. 8
Daniel Ricciardo: First-lap contact with Romain Grosjean and Giovinazzi sadly meant it was all she wrote for Ricciardo.

The Renault man did continue for a while longer, but with severe damage to the floor as a result of the puncture he suffered, the decision was made to retire on Lap 26. N/A
Romain Grosjean: Out in Lap 1 as part of the Ricciardo/Giovinazzi incident. The Frenchman said he wanted to "punch walls" after the retirement, so it would be a good idea to stay out of his way. N/A
Follow us on Twitter @Planet_F1 and like our Facebook page.