Five big questions ahead of the Russian GP
After an excellent two races in Italy, there are records and reputations at stake as the racing heads to Russia.
Here are five of the biggest questions ahead of Formula 1's seventh visit to the track in Sochi.
Can Bottas make Hamilton wait on matching Schumacher?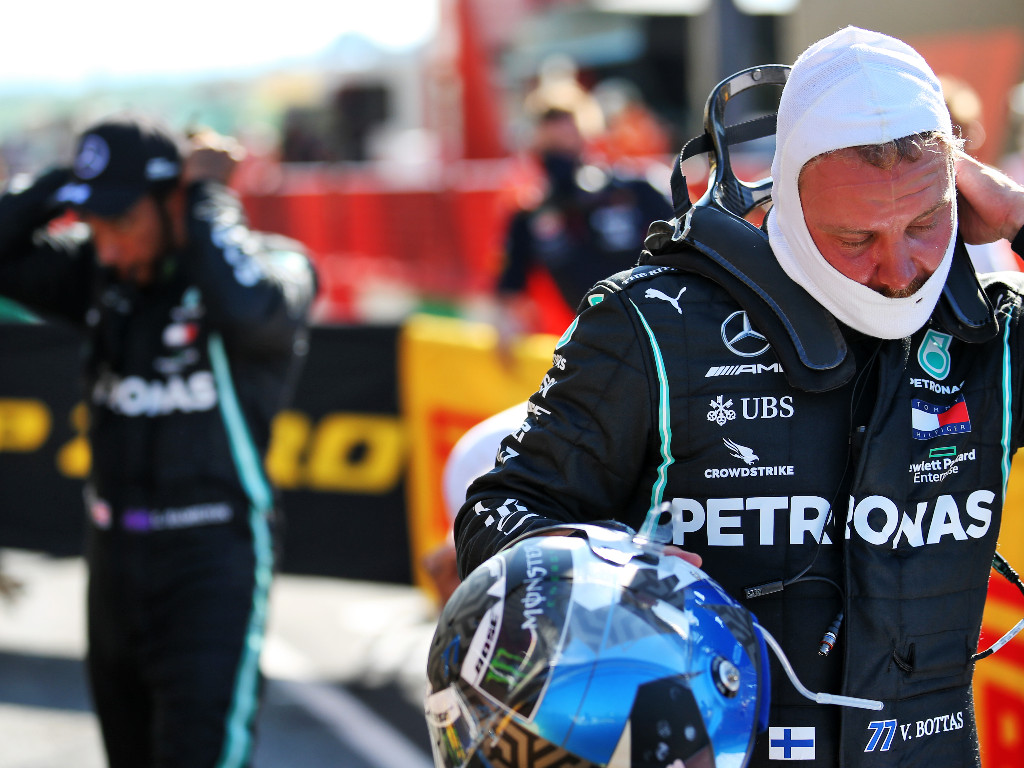 With his win at the Tuscan Grand Prix, Lewis Hamilton is now just one away from Michael Schumacher's record tally of 91. Many will be hoping to see him match the German at Sochi, but his team-mate certainly won't be one of them.
Valtteri Bottas threw everything he had at Hamilton at Mugello, and still fell short. That's been an all too common theme this season, and it's beginning to look like he just isn't capable of challenging the Brit over the course of a race weekend, let alone a season. He'll be desperate to prove that that's not the case.
If there's anywhere he can get his first win since the season opener, it's at Sochi. The track was the site of his first-ever F1 victory in 2017, while the following year he claimed pole position there with an excellent lap and would have won again if not for team orders.
With Hamilton not engaged in a title fight with a non-Mercedes driver this time around, the German team will let the two drivers fight each other. For his own sake, it's a fight that Bottas needs to win.
Can Verstappen end Mercedes' Russian reign of terror?
Ever since Sochi joined the calendar in 2014, every race there has been won by a Mercedes driver. It's likely that will be the same case again this season, and Max Verstappen is the only man who has a chance of ending the streak.
The Dutchman has been the only driver who has been remotely close to Hamilton and Bottas this season and has often got the better of the latter. Prior to the race in Mugello, he looked likely to fight for the win after being just three tenths off pole in qualifying, given that the Red Bull is usually stronger on race day.
However, he never got the chance to after an engine issue sent him plummeting down the order heading into Turn 1, where he was taken out in a multi-car pile-up. That made it two retirements in two races, and he's getting visibly frustrated.
Prior to them, Verstappen was well on his way to finishing P2 in the Driver's Championship ahead of Bottas. The Finn has now opened up a 25 point lead over him, meaning that the Dutchman has to win to have any chance of passing him again soon. Given his recent fortunes though, he'll just be happy if his Honda engine makes it to the end of the race.
Will Albon pick up where he left off? 
Drinking it in 🍾🏆 We're so pleased for you @alex_albon 😍👏 #TuscanGP 🇮🇹 pic.twitter.com/NMAHerTNeq

— Aston Martin Red Bull Racing (@redbullracing) September 13, 2020
Prior to the Tuscan Grand Prix, Alex Albon was under more pressure than ever. Pierre Gasly had just become a race winner, while Sergio Perez had become available for 2021. It's getting harder and harder to see the Thai driver retain his seat for next season.
However, he responded to the pressure excellently and changed that by claiming the first podium of his career, passing Daniel Ricciardo to take P3. The result went a long way to securing his future with Red Bull, but he can't afford to go back to the fringes of the top 10.
Not only would that make Christian Horner and Helmut Marko think twice again before deciding to keep him, but it would also hurt his chance in the battle for P4 in the Driver's Championship. He's currently in P5, two points behind Lando Norris, and will want to secure the position he should really be finishing in considering the car he has.
He hugely impressed in Russia last season, fighting his way up to P5 after starting from the pit-lane. If he can deliver a similarly strong drive, a seat next to Max Verstappen for 2021 at the least is all but his.
Who will take the lead in the midfield fight?
The pecking order behind Mercedes and Red Bull has chopped and changed all season. At one point or another, Racing Point, McLaren and Renault have all looked like the third quickest team. This has resulted in the battle for P3 in the Constructors' Championship being extremely tight, and they'll all be hoping to take control of it.
Racing Point is the most likely to do so if both cars can run the upgrades Stroll had at Mugello, but that's a big if considering the Canadian's car got destroyed last time out. If not, it's anybody's game.
The Renault engine is considerably better this year, so both Renault and McLaren will be able to match the pink panther on the straights. It could come to which drivers excel at the track, and Sergio Perez is the stand-out in that regard having scored a podium here in 2015.
With just 23 points separating McLaren in P3 to Renault in P5, the stakes couldn't be higher. In such a tight battle, only one thing is certain: Ferrari won't be in it. Not with that engine.
Can the Russian Grand Prix restore its reputation?
In the last few years, fans have let out a collective sigh when the season has reached the Russian Grand Prix. It's fair to say it hasn't thrown up the most exciting races.
The race is likely to move to Saint Petersburg as soon as next year, and the organisers will be hoping Sochi's time in F1 is remembered for more than some funny hats and Putin awkwardly showing up on the podium.
Is a classic race likely? Well, considering Mercedes is stronger than ever and they have very little competition, no. At least not in terms of the battle at the front, unless Red Bull has strong pace.
If not, the midfield battle will undoubtedly throw up some entertaining fights, but a Safety Car or some rain will probably be needed to make it memorable. Mind you, we've had three Red Flags in the last two races, so who knows…
Follow us on Twitter @Planet_F1 and like our Facebook page.