Conclusions from the Sakhir Grand Prix
Sergio Perez enjoyed a long-awaited first Formula 1 triumph at the 190th attempt as Mercedes uncharacteristically threw away victory in Bahrain.
Here are our conclusions from an emotional Sakhir Grand Prix that rounded off an F1 week which had everything – and will never be forgotten.
Last on the first lap, first on the last
Congratulations @SChecoPerez 👏👏 pic.twitter.com/iCZclUl6xR

— tami. (@Vetteleclerc) December 6, 2020
Wasn't this just what we needed? Seven days after the overriding feelings were horror followed by relief at Romain Grosjean's miracle escape in Bahrain, we got to witness unbridled joy at Sergio Perez finally achieving what had taken him 'just' the 10 seasons.
'Deserved' doesn't even go close to describing it, in the context of the Mexican's season let alone career. Perez had 18 consecutive points finishes in races he had contested dating back to Russia 2019 before a blown engine in his Racing Point last week ended that sequence, plus the apparent certainty of a second successive podium.
The agony turned into euphoria as the 30-year-old took the chequered flag this time – albeit given a huge helping hand by Mercedes – despite looking as though his race might be over when he collided with Charles Leclerc on the opening lap.
Perez dropped back to last, but in typical fashion he worked his way steadily back up the order and there is no question everything fell his way as a botched double-stack pit-stop by Mercedes, and badly-timed tyre changes from McLaren and Renault for Carlos Sainz and Daniel Ricciardo respectively, left him in control.
Even then, he would probably have come under severe pressure from George Russell in the closing laps only for the Mercedes substitute to suffer a puncture.
Racing Point are not everyone's cup of tea given some of the PR gaffes they have made this year, and their part in the copying controversy back at the start of the campaign, but it was fantastic to see the scenes of celebration as he jumped out of the car.
But the elephant in the room cannot be avoided. The Silverstone-based team are pushing out a driver who has given them their first grand prix success since they were known as Jordan in 2003, in order to bring in Sebastian Vettel who was never a factor for Ferrari in this race.
In that regard, it will have been a boost for Racing Point that Lance Stroll, who is to partner Vettel in 2021, notched up his second podium of the year by finishing third.
So what now for Perez, after next week's finale in Abu Dhabi? He literally cannot do any more to convince Red Bull that he should replace Alex Albon and this result will have made it even harder for Helmut Marko and co to ignore his increasingly compelling claims.
Silver Arrows miss the target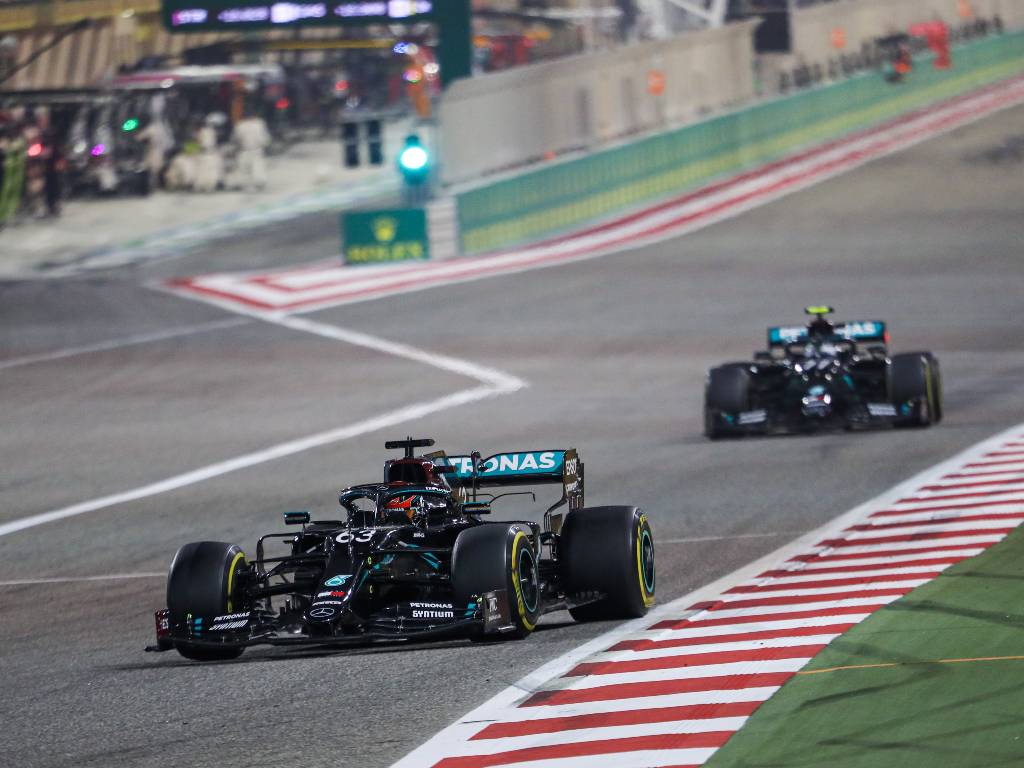 Toto Wolff didn't hold back and nor should he have…"a colossal f***-up".
Yes, even the seven-time World Champions are capable of those every now and again.
From George Russell's side, it's just unfortunate that it should happen on the weekend when he got his big chance.
For much of the race, it looked like any normal grand prix when a British driver was in the Mercedes, leading comfortably ahead of his team-mate Valtteri Bottas who was on the back foot throughout.
If we didn't know, and if the lead car had No 44 on it instead of No 63, we could have easily thought it was Lewis Hamilton out in front as opposed to Russell, rather than the seven-time World Champion being in self-isolation following his positive COVID-19 test.
Russell banished the suggestion that he is merely a Mr Saturday, a terrific qualifier who is not as good in race combat. The way he surged into the lead from the start, and then got himself into a challenging position again after the huge Mercedes blunder, dispelled any such theory.
Wolff told the 22-year-old afterwards that he "drove like a champion". Unfortunately, Mercedes dropped below their own astronomical standards at the double-stack pit-stop, and then the subsequent puncture when closing in on Perez was just bad luck.
However, there will be other days for Russell. He can go away, whether it's back to Williams for Abu Dhabi or for another crack with Mercedes depending on Hamilton's situation, knowing he did everything he could and that finishing down in ninth was not his fault.
If Russell was left distraught though, imagine how Bottas was feeling…
Bottas' bad luck hits new low
LAP 63/87

Full ⚠️ SAFETY CAR ⚠️ deployed

Mercedes call both drivers into the pits for new tyres but there's a problem putting on Bottas' fresh set #SakhirGP 🇧🇭 #F1 pic.twitter.com/sGC1KYFsBO

— Formula 1 (@F1) December 6, 2020
After finding all the bad luck that had been going since his latest win in Russia, surely this was the weekend when everything would fall into place for Bottas?
Try telling that to the motorsport gods though, who must have seen the Finn run over a litter of black cats or take a sledgehammer to a fairground hall of mirrors.
With Hamilton not in the paddock, this looked to be Bottas' chance of re-establishing himself as a leading force not only at Mercedes but on the grid generally. However, it was same-old same-old for the 31-year-old, who had been put in the shade by Russell long before his hopes were destroyed once and for all at a pit-stop that was straight out of Fred Karno's Circus.
Goodness knows what happens to Bottas now. He has a contract with Mercedes for 2021, but then so did Perez at Racing Point.
We are not saying the same will happen to him, but just like a 'better' option came along for Racing Point – in their minds, anyway – Mercedes may be thinking the same about Russell now that a direct comparison between him and Bottas is available.
Let's face it, Russell, in his first race for the World Champions, blew Bottas away. That must surely give Mercedes plenty of food for thought.
Best and worst of the rest
Charles Leclerc is a brilliant driver on his day and some of his qualifying performances this season have been superb, but you now have to seriously question his racecraft in among traffic.
It's becoming a habit for the 23-year-old to apologise for mistakes he has made and there was another when he tangled with Perez on the opening lap, ending his race and also that of Max Verstappen who slid into the barrier when taking avoiding action.
The Ferrari driver tossed away a podium in Turkey with a last-lap overtaking mistake, has clashed with his team-mate Sebastian Vettel twice this season, prompting an outburst from the German last week, and has now earned himself a three-place grid penalty for Abu Dhabi.
Leclerc is quick and has stacks of potential, but will know where he urgently needs to up his game.
Renault's Esteban Ocon, meanwhile, claimed a much-needed podium by finishing second – just what the doctor ordered as he prepares for Fernando Alonso to join him as team-mate next year in place of Daniel Ricciardo.
Ocon was joined on a rostrum of three previous non-race winners by Perez's Racing Point colleague Stroll, who had hitherto scored only two more points since his last P3 finish at Monza in early September.
Stroll helped Racing Point move 10 points clear in the race for P3 in the constructors' World Championship and they are on course to be best of the rest outside Mercedes and Red Bull.
In the drivers' standings, the same is true of Perez – and that again underlines how incomprehensible it is that, as things stand, he cannot find a drive for next year.
Jon Wilde
Follow us on Twitter @Planet_F1, like our Facebook page and join us on Instagram!