In a Sakhir Grand Prix that took the chaos of 2020 to another level, some ended it in tears of joy, and others with a broken heart.
The race saw the grid, which featured three stand-in drivers, take on a brand new challenge, and challenge them it did. Here's how we think they all performed…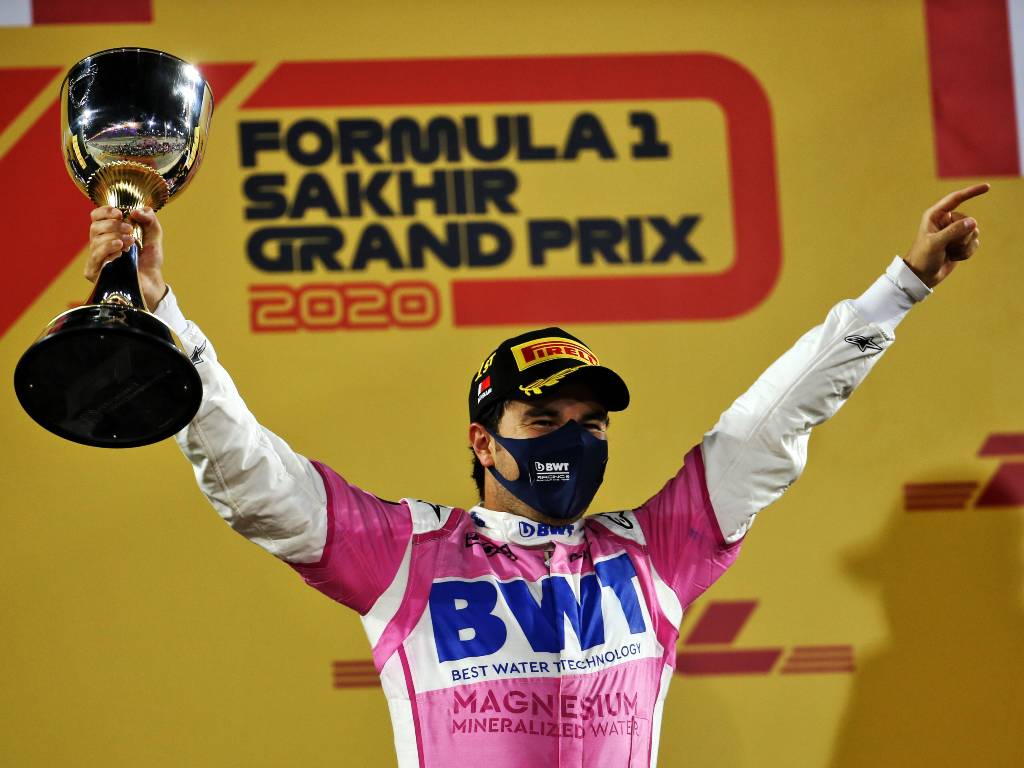 Sergio Perez: Sergio Perez is a Formula 1 race winner! He may have enjoyed a bit of good fortune to take P1, but make no mistake about it, he absolutely deserved his first victory.
Points, let alone a win, looked a distant dream at the end of lap 1 when, after being taken out by Charles Leclerc, he rejoined in last place. However, he quickly got his head down a down was back in the top 10 by lap 21 thanks to excellent pace and some flawless overtaking.
By Lap 57, he had fought his way up to P3. It was hard to see him staying there given his older tyres, but that changed when he decided to stay out under the VSC and chaos ensued at Mercedes. It all led to him leading with just over 20 laps to go, and he nailed his Safety Car restart to extend said lead.
George Russell was the only man who could catch him and he picked up a puncture in his efforts to do so. That allowed Checo to take victory comfortably. Given he was last after the first lap and wasn't in a dominant car, that's nothing short of remarkable, even with luck on his side. It was quite simply the perfect drive. Come on Red Bull, do the right thing. 10
Esteban Ocon: With Perez taking his first win and Mercedes falling apart, Ocon went somewhat under the radar throughout the race, but given he scored the best result of his F1 career, he won't care.
For much of the race, it looked as if he'd finish behind his team-mate yet again and only score a few points. While he impressed with an excellent move on Lance Stroll, it didn't feel like a particularly important one, with it only giving him P9.
However, with those ahead of him diving into the pits under the Safety Car, it ultimately handed him P2. He was wise not to defend too hard against Russell and found himself back where he was after the Brit's puncture. From that point onwards, he never looked like being passed again, staying calm and collected under pressure from faster cars behind.
Admittedly, he enjoyed a huge dose of luck to score his first podium, and in terms of pace, was again not at Daniel Ricciardo's level. However, he still drove well throughout, and when presented with a huge opportunity, he rose to the occasion. 9
Lance Stroll: With another podium to his name and his team-mate joining him in the top three, logic would suggest Stroll would have been overjoyed after the race, but that wasn't the case, as he felt he could have taken victory himself.
The main thing he'll be kicking himself over is the fact that, after rejoining from the pits ahead of Ocon on Lap 44, he sloppily let the Frenchman through, before doing the same again with Perez soon afterwards. If he hadn't made those mistakes, it would have been him leading later on.
He didn't do anything wrong after that, defending perfectly from those chasing him down at the end, and P3 is still an excellent result. However, given how everything fell into place for him, it should and would have been even better if not for those costly errors. 8
Carlos Sainz: Crossing the line in P4, Sainz would have been wondering how on earth he hadn't ended up on the podium. The answer is simply that lady luck wasn't with him in Bahrain.
When Leclerc, Perez and Max Verstappen came together at the start, the McLaren man moved up to P3 and fought off Daniel Ricciardo to make the position his own.
Things then fell apart as he pitted under the VSC, causing him to drop down the order and get stuck behind Valtteri Bottas who, with old tyres, was considerably slower than him. He did eventually pass the Finn, but by then, the damage was done and he didn't quite have enough time to get Stroll.
It was one of his best drives of the season, undoubtedly deserving of a podium, and in terms of performance alone, he was arguably better than Ocon and Stroll. Tough luck, Carlos. 9 
Daniel Ricciardo: Like Sainz, Ricciardo too was down on his luck in Bahrain. In terms of driving, he didn't do much wrong and didn't really deserve to finish behind his team-mate and Stroll.
He did well to stay out of trouble and move up to P4 at the start and then stayed within touching distance of Sainz and a final podium spot. However, his chances of taking it were hampered when his team pitted him a lap late, causing him to drop behind Daniil Kvyat who he then couldn't overtake on track, allowing Sainz to pull away.
Pit-stops again went against him later on when he was called in just as the VSC ended, and he rejoined down in P7 as a result. He did at least manage to pass Bottas and secure a top-five finish but will feel like he deserved more. 8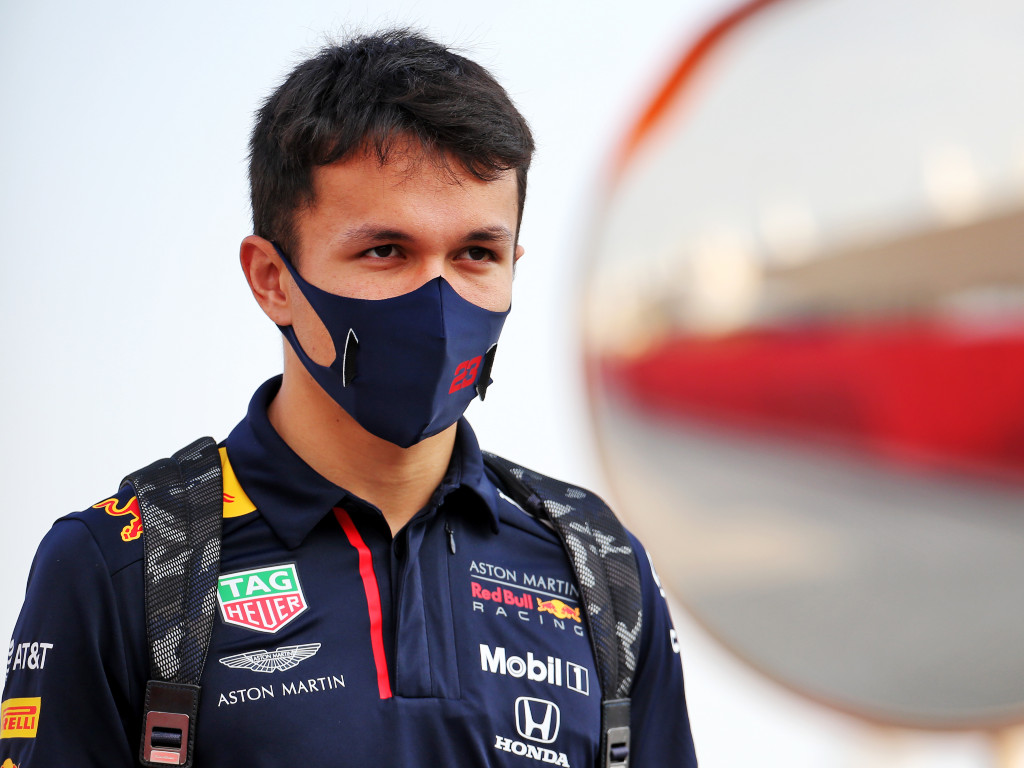 Alex Albon: The fact that Albon finished in P6 while the man vying to take his seat next season won is bad. What's even worse though is the fact that he was lucky to finish as high as he did.
After a terrible qualifying performance, he didn't look much better in the race. While he did make some decent moves, his pace wasn't nearly as strong as it should have been given the car he had, and being passed by Perez wasn't a good look.
He found himself in a decent position by the time the final SC came in, but rather than fight his way past midfield cars ahead of him, he spent most of the final laps defending from the AlphaTauri behind him.
Given the respective fortunes of himself and Perez, even Albon's strongest fans would struggle to justify why he should be at Red Bull next year instead of Checo. 5
Daniil Kvyat: For the majority of this season, Kvyat has been outperformed by his team-mate, but throughout the second race weekend in Bahrain, the tables were turned.
After being one of the stand-out performers in qualifying as he secured P6, he made a strong start to gain a place and then pulled off the undercut on Ricciardo. By the halfway point of the race, he was in P4 and looking good. However, a poor strategy call from his team and a badly timed Safety Car dropped him down the order and forced him to settle for P7.
Nevertheless, it was the best he's looked all season. With it looking likely that he'll be replaced for 2021 though, he'll be wishing he could have put in that kind of performance earlier this year. 9
Valtteri Bottas: With Russell alongside him, this was Bottas's chance to prove that he deserves to keep his Mercedes seat ahead of the Brit next season. He didn't take it.
After only just securing pole position, he was passed by his temporary team-mate at the start of the race and then, somewhat embarrassingly for him, could barely keep up, let alone re-take the lead.
He did admittedly look much stronger in his second stint and was catching Russell before disaster struck for both of them as their team made an almighty mess of things in the pits. Stuck on old tyres for the rest of the race, he was a sitting duck.
Even so, the fact that, for over 50 laps, he was running behind someone who had next to no experience of the W11, is nothing short of disastrous for him. There were already a lot of people that felt Russell should be driving his car next year, and that opinion is only going to grow now. For that, Bottas only has himself to blame. 5
Toto 💬 "It's not going to be @GeorgeRussell63's last attempt to win a race, this is just the beginning of a fairy-tale that didn't work out today and I would say a new star is born." #SakhirGP pic.twitter.com/CqZQ4O6CDE

— Mercedes-AMG PETRONAS F1 Team (@MercedesAMGF1) December 6, 2020
George Russell: Russell had endured some heartbreaks in F1 prior to this weekend, but none of them will have come close to this one. He did almost everything right, and has only three points to show for it.
The Brit made an excellent start to take the lead and then, even more impressively, began to storm away from Bottas in his first stint. By the time that they'd both pitted, he had an eight-second lead over the Finn.
Even after being forced to pit twice in two laps due to a tyre mix up, he still looked set to take a richly deserved victory after clearing everyone but Perez. Then he picked up a puncture, and that was one setback too many, even for him. Said puncture was perhaps, in part, his own fault for pushing too hard, but if so, that's really the only thing he did wrong.
He was immensely impressive in every area all weekend and did everything he could to make Mercedes consider giving him an early promotion. He did at least score his first points with a solid late recovery job and was deserving of so much more. 10
Lando Norris: On paper, starting P20 and finishing in P10 is a good result, but Norris won't see it that way given how well he started.
After lap 1, it was looking like he'd be a contender for Driver of the Day as a lightning getaway saw him gain 10 places in a few corners. After that, however, it became apparent that he just didn't have the pace to make any more progress.
However, McLaren stated after the race that there was an issue with his car, which makes his performance look far more impressive, even if the result did all but cost him the inter-team battle with Sainz. 7
Pierre Gasly: In a season to remember, this was a race to forget for Gasly as, compared to his team-mate, he struggled with his pace and ultimately failed to score a single point.
That is, in part, due to the timing of the VSC, but he wasn't particularly impressive prior to that, struggling to keep up with Kvyat. That being said, without the late chaos, he most likely would have finished in a strong P6.
With his seat secured for next year and nothing to fight for in the championship, he perhaps allowed his level to drop off a bit, but given the season he's had, we'll let him off. 6
Sebastian Vettel: The highlight of Vettel's race would have been seeing the car he'll be in next season winning it. In terms of his own performance, there weren't many positives to take.
It's difficult to say how well he did relative to his car's performance as the other Ferrari retired immediately and he was hampered by yet another terrible pit-stop from his team.
All that's clear is that it was another race in which he didn't exactly impress and certainly didn't enjoy. We don't imagine he's too gutted that the next race will be his last in that car. 5.5
Antonio Giovinazzi: With considerably slower cars on such a short track, the drivers in the three bottom teams spent much of the race obeying blue flags and therefore had little hope of challenging for points.
Of those drivers, Giovinazzi finished first, which he'll see as a little victory, and the Italian couldn't have really done any better. 7 
Kimi Raikkonen: Kimi made an excellent start before spinning at turn two, which ultimately cost him in the fight with his team-mate. After that, he did enough to come home ahead of Jack Aitken and the Haas drivers, but little more. 6
Kevin Magnussen: In perhaps the worst car on the grid at this track and with a hugely inexperienced team-mate in the other Haas, Magnussen had little to fight for throughout the race. Finishing ahead of a Mercedes-powered Williams is credible, but it's worth noting that that car was driven by a complete rookie. 6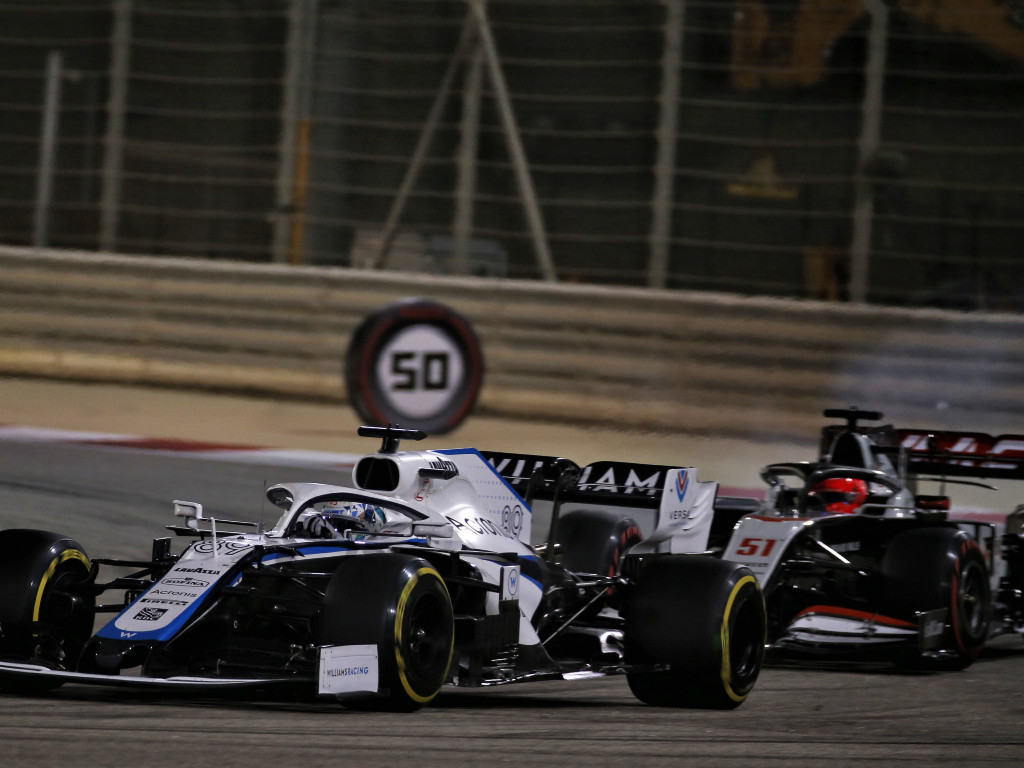 Jack Aitken: Russell's promotion gave Aitken his unexpected debut in F1, and aside from one mistake, he can be proud of how he did.
He impressed on Saturday, qualifying less than a tenth down on Latifi, and continued to do a solid job on race day, staying close to him prior to the Canadian's retirement.
The mistake that saw him lose his front wing was a sloppy one, but it can be forgiven given how little experience of the car he has. All in all, a solid showing. 6.5
Pietro Fittipaldi: Like Aitken, Fittipaldi too was called up to make his debut at short notice following Romain Grosjean's crash, and id a decent enough job.
While he wasn't as impressive as the Williams man in terms of outright pace, he stayed mistake-free in the race, which is a good achievement in itself. He'll be hoping to be closer to the other Haas car next week though. 6
Did not finish
Nicholas Latifi: With Russell out of the picture, Latifi became his team's lead driver for the first time, and largely delivered, challenging the Alfa Romeos before being forced to retire. However, he should have really enjoyed a bigger margin over Aitken. 6
Max Verstappen: His race came to an end at the first corner of the race as he was an unfortunate victim of the coming together between Leclerc and Perez ahead of him. N/A
LAP 1/87

⚠️ SAFETY CAR ⚠️

At Turn 4 Leclerc hits Perez and Verstappen gets caught up in incident

Both the Ferrari and Red Bull drivers are out ❌#SakhirGP 🇧🇭 #F1 pic.twitter.com/BKPqc6OGJD

— Formula 1 (@F1) December 6, 2020
Charles Leclerc: After an excellent Saturday, he undid all of his hard work by being far too aggressive and ambitious at the start, and has hampered his chances for the final race of the year by rightfully being handed a penalty. We don't give ratings to drivers who didn't complete a lap, but if we did, he'd have a low one. N/A
Finley Crebolder 
Follow us on Twitter @Planet_F1 and like our Facebook page.