Saudi Arabia GP team ratings: Small blemish for Red Bull with McLaren again off the pace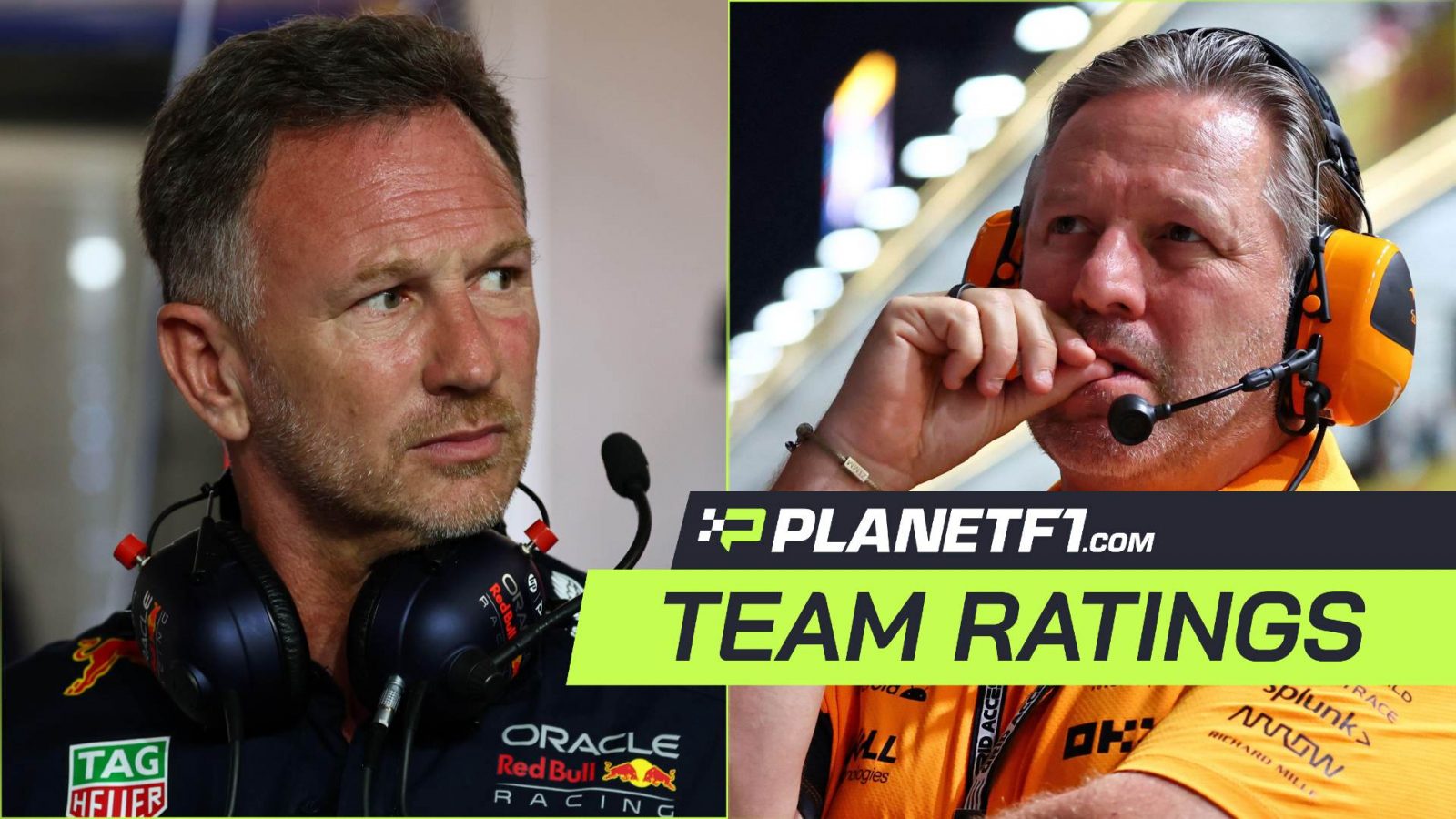 As part of PlanetF1.com's race coverage for the 2023 season, we will be rating all 10 teams' performances during a grand prix weekend.
For those of you familiar with our driver ratings, the format will largely be the same but with some key differences as to what ratings will be awarded for.
To start, these ratings are focusing on the team away from the drivers so as an example, Fernando Alonso's failure to line up properly on the grid was not caused by the team so their rating does not drop as a result.
We are mainly focused on not only strategy and pit stop performance but also the reliability of the car, but other than that, it should be exactly the same as you are already used to, so let's dive in:
Red Bull – 9.5
A near-perfect weekend again for Red Bull but considering these ratings also take reliability into account, they have to lose some marks for issues that hampered Max Verstappen's qualifying run.
A driveshaft problem saw the race favourite not even put in a fast lap in Q2 but it did at least make for some interesting racing, setting Verstappen the challenge of cutting his way through the field.
He did that with ease and Sergio Perez, who took pole in Verstappen's absence, had enough speed to retake P1 after losing it to Fernando Alonso early on. Team wise, it was a perfect race from strategy down to pit stops.
Aston Martin – 9
Like Red Bull, Aston Martin's score took a slight hit from the reliability issues that caused Lance Stroll to drop out at a time when he looked certain for a P4 spot.
The Canadian revealed he had been battling the ultimately fatal engine problem for a few laps before it caused him to DNF and release an influential Safety Car, but up until that point, Stroll had shown good pace, in particular in his overtake of Carlos Sainz.
On the Alonso side of the garage, it was not the team's fault the most experienced man in the sport's history failed to line up in the correct grid position but their score would have taken a knock had the 10-second penalty for beginning work on the car too soon have stuck.
On that point, praise should go to whoever managed to dig out a healthy supply of evidence in a short space of time when Aston were appealing their penalty to the FIA.
Mercedes – 8
Going into the weekend, if you would have offered Toto Wolff and Mercedes a P4 and P5, they would have snapped your hand off.
While the car again lacked the performance to trouble the top spots, Mercedes at least could count on their reliability and strategy choices at a time when those around them suffered.
They capitalised on Ferrari's pit stop gamble to move up the grid and had a weekend free of any mechanical issues.
The car still lacks performance, as seen by Leclerc and Verstappen's ability to breeze past Lewis Hamilton early on, but there was enough to hold the Ferraris back after the Safety Car.
Ferrari – 6.5
Going into the weekend, Ferrari took the unwanted title of first team to be handed a grid penalty as Charles Leclerc's power unit issues in Bahrain continued into Saudi Arabia. But, with news that his first PU will be available again in the season, Ferrari at least had a strong reliability weekend.
In terms of strategy, the Safety Car could not have come at a worse time with Ferrari having just pitted both drivers, but while it was logical to box Leclerc who started on the softs, question marks were raised as to why Ferrari chose to do similar with Carlos Sainz considering he was on the medium.
There was also a breakdown in communication with Leclerc, who was left without key information when Hamilton came in to pit during the Safety Car period.
As for the car performance, it was again well off the pace as although Leclerc was able to move up the field on the softs, once both drivers moved onto the hards their speed massively dropped off.
For Ferrari at least they had two drivers finishing in the points but a P6 and P7 when Red Bull secured another one-two will be little consolation.
Alpine – 7.5
About as much as Alpine could have hoped for at this point in the season considering where their car is in terms of performance and at least they had both drivers in the points this time.
Having had an opening race to forget, Esteban Ocon and Alpine would have been happier to have a more straightforward weekend in Jeddah while Pierre Gasly may have again finished P9, though this time round he was not asked to do so after starting from the back of the grid.
Alpine look to be pretty comfortably the fifth-fastest car on the grid, the question now is how do they develop in order to challenge for that P4 spot.
PlanetF1.com recommends
Saudi Arabian GP driver ratings: Super Sergio Perez, sub-par Sainz and Norris nightmare
Saudi GP conclusions: Red Bull fast but fragile? Russell's Mercedes blueprint
Has F1's 'Smooth Operator' Carlos Sainz lost his mojo at Ferrari?
Alfa Romeo – 6.5
A disappointing P14 starting spot for Valtteri Bottas gave the Finn work to do and he would end up pitting the most of any driver as, like the Ferrari pair, the Safety Car came at the wrong time for him.
His Alfa lacked the pace to make any headway on those ahead and as a result, he finished in a disappointing P18, the last of the classified runners. Bottas suspects floor damage was the reason behind the lack of pace.
Zhou Guanyu had a better race but, like Bottas, his race was compromised by the Safety Car and he was ultimately unable to challenge for the final points-paying spot.
No reliability issues for Alfa but they will be asking themselves why the car looked so much quicker in Bahrain than it did in Jeddah.
Haas – 8
While there already appears to be a clear top five teams, Haas are one of many who need to be ready should one of the usual candidates drop out and they duly were in Jeddah.
The team decided to pit Kevin Magnussen early on but made the bold call not come in again under the Safety Car and this allowed the Dane to use his tyre-saving ability to challenge Yuki Tsunoda for that P10 spot.
Ultimately, Magnussen won out, diving down Tsunoda on the exit of Turn 1, and it was no less than he and Haas deserved.
On the other side of the garage, Haas went for the same strategy with Nico Hülkenberg but he was unable to produce the same level of performance as his team-mate.
But Haas are off the mark and will take confidence going into Melbourne.
Williams – 7
Before his retirement, Alex Albon described the FW45 as the best car of his Williams tenure so it is a shame we were unable to see if he could have made it back-to-back points finishes by joining AlphaTauri and Haas in the battle for P10.
A brake failure brought an early end to Albon's race meaning it was down to Logan Sargeant to save Williams' day.
Ultimately though, the Safety Car came at the wrong time for them as having started the American on the hard tyres, they would have wanted to continue with the first stint longer than they did and used the pace of the mediums late on.
In the end, they made the right call to pit under the Safety Car but it did mean Sargeant had to do a lot of tyre preservation to make it to the end.
AlphaTauri – 6.5
It is one side good, one side not so good for AlphaTauri with Yuki Tsunoda again just narrowly missing out on the points with another P11 spot.
The strategy was certainly the right one but ultimately the AT04 still lacks pace compared to the Williams and the Haas. Tsunoda's skill allowed him to fight for that P10 spot but after he lost out to Magnussen on the exit of Turn 1, he was unable to catch him back up. The squeal of frustration from Tsunoda over team radio after finally being passed told the story.
AlphaTauri used the same strategy with Nyck de Vries but it was another disappointing race for the Dutchman, starting 18th and finishing 14th as his full-time Formula 1 career continued its rough start.
McLaren – 5.5
Not much McLaren could have done as a team considering one of their drivers clipped the wall in qualifying and then the other had a lap one incident that shredded the front wing end plate, but again, the car just lacks any kind of performance.
In former years, a McLaren car would have still been able to move up the grid following a lap two-pit-stop, but Oscar Piastri and Lando Norris were left to mainly fight each other with the occasional battle against Logan Sargeant thrown in for good measure.
In terms of strategy, it was odd for McLaren to pit Norris just as the Safety Car was ending.