Saudi Arabian Grand Prix 2021: Time, TV, grid and title permutations
After a successful introduction to Qatar, the inaugural Saudi Arabian Grand Prix will see F1 travel to another new circuit in Jeddah.
Circuit officials have been racing to get the track ready on time for Formula 1's arrival – having started construction only eight months ago – but reassurances have been made that the high-speed street circuit will be ready come the weekend.
Given the power requirements needed to successfully negotiate the demands of the layout, Red Bull have labelled title rivals Mercedes to be the favourites to win the race, with the Silver Arrows going for a third straight victory which would see Lewis Hamilton close his deficit to Max Verstappen almost completely, even if the World Championship leader finishes P2.
It's a weekend full of unknowns and with so much at stake in both championship races, it's all set to be an intriguing introduction for Formula 1 in Saudi Arabia.
Here is everything you need to know ahead of the 2021 Saudi Arabian Grand Prix…
When is the 2021 Saudi Arabian Grand Prix?
Practice 1: Friday 19 November: 1630-1730 (1330-1430 UK time)
Practice 2: Friday 19 November: 2000-2100 (1700-1800 UK time)
Practice 3: Saturday 20 November: 1700-1800 (1400-1500 UK time)
Qualifying: Saturday 20 November: 2000 (1700 UK time)
Race: Sunday 21 November: 2030 (1730 UK time)
Where does the 2021 Saudi Arabian Grand Prix take place?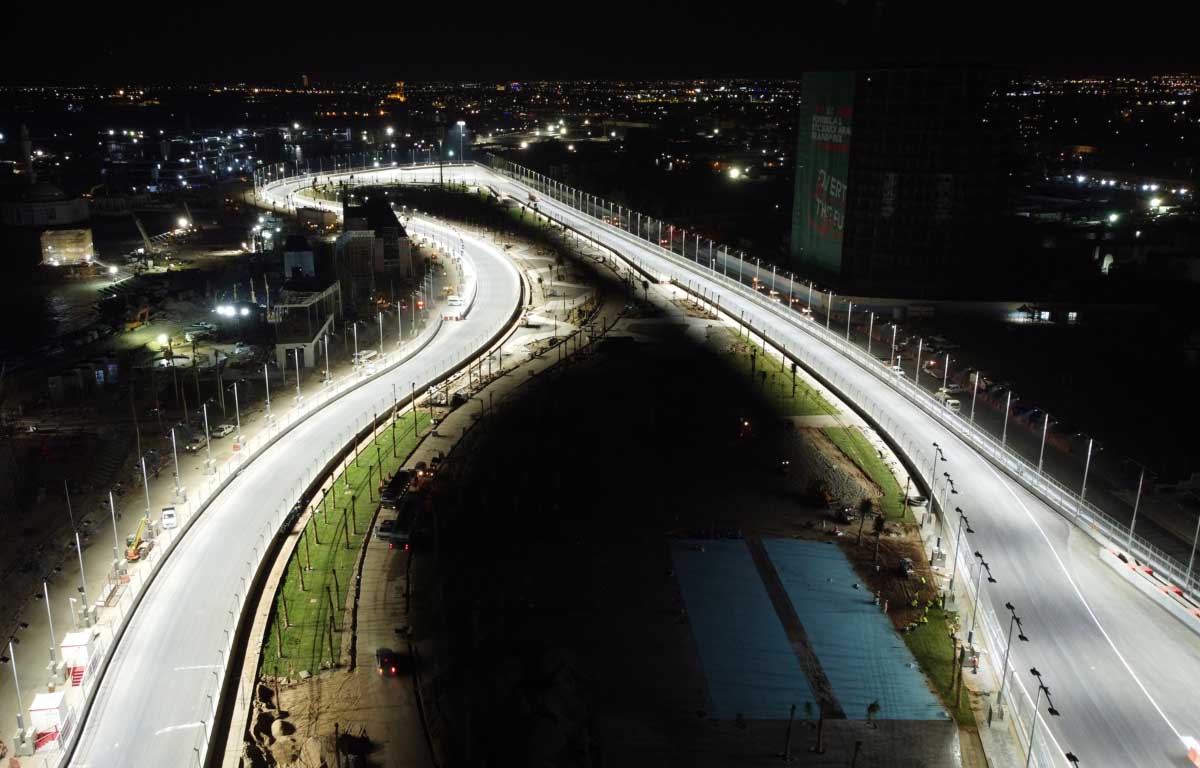 The Jeddah Corniche Circuit has been labelled by circuit designer Carsten Tilke as one of Formula 1's "most ambitious projects", given the short timescale in which the track has been constructed.
It was also laid out with the intention of becoming the world's fastest street circuit, with a whopping 27 corners and tight walls creating a tricky environment for the drivers to negotiate.
The majority of the long, snaking 6.174km track takes place around high-speed kinks and curves, with most of the straights carrying some kind of arc to them – as is also exemplified in Sochi.
Following the success of the revamped Zandvoort layout, the hairpin Turn 13 has had banking introduced to it, to aid drivers on their way through the middle sector.
Click here for our full track guide.
Where can I watch the 2021 Saudi Arabian Grand Prix?
Every session, from the start of FP1 to the end of the race, can be found on pay-TV broadcaster Sky Sports in the UK. A live stream of their coverage can also be accessed via Now TV.
Highlights of qualifying and the race will also be shown on free-to-air broadcaster Channel 4.
You can watch all the action from Saudi Arabia live with F1 TV Pro. Please check to see if it is available in your country.
Subscribers to the official F1 app can access live data throughout the race weekend and listen to radio commentary there on race day.
PlanetF1 will carry live timing and expert commentary on every session, with coverage beginning 30 minutes before each practice and qualifying, and one hour before the race.
The Saudi Arabian Grand Prix will be shown live on TV on the following outlets in other key markets:
United States: ESPN
Canada: RDS (French), TSN (English)
Australia: Fox Sports
France: Canal+
Italy: Sky Sport F1
Germany: Sky Sport F1
Spain: DAZN
Netherlands: Ziggo Sport
Brazil: Band
Japan: DAZN
Africa: Super Sport
What are the odds for the 2021 Saudi Arabian Grand Prix?
Here are Planet Sport Bet's latest odds on the winner of the Saudi Arabian Grand Prix:
Lewis Hamilton: 2/5
Max Verstappen: 3/1
Valtteri Bottas: 11/1
Sergio Perez: 28/1
Charles Leclerc: 33/1
(Odds correct as of December 4. Head to Planet Sport Bet for up-to-date prices and further markets).
How can Max Verstappen win the World Championship at the 2021 Saudi Arabian Grand Prix?
For the very first time this season, one piece of silverware can actually be decided at the Saudi Arabian Grand Prix. Here is what needs to happen in order for Max Verstappen to become World Champion:
Verstappen finishes first + fastest lap / Hamilton P6 or lower
Verstappen finishes first / Hamilton P7 or lower
Verstappen finishes second + fastest lap / Hamilton P10 or lower
Verstappen finishes second /Hamilton scores zero points
What is the grid for the Saudi Arabian Grand Prix?
1 Lewis Hamilton Mercedes 1:27.511
2 Valtteri Bottas Mercedes 0.111s
3 Max Verstappen Red Bull 0.142s
4 Charles Leclerc Ferrari 0.543s
5 Sergio Perez Red Bull 0.612s
6 Pierre Gasly AlphaTauri 0.614s
7 Lando Norris McLaren 0.669s
8 Yuki Tsunoda AlphaTauri 0.931s
9 Esteban Ocon Alpine 1.136s
10 Antonio Giovinazzi Alfa Romeo 1.243s
11 Daniel Ricciardo McLaren 1:28.668
12 Kimi Raikkonen Alfa Romeo 1:28.885
13 Fernando Alonso Alpine 1:28.920
14 George Russell Williams 1:29.054
15 Carlos Sainz Ferrari 1:53.652
16 Nicholas Latifi Williams 1:29.177
17 Sebastian Vettel Aston Martin 1:29.198
18 Lance Stroll Aston Martin 1:29.368
19 Mick Schumacher Haas 1:29.464
20 Nikita Mazepin Haas 1:30.473
What is the weather forecast for the 2021 Saudi Arabian Grand Prix?
Like the last race in Qatar, the similar climate in Saudi Arabia means drivers and fans can expect warm conditions throughout the weekend, with a reported 0% chance of rain in Jeddah.
Friday: 33°C, sunny spells during daytime and a dry evening, across all three days.
Saturday: 32°C peak temperature
Sunday: 32°C peak temperature
Directions to the Saudi Arabian Grand Prix
King Abdulaziz International Airport, the main Saudi Arabian airport, is located in Jeddah and so will be the closest one to the Jeddah Corniche Circuit.
Buses run frequently in and around Jeddah, while taxis are the most commonly used form of transport. Car hire is also widely available, so the track should be widely accessible for fans.
What are the latest F1 Championship standings?
Drivers' Championship
Max Verstappen – 351.5 points
Lewis Hamilton – 343.5 points
Valtteri Bottas – 203 points
Sergio Perez – 190 points
Lando Norris – 153 points
Constructors' Championship
Mercedes – 546.5 points
Red Bull – 541.5 points
Ferrari – 297.5 points
McLaren – 258 points
Alpine – 137 points
AlphaTauri – 112 points
Tyre choices for the 2021 Saudi Arabian Grand Prix
This brand-new circuit will see Pirelli bring its C2, C3 and C4 compounds to Saudi Arabia to run as the hard, medium and soft respectively – which is in the middle of the tyre manufacturer's range.
The track is littered with high-speed kinks and curves, but seemingly none with the prolonged loads that were present in Qatar, which necessitated Pirelli to bring their hardest tyres to Losail.
As in Qatar, tyre performance will be a complete unknown to drivers and teams before they head out on track for the first time, making practice sessions even more important as they get to grips with another new Formula 1 circuit.