Match point to Max, but will Hamilton serve an ace?
A new Formula 1 World Champion could be crowned for the first time since 2016 when the sport pays its maiden visit to Saudi Arabia.
But the likelihood is that this absorbing title battle will go all the way to Abu Dhabi, potentially with only one point separating Max Verstappen and Lewis Hamilton – or perhaps even level pegging.
With two races remaining, Verstappen holds a lead of eight points. There are various scenarios which, if they played out in Jeddah, would mean Hamilton, the seven-time champion, having to wait at least one more year in his quest for a record-breaking eighth title triumph.
It's race week…and we could have a World Champion at the end of it 👀

Max will win the title if…

1st + fastest lap / Lewis P6 or lower

1st / Lewis P7 or lower

2nd + fastest lap / Lewis P10 or lower

2nd / Lewis zero points#F1 pic.twitter.com/TRnpgvevIV

— PlanetF1 (@Planet_F1) November 29, 2021
However, following his victories in Brazil and Qatar, the 36-year-old Briton clearly has the momentum and he is the hot favourite to make it three wins in a row.
If the Briton beats Verstappen into second place in Saudi Arabia, like he has at the past two races, and also bags the point available for fastest lap, the duo would be tied on points heading to Abu Dhabi.
That scenario would still leave the Dutchman ahead on countback, 9-8 in terms of victories, so if neither then scored a point at Yas Marina, Verstappen would be the champion.
Going into Saudi, it's a bit like a tennis tie-break – match point Verstappen but facing two Hamilton serves. Except in F1, you don't have to win by two clear points!
Mercedes have found the sweet spot for their W12 at this most critical juncture of the 22-race campaign, and Hamilton has an engine which even Red Bull's Helmut Marko has referred to as a "rocket" ready to be fitted again.
That was the engine which helped Hamilton overcome essentially 24 places of grid penalties across sprint qualifying and the grand prix in Sao Paulo to take the chequered flag 10 seconds in front.
Two more wins on back-to-back weekends in the Middle East and further Hamilton history would be made, with unquestionably his greatest achievement yet. Let's not get ahead of ourselves, though.
For all the sim runs and computerised race projections, it is impossible to confidently predict what will happen at a brand-new Jeddah Street Circuit surrounded by barriers and which is just being finished off, construction having only begun in April.
Will that Mercedes 'rocket' engine work as well as it did at Interlagos? And can Red Bull raise themselves back to the level they have achieved for the vast majority of the campaign, which enabled Verstappen to bag those nine wins?
Although this track is said to be blisteringly fast, therefore likely to suit Mercedes, it is also a street circuit and Verstappen has thrived on those this year. He took an untroubled win in Monaco and it would have been the same story in Azerbaijan a fortnight later but for a tyre blowout that sent him spinning into the wall.
However, there are not just two drivers in the field and Mercedes will hope Valtteri Bottas can steer clear of the grid penalties that have dogged his second half of the season and join Hamilton on the front row – a 1-2 finish in Saudi for the first time this year is their dream.
Should Bottas follow home his team-mate, pushing Verstappen back into third at best, it would put Hamilton ahead for the decider in Abu Dhabi.
Barring any unforeseen incidents or breakdowns, that scenario looks more likely to unfold than, say, Sergio Perez disrupting Mercedes' hopes of holding on to both championships.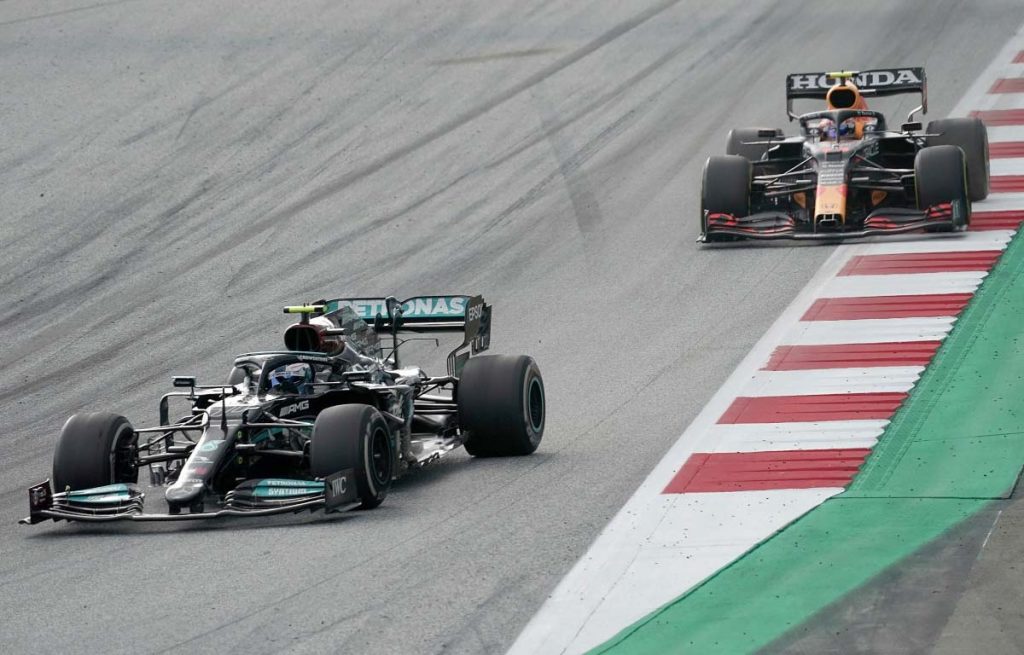 Bottas and Perez can still have a big influence on the destination of the Constructors' title, with Mercedes only five points ahead of Red Bull and so that too could very much go either way.
While Bottas, whose biggest strength is qualifying, could be a contender for pole position, for Perez the optimism lies more in omens.
The Mexican has won twice in Formula 1, in neighbouring Bahrain on the corresponding weekend last year and Azerbaijan earlier this season – the latter on a street circuit not completely dissimilar to Jeddah. He will hope, therefore, this could just be the sort of place that suits him.
Could anyone else upset the applecart? There is no history to guide us, of course, but it could be worth thinking back to the street races in Monaco and Azerbaijan in early summer and remembering Charles Leclerc took pole position for Ferrari at both.
However, that prospect simply looks much more remote now with Mercedes and Red Bull having quickened away from their rivals in the final couple of furlongs of the season like thoroughbreds scenting glory in a horse racing Classic.
It is the sort of race though that you sense may be highly eventful, with the potential even to alter the title picture significantly – and certainly produce at least one surprise podium finisher.
The latter applied to Qatar last time out on a more conventional track as Fernando Alonso tempted fate the right way, having finished third just days after confidently predicting "there will be no podium" in his first year back in F1!
In fairness, few people seem to know from one race to the next how Alpine will fare, and their performance in relation to McLaren and AlphaTauri provides an interesting aspect to follow across the three days in Jeddah.
For the remaining teams it will probably be a case of grabbing whatever they can and hoping the cards fall their way if an element of chaos ensues.
The eight constructors below Mercedes and Red Bull are now observing social distancing on the points table and it would be something of a surprise if any of the positions changed from Ferrari in third place downwards.
Thus, for seventh-placed Aston Martin down to Haas in 10th, it is now largely a case of getting through the last couple of races and the post-season test in Abu Dhabi, having a bit of time off over the festive period and then starting afresh for the new regulations in 2022.
George Russell, Kimi Raikkonen and Antonio Giovinazzi will be eager to claim a few more points before they head off in their various directions, each leaving their respective teams for a different reason.
Any points at all would be like manna from heaven for Haas, but at least Mick Schumacher and Nikita Mazepin know they will get another opportunity next year.
Planet F1 verdict
Looking ahead to brand-new Saudi Arabian GP
It's a brand new track and the first time F1 will be racing in Saudi Arabia.