Scrap the Sprints: F1 should consider mini 'Race of Champions' as a qualifying format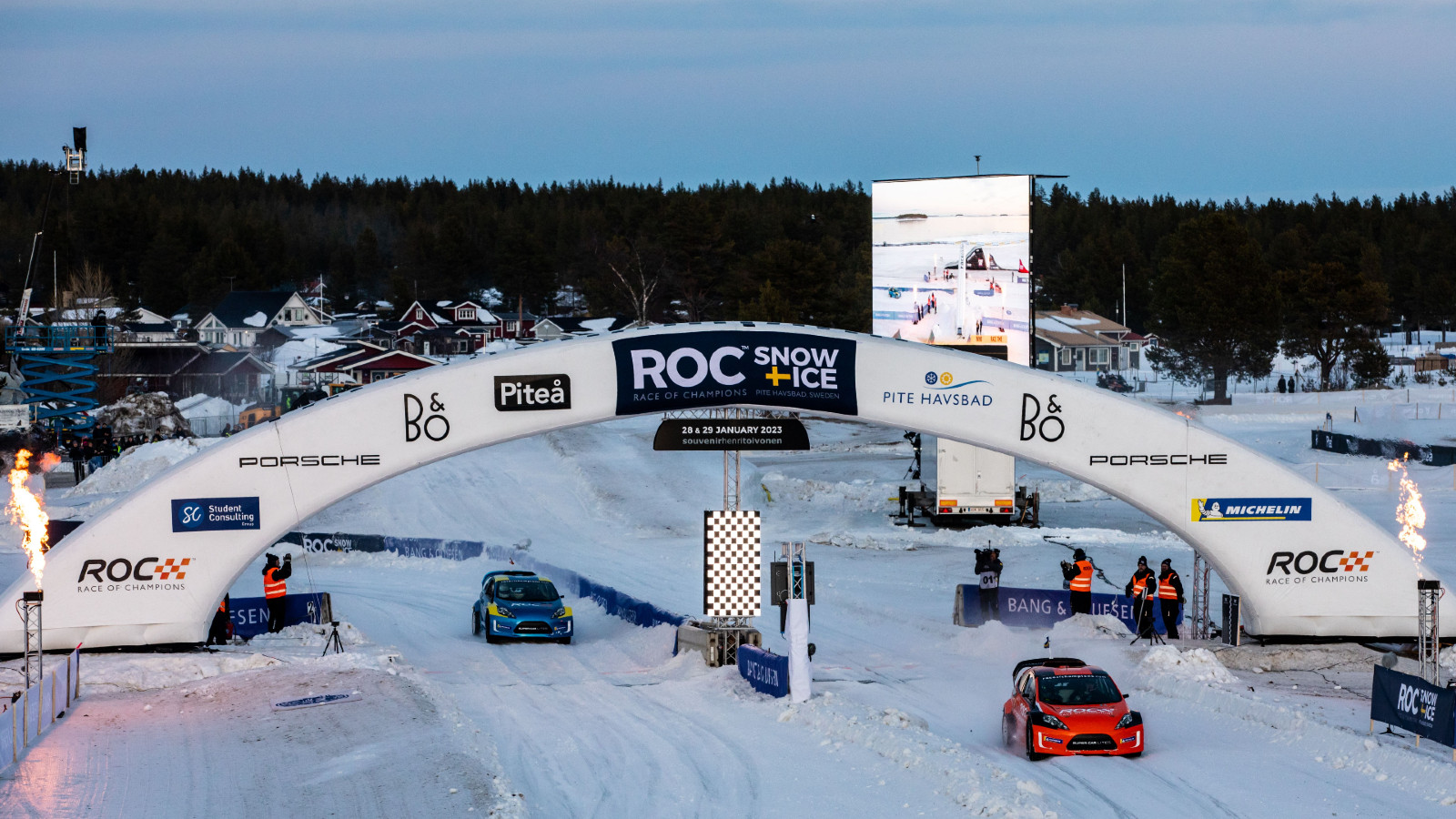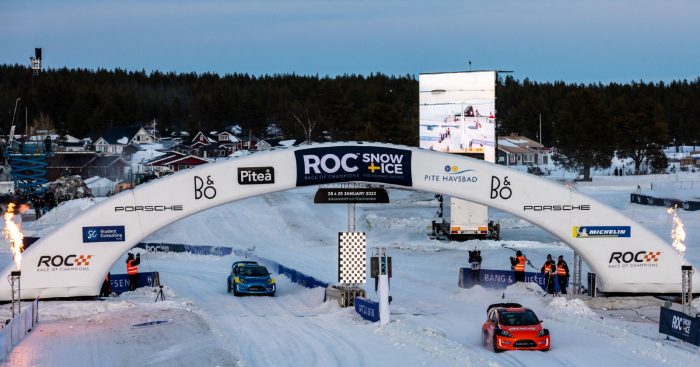 Rather than messing around with a lukewarm Sprint Qualifying format, a Race of Champions-type format would be far more entertaining…
This year's Race of Champions has come to an end, with Mattias Ekstrom storming to a home win in the final of the individual races as he saw off the challenge of the consistently impressive Mick Schumacher.
It's been another two days of stellar competition in the ice and snow of Sweden, with the format pitting some of motorsport's biggest and most illustrious names against each other – ranging from World Rallycross, W Series, sportscars, IndyCar, Formula 1, and even e-Sports.
The format has proven itself to be a great leveller, with all the drivers facing off against each other in a wide range of machinery – the quick-fire nature of the car swaps means that the drivers have to adjust to the very different characteristics of each machine with only minimal acclimatisation time.
For the likes of the F1 drivers present, jumping into the likes of a rallycross car such as the FC1-X, capable of 0-100km/h in 1.5 seconds with over 1000bhp, taking on drivers such as Ekstrom, Petter Solberg, and Sebastien Loeb represents a serious racing challenge that is vastly different to the immaculately smooth tarmac driving conditions of somewhere like Yas Marina or Sakhir.
While the Race of Champions merely serves as a relaxed appetiser ahead of the motorsport season's main course, there's an obvious interest in seeing drivers' talents from different disciplines going up against each other – it's tremendous fun to see the likes of showdowns between father and son Petter and Oliver Solberg, or seeing e-Sports racer Lucas Blakely defeating F1 drivers such as Valtteri Bottas or Sebastian Vettel.
F1 takes itself very seriously, as do the teams, meaning a Race of Champions-style race to put its 20 drivers in a more equitable competition is unlikely but, the one time a similar event was organised, the cream still rose to the top…
Ayrton Senna's Race of Champions win catches F1's eye
The 1984 Nurburgring Race of Champions (unrelated to the current Race of Champions) was organised by Mercedes to celebrate the return of the legendary circuit (albeit in truncated form) to the Formula 1 calendar.
20 examples of their Mercedes 190E, with a 2.3 litre 16v engine, were provided – all of which were modified identically to make them more suitable for racing.
The task to fill the 20 cars was left up to Mercedes' head of product placement in motorsport, with Gerd Kremer setting out to invite as many former F1 World Champions and Nurburgring race winners to take part.
Of all the World Champions alive in 1984, only five of them chose not to take part for various reasons. Juan Manuel Fangio, at 72-years-old, attended as a Mercedes ambassador but opted not to race. Mario Andretti and Emerson Fittipaldi were taking part in the Indy 500 (as good a reason as any!), while Jackie Stewart declined due to his vow to never race again after his 1973 retirement. Reigning World Champion Nelson Piquet declined the opportunity, for undefined reasons.
Along with the Champions, race winners Elio de Angelis, Alain Prost, Carlos Reutemann, John Watson, and Jacques Laffite took part, as well as Mercedes legends Hans Herrmann and Stirling Moss.
PlanetF1.com recommends
Race of Champions: Mick Schumacher finishes P2 in Champion of Champions
Fernando Alonso 'one of the greatest' in approach to an F1 race weekend, says former team-mate
Reaction to Paul di Resta's Sky F1 exit a reminder of F1's territorial fanbase
Amongst such illustrious names as James Hunt, Keke Rosberg, Jack Brabham, and Alan Jones, Ayrton Senna's name, at the time, was very much an outlier given he was still an F1 rookie driving for Toleman. It was so early in his career, even his infamous Monaco Grand Prix drive in the torrential rain hadn't yet occurred.
Senna had been invited as a result of having met Kremer at the Macau Grand Prix Formula 3 race in 1983, becoming friends with the Mercedes man as he dominated the weekend in Asia – the Brazilian took over the car that had been earmarked for Fittipaldi.
The race took place on the Saturday between the San Marino and French Grands Prix, with Alain Prost taking pole position for the event ahead of Reutemann and Senna.
Uncaptured by TV cameras, Senna vaulted into the lead on the first lap. Amusingly, and indicative of what was to come between them in later years, Prost claimed that Senna had pushed him off track during the first lap in order to take the lead. Even more amusingly, Senna had given Prost a lift from Frankfurt Airport to the track – Mercedes had requested the pair share a car, due to only having one available for them as their flights arrived within half an hour of each other.
But, despite the pair apparently getting on well and Senna enjoying the company of Prost, the Brazilian showed no mercy as he carved his way into the lead.
It was a lead Senna wouldn't relinquish over the 12-lap distance, although eventual 1984 F1 World Champion Niki Lauda recovered from a 14th-place grid slot to finish second and just 1.3 seconds behind the Brazilian.
As a relative unknown, Senna's performance earned him plenty of praise, particularly from John Watson as the recently-retired McLaren race winner praised his attacking style. John Surtees was also reported as having spoken to Enzo Ferrari about hiring Senna to the Scuderia.
While there are obvious question marks over just how seriously all the drivers took the event (James Hunt apparently spent most of his race cutting corners just for the fun of it), it was obvious Senna had taken it very seriously: contemporary reports from the time show Senna was highly focused throughout and was determined to prove himself against the field as a top-class racing driver.
Why not experiment with a Race of Champions format at select Grand Prix weekends?
Rather than experimenting further with the Sprint Qualifying format, a tepid approach to qualifying that merely extends the length of a Grand Prix by a third before a 24-hour break, a far more fun idea to determine a qualifying order for a Grand Prix would be to explore the idea of a Race of Champions style showdown.
This could take the form of any format imaginable: head-to-head knockouts being the format chosen by the ROC itself.
But why not explore the idea of perhaps supplying all 20 drivers with a sponsor-neutral third-party-supplied car, whether it be a single-seater, a rallycross machine, or even a ridiculous go-kart (perhaps on a smaller track), and send the 20 drivers out for a half-hour race?
After all, what could be more fascinating than seeing the likes of Lewis Hamilton and Max Verstappen having to race against Lando Norris, Fernando Alonso, or Oscar Piastri – all in equal machinery?
And then, the Grand Prix grid itself is determined by the finishing order of that race. Imagine how mixed the grid could be, and the potential for drivers in normally uncompetitive F1 machinery to showcase their talents. We would finally find out whether the best are truly the best…
Additionally, due to the machines being supplied and prepared by F1/FIA, rather than the teams, there would be no need for any additional complicated budget cap adjustments or arguments, and no concerns about crash damage having an effect on the Grand Prix.
Of course, to roll out the likes of a ROC format as an official qualifying format would mean plenty of hurdles to be cleared – there would be plenty of pushback from teams and drivers (particularly those at the top). Ensuring fairness in terms of machine preparation would be very difficult, especially given the teams wouldn't be involved in preparing them for their own drivers. And, if the drivers don't like it… tough!
The likes of such an event, held in place of the occasional Sprint Qualifying race, would ensure sky-high interest for such races. Under Liberty Media, the sport has become ever more focused on improving the entertainment aspect of the show – what could be better than putting all 20 drivers up against each other in equal machinery and having it actually mean something in terms of relevance to the Grand Prix?
Why hasn't the Race of Champions attracted the likes of Max Verstappen and Lewis Hamilton?
The ROC is perhaps the best example of illustrating just how similarly talented all top-level drivers, regardless of discipline, really are – the differentiation between them comes down to their chosen speciality, whether it comes down to off-road rallying, the manic competition of rallycross, high-speed tarmac ovals, or threading a 1000bhp single-seat around the likes of Spa-Francorchamps.
However, it's worth pointing out that, despite its labelling as a fun event, the Race of Champions has yet to attract the attendance of Formula 1's current superstars – Lewis Hamilton's sole appearance in 2008 was for a demo run, not competition, while Max Verstappen's hunger for all things racing is yet to extend to the relaxed camaraderie of the ROC.
It's perhaps for reasons of optics that they opt against: maintaining an image of being a driving talent way above their competitors would be difficult if an unknown e-Sports racer were to defeat them. In a sport where it's best not to give your opponents or critics additional weaponry, or the possibility to run mocking headlines, an embarrassing defeat could hang over a driver of their stature – even in a so-called 'fun event'.
However, this hasn't been a concern for the likes of Sebastian Vettel, Michael Schumacher, and Sebastien Loeb over the years…