Sebastian Vettel has gifted us some hilarious moments throughout his years in Formula 1, so we've put together a list of our top 10.
Can you repeat the question?
If you don't recognise the name Walter Koster, you will definitely recognise his voice.
He is the man who has tested the drivers' memory over the years by asking the longest questions a journalist has ever asked, perhaps ever.
Take yourself back to Abu Dhabi 2014 when Koster posed a question, which was timed at one minute and seven seconds and counting, within which he found time to quote Niki Lauda, Sebastian Vettel and Nico Rosberg before eventually asking whether all the buttons inside the car make it too complicated.
Unsurprisingly, the six drivers at the press conference – including Seb – were already trying desperately hard not to laugh, but the whole room soon burst into laughter when the question ended and Seb asked the journalist if he could repeat it.
Some say that five years later Walter Koster is still repeating the question… 😂#AbuDhabiGP 🇦🇪 #F1 pic.twitter.com/NY1f6mOik4

— Formula 1 (@F1) November 20, 2019
Wrong strategy? No. It was the seagulls' fault
After the 2016 Canadian Grand Prix, Vettel crashed Sky Sports' interview with Lewis Hamilton, jumping in to defend himself with an interesting reason as to why he did not finish top.
Seb was on fine form as he cited two seagulls on track as the reason Hamilton had beat him to P1, adamant they had an impact on his driving, so much so that he *jokingly* demanded the replay was found before he would leave.
After five minutes of searching in the VT room, the footage was found and while Hamilton laughed it off, Seb was perplexed by the lack of movement of the two birds as his Scuderia zoomed towards them.
He said: "If you can catch those two seagulls you might prove the opposite of whatever you have found out in history about seagulls."
You're on mute, Nico!
The headphones users among you should turn your volume down for when @nico_rosberg speaks 😂#F1 🇩🇪 pic.twitter.com/PYZrnBy6Od

— Formula 1 (@F1) October 8, 2020
Another classic press conference moment.
Poor old Nico Rosberg was just doing his best to answer a question, albeit rather loudly, so Michael Schumacher and Vettel clearly just couldn't help themselves.
Schumacher leaned over to Seb and whispered in his ear, clearly the instigator of what was to happen next.
Seb reaches out for Nico's mic, pulls it closer to his mouth, as if to help the German be heard, but the Mercedes man is just completely naive to the prank being pulled on him in front of a room full of people.
When he hears the room break into laughter, and probably feels the vibration of his own voice, he soon realises he has been played and pushes the mic further away from him, while Seb is left giggling away like a child to the side of him.
Here you go, Roscoe
Drivers and their teams work tirelessly ahead of race weekends to make sure everything is looking good and they know exactly what to expect. But who knew the key to winning was simply buying the opposition's dog a squeaky toy?
Well, clearly Seb did. That's what he did for Hamilton's bulldog, Roscoe – on the surface a very nice gesture, but maybe some cunning tactics at play.
Hamilton revealed in an interview the toy did not stop squeaking all night, to which Seb responds "I won the next day".
So there you have it, the secret to being a successful Formula 1 driver.
Kimi, is that you?
Vettel has treated us to plenty of impersonations over the years, ranging from Fernando Alonso to Nigel Mansell, but the Formula 1 community seems settled on the opinion that his Kimi Raikkonen impression is undefeated.
During a speech at the Autosport awards, filled with perfectly random funny moments, like calling himself 'not a true German' if he didn't moan about something, he was asked to share what Kimi might say if he was at the event.
Seb certainly didn't need a second invitation to immaculately mimic the Finn, it's just a shame the room's and his own laughter stopped him from doing much more than five seconds of it.
Fair play award?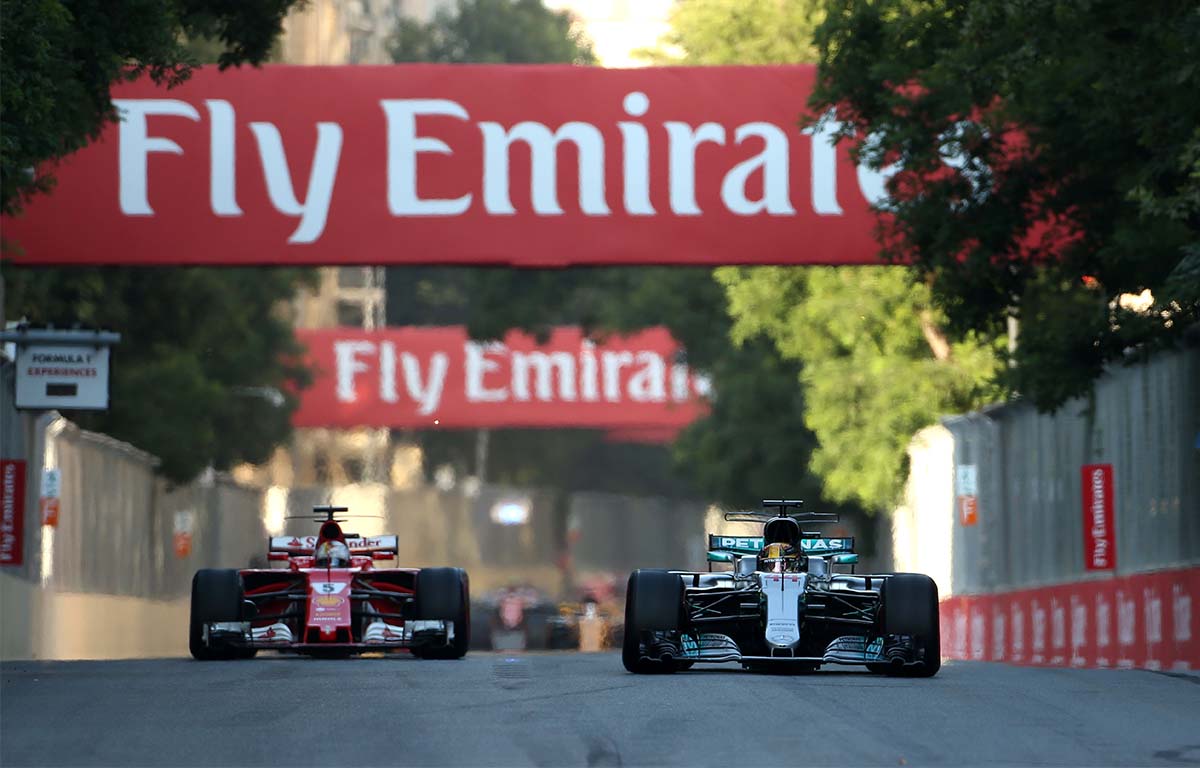 Hamilton and Vettel's controversial, let's say 'collision', at Baku in 2017 could well have caused problems between the two, but they were at least later ready to laugh about it at the end of the season.
At a press conference in Abu Dhabi, Seb joked about the incident and the awards he deserved for the move.
He said: "I should get move of the year, personality of the year and fair play? Maybe not."
Teasing Mercedes
The 2015 season saw the Mercedes pairing of Hamilton and Rosberg dominate at the top, with Seb the man posing their biggest threat.
In any sport when the competition is so fierce, we often see straight-faced, professional sportsmen on their media duties, but Seb is certainly an exception, especially in that particular season.
He continually poked fun at the leaders of the pack, including in Mexico where he suggested the pair could take each other out of the race and leave room for him to come through.
"Yes? No? I tried."
Who let the dogs out?
A stray dog on track is probably one of the strangest reasons for a red flag in Formula 1 and unlikely to happen too often, so Seb was not about to miss his chance.
Upon hearing the reason for the stoppage, he burst into song with a lively rendition of 'Who Let the Dogs Out?' by Baha Men.
Good job it wasn't another pair of seagulls, hey Seb?
Session 'Paws-ed' in Bahrain 🐶 🐾#BahrainGP 🇧🇭 #F1 pic.twitter.com/Ml4F4CUg0r

— Formula 1 (@F1) November 27, 2020
Keep it PG
Vettel's radio communications have gifted some truly iconic moments in Formula 1 and his message for his Ferrari team at the 2018 Brazilian Grand Prix is one to be remembered.
During the second practice session, he said: "There's something loose between my legs apart from the obvious. Something flying around my feet. Around my feet…I mean I'd be proud if it was what you think it is, but it's not."
I'm not sure we need to say too much more on this one. Moving on…
OK… Seb may have won team radio of the year 😂#BrazilGP 🇧🇷 #F1 pic.twitter.com/XDbYg8xAD5

— Formula 1 (@F1) November 9, 2018
Seb meets The Stig
Vettel was as cheerful as ever in front of the BBC cameras when he appeared on Top Gear (back when it was good) in 2011.
The show was, of course, famous for its mysterious driver, The Stig, and Seb could not resist poking some fun at him when the pair met.
He joked: "Do you have a girlfriend? Is she wearing a helmet too?"
We wouldn't be surprised if there's a deleted clip somewhere with Seb keeping The Stig in a headlock, desperately trying to rip off his helmet.
Follow us on Twitter @Planet_F1, like our Facebook page and join us on Instagram!