Sergio Perez, turning 31 today, has spent 11 of those years in Formula 1, creating a number of memorable moments along the way.
He has enjoyed a successful career in the sport to date, winning one race and taking nine further podiums in midfield machinery, and what better time to relive some of his best drives than on his birthday?
2011 Australian Grand Prix
He may have ultimately been disqualified from his first F1 race, but that does not take anything away from what was a stunning debut drive.
Starting P13, he immediately displayed the skill he has become renowned for, tyre management, being the only driver able to make his first set last long enough to pull off a one-stop strategy.
Such a feat saw him cross the line in P7 and draw praise throughout the paddock, with BBC pundits David Coulthard and Eddie Jordan both naming him Driver of the Day.
With both Saubers being disqualified due to technical infringements, he'd have to wait a little longer to score the first points of his career, but in terms of performance alone, it was the dream start to his time on the grid.
2012 Malaysian Grand Prix
After a rookie season that turned out to be solid but somewhat unspectacular, the world really started to take notice of Perez early on in his second year as he so nearly took his maiden win in Malaysia.
In treacherous conditions, he gambled early on, being the first driver to switch from intermediate tyres to wets, and it was a call that paid off as he ended up in P3 when the race was halted on Lap 7 because of heavy rain. After an excellent restart and another round of pit-stops, he had gained another place and set off in pursuit of leader Fernando Alonso.
He did an admirable job of staying in touch with the Ferrari in an inferior car and, after the pair both pitted for dry tyres, rapidly caught the Spaniard thanks to some blistering pace. The Mexican ultimately had to settle for P2 though after going wide late on when less than a second behind.
Nevertheless, it was still an excellent result and a drive that made him the sport's hottest property and most exciting young talent, igniting widespread calls for a top team to give him a seat.
2012 Canadian Grand Prix
It didn't take long for Perez to return to the podium again as just four races later he claimed his second top-three finish in Montreal with a flawless drive.
Given he was starting down in P15, the aim was just to score points, but thanks to a monumental 41-lap stint on soft tyres, he was up in P4 and firmly in contention for a podium finish after finally pitting. To take it though, he would have to strike the perfect balance between keeping his super-softs in good shape and having enough pace to catch Alonso ahead of him.
He did just this. With five laps to go his tyres were still fresh and he was now the fastest man on track, close behind the struggling Ferrari. At the end of the third to final lap, his efforts paid off as he breezed past him on the straight to move up to P3.
His stock was already high following his showing in Malaysia but with this performance, he made sure that there was no doubt as to just how talented he was.
2014 Bahrain Grand Prix
The man of the hour! @SChecoPerez – P3 – Bahrain GP 2014! #FeelTheForce pic.twitter.com/2SLThR04Cz

— Aston Martin Cognizant F1 Team (@AstonMartinF1) April 6, 2014
Perez's reputation was damaged by a difficult and disappointing 2013 campaign driving for McLaren and, after being dropped and joining Force India, he entered 2014 desperate to prove he still had it. Just three races in, he did.
To say it was a hard-fought battle for P3 in Bahrain would be an understatement. By the end of Lap 1, Perez was running in P4, close behind Felipe Massa, and passed the Brazilian 11 laps later. However, he dropped behind both the Williams and his team-mate, Nico Hulkenberg, after pitting and would have to do it all again.
This was not a problem though as he squeezed past Hulkenberg with an excellent move and then did the same to take P3 from Massa soon afterwards. His defensive skills were then on display for the rest of the race as he held off his team-mate and the Red Bull of Daniel Ricciardo.
He had more critics than ever following his year with McLaren and he silenced them in style. He began to build his reputation as the master of the midfield.
2016 Monaco Grand Prix
Surviving the streets of Monaco is admirable when it is dry, and a serious achievement when it is wet. Not only did Perez do so in 2016, but he also gained four positions to take yet another podium.
No driver had finished in the top three after starting outside of it since 2012, so nobody expected Perez, starting in P7, to even come close. However, he pulled off the overcut on many ahead of him after going long on his first stint before judging the drying conditions perfectly to execute the undercut later on and move up to P3.
With conditions still tricky and Sebastian Vettel all over him though, the job was far from done. He couldn't afford a single mistake and didn't make one, crossing the line in P3 after a flawless drive.
Spraying champagne in Monte Carlo is something every F1 driver dreams of, and Perez more than deserved his taste of the bubbly.
2019 Abu Dhabi Grand Prix
Perez's 2019 season was largely disappointing as he failed to claim a podium and scored the least points since his year with McLaren. However, he did at least end it in style.
The Racing Point was quickly catching the McLaren of Lando Norris in the final few laps of the year, but with overtaking notoriously difficult in Abu Dhabi and Norris defending well, it looked like he'd have to settle for P8.
On the final lap though, Perez threw caution to the wind and went for it, braking later and swooping around the outside of his rival to take P7 and finish the race as the best of the rest. The overtake not only earned him a position in the race but also a top-10 finish in the standings.
It was a stunning move, as Perez himself said on the team radio straight after: "This has been one of the best moves of my career!"
⏪ to last Sunday…

Incredible skills from @SChecoPerez 👏 Look at the speed he carries 🚀#AbuDhabiGP 🇦🇪 #F1 pic.twitter.com/euzbiaFVxC

— Formula 1 (@F1) December 8, 2019
2020 Turkish Grand Prix
Not many, if any, races in recent times have posed a bigger challenge than last season's race at Istanbul Park, taking place in tricky conditions on a track with a remarkable lack of grip. Few drivers managed to complete the race without making mistakes, but Perez was one of them.
Starting in P3 with his team-mate Lance Stroll on pole, the Mexican immediately gained a place and, while he couldn't initially keep up with the Canadian, he pulled away from those behind. His strong pace meant that, even with a poor pit-stop, he rejoined ahead of the rest of the field.
Verstappen caught him but he defended his position perfectly before the Dutchman spun trying to get past. He then set about catching his team-mate and had done so by the time the leader pitted. Stroll's struggles on his new set of tyres made it clear that, if he could, making his old set of inters last to the chequered flag was Checo's best bet, and he did just that.
Lewis Hamilton was the only other man able to make the strategy work, and Perez didn't quite have the pace to fight the Mercedes, but with the result, the best of his career at the time, moving him up to P4 in the standings, he didn't mind. Besides, he wouldn't have to wait long to go one better…
2020 Sakhir Grand Prix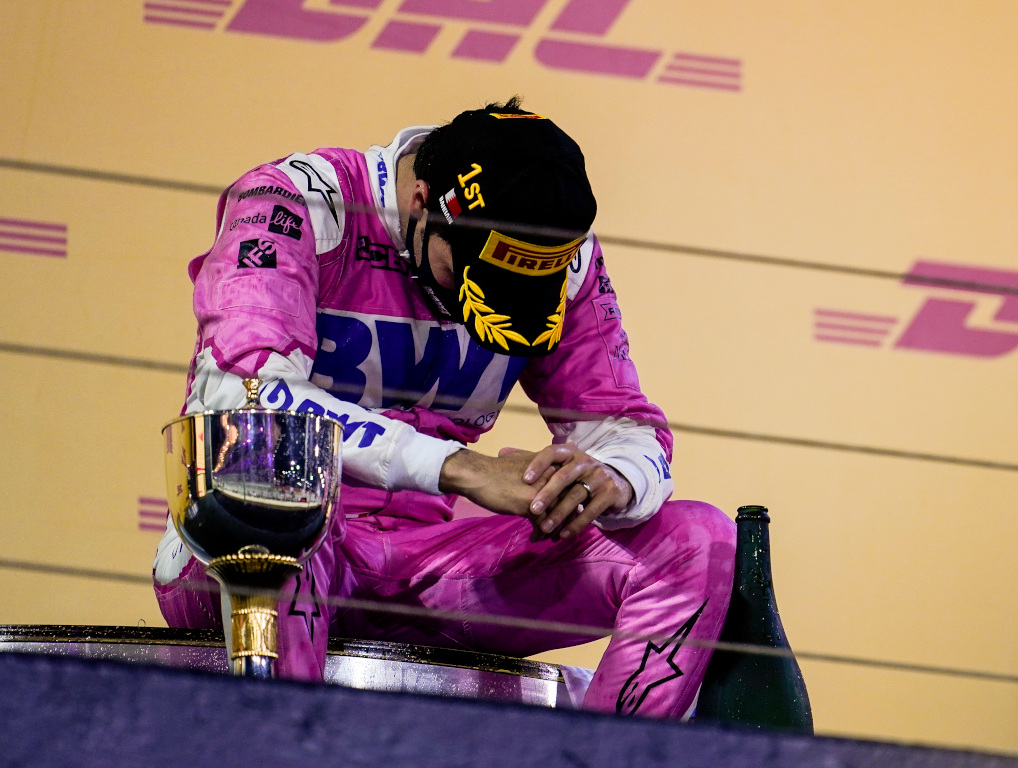 Without a shadow of the doubt, the highlight of Perez's career so far came last season in Bahrain as he produced perhaps his best performance ever to become a race winner.
Points, let alone a win, looked a distant dream at the end of Lap 1 when, after being taken out by Charles Leclerc, Perez rejoined in last. However, he quickly got his head down and was back in the top 10 by Lap 21 thanks to excellent pace and some flawless overtaking.
By Lap 57, he had somehow fought his way back up to P3. It was hard to see him staying there given his older tyres, but that changed when he decided to stay out under the VSC and chaos ensued at Mercedes. It all led to him leading with just over 20 laps to go.
He nailed his getaway at the restart to increase said lead, and when George Russell, the only man who could catch him, picked up a puncture in his efforts to do so, it became clear that, if he made no mistakes, Perez would win. With his career at stake, lesser drivers would crumble under the pressure, but not him.
Given he was last after the first lap and was not in a dominant car, the win was nothing short of remarkable, even with luck on his side. It was quite simply the perfect drive, and one that earned him a much deserved Red Bull seat for 2021.
Finley Crebolder 
Follow us on Twitter @Planet_F1 and like our Facebook page.