Time to take Sergio Perez threat seriously as F1 heads back to Miami?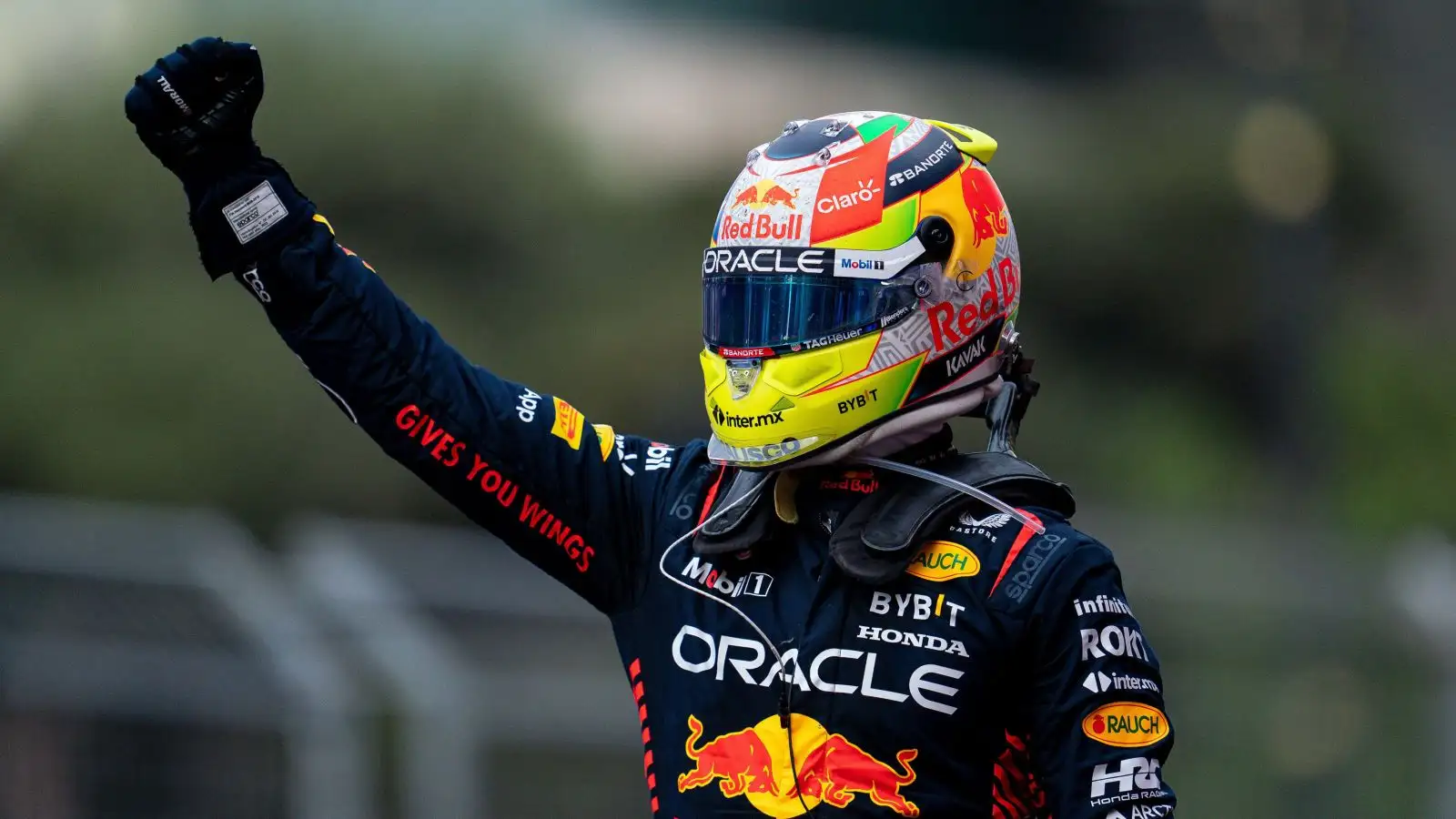 As preparations for the second Miami Grand Prix ramp up (water in the marina: check), there is just one question currently occupying the minds of Formula 1 fans: is it time to take Sergio Perez more seriously?
There are many still convinced that Perez's strong start to this season merely mirrors his start to 2022, when he ultimately could only finish third in the standings despite driving a Red Bull car that won all but five races.
Perez may be just six points behind Max Verstappen right now – and with an equal number of wins after four rounds – but that is merely a function of a quirk of the calendar with Perez flattered by the fact that five of the first seven events take place on street circuits, his speciality.
This, they believe, is as good as it is going to get for Perez and that it is just a matter of time before Verstappen, the reigning two-time World Champion around whom Red Bull's world revolves, takes off.
Then there is another group of people increasingly of the belief that Perez will seriously trouble Verstappen in 2023.
Now in his third season with Red Bull, Perez has the requisite knowledge of team and car to begin to push his team-mate on a more consistent basis.
His victories in Saudi Arabia and Azerbaijan were evidence of a driver climbing ever-greater heights.
And with the RB19 holding such a crushing advantage over the opposition, Perez is perfectly placed to do to Verstappen what Nico Rosberg did to Lewis Hamilton back in 2016.
Whichever side of the divide you fall on, both Perez's performances and his current points tally deserve to be treated on their merits, his challenge to Verstappen considered seriously until there comes a time it no longer is.
After all, a third win in Miami would see him take the lead of the Championship. Eighteen races go after that, of course – but in a season in which reliability could prove pivotal?
That, perhaps, is why Perez is facing his greatest test so far in Miami – one he made specific reference to straight after crossing the finish line in Baku.
There was similar title talk in the aftermath of his victory in Jeddah in March, Perez talking up his chances and sensing that Verstappen was there for the taking, only to slide into the gravel and fall in Q1 at the next race in Australia.
Momentum is a powerful thing in sport and, if he truly is here to stay, Perez will need to take advantage of the platform his Baku win has provided at a circuit where Verstappen was the dominant winner a year ago.
The Red Bull drivers were finally joined by a different face on the podium in Azerbaijan, where Charles Leclerc's genius forced Ferrari's first podium finish of 2023.
In a car still way short of competing for victories, Leclerc came away from the first sprint weekend of the season with two separate pole positions and started from P1 in the inaugural Miami GP last year.
With this circuit layout less likely to conceal Ferrari's flaws, another explosive show of commitment will be required for Leclerc to repeat the trick this weekend.
Leclerc crossed the line in Baku just eight-tenths ahead of Fernando Alonso, the latter's ability to get so close to the podium even at a track that exposed Aston Martin's straight-line deficit surely boding well for Miami.
This will be the last race before the 10th anniversary of Alonso's last F1 win, but might his next be just around the corner?
Expect him to treat this as a warm-up for potentially key opportunities to come for the Alonso/Aston Martin partnership at Imola, Monaco and Barcelona over the next month.
Mercedes dared to dream that they had finally cracked the code of the W13 after a strong qualifying performance in Australia, but a nondescript weekend in Baku – where George Russell was out in Q2 and could only recover to eighth – confirmed the fundamental limitations of the existing package remain.
Russell and Lewis Hamilton should be in a slightly stronger position in Miami where, if the long-awaited Imola upgrade is as radical as the team keep telling us, the zero-pod car could be seen for the last time.
Farewell, perhaps, to one of the weirder innovations of F1's recent past.
PlanetF1.com recommends
Logan Sargeant aiming to help F1's growth in America as home race beckons
How Haas hope 'underdog story' will help them win the war for American hearts
McLaren were the first team to really blink in the 2023 development race in Baku, bringing a revised floor as they recover from the missteps made over the winter.
The initial signs were promising, if disguised by a return of only two points for Lando Norris's ninth-place finish.
With the long straights in Baku punishing the draggy MCL60 car, Norris has remarked that the full force of McLaren's new floor will only begin to be felt from this weekend.
Alpine also introduced a new floor last time out but the team arguably hit rock bottom in Baku as a series of woes – from Pierre Gasly's fire and Q1 crash to Esteban Ocon's two-stop sprint race strategy and double pitlane start –  wrecked their weekend.
With McLaren scoring almost double Alpine's points so far and likely to only get stronger from here in the likely fight for fifth, the Enstone team must put a stop to their habit of throwing away easy points.
As the first of three races in the United States across 2023 the Miami GP will be of extra significance to Haas, who at long last are finally embracing their status as F1's only American team.
Once star of (rally) stage and now of screen, also a published author these days too, Guenther Steiner will as ever be the main attraction for the locals, but what of those foking drivers of his?
Under-pressure Kevin Magnussen returns to Miami having been convincingly outqualified by Mick Schumacher last year, while Nico Hulkenberg is making his first appearance at this circuit.
Fellow Ferrari customers Alfa Romeo have better memories of this place, with Valtteri Bottas sticking it to his old team by outqualifying both Mercedes drivers in Miami last year.
A mistake at the final corner allowed Russell and Hamilton through, but Bottas still held on to finish seventh – a dizzy height both team and driver could only dream of right now.
Alfa scored a large proportion of their 2022 points in the first half of the season, but have scored just twice in the opening four rounds this year.
With the pace gap between Bottas and Zhou Guanyu now negligible, a return to form is vital if Bottas is to smother those creeping doubts about his position within the team.
Another driver in desperate need of improvement is Nyck de Vries, thought to be a safe bet when signed by AlphaTauri but proving to be anything but.
There is no shortage of things to hit in Miami – remember the exposed concrete wall Carlos Sainz and Esteban Ocon both smashed into in practice last year? – and team-mate Yuki Tsunoda, a Q3 presence in Baku, is proving the AlphaTauri car isn't quite as bad as De Vries is currently making it look.
Williams missed a key opportunity to add to their points tally in Azerbaijan on a circuit very much suited to the strengths – or at least concealing the weaknesses – of their car.
The good news is that Miami might offer another chance, with Alex Albon producing one of the performances of the season to finish ninth here last season, as Florida's own Logan Sargeant competes at home for the first time.
Miami was not exactly the instant hit F1 promised in 2022, the unprecedented pre-race hype followed by a dreary race on a track surface declared not fit for F1 standards by the drivers.
Changes have been made to put on a better show this time, with the track resurfaced and the paddock moved to the playing field of the Hard Rock Stadium.
Its detractors see Miami as representing the absolute worst of Liberty-era F1, a track not unlike the deeply unloved Sochi Autodrom and an event with the pulling power to attract all manner of hangers-on.
It is not to everyone's taste and never will be, but F1 is determined to make a success of it.