Eight times Sergio Perez has been the perfect team-mate for Max Verstappen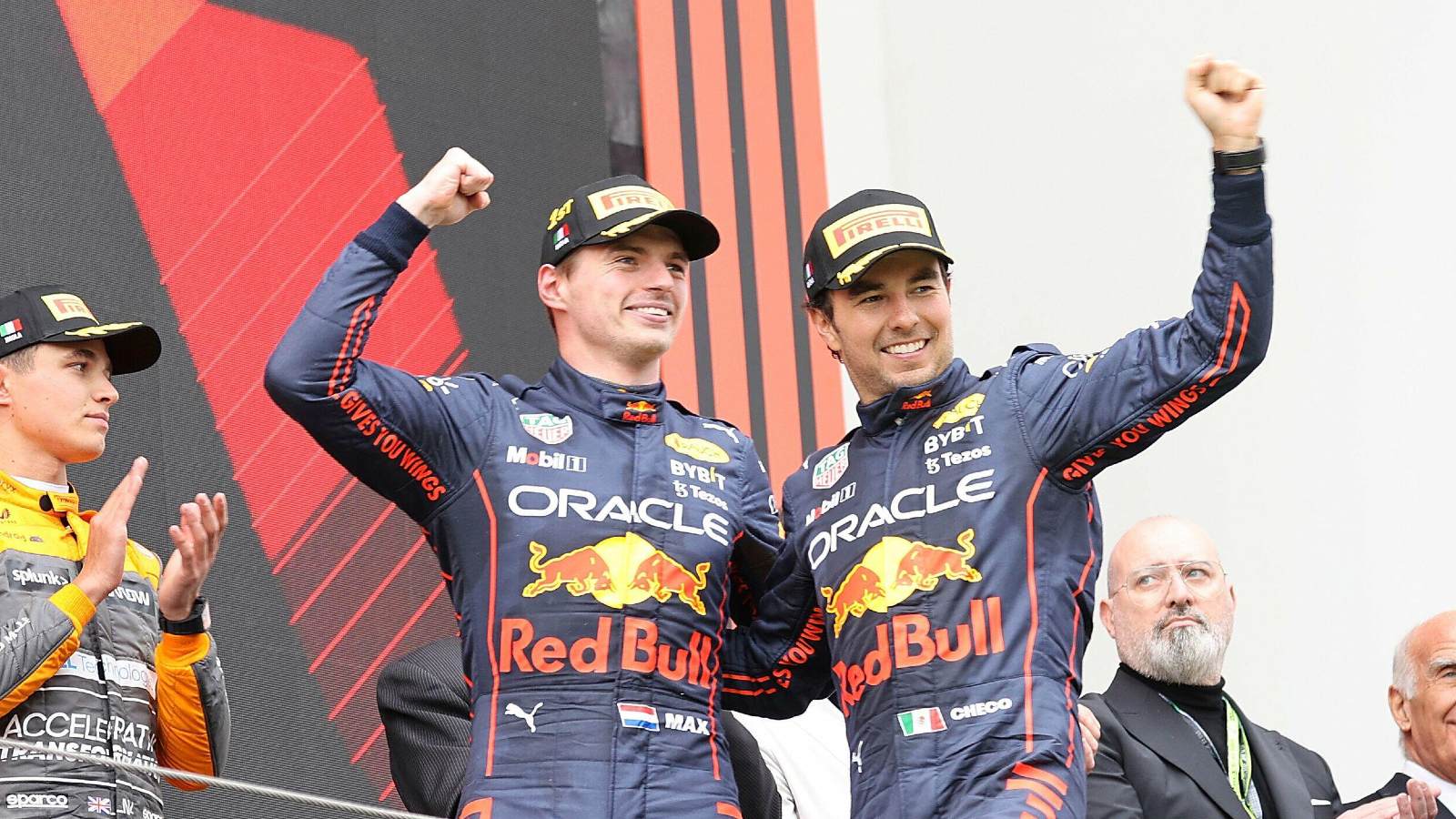 Sergio Perez was angry at the fact Max Verstappen did not obey team orders at Interlagos, given the times he has helped him out on track so far in their time as Red Bull team-mates.
With that, we thought we would take a look back at the moments where Perez has proven pivotal in helping his Red Bull colleague in his two title-winning seasons.
Pressure on Lewis Hamilton at the right time? Baku, 2021
When it became clear the 2021 World Championship fight would be between Verstappen and Lewis Hamilton, Perez was used to great effect by Red Bull when they needed him most.
And perhaps an early sign of this came in Azerbaijan in 2021, when Verstappen's late tyre failure from the lead saw Perez given a prime chance of victory, though Lewis Hamilton was right beside him on the grid at the restart, with only two laps to go.
Hamilton got the better getaway of the two, but a move across put pressure on the Mercedes driver before the infamous accidental 'brake magic' switch which sent him skidding straight on at Turn 1.
When Verstappen did not score, Perez mopped up his first Red Bull victory and Hamilton could not score anything either, while Red Bull took maximum points for a win regardless.
Fastest lap thief – Silverstone and Interlagos, 2021
The first double helping of moments for the Mexican here as he proved to be the ideal rear gunner for Verstappen in the smallest way he could.
With Hamilton and his title rival having had an almighty crash at Copse on the first lap at Silverstone, the Briton had made his way back through the field to the lead of the race in one of the standout drives of his career.
But Perez, who had started from the back after retiring from the sprint on the Saturday, was only running towards the lower reaches of the points as the race neared its end, so the team decided to give him an extra pit stop to take the bonus point for fastest lap away from Hamilton, duly doing so towards the end, even if it meant him dropping to the back of the field.
A similarly titanic battle between Hamilton and Verstappen raged on for most of the Sao Paulo Grand Prix later in the year, with the Mercedes driver eventually coming out on top against his Red Bull counterpart after a thrilling race.
But Perez once again, despite being relatively close to Valtteri Bottas in the hunt for a podium, had enough of a buffer behind for a 'free' pit stop to come out ahead of fifth-placed Charles Leclerc.
With that, the team used the opportunity to sacrifice a possible podium for Perez to take another point off Hamilton, with the Mexican earning the bonus point with his final lap of the race.
Sergio Perez: Mexican Minister of Defence – Turkey and Abu Dhabi, 2021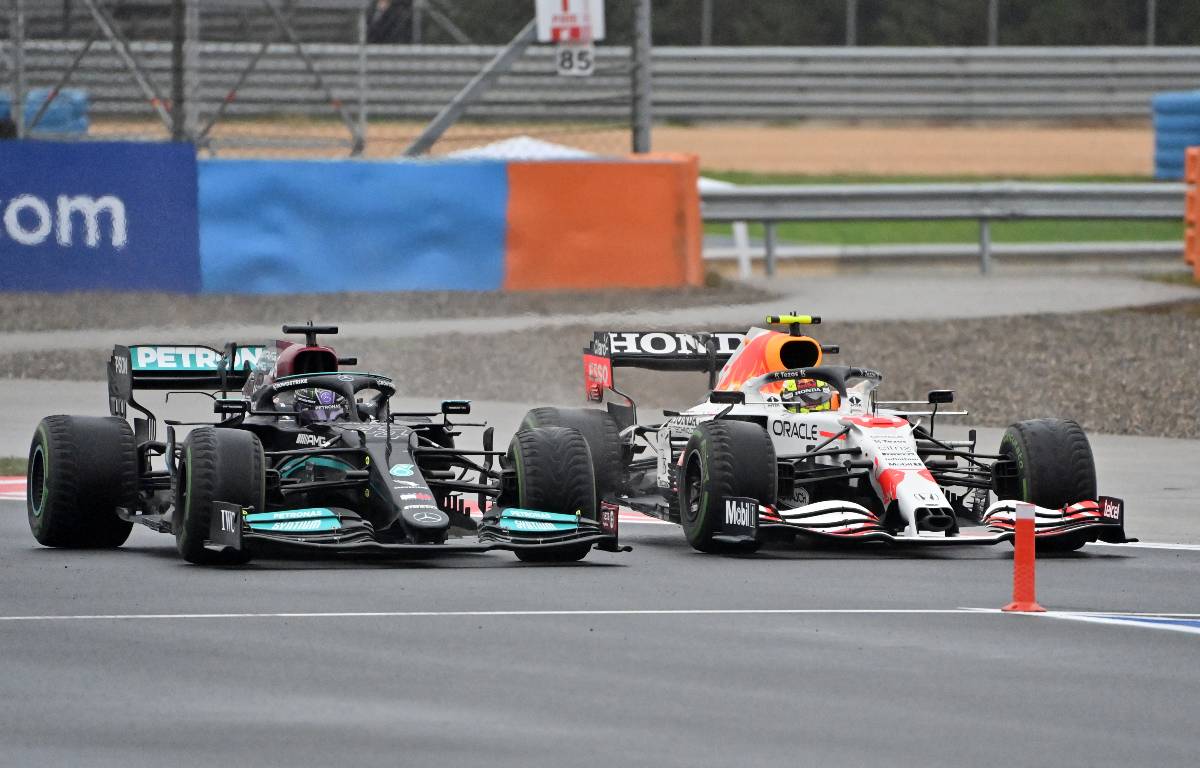 Another double dose of moments here as Perez made himself a firm thorn in Hamilton's side with two pieces of quite brilliant defensive driving that could have proven pivotal to the season.
First came a wet Turkish Grand Prix. Hamilton qualified quickest but started 11th due to a grid penalty, and Perez proved to be Hamilton's big obstacle in making his way back up the field.
The Mercedes driver got a good run on the Red Bull on the back straight at Istanbul Park mid-race and looked to make his way around the outside of Perez for the twisting final corners, but Perez kept his foot in and stayed alongside Hamilton – even going the other side of the bollard on the pit entry to the last corner to keep his place – before a daring piece of late braking helped him keep his place.
This was as close as Hamilton came to passing Perez on the day, who took a well-earned podium while the seven-time World Champion finished down in fifth.
But the season finale will be where the help of Perez is probably most remembered by Verstappen and Red Bull.
Hamilton was in a comfortable lead in the decider in Abu Dhabi as the first round of pit stops came, having jumped Verstappen at the start of the race.
But Perez, notoriously light on his tyres, was kept out longer to try and help his team-mate come back into play by holding Hamilton up where he could – and he certainly did so.
Hamilton jinked past Perez into the Turn 6 hairpin, but rather than give up the ghost, Perez used his battery power and was able to slip straight back past the Mercedes heading into Turn 9, before Hamilton was cooped up behind him for an extra excruciating lap while Verstappen flew back into contention.
"Checo is a legend" is the now-famous radio line from Verstappen after he was able to close right back up to Hamilton in the race (taking around 6.5s out of Hamilton while he was held up behind his team-mate), along with race engineer Gianpiero Lambiase calling Perez an "absolute animal" (in a good way) after his driving.
Unless bridges are rebuilt after the weekend at Interlagos, the feeling may not be reciprocated right now…
"That's very unfair, but okay" – Barcelona, 2022
An early off for Verstappen in the 2022 Spanish Grand Prix saw him take to the gravel with a snap of oversteer on entry at Turn 4, which let Perez and George Russell through at the time.
When the pit stops had played out though, Perez was leading the race on merit as the final 20 laps played out, albeit on tyres which were six laps older at that point.
Red Bull informed Perez they were on a "different strategy" to Verstappen, and told him not to hold him up when he approached behind.
"That's very unfair, but okay" was the response from Perez, playing the team game despite feeling slighted, and a "thank you, mate" from Verstappen came when he duly obliged. He was later brought in for a set of soft tyres to gain the fastest lap point as a consolation.
Perez was very much in the fight with Verstappen and Leclerc early in the season, even though Red Bull had seemingly laid out their stall for who was going to be their title challenger.
Not making life difficult – Baku, 2022
An excellent start from Perez from P2 saw him leapfrog Leclerc at the start of the Azerbaijan Grand Prix in 2022, and again had him leading the race for the first 15 laps or so.
Verstappen was stuck behind Leclerc before the Ferrari came in under Virtual Safety Car conditions, which allowed the World Champion to close up to the back of his team-mate.
Where Verstappen and Daniel Ricciardo came to blows in Baku on the pit straight while they were Red Bull team-mates, there were no such problems this time around when the Dutchman passed Perez comfortably into Turn 1 to take the lead, who did not put up much of a fight as his team-mate moved to the inside.
And when Leclerc's engine failed, Verstappen was able to cruise to a comfortable win.
A favour in return? Not quite – Sao Paulo, 2022
Granted, the Mexican's defensive qualities have not quite been needed in the same way as last year given the comparative ease with which Verstappen has taken the title, but he still holds his own ambition of making it a Red Bull one-two in the Drivers' Championship.
The Sao Paulo Grand Prix was another example of a moment where Perez, fading on used medium tyres, slid down from third to sixth after the late Safety Car restart due in part to the fresher, softer rubber fitted to Carlos Sainz, Charles Leclerc and Fernando Alonso behind.
Verstappen, on a recovery drive after making contact with Hamilton early in the race which had dropped him to the back of the field, was allowed past Perez to try and attack Alonso and Leclerc in the closing laps.
He could not make any further headway up the field, but when he was told to hold up his end of the bargain and give the place back to Perez on the line, he simply refused to do so.
Then came the response: "I told you already last time, guys. Don't ask that again to me, okay? Are we clear about that? I gave my reasons, and I stand by it."
Perez said on social media on Monday night that the incident was now "behind them" and had been discussed internally, but how much will Verstappen be able to count on Perez for help again in the future? Only time will tell.
Read more: Max Verstappen let Red Bull know who's boss, but was it boss-like?