A Christmas gift of world-beating proportions has landed in the PlanetF1 Shop; Kimi Räikkönen, Mika Häkkinen, and Jenson Button race-worn race suits available to purchase!
They are F1 gifts that might struggle to fit in your Christmas stocking, but F1 memorabilia does not get more prestigious than the actual race suits worn by three of the sport's greatest champions.
From the suit worn during Mika Häkkinen's last season in Formula 1, to Kimi Räikkönen's 2004 race-winning race suit, and the special edition suit worn during the 2004 Chinese Grand Prix by Jenson Button. These three items celebrate four Drivers' Championships, 56 F1 victories, and more than 750 Grand Prix's worth of history between them.
2001 Mika Häkkinen McLaren Race-Worn Race Suit
Let's start with the Flying Finn then; the double World Champion may have endured a difficult final season in 2001 but it still elicited two victories for Häkkinen.
This phenomenally rare piece carries an unrivalled provenance. It is a completely one-off, signed race suit that Häkkinen himself used during the 2001 season driving the McLaren MP4-16. The final suit worn by one of F1's all-time greats.
Entirely original and untouched until double Drivers' Champion Häkkinen applied his signature to the race suit in 2018, the overalls allow you to own the moment when one of the greatest drivers the sport has ever seen called time on his career; that very last drop of celebratory champagne sprayed on his overalls can stimulate the senses and evoke memories of a bygone era once more.
2002 Kimi Räikkönen McLaren Race-Worn Race Suit
The Iceman actually wore this race suit during the 2004 Formula 1 season, driving the McLaren MP4-19 and MP4-19B during what was a frustrating season for the historic team.
A season punctuated by reliability issues, but also featuring dazzling highs, was crowned with a stunning win for Räikkönen at the Belgian Grand Prix at Spa-Francorchamps.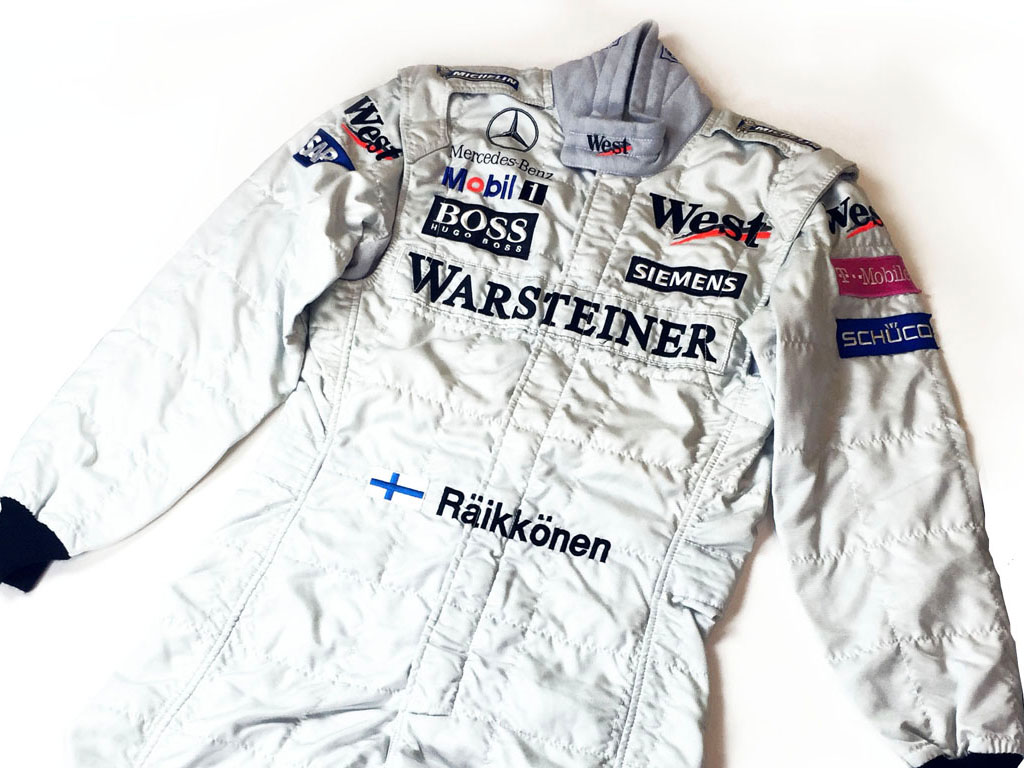 This one-off, race-worn race suit used by the Finn during this volatile campaign allows you to relive those testing moments for the 2007 Formula 1 Drivers' Champion and own a piece of unique memorabilia that has been preserved in its original state since 2004.
2004 Jenson Button BAR Honda China GP Race-Worn Race Suit
A completely one-of-a-kind race suit worn by Jenson Button during the 2004 Chinese Grand Prix could be yours. Featuring the special edition 555 livery that was only used at that race, the suit remains in the exact condition it finished the Grand Prix in; there is no other race suit of its kind in the world.
This was the 2009 Drivers' World Champion's best season to date. Button secured his first pole position and BAR Honda's first pole position too. The team placed second in the Constructors' Championship and Button placed third in the Driver's Championship – only finishing behind the indomitable Ferraris of seven-time champion Michael Schumacher, and Rubens Barrichello.
During the race in China where the race suit was worn, the former McLaren driver put in a superlative drive to match his best result of the season and finish in second place.
Professionally framed and ready for display on your wall. Check out the three race suits here in the PlanetF1 Shop.