Singapore GP driver ratings: Bad days at the office for Max Verstappen and Lewis Hamilton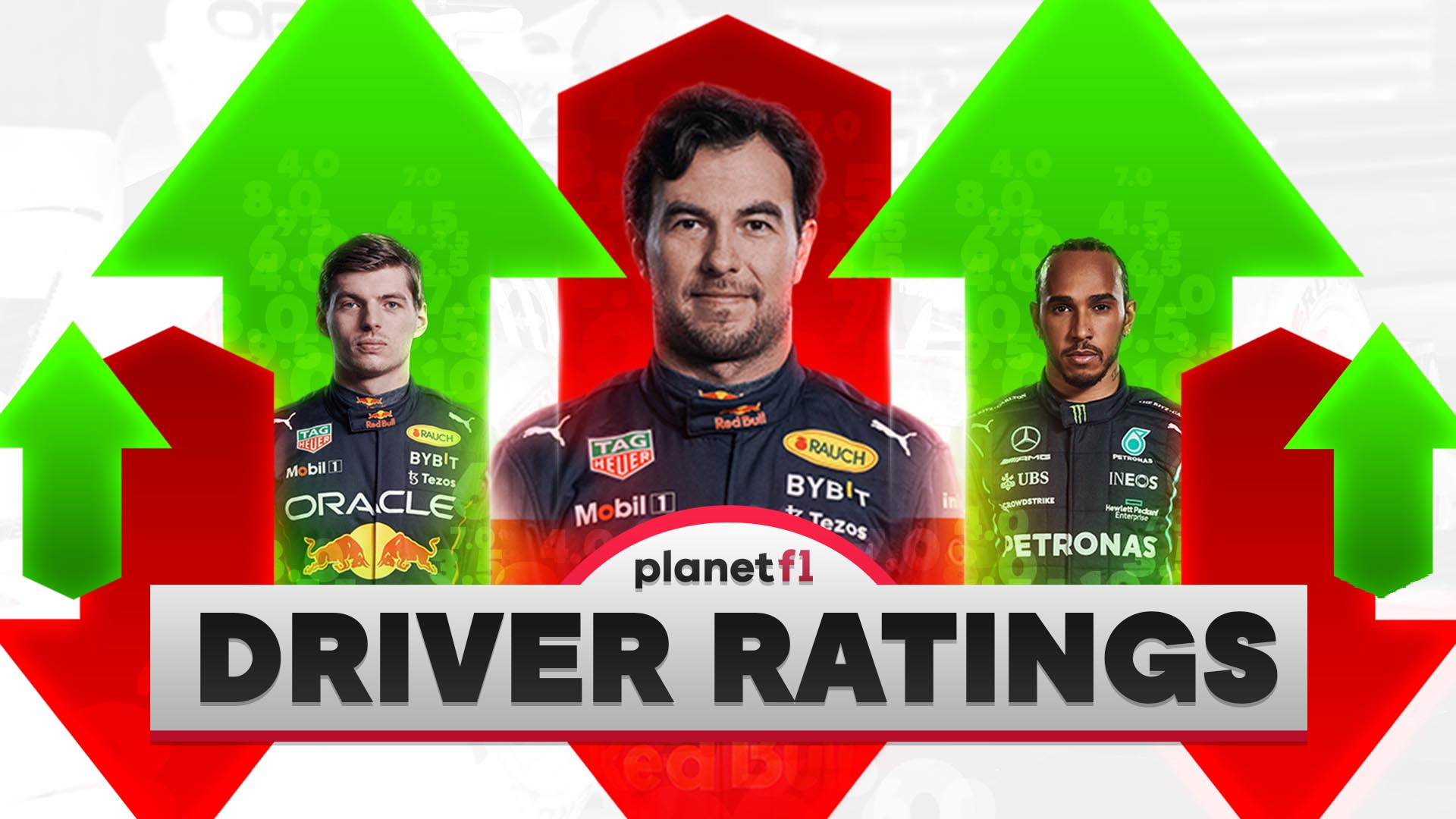 Getting on for 2am local time, Sergio Perez was finally confirmed as the winner of the first Singapore Grand Prix since 2019.
Both the weather and the stewards, not to mention COVID, kept us waiting as long as possible for the identity of Sebastian Vettel's successor as the latest Marina Bay victor, but despite some transgressions behind the Safety Car the Red Bull driver deserved his fourth career F1 success.
In doing so he denied Charles Leclerc a fourth win of the season on a weekend when Max Verstappen will be glad he celebrated his 25th birthday before flying to the Far East – the champagne would have gone flat in Singapore.
Here are our ratings for a typically eventful renewal of this street circuit night race.
Sergio Perez: After an underwhelming set of results since his new Red Bull contract was confirmed, this was Perez right back to his very best.
The Mexican does not do ordinary victories by any means, and is becoming a true street circuit expert – and, don't forget, his first triumph in Sakhir also came under the floodlights.
Getting the jump on Charles Leclerc at the start, he survived pressure from the Ferrari man and a lengthy stewards' investigation to have his 25-point haul confirmed long after everyone in the paddock had been pining for their bed. 9.
Charles Leclerc: Both pole-sitter Leclerc and his Ferrari boss Mattia Binotto knew the start had been costly, as getting bogged down after a decent reaction to lights-out saw Perez go rushing past.
There was nothing wrong with the Monegasque's pace for most of the contest, but even when DRS was activated as the track dried out he was unable to make a proper move on a difficult circuit for overtaking.
No major blunders by anyone associated with the Scuderia this time, but it has to be considered another opportunity missed. 7.5.
Carlos Sainz: Simply unable to keep up with the first two, this has to go down as a disappointing showing from Sainz even though he finished on the podium.
The Spaniard's pace compared to Leclerc was perplexing as he struggled to hold off Lewis Hamilton, who issued the withering put-down over the team radio of "he's really slow" as the former World Champion tried to find a way past.
It is not the first time recently Sainz has been unable to live with his team-mate for race pace and he needs to address that. 6.
Lando Norris: Having been ultra-proud of his Monza performance, Norris described this race as "the hardest and hottest of my life" – and from the outside it looked as though he had performed even better than in Italy.
A possible podium finish looked on the cards when he harried Sainz after the last Safety Car restart, but fourth was still a fine achievement as McLaren took big points out of Alpine in their duel for the Constructors' P4. 8.
Daniel Ricciardo: As he battles to remain an F1 force, this was a huge step up from Ricciardo on his past couple of displays after another disappointing Q1 exit.
Admittedly, like Norris, he had some good fortune with the timing of the Virtual Safety Car for his pit-stop, going from intermediates to soft tyres, but 16th to fifth was much more like the old Danny Ric. 8.
Hear what Lando and Daniel have to say after the #SingaporeGP. 🇸🇬🙌 pic.twitter.com/jTLLaOYTBw

— McLaren (@McLarenF1) October 2, 2022
Lance Stroll: Wet conditions suit the Canadian and he again thrived in them with a solid drive in which he kept himself nicely out of trouble.
Improved five places on his grid position and was fully entitled to have the beaming smile he wore in his post-race interview. 8.
Max Verstappen: It could have been a World Championship-winning 25th birthday weekend, but certainly did not go as planned – right from the moment of the Red Bull fuelling faux pas in qualifying.
Having made an uncharacteristically poor start followed by contact with Kevin Magnussen, Verstappen still looked set to reach the podium when he locked up and took to the escape road while trying to pass Norris.
The title celebrations are merely delayed but from what Red Bull were saying before and during the weekend, they will be only too happy to enjoy them in Honda's homeland of Japan rather than in Singapore. 6.
Sebastian Vettel: A brilliant start, gaining four places on the opening lap, represented the final chapter in Vettel's weighty book of Singapore highlights.
He was never on for a sixth Marina Bay triumph or even a podium, but P8 was a joint second best result of the season for the soon-to-retire German. 7.5.
Lewis Hamilton: Like his 2021 arch-rival Verstappen, this was not a day that will go down as one of the seven-time former World Champion's best.
Unhappy with his tyres both at the beginning and end of the race, he hit the wall on lap 33 when challenging Sainz and there was another lock-up later while trying to overtake Vettel.
A bad day all round for Mercedes, but having been a real contender for pole position should give Hamilton encouragement for the rest of the season. 5.
Pierre Gasly: A pretty quiet day for the Frenchman, about whom the Sky F1 team were talking during the hour's delay to the race start as though his move to Alpine for next year is a done deal.
Given the amount of attrition, he may feel somewhat disappointed to have dropped three places from where he started. 6.
Valtteri Bottas: An elusive first point since Canada again escaped Bottas' clutches after he became the guinea pig on the soft tyres – a strategy only Ricciardo followed for any significant length of time.
At least on this occasion he avoided being taken out by George Russell in what threatened to be a repeat of Imola 2021. 7.
Kevin Magnussen: Not for the first time this year, the Black and Orange flag was shown for Magnussen who keeps becoming involved in early incidents, this time with Verstappen at Turn 7 resulting in a bent endplate.
Thereafter he kept it clean, but it was frustrating for Haas that in this kind of race they got both cars to the finish and yet did not score any points. 6.
Mick Schumacher: "Defending like it's the race of his life" was George Russell's take on Schumacher as they duelled, and why wouldn't he? He has not got a drive for next year confirmed.
The pair made contact and Schumacher was forced to pit, ending any chance of a third points finish that would have boosted his hopes of remaining on the grid. 6.5.
George Russell: An eventful weekend for Russell and not one that showed him anywhere near his best, although his Q2 exit appeared to be more about the car than his own performance.
But in the race, starting from the pit lane, the Briton headed up the escape road after clipping Bottas' Alfa Romeo and later sustained a puncture from that aforementioned collision with Schumacher. First to switch to slicks, they took an age to work and he was running last for much of the race. 5.
Did not finish
Zhou Guanyu: In the week his stay at Alfa Romeo was extended, Zhou was first to retire after being squeezed up against the wall by Nicholas Latifi on lap seven.
It did not look as though the Chinese driver was at all to blame. 6.
Well… that's not how I thought today would play out 🙃 #SingaporeGP

— 周冠宇 | Zhou Guanyu 🇨🇳 (@ZhouGuanyu24) October 2, 2022
Esteban Ocon: Brake problems had ruined Ocon's qualifying session and he started 17th.
Making useful headway through the field, the Frenchman completed a miserable day for Alpine as his engine blew on lap 28 at Turn 13. 7.
Alex Albon: It is a wonder Albon was racing at all given what happened to him over the Italian Grand Prix weekend, but his exit appeared unlikely to be the result of any ill-effects given what he had said earlier in the weekend.
He had a spin down an escape road at the start, complained about his brakes and then hit the wall on lap 26, able to continue without his front wing back to the pits where the Williams team gave it the cut-throat gesture. 4.
Nicholas Latifi: The Canadian knows his Formula 1 career has only a handful more races to go – and it might not even be that many after another frankly embarrassing episode in a dismal campaign.
He claimed not to know Zhou was on his outside as he carved him up and pushed each of them against the wall turning into a right-hander, ending both of their races. 3.
Fernando Alonso: You sensed Alonso was enjoying the task of trying to hold off a charging Verstappen until his engine gave out on lap 21, triggering a Virtual Safety Car period.
Yet more points gone astray and the Spaniard will be hoping his Aston Martin next year is not only fast but a whole lot more reliable than the A522. 7.
Yuki Tsunoda: If it is to be Tsunoda and Nyck de Vries at AlphaTauri next year, the Japanese driver will need to do a lot better than this.
With his place in the team secure, it was more of a rookie error from Tsunoda than one befitting a racer entering his third year as the mistakes that have littered his F1 career returned to haunt him, driving straight into the wall on lap 36.
He had nearly done so earlier too, losing two places in the process. 4.
Read more: Sergio Perez responds to media doubters after Singapore GP victory