Who shone under the Marina Bay lights? Which drivers had a weekend to forget? Check out our Singapore Grand Prix driver ratings.
Lewis Hamilton: How many fingers does Lewis Hamilton have wrapped around the World Championship now? It's all looking rather ominous.
We are still scratching our heads as to how Hamilton conjured up that magic pole lap of a 1:36.015, but it created a rock-solid platform for the Brit to clinch a fourth victory in the last five races. He dictated proceedings from the start, switched to the correct soft tyres once the hypersofts fell away and coasted to a fourth Singapore Grand Prix victory – bar one nervy moment trying to negotiate the back-markers. Catch him if you can, Sebastian. 10
Max Verstappen: If we saw the Mr Hyde side of Max Verstappen in Italy with his aggressive defending and his immature sulk about his deserved penalty, his performance in Singapore was all Dr Jekyll.
The Dutchman nailed down his first front row start since Mexico last year with an effort that was as equally as impressive as Hamilton's pole lap. To get within three tenths of the Brit and get ahead of Sebastian Vettel, all with a Renault engine which was dying to cut out on him, deserves plenty of recognition.
Verstappen had a gentle start compared to previous races and looked to have lost out to Vettel just before the Safety Car came into effect. However, boosted with a superb pit call on lap 18, he was able to over-cut Vettel and had the pace to keep Hamilton relatively honest for a very well-deserved P2 finish. More of this please, Max. 9
WATCH: Verstappen and Vettel go toe-to-toe at the start
Sebastian Vettel:We are witnessing Ferrari throwing away their chances of yet another World Championship and while Vettel has made his fair share of mistakes, the vast majority of the blame in Singapore is back with the garage.
This was a must-win for the Scuderia and they messed it up with a very poor strategy call. After clearing Verstappen at the start, an attempted under-cut on Hamilton left him tied up behind Sergio Perez and left with a pretty thankless task trying to make the ultrasofts last for the best part of 50 laps.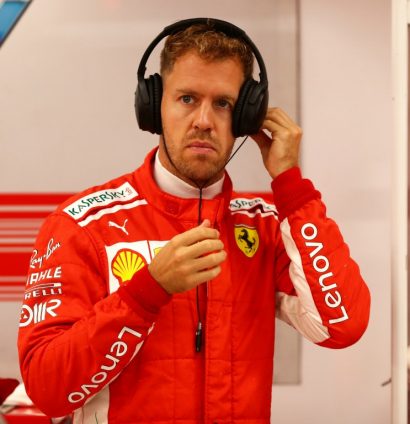 Verstappen made the over-cut stick to re-take second spot and left Vettel in limbo back down in third having to nurse the ultrasofts rather than attack on the softs, limping home a massive 40 seconds behind the race winner. The World Championship gap between himself and Hamilton now stands at 40 points with just six races to go. Game over? 6
Valtteri Bottas: With Hamilton on a whole other level and Ferrari inflicting damage on themselves, Bottas wasn't needed in his usual wingman role and could concentrate on his own race this weekend. That race was a rather uneventful one for the Finn until a lack of blue-flag action almost cost him P4 toward the end, with Kimi Raikkonen and Daniel Ricciardo breathing right down his neck. 6
Kimi Raikkonen: It is the beginning of the end for Kimi Raikkonen at Ferrari as he bids farewell to the Scuderia at the end of the season. Let's hope he can go out on a much higher note in at least one of the remaining six races. The Finn has never qualified on the front row in nine visits to Singapore and that stat remained firmly intact after struggling to get the tyres working in qualifying.
Ferrari didn't use Raikkonen as a potential blocker to race leader Hamilton, his main focus instead being trying to hunt down Bottas; a difficult task on a street circuit which does not present many overtaking opportunities. Traffic problems for Bottas gave Raikkonen a slither of a chance, but he was forced to settle for a P5 finish from a P5 start. 6
Daniel Ricciardo:  After three second place finishes in a row in Singapore, Ricciardo said "it is about time I win the damn thing" at the Marina Bay circuit. A poor qualifying, which he was at a loss to explain why after topping Q1, dashed all hopes of a victory starting from P6. Ricciardo needed chaos but he just didn't get it.
Last of the top six to pit, Ricciardo had fresher ultrasofts to try attack Bottas and Raikkonen ahead toward the end, but their rear wings is all he saw for the remainder of the afternoon. With four DNFs in his last six races he was probably relieved just to have finished, yet his podium drought now extends to eight races. 6
Fernando crosses the line to finish P7 at the #SingaporeGP. An awesome drive by our super Spaniard. 🤜🤛 pic.twitter.com/KjRElIzIw8

— McLaren (@McLarenF1) September 16, 2018
Fernando Alonso: What can you say about Fernando Alonso that hasn't been said already? It is results like this that make it hurt even more that he has to leave Formula 1.
The Spaniard was very pleased to be the first driver to have free tyre choice after qualifying in P11 for the Singapore Grand Prix. It allowed him to avoid the short shelf life of the hypersofts and to a much more preferable ultrasoft-soft strategy with overtaking chances at a real premium.
Alonso said he is still experiencing some pain from the huge crash at Spa, but we bet it won't hurt half as much as having to drag the wretched MCL33 around. But there he is, time and time again, putting that car in places where it really doesn't belong.
He got the jump on Nico Hulkenberg at the start and was the first to profit from the Perez/Ocon collision. As Romain Grosjean also fell away from the points positions, Alonso was able to finish best of the rest and on the lead lap to boot, just to make his performance look even more ridiculously good. 9
Carlos Sainz: Alonso's fellow compatriot also felt the full sweet effect of free tyre choice at the Singapore Grand Prix, following Alonso on the same tyre strategy and following him up into the points places. It is a third points finish in his last four races and helps put some more daylight between Renault and Haas in the battle for P4 in the Constructors' Championship. Appeal pending, of course. 8
Charles Leclerc: It was a welcome return to the points for Leclerc on what was his first race since being confirmed as Sebastian Vettel's Ferrari team-mate for the 2019 season. Leclerc converted a very respectable P13 in qualifying, where he almost got himself ahead of Sainz, into a sixth points finish of the season and his first since Austria. Like Alonso and Sainz, he too had the big benefit of free tyre choice which helped him to a P9 position. 8
Nico Hulkenberg: The Hulk made his 150th Grand Prix start this weekend, becoming the 36th driver in F1 history to reach that particular milestone. Having qualified P10, Hulkenberg had to stick with his hypersofts for the opening stint, where he was swarmed on by Alonso and team-mate Sainz, but he still managed to keep hold of the final points position.
Hulkenberg was one of many drivers held up by Sergey Sirotkin, but while Perez struggled lap after lap to find a way past, the German showed him how it is done by chewing Sirotkin and spitting him out instantly with a bold move at Turn 5. 7.5
Marcus Ericsson: The Swede was seemingly doing enough to keep his Sauber seat for next year, but with the Kimi Raikkonen deal having nothing to do with Ferrari, the Scuderia will be once again pushing for Antonio Giovinazzi to take Ericsson's place.
Again, this was by no means a bad race from Ericsson after starting P14 and working his way back up to a P11 finish. However, like Vandoorne at McLaren, he has a team-mate who continues to show there is much more to extract from the same car he is driving. 6
Stoffel Vandoorne: P18 to P12 for the axed McLaren driver should represent a step in the direction for the Belgian but, with nobody else seemingly interested in his services for 2019, it appears Vandoorne is going to continue to fade away in the background, especially with Alonso continue to grab all the headlines way further up the field. Qualifying continues to be a huge weakness of his. 6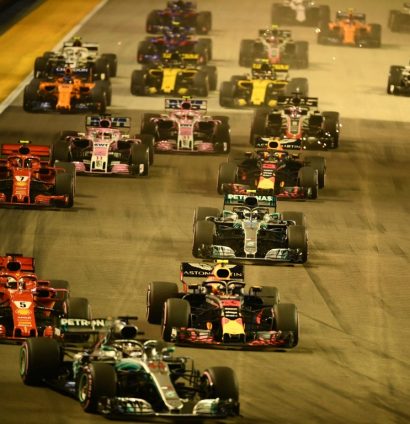 Pierre Gasly: The Red Bull-bound Frenchman tried to make his race work by extending his opening hypersoft stint a lot longer than the others also starting on the pink-striped compound, but we saw his tyres fall off a cliff on lap 27 and allowing the likes of Leclerc, Hulkenberg, Ericsson and Vandoorne to all get ahead of him by the end of his pit-stop phase. Get an ice bath and move on. 5.5
Lance Stroll: It was a rare good weekend for Stroll in Italy with a Q3 appearance and a points finish, but he was never going to reach those heights again on a Marina Bay track which showed the very worst of the FW41. There was a couple of minor highlights for Stroll, though, as he made the soft tyres last 41 laps and was able to nip ahead of Romain Grosjean for P14 after the Frenchman was given a penalty for ignoring blue flags. 5.5
Romain Grosjean: The revival of Romain Grosjean has come to a bit of grinding halt in the last couple of races. He had his P6 finish taken away from him by the FIA because of an illegal floor in Italy and a P8 start in Singapore returned a dreary P15 finish, an early pit stop left him on board the train led by Sirotkin. There was also a sign of the old Grosjean coming back with a five-second penalty for ignoring blue flags but he still looks as if he has done enough to keep his Haas seat for 2019. 5
Sergio Perez: Singapore has been a very happy hunting ground in the past for Sergio Perez with seven consecutive points finishes at the Marina Bay circuit. Best of the rest in qualifying and armed with a big aerodynamic upgrade, it really should have been eight in a row – but the Mexican quite simply lost his cool.
After an early incident which ended his team-mate's race on the first lap, Perez's evening unravelled after a poor call to pit left him stuck behind the very slow Sergey Sirotkin.
His frustration well and truly showed as when an opportunity did arise to pass him, he just turned into the FW41. The red mist left him with floor damage and a slow trudge through the pits with a drive-through penalty acted as another gut punch.
You would expect an awful lot better from a very experienced driver. 3
WATCH: Frustrated Perez smashes into Sirotkin
Brendon Hartley: Hartley has been warned a big improvement is needed if he is to keep his Toro Rosso seat for next year, but another Q1 exit and a lowly P17 finish is not going to do his chances any good whatsoever. He too can have Sirotkin to thank for restricting any sort of progression up the field. 5
Kevin Magnussen: Magnussen had plans to stay away from Fernando Alonso in Singapore after their earlier on-track squabbles and he achieved that – just in the worst way possible. K-Mag said he was a "light year" behind his team-mate after being eliminated from Q1 on Saturday and his pace troubles continued throughout Sunday, too, as he somehow found himself on a three-stopper.
The boy Dane good 😉

A first @DHL_Motorsports Fastest Lap Award for @KevinMagnussen 👏🇩🇰

#SingaporeGP 🇸🇬 #F1 pic.twitter.com/M6nkbba5Mc

— Formula 1 (@F1) September 16, 2018
Bagging the fastest lap of the race will do nothing to improve the Dane's mood and all that first half of the season excellence is getting easier to be forgotten about. 4.5
Sergey Sirotkin: Last of the finishers in P19 and two laps down on those at the very top looks like the usual quiet race for the Russian, but this was anything but. He picked up some debris and damage from the Perez/Ocon collision which forced him to pit under the Safety Car and onto the soft tyres.
He then proceeded to hold up a bunch of drivers who had far loftier ambitions during the Singapore Grand Prix and he got on the nerves of Perez and Brendon Hartley in particular. After Perez pretty much rammed into him, Sirotkin later forced Hartley off the track and was given a five-second penalty for his troubles. His zero f*cks given attitude certainly made his race more fun than it usual is. 5
Did not finish
About today… #Gutted @F1 pic.twitter.com/AOs32Xet4n

— Esteban Ocon (@OconEsteban) September 16, 2018
Esteban Ocon: When it rains, it pours in Esteban Ocon's case after colliding with his team-mate on the very first lap, resulting in his third opening-lap retirement of what is turning into a very miserable 2018 campaign for the Frenchman.
With his options seemingly all dried up for 2019, after Toto Wolff claimed Renault and McLaren went back on their word, you have to feel sorry for this very talented driver and his current predicament. N/A
Follow us on Twitter @Planet_F1 and like our Facebook page.