Singapore Grand Prix iconic moments: Crashgate, Hamilton's epic lap and more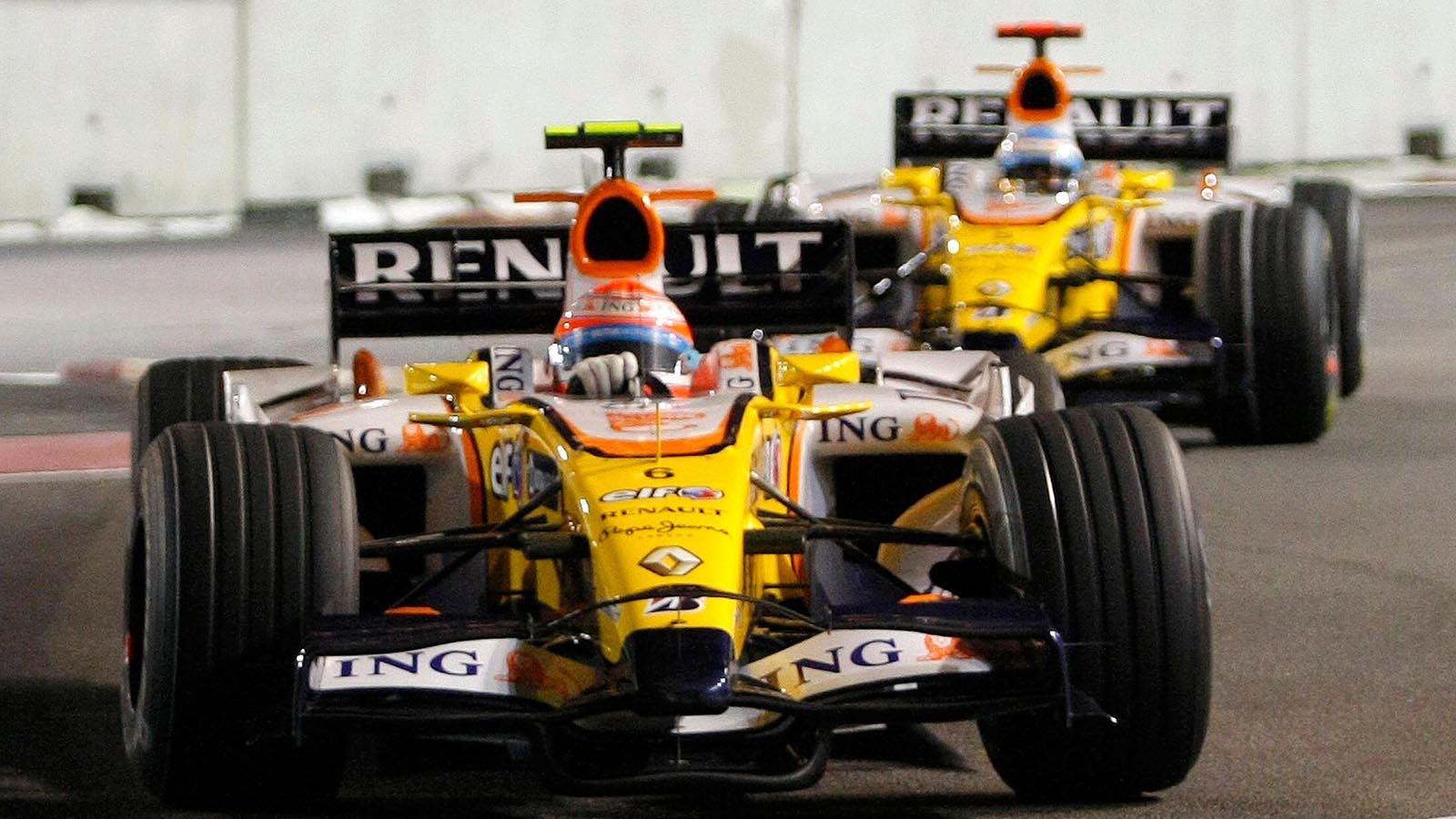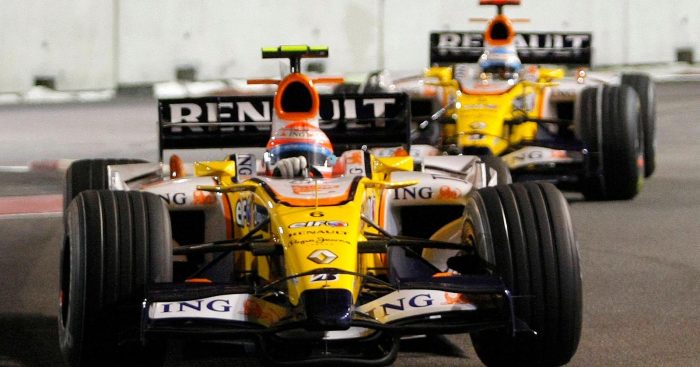 Having hosted Formula 1's first-ever night race in 2008, the Singapore Grand Prix has come to be viewed as a modern classic.
F1's return to Marina Bay after a three-year absence this weekend will mark a significant milestone in the sport's return to normality following the pandemic.
To celebrate Singapore's return, here's our ranking of the most iconic moments from the race's history.
Starting with a trip down memory lane back to when the Lotus name was in Formula 1…
10: The Kovalainen fire, 2010
Not every driver would have the presence of mind Heikki Kovalainen demonstrated in the closing laps of the 2010 race.
With flames spitting from the rear of his Lotus, at the last second he elected not to take his car into the pit lane but instead park it on the main straight. After all, it was nothing he couldn't deal with himself.
And he dealt with it superbly, calmly taking an extinguisher from a Williams mechanic and putting the fire out.
With his work done Kovalainen, always one of the more likeable drivers, turned to the crowd and raised his arms aloft. Are you not entertained?
9: Alonso gives Webber a lift, 2013
Sometimes – quite often – F1 does not help itself.
As his team-mate shone on the Singapore streets (more on that later…) Mark Webber was once again in the shadows as the 2013 race concluded, having stopped on the final lap.
Along came his old chum Fernando Alonso to offer a lift back to the pits, returning the favour from the Nurburgring two years previously and making for one of the great F1 images.
The stewards – including Derek Warwick, who himself accepted a taxi ride from Gerhard Berger at Hungary 1988 – did not agree, reprimanding both drivers and triggering a 10-place grid penalty for Webber at the next race.
'Tone deaf' would be the polite assessment of that decision.
8: Massa makes his move, 2012
Felipe Massa is more familiar than most with the fine line between glory and disaster.
He may have been a shadow of his former self by 2012, almost four years after the title was cruelly taken away from him, but his gift for toeing that line remained.
Lining up a move on Bruno Senna as the cars entered the narrow Anderson bridge, Massa was squeezed between the barrier and Senna's Williams before his Ferrari swung wildly right then left.
In a dazzling display of car control, he managed to steady the car just in time to take both the corner and, somehow, the position.
Talk about living on the edge…
7: Seb's last stand, 2019
Sebastian Vettel's best days were already behind him when F1 made its last visit to Marina Bay in 2019, but six years after his most dominant win came a brief flash of the old brilliance.
He had again been out-qualified by team-mate Charles Leclerc and ran third in the opening stages but soared into the lead – that famous out-lap pace coming in handy – when he became the first of the frontrunners to pit.
Vettel showed he could still teach the younger man a trick or two by slicing through the traffic more decisively than Leclerc, with a series of Safety Cars helping to preserve his lead.
With the lights glinting off his helmet, Vettel raised the Ferrari steering wheel (and yes, that finger) to the sky in parc ferme to celebrate his first victory in more than a year.
Nobody could have known at the time that it would prove to be Seb's last stand.
6: Hamilton's 'perfect' lap, 2018
Lewis Hamilton's ridiculous pole lap ahead of the 2018 Singapore Grand Prix 🔥 #SingaporeGP#F1pic.twitter.com/I6HyB79EAv

— PlanetF1 (@Planet_F1) September 16, 2019
To fully appreciate the majesty of Lewis Hamilton's 2018 pole lap, it must be viewed through the prism of Mercedes' slow corner struggles.
Even in the early years of their dominance, their advantage over the opposition was at its smallest at circuits like Singapore.
True, Hamilton had won the race in 2017, but that only came after he qualified six tenths off pole the previous day.
Mercedes were nowhere in practice and not much closer in the early stages of qualifying in 2018, yet it is in those moments, with the pressure at its peak, that the greatest drivers come to the fore.
Hamilton duly manhandled the Merc to pole by more than three tenths.
"It was pretty beautiful, pretty perfect," Hamilton said as recently as last year, describing the lap he remembers most fondly.
If it's good enough for him…
5: Vettel's greatest win, 2013
Memory has blurred most of Vettel's nine consecutive wins into one as he finished his final title-winning campaign with a flourish in 2013, but his most dominant performance of all has survived the test of time.
Singapore was the weekend Seb touched the sky, the combination of Red Bull-Renault's exhaust-blowing excellence and Vettel's counterintuitive technique reaching a state of total synergy.
Vettel's inherent confidence in the RB9 could be found in his decision to sit out the closing minutes of qualifying, having been six tenths clear on his only Q3 lap, making for the unique image of him watching anxiously from the garage as others tried and failed to topple his time.
So crushing was his victory the following day – by a margin of 32.6 seconds – that a former F1 team owner, watching from trackside, convinced himself that Red Bull were using some form of traction control.
The only magic here, however, was in Seb Vettel's right foot.
4: Lewis's last straw, 2012
Rumours surrounding Hamilton's future and a potential move to Mercedes were intensifying as F1 arrived in Singapore in 2012.
But, on this evidence, why would he leave McLaren? Having converted pole into an early lead, all was well again in Lewis's world as he pursued a second successive win.
And then he remembered, a gearbox failure forcing him to retire from a race he had controlled for 23 laps. McLaren had let him down again.
Much was made of Hamilton's body language that night and how he turned to take one last look at the broken McLaren as he walked away.
On the weekend he welcomed Niki Lauda, Mercedes' newly appointed non-executive chairman, to his hotel room, was that the moment he decided enough was enough?
Was that the final straw?
3: Schumacher's epiphany, 2012
As the final chapter of Hamilton as a McLaren driver was unfolding, so too was that of Michael Schumacher at Mercedes.
Schumacher's collision with Jean-Eric Vergne later in the 2012 race was the most disturbing of all the mistakes of his second F1 career, Michael missing his braking point and locking up both fronts before skidding heavily into the Toro Rosso ahead.
It provided confirmation that time had indeed caught up with him and now Michael knew it too.
Removing his helmet at the first opportunity seemed to subconsciously spur the approaching Vergne to do the same, instantly draining any resentment, before Schumacher apologised and the fallen warriors patted each other on the back.
A wonderful photograph later emerged of Schumacher stood alone – almost contemplatively – behind the barrier, his head bowed with his helmet resting in front of him.
His retirement would be announced ahead of the next race.
2: That startline shunt, 2017
With Singapore a race Vettel couldn't afford to lose for his 2017 title hopes, the only wet start in the event's history created an unwanted complication.
Sensing Max Verstappen – his wet weather prowess already well established – had got a better start Seb, as he often did, swept aggressively across the track to squeeze him but was unaware team-mate Kimi Raikkonen, to Max's left, had made the best getaway of all.
Sandwiched between the Ferraris, Verstappen could not avoid turning Raikkonen into Vettel before Max and Kimi met again at the first corner, taking Alonso out with them.
Any hope that Vettel had survived the incident soon evaporated when the camera cut to his car, with a gaping hole in its sidepod, rolling backwards having suffered the ultimate indignity of spinning on its own fluids – the F1 equivalent of soiling yourself.
1: Crashgate, 2008
During the 2009 Singapore GP weekend, Renault's 2008 win in Singapore (with Fernando Alonso) was under investigation. Nelson Piquet Jr's crash on lap 14 was highlighted as helping Alonso to win. #CrashGate #F1 (1/2) pic.twitter.com/OLV2xtC4w3

— Motorsports in the 2000s 🇭🇰🇬🇧 (@CrystalRacing) September 26, 2018
Fourteen years later, the words of Nelson Piquet Jr immediately after his retirement in Singapore remain just as chilling as when they first emerged during the Crashgate investigation.
"Sorry guys," he said over the radio. "I had a little outing."
That 'outing' was part of a carefully crafted plot by rogue members of the Renault team. Piquet who crashed on purpose – recklessly putting the lives of spectators, marshals and his fellow drivers at risk – to trigger the Safety Car that allowed team-mate Alonso to win the race.
Renault's dirty trick led directly to another equally iconic Singapore moment as Massa, who had controlled the race until that point, left the Ferrari pitbox with the fuel hose still attached.
Forget Interlagos – it is that Massa still rues as the day the 2008 title was truly lost.
As the former Times' chief sportswriter Simon Barnes wrote: "As a single act – a single deliberate act of breaking the laws of sport – this probably counts as the worst case of cheating in sporting history."
Read more: How Formula 1 has changed since the last race in 2019