Singapore Grand Prix 2019: Time, TV channel, live stream & grid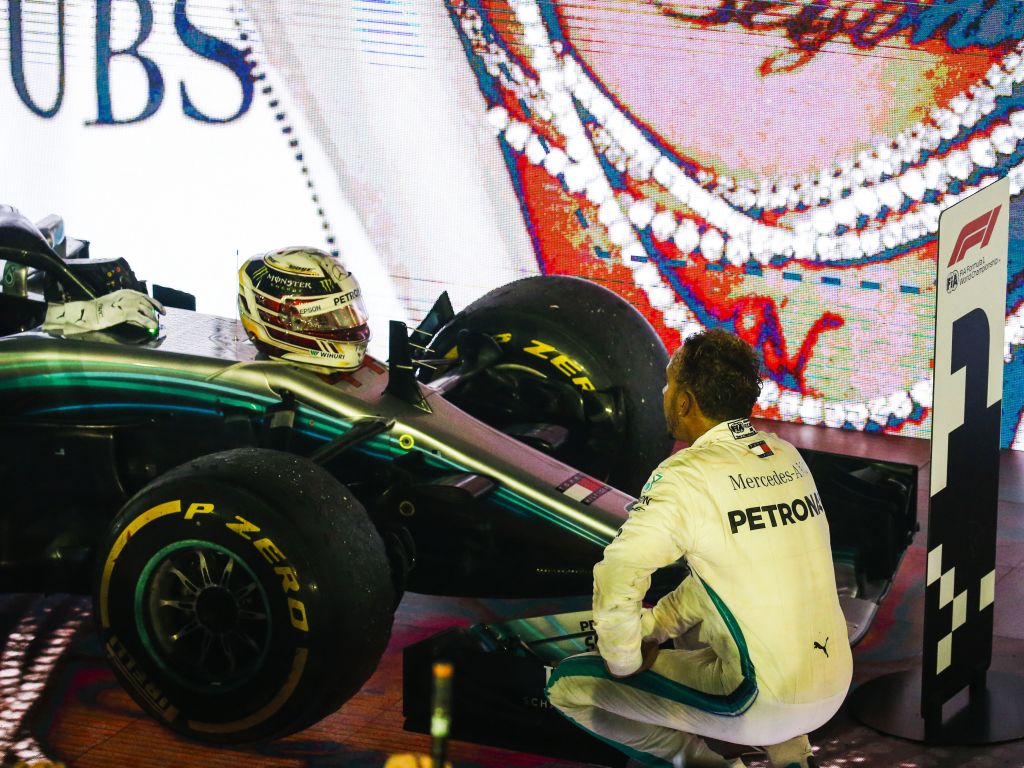 F1 heads for Asia and the Singapore Grand Prix this weekend with renewed excitement in the paddock after Ferrari's recent renaissance.
Budding superstar Charles Leclerc lifted the gloom over Maranello with back-to-back victories in the Belgian Grand Prix at Spa and then at their home track Monza – ending a nine-year winless stretch for Ferrari at the Italian Grand Prix.
Now Leclerc will bid to make it a hat-trick of victories this weekend under the lights at the iconic Marina Bay circuit, but is likely to find things much much tougher.
World Championship leader Lewis Hamilton will bid to reassert his dominance while Mercedes team-mate Valtteri Bottas says he hasn't given up on a first world title despite trailing by 63 points.
Sebastian Vettel, a four-time winner here and successful for Ferrari in 2015, will arrive at Marina Bay looking for a much-needed boost to his fortunes following another miserable Sunday at Monza.
Red Bull have been competitive here in the past and Max Verstappen will be hopeful of taking it to the big boys.
Here is everything you need to know ahead of one of the most glamorous races in the F1 calendar.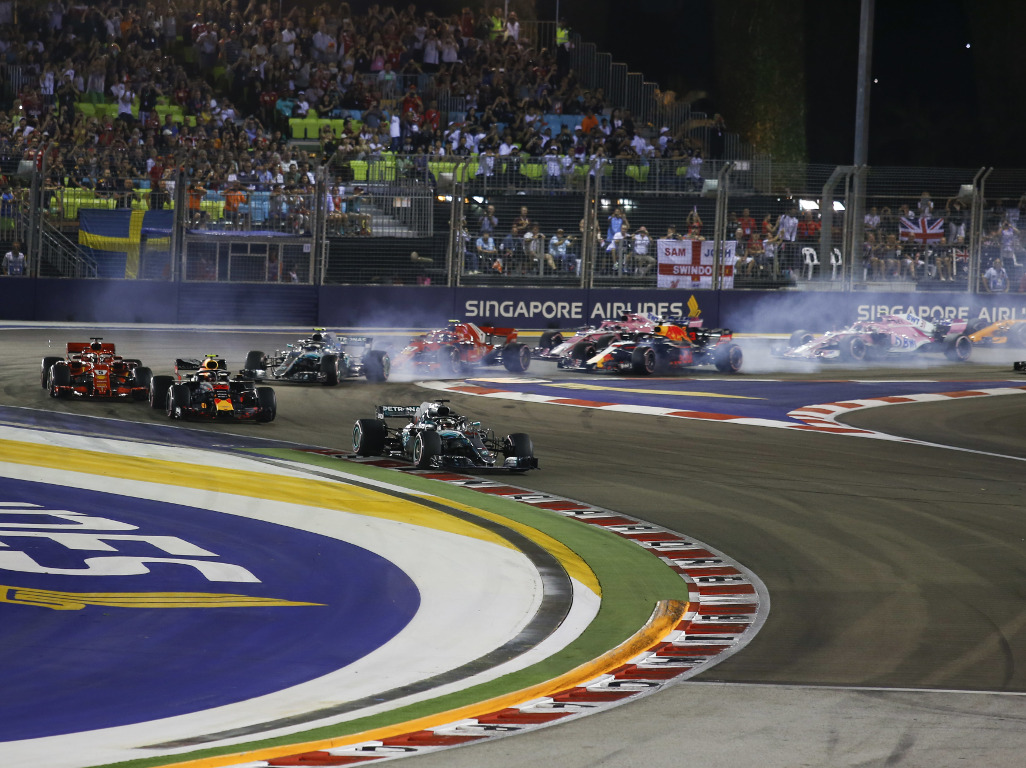 When is the 2019 Singapore Grand Prix?
The start times for the Singapore Grand Prix are as follows:
Practice 1: Friday September 20, 1630 local time (0930 BST)
Practice 2: Friday September 20, 2030 local time (1330 BST)
Practice 3: Saturday September 21, 1800 local time (1100 BST)
Qualifying: Saturday September 21, 2100 local time (1400 BST)
Race: Sunday September 22, 2010 local time (1310 BST)
Where does the Singapore Grand Prix take place?
Staged in the Marina Bay area, the Singapore Grand Prix was the first night race in F1's history, making its debut in 2008.
The design includes powerful lighting systems that replicate daylight conditions and the most stringent safety protocols will be applied to ensure driver and spectator safety.
In addition, the race is run in an anti-clockwise direction to enhance safety.
Changes were made to the track ahead of the 2009 race. Turn One has been modified to the geometry to reduce corner speed so that it provides potential overtaking opportunities in the braking zone at the approach to the corner.
Turn 13, the tight left-handed hairpin after the historic Anderson Bridge, was amended to increase cornering speed, providing additional speed on Esplanade Drive and increasing the opportunity for overtaking in the braking zone at Turn 14.
In addition, the geometry of Turn 14 was also modified to improve overtaking opportunities in the braking zone. The changes involved relocating the corner apex to reduce the corner radius and reducing the estimated cornering speed of the cars.
The pit exit was also changed. In 2008 it entered the circuit into the braking zone for Turn One, immediately after the pit wall.
But following suggestions from the FIA, the pit lane was realigned and lengthened for 2009, exiting on the drivers' left at Turn Two, away from the racing line and onto a part of the circuit where the cars will all be accelerating.
Finally, the run-off distances at Turn 22 were reduced, providing better spectator circulation in the area.
Sunday's race will be run over 61 laps of the 5.065km circuit.
Onboard ✅

Fixed 360 camera ✅

Under the lights ✅@LewisHamilton stormed to pole last year in Singapore with this lap 👀

Will anyone stop him in qualifying next Saturday? ⏱#F1 #SingaporeGP 🇸🇬 pic.twitter.com/EeN050VOja

— Formula 1 (@F1) September 14, 2019
Directions: How can I get to the Singapore Grand Prix?
Located at the Marina Bay harbour in Johor, which is in the southern portion of Peninsular Malaysia, road access and public transport are the best ways for most to get to the circuit.
However, those in the money can always pull up on a yacht to catch the F1 active.
Where can I watch the Singapore Grand Prix on TV?
Singapore Grand Prix weekend – including qualifying and the race proper – will be screened live in the UK by pay-TV broadcaster Sky Sports on its dedicated Sky Sports F1 channel. You can also access a live stream of the coverage via Now TV. Full coverage will also be aired by free-to-air broadcaster Channel 4.
Subscribers to F1's own app can hear radio commentary on the race proper from the BBC and access live data around each session.
PlanetF1 will carry live timing and expert commentary on every session of the race weekend along with all the latest news from the track.
The Singapore Grand Prix will be shown live on TV by the following outlets in other key markets:
United States: ESPN (English), Univision (Spanish)
Canada: RDS (French), TSN (English)
Australia: Fox Sports and Foxtel 4k (no ad breaks)
France: Canal + (pay TV) and TF1 (free-to-air)
Italy: Sky Sport F1
Germany: RTL and Sky Deutschland
Spain: Movistar F1
What is the weather forecast for the Singapore Grand Prix?
Friday September 20: 33C, chance of morning thunderstorms.
Saturday September 21: 32C, partly cloudy.
Sunday September 22: 32C, partly cloudy with the chance of a thunderstorm.
Which drivers have won the Singapore Grand Prix?
The Singapore Grand Prix has been part of the Formula One World Championship since 2008, and Lewis Hamilton and Sebastian Vettel have enjoyed great success at the circuit with four victories each. Hamilton's recent past is much more promising however, with victories in both 2017 and 2018. Vettel meanwhile hasn't won here since 2015.
Mercedes lead in the all-time constructor roll of honour with four victories while Red Bull have three (all via Vettel in 2011, 2012 and 2013) and Ferrari have two.
The last 10 winners of the Singapore Grand Prix are as follows:
2018: Lewis Hamilton (Great Britain, Mercedes)
2017: Lewis Hamilton (Great Britain, Mercedes)
2016: Nico Rosberg (Germany, Mercedes)
2015: Sebastian Vettel (Germany, Ferrari)
2014: Lewis Hamilton (Great Britain, Mercedes)
2013: Sebastian Vettel (Germany, Red Bull)
2012: Sebastian Vettel (Germany, Red Bull)
2011: Sebastian Vettel (Germany, Red Bull)
2010: Fernando Alonso (Spain, Ferrari)
2009: Lewis Hamilton (Great Britain, McLaren)
Track Lap Record: 1:48.574 Sebastian Vettel (Red Bull, 2013)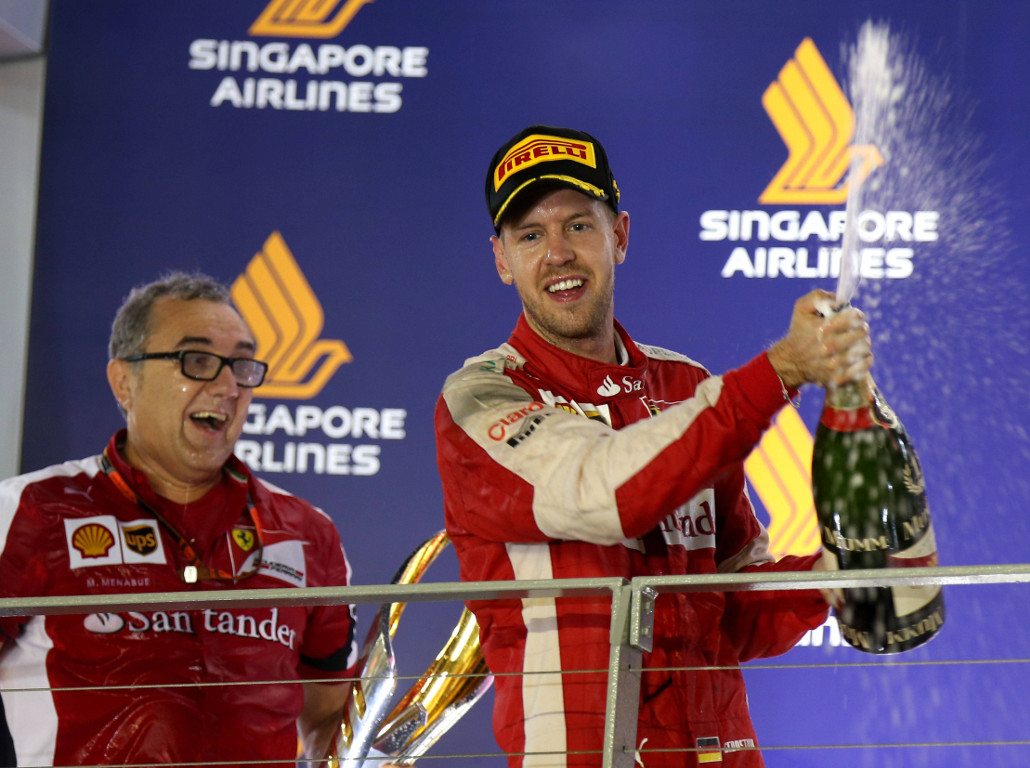 Singapore Grand Prix grid positions
Charles Leclerc shocked the entire paddock at Marina Bay on Saturday by roaring to another pole position. Full grid positions for the Singapore Grand Prix are as follows:
1 Charles Leclerc (Monaco, Ferrari)
2 Lewis Hamilton (Great Britain, Mercedes)
3 Sebastian Vettel (Germany, Ferrari)
4 Max Verstappen (Netherlands, Red Bull)
5 Valtteri Bottas (Finland, Mercedes)
6 Alex Albon (Thailand, Red Bull)
7 Carlos Sainz Jr (Spain, McLaren)
8 Nico Hulkenberg (Germany, Renault)
9 Lando Norris (Great Britain, McLaren)
10 Antonio Giovinazzi (Italy, Alfa Romeo)
11 Pierre Gasly (France, Toro Rosso)
12 Kimi Raikkonen (Finland, Alfa Romeo)
13 Kevin Magnussen (Denmark, Haas)
14 Daniil Kvyat (Russia, Toro Rosso)
15 Sergio Perez (Mexico, Racing Point)*
16 Lance Stroll (Canada, Racing Point)
17 Romain Grosjean (France, Haas)
18 George Russell (Great Britain, Williams)
19 Robert Kubica (Poland, Williams)
20 Daniel Ricciardo (Australia, Renault)*
* Sergio Perez penalised five places for a change of gearbox.
* Daniel Ricciardo disqualified from qualifying for his car exceeding the MGU-K power limit – races at stewards' discretion.
What are the odds for the Singapore Grand Prix?
After being 12/1 just a week ago, Charles Leclerc is now battling Lewis Hamilton for favouritism at Marina Bay. Leading odds for Sunday's race from Bet365 are as follows:
1/1 Lewis Hamilton (Mercedes)
6/5 Charles Leclerc (Ferrari)
9/1 Sebastian Vettel (Ferrari)
9/1 Max Verstappen (Red Bull)
25/1 Valtteri Bottas (Mercedes)
(Prices correct at 1700 BST on Saturday September 21)
What are the latest F1 Championship standings?
The leaders in the race for the driver and constructor titles heading into the Singapore Grand Prix are as follows:
Drivers' Championship
Lewis Hamilton – 284 points
Valtteri Bottas – 221 points
Max Verstappen – 185 points
Charles Leclerc – 182 points
Sebastian Vettel – 169 points
Constructors' Championship
Mercedes – 505 points
Ferrari – 351 points
Red Bull – 266 points
Full F1 championship standings are here
Tyre choices for the Singapore Grand Prix
F1 tyre manufacturer Pirelli will bring the white hard C3 tyre to the Singapore Grand Prix along with the yellow medium C4 and the red soft C5. Their compound set ranges from C1 (the hardest) to C5 (the softest).
What shoes would you wear for a night out on the town? #SingaporeGP 🇸🇬@F1NightRace #Fit4F1 https://t.co/a96zIDrMtE pic.twitter.com/dtw455Tdz2

— Pirelli Motorsport (@pirellisport) September 10, 2019
What is F1's rule on bonus points?
F1 made the decision to award a bonus point in every race of the 2019 season if certain criteria are met.
The bonus point will be awarded to the driver who completes the fastest lap in the race, as long as that driver also finishes in the top 10. The driver's team will also score a bonus point in the constructors' standings in that case.
This means there are up to 21 extra points available for the 2019 championship.
Follow us on Twitter @Planet_F1 and like our Facebook page.