After a controversial finish to the Russian Grand Prix, Late Braking take a look at six other times team orders won the day.
The concept of team orders seems to have made a resurgence in 2018 after a few quiet years.
Whilst there were plenty of controversial moments between Lewis Hamilton and former team-mate Nico Rosberg, they generally didn't involve team orders.
With Valtteri Bottas having no chance of championship glory in 2018, and Ferrari in a much more competitive state, Mercedes has reached a new dynamic and they have been forced to adapt their laissez-faire approach to racing.
Of course this is far from the first time that team orders has decided a race in controversial circumstances…
1951 French Grand Prix
Whilst many people disagree with team orders being allowed nowadays, at least we will never see team-mates swapping cars again.
As was common in the 1950s, team-mates could be ordered to switch cars with half points given to both drivers. It decided plenty of races and even the Drivers' Championship in 1956.
At the 1951 French Grand Prix, pre-war racing legend Luigi Fagioli was forced to swap his healthy car with Juan Manuel Fangio's misfiring one.
Fangio cruised home to win by over a minute whereas Fagioli languished down in 11th.
Fagioli, known to have a fiery temper, retired from Grand Prix racing immediately.
1998 Belgian Grand Prix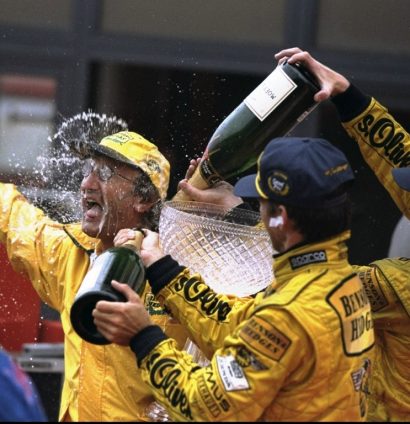 Making their F1 debut in 1991, Jordan were still searching for their first race victory heading into the 1998 season and, after scoring no points in the first eight races, this seemed unlikely to change.
Then along came a crazy Belgian Grand Prix, giving them an unprecedented opportunity.
The many retirements put Jordan in first and second place, Damon Hill leading Ralf Schumacher. Heading towards the end of the race it was Ralf showing the faster pace, prompting Hill to tell the team to keep him behind.
Fearing an incident, Ralf was told to hold station and Jordan claimed their only 1-2 finish.
1999 German Grand Prix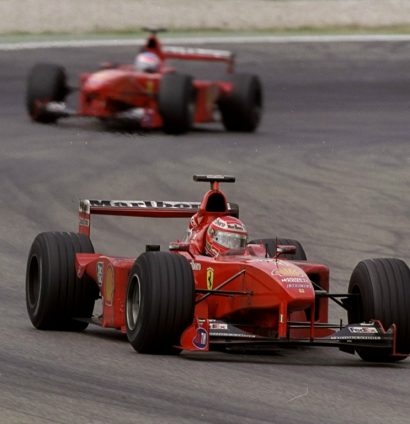 With Michael Schumacher out injured due to his crash at Silverstone, Mika Salo was chosen to partner Eddie Irvine in the interim.
Two races into his stint and he found himself with an opportunity to take his first career win at the German Grand Prix.
Salo had the lead with just a few laps to go, but with second-placed Eddie Irvine in the midst of a championship battle, Ferrari decided to switch the two around to give Irvine the victory.
Salo claimed another podium at the Italian GP later in the year, but a race victory eluded him.
2002 Austrian Grand Prix
Perhaps the most infamous incident of the lot. It was just five races into the season, but it already appeared as if Michael Schumacher had a stronghold on the championship after winning four of the first five races.
On the other hand, teammate Rubens Barrichello had endured a terrible start, finishing just one race to that point.
Barrichello had dominated the weekend and was on his way to victory before he was ordered to let Schumacher by at the final corner. A carbon copy of what happened the year before when Rubens was forced to give up second place.
The outrage was palpable and the podium celebrations were dominated by the crowd's jeers.
Ferrari were given a one million dollar fine and it played a massive part in the FIA banning team orders going forward.
2008 Singapore Grand Prix
Unlike most of the other incidents on this list where a simple position change occurred, the Singapore Grand Prix was a little more complex.
Renault were not having a great year and had failed to win a race since their 2006 championship winning season.
Their two drivers, Fernando Alonso and Nelson Piquet Jr, started the race 15th and 16th respectively, producing little cause for hope.
During the race, Nelson Piquet Jr crashed his car and the ensuing safety car allowed teammate Alonso to win.
After Piquet left Renault the following year, rumours surfaced that the team ordered Piquet to intentionally crash the car to give Alonso the win.
This was proven to be true when Renault did not fight the conspiracy charges they faced, thus making 'Crashgate' one of the darkest moments in Formula 1 history.
2010 German Grand Prix
After a dismal 2009 campaign, Ferrari were looking to get back in the title fight in 2010 with Fernando Alonso joining the team from Renault.
After the Spaniard won the first race of the season, he remained in contention with some solid results and team-mate Felipe Massa a little further back.
From P3 on the grid, Massa had an excellent getaway and overtook both Alonso and pole-sitter Vettel on the opening lap.
With 19 laps to go, Massa held the lead ahead over Alonso, but after being famously told "Fernando is faster than you", he was slow to accelerate out of the turn six hairpin and surrendered the lead of the race.
Ferrari were given a $100,000 fine.
This article is courtesy of the good folks at Late Braking. You can check them out in the following places:
Subscribe to Late Braking on YouTube
Follow Late Braking on Twitter