Formula 1 heads for the Spanish Grand Prix and, for the first time since Austria, Mercedes domination can't be guaranteed.
It all appeared to be business as usual at the 70th Anniversary Grand Prix, the second consecutive race weekend at Silverstone, with Mercedes comfortably on top.
Lewis Hamilton and Valtteri Bottas traded P1s in the practice sessions, before the Finn won the battle for pole. Meanwhile Nico Hulkenberg qualified P3, nine tenths off Bottas' benchmark.
But few would have expected the race to play out the way it did. Max Verstappen and Red Bull took a brave gamble to set their fastest Q2 time on the hard tyres to make that their starting tyre for the race, and oh boy did that gamble pay off!
A win for the history books 📚 @Max33Verstappen 👏🏆 #F170 pic.twitter.com/h3BR2ghDnP

— Aston Martin Red Bull Racing (@redbullracing) August 12, 2020
The Silver Arrows burned through their tyres in the race at an alarming rate, leaving Verstappen free to score an "easy" victory as his boss Christian Horner put it.
Formula 1 was met with scorching temperatures for the 70th Anniversary Grand Prix, and in the past we have seen Mercedes struggle with overheating in such situations, and this year it seems they can't keep their tyres happy once the thermometer starts working overtime.
High temperatures are expected again at the Spanish Grand Prix, hosted by the 2.892-mile Circuit de Barcelona-Catalunya, so now we will find out if Silverstone was just a one-off, the wrong strategy at the wrong time for Mercedes on the softer rubber, or whether the Silver Arrows are not quite as bulletproof in a hot race.
Get your hands on the official Mercedes 2020 collection via the Formula 1 store
Hamilton goes into the race weekend with a 30-point lead over Verstappen in the Drivers' Championship, so already it feels like a now-or-never situation for the Dutchman.
There is also plenty of pressure to be found in the Red Bull camp on Alex Albon's side of the garage.
After replacing Pierre Gasly midway through last season and delivering some strong early results, hopes were high for the Thai driver, but this year he is starting to show signs of slipping into that kind of rut which cost Gasly his Red Bull drive.
The midfield order is somewhat more skewed this year compared to 2019, since everyone bar Verstappen and the Mercedes have fallen into it, but Albon is leaving himself far too much to do on a race day thanks to sub-standard qualifying performances.
It was another excellent recovery drive at Silverstone as Albon went from P9 on the grid to finish P5, but still he is struggling to show any sort of sign that he can be just as, or even nearly as fast and reliable as Verstappen.
We all know Albon has ability, but Red Bull aren't known for their patience, and their strong public defence of Albon arguably should be taken with a pinch of salt. Their word didn't mean much in Gasly's case after all.
The pair enjoyed a good battle at Silverstone, and it almost mirrored the mental battle which could crop up for Red Bull if Albon doesn't perform at the Circuit de Barcelona-Catalunya. Is Albon in the Red Bull and Gasly in the AlphaTauri a suitable way forward?
There is a similar story of underperformance going on at Ferrari, but granted a very different situation.
The SF1000 is of course, not at the level expected of a Ferrari F1 car, but while Charles Leclerc is making it work after a P4 finish at the 70th Anniversary Grand Prix, team-mate Sebastian Vettel is struggling big time.
He will leave the team at the end of the season, and maybe that lack of motivation could explain why his pace compared to Leclerc has tailed off as the season has progressed.
But the 70th Anniversary GP was an all-time low for the German racer who never really troubled the top 10 all weekend.
Sebastian Vettel'in ilk viraj sonrasında attığı spin pic.twitter.com/R25zYS0k2D

— Emre Baltaoğlu (@emreybaltaoglu) August 9, 2020
To cap it off the four-time World Champion made another unforced error, spinning on the first lap, and in the end finished P12.
It's understandable that some rumours are bubbling up suggesting Vettel won't see out the season at Ferrari, and even if that is true, all these errors and lacklustre performances will do little to impress Racing Point who have their sights set on Vettel it seems for a drive in 2021.
He has complained about Ferrari's strategies, especially at the 70th Anniversary GP, whilst hinting that maybe his SF1000 isn't quite equal to Leclerc's.
Either way, he will have a new chassis for the Spanish Grand Prix, so that's a start.
Over at Racing Point it would be easy to forget about the racing such is the drama being caused by the FIA ruling on their brake ducts.
Are they illegal? No. But the way they got them onto the RP20 is, so it seems now that the fine and points docking is out of the way, the team are just going to get reprimanded every time they use the brake ducts, such is what happened at the 70th Anniversary GP.
So the team will almost certainly use them again in Spain, and earn another reprimand, but Racing Point have lodged their appeal against the sanctions, whilst Ferrari and Renault are putting together their own appeal to argue that the punishment is too soft.
But as for the on-track business, Racing Point, Renault and Ferrari all look evenly matched heading into the Spanish Grand Prix, so throw McLaren into that mix too and it will be fascinating to find out if anyone can grab that best-of-the-rest spot on the grid, or even better if they do it in the race. Don't count AlphaTauri out either.
Hulkenberg will be hoping to do it again after qualifying in P3 at Silverstone, but that will of course depend on whether or not the usual man behind the wheel of that RP20, Sergio Perez, is deemed fit to race. The Mexican is rated at 99.9 per cent to return.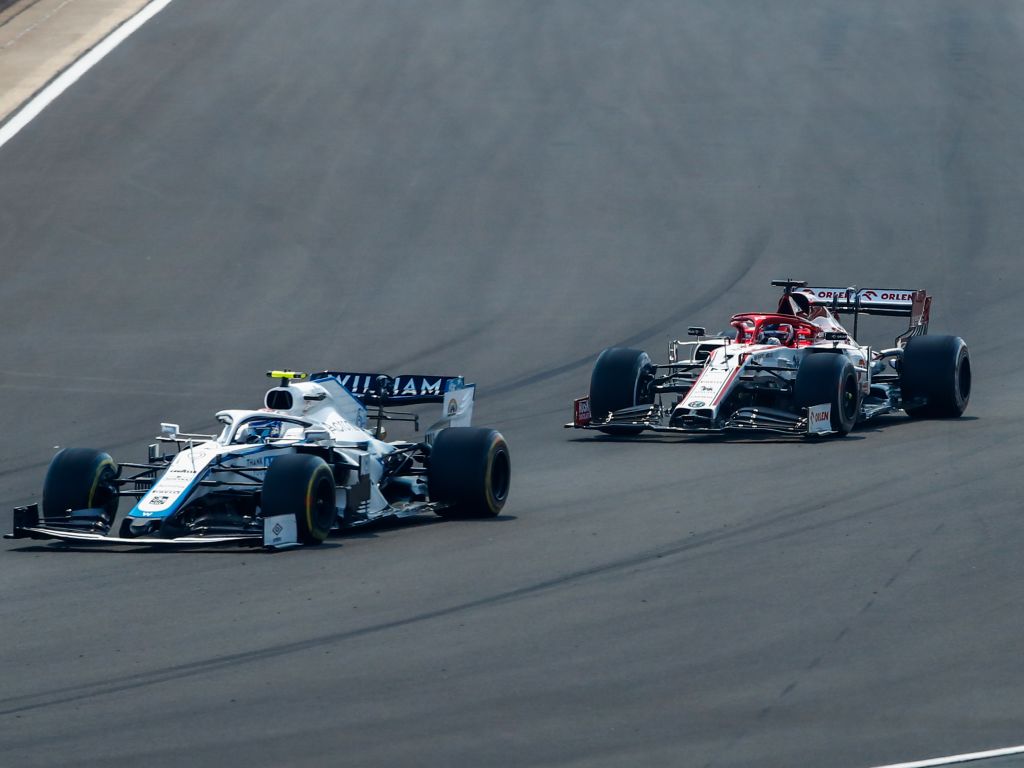 Behind this midfield pack Williams, Haas and Alfa Romeo are fighting not to become properly detached it seems.
George Russell once again made it into Q2 at the 70th Anniversary Grand Prix, but race pace continues to be a problem with both Russell and Nicholas Latifi propping up the order come the end of the race. They will be glad to leave Silverstone and go searching for some race pace in Barcelona.
Speaking of teams who are glad to leave Silverstone, Haas deserve praise for trying out different strategies this season to make up for their lack of performance, but the 70th Anniversary GP again highlighted their struggles.
Kevin Magnussen's five-second time penalty for swerving into Latifi sure didn't help, with Haas ultimately retiring his car, and P16 for Romain Grosjean did little to lift the mood of the struggling American outfit who finished P5 in the Constructors' Championship as recently as 2018.
And as for the team who are slowly starting to be cut adrift at the back, Kimi Raikkonen put it best – Alfa Romeo are just too "f***ing slow" right now.
Follow us on Twitter @Planet_F1 and like our Facebook page.