Conclusions from the Spanish Grand Prix
Sir Lewis Hamilton was the hunter who chased down Max Verstappen to claim his fifth consecutive Circuit de Catalunya-Barcelona victory.
Here are our conclusions from an absorbing Spanish Grand Prix which tipped the 2021 World Championship fight firmly in the direction of Mercedes.
Red Bull lose the tactical battle
Hamilton and Mercedes with the two-stopper! #SpanishGP #F1 pic.twitter.com/b7p7jjT16b

— Planet F1 (@Planet_F1) May 9, 2021
Ultimately, two elements decided this race – Mercedes' superior strategy and Hamilton's relentless pace which enabled them to carry it off.
Much has been made of Verstappen's 'mistakes' this season. In Barcelona, the Dutchman was pretty much foot perfect on race day when, thankfully, track limits were far less of an issue than they have been previously in 2021.
The only minor criticism of Verstappen could be that he caught his team on the hop when he came in for a pit-stop, possibly a lap too early according to Christian Horner, which meant their usual two-second tyre change time was doubled – still pretty impressive if they genuinely were not expecting him at that moment!
But less convincing was the decision not to cover off Hamilton's surprise second stop on lap 42, which left Verstappen vulnerable to a repeat of the scenario in Hungary two years ago when he was also pursued and passed by the World Champion on fresher rubber.
There was a precedent, Red Bull knew it – Verstappen's race engineer, Gianpiero Lambiase, even mentioned it over the team radio – and yet they did not act.
From that point on, there was a sense of inevitability about the outcome – probably even before it, in truth.
So where does it leave the title race? It's now 3-1 to Hamilton in victories after a third race in four this year when he has been joined by, in order, Verstappen and Valtteri Bottas on the podium.
This was a circuit where the seven-time World Champion had dominated since 2017 – the previous man to win at Barcelona being Verstappen the previous year on his Red Bull debut. Therefore, it represented kind of a 'home' win for Hamilton, who is now 14 points clear of Verstappen, and Mercedes.
On reflection, the most prophetic words had been those of Toto Wolff when asked about strategy pre-race: "One stop, but we are flexible."
That adaptability, and Hamilton's brilliance, has been a massive part of Mercedes' success for so long.
Bottas goes rogue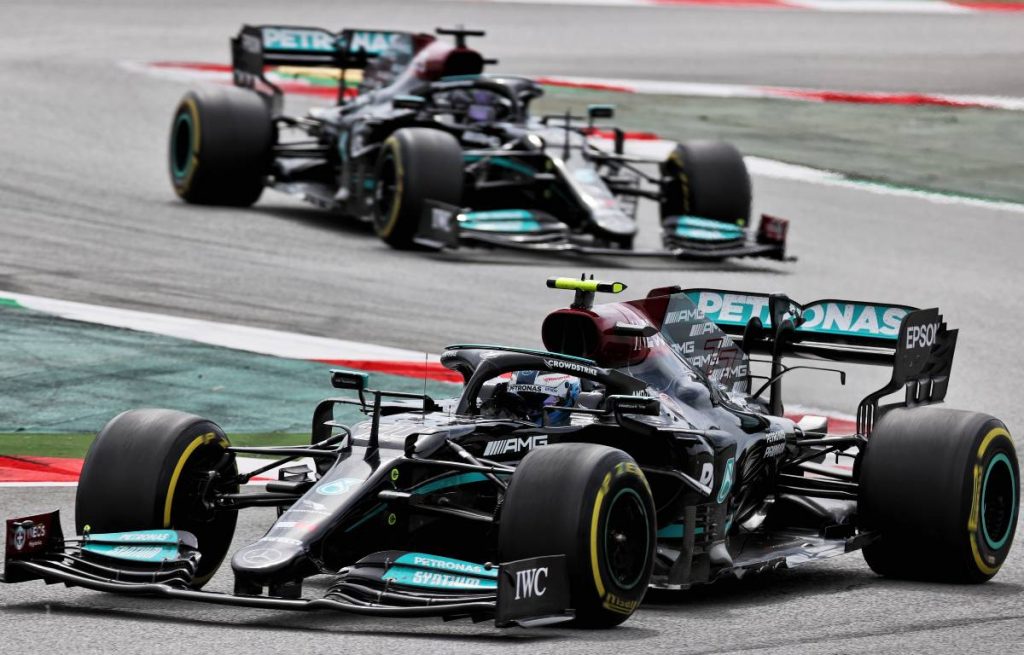 Has Valtteri Bottas already been told this will be his last year as a Mercedes driver?
You could be forgiven for thinking so, considering his unhelpful response to the order not to hold up Hamilton in his chase of Verstappen.
His team-mate might not have had a problem with losing a couple of seconds, and in the end it did not matter. But Bottas both showed, and said afterwards, that he is unwilling to make the team game the priority anymore.
"I'm not here to let people by," said the uncharacteristically obstinate Finn. "The main thing in my mind was my own race."
Which is fine, and in keeping with the mindset Bottas spoke of pre-season when he said he would be "a bit more selfish" in terms of his goal to wrest the World Championship from Hamilton.
However, from race one in Bahrain, it became apparent that aim was no more than a pipedream – and since then, the 31-year-old has done little to suggest Mercedes would be making a bad move by turfing him out for 2022 in favour of, probably, George Russell.
If there is any uncertainty about Bottas' future, he is doing his best to make up Mercedes' minds for them with incidents such as on lap 53 in Barcelona.
The only saving grace is the trio of podium finishes he has achieved this year, which is three more than Sergio Perez, his equivalent at Red Bull, has managed – albeit in his first year with that team.
But even though stories last week of Bottas being set for the axe at Mercedes – possibly even before the end of the season – were shot down by Wolff, they will not take kindly to him going rogue.
Unless, of course, he already knows his time is up.
A yucky weekend for Yuki
LAP 9/66

⚠️ SAFETY CAR ⚠️

Tsunoda has ground to a halt at Turn 10#SpanishGP 🇪🇸 #F1 pic.twitter.com/TOP5mq40WE

— Formula 1 (@F1) May 9, 2021
A big percentage of F1 fans, and especially among the writers on this website, are eager for Yuki Tsunoda to shine in his fledgling career – but he has lots of questions to answer now.
Mainly, what has happened to the superstar potential Helmut Marko spoke of last year and this? It was evident in Bahrain, where the Japanese rookie overtook one former World Champion after another, but since then Tsunoda has looked nothing but the novice he is.
What's more, there has been little humility about him. His mistakes have been shrugged off with admirable confidence, but calling out AlphaTauri with comments such as "I can't ***ing believe this car" following his Q1 exit in Spain is not clever – and for which he received a public telling-off from Jenson Button.
In fairness, Tsunoda quickly tweeted an apology to the team.
An early retirement from the race was not his fault. Yet perhaps this was just what he needed, to bring him down a peg or two, just before turning 21 tomorrow. Happy birthday, Yuki.
Hopefully, having the key to the door will bring on some maturity and unlock that potential which we all want to see. Barcelona may just have been a pivotal weekend for Tsunoda.
Of the rest…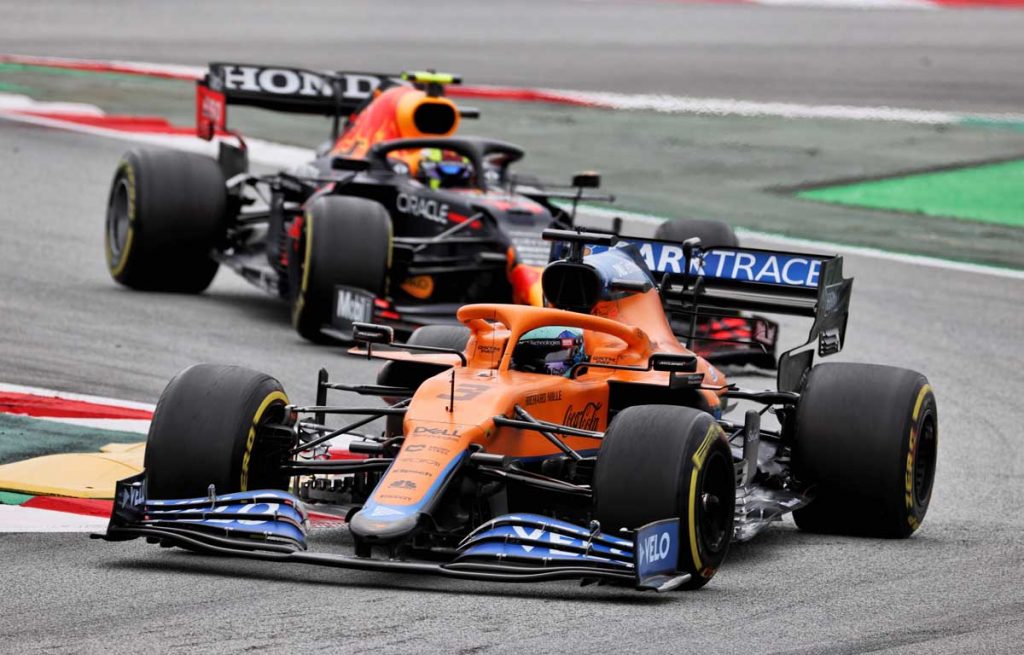 Not a huge amount to draw from elsewhere but Daniel Ricciardo will be feeling much happier about his progress following a sixth-place finish than he was a week ago.
The race showed once more that McLaren and Ferrari are very much the leading contenders for third position in the Constructors' World Championship, with Alpine struggling to reproduce their qualifying pace on a Sunday.
Still no joy for Sebastian Vettel, who ended up 13th – the sort of position we have come to expect him in, both for Ferrari last year and Aston Martin so far this term. An 18-second post-race interview for Formula 1 – average time for everybody else around one minute – spoke volumes about his frustration.
Interesting, too, that footage was broadcast during the grand prix of Toto Wolff's message to race director Michael Masi urging blue flags to be shown to Nikita Mazepin when Hamilton was coming up to lap him.
Wolff clearly wanted no repeat of the incident in Portugal where the Haas driver impeded Sergio Perez and received a penalty point. Four races into his F1 career, Mazepin's card has very clearly been marked.
Jon Wilde
Follow us on Twitter @Planet_F1 and like our Facebook page