Lewis Hamilton quickly returned to winning ways with an emphatic Spanish Grand Prix success as Mercedes avoided a repeat of their Silverstone tyre problems.
Here are our conclusions after a straightforward afternoon for the World Champion at the Circuit de Catalunya.
Don't become a bookie, Toto
Those plucky underdogs at Mercedes have done it again. #F1 pic.twitter.com/7O3FMEAzpk

— Planet F1 (@Planet_F1) August 16, 2020
"Bring on the heat," joked Mercedes team principal Toto Wolff to his Red Bull counterpart Christian Horner at the end of the race after the sizzling Spanish temperatures proved no problem to easy victor Lewis Hamilton.
After qualifying, Wolff had insisted last week's Silverstone winner Max Verstappen was again the favourite in similarly hot conditions that would make tyre management a critical issue, even though the Dutchman started P3 on the grid behind the two Mercedes cars.
On this evidence, Toto, who has cast doubt about how long he will stay in his current role, should not be considering an alternative career as a bookie.
The odds were right – Hamilton was around a 4/9 shot pre-race – and Toto wrong, although there was surely an element, at the very least, of trying to deflect some of the pressure and focus away from the Black Arrows and onto Red Bull.
Nobody should be in any doubt now that Verstappen's triumph in the 70th Anniversary Grand Prix was merely a blip caused by exceptional circumstances, rather than a signal that Red Bull are ready to offer a sustained challenge to Mercedes.
And we will certainly be taking Toto's predictions with a pinch of salt.
Max calls the shots to Red Bull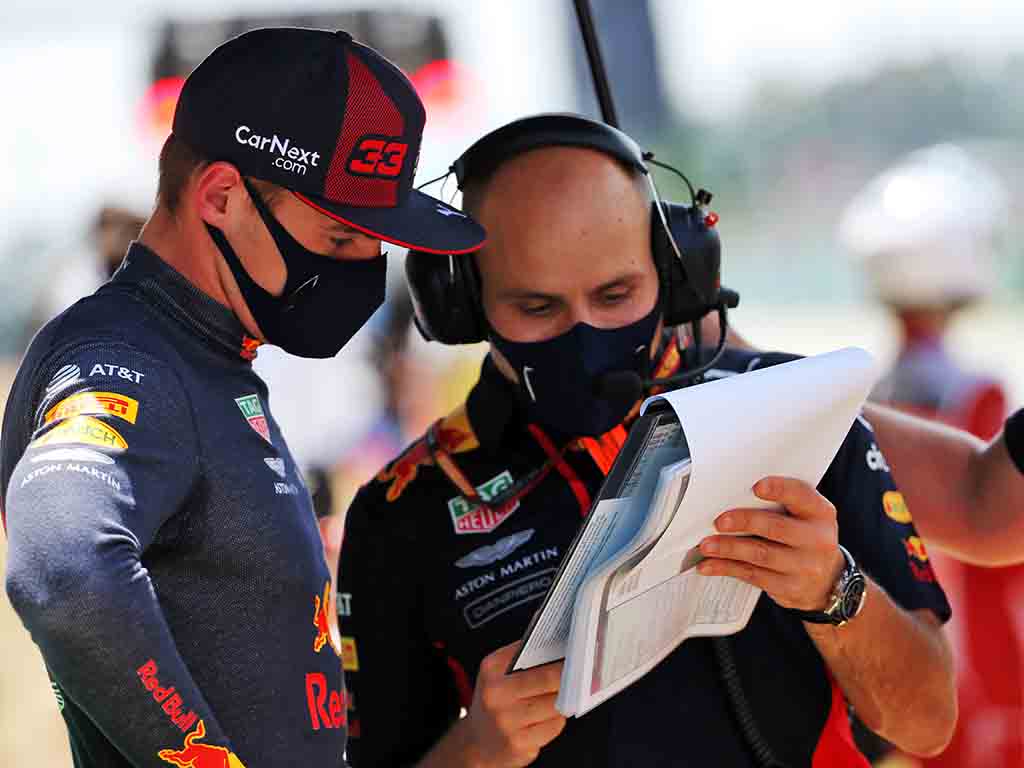 Max Verstappen made headlines with his "drive like a grandma" comment over the team radio last week – and he was also vocal in Barcelona just as the race was at a vital stage.
Again, the 22-year-old was unhappy with what he was hearing from his race engineer Gianpiero Lambiase. This time, he opined that too much attention was being paid to what Mercedes were doing and his retort was essentially "let's just focus on our race".
That prompted a warning from Lambiase: "Get your head down, Max, please." Clearly, Gianpiero believed his driver was over-thinking the situation and should keep his mind clear for what was in front of him on the track.
Verstappen was spot-on with his push-back last week, feeling he had the situation under control, and with hindsight he had a point again. Ultimately, there was no chance of him beating Hamilton and he never came under threat from Valtteri Bottas for P2, so was therefore right that Red Bull's sole attention should have been on themselves.
However, it's still something Red Bull need to address. Lambiase and Verstappen are said to enjoy one of the tightest driver/engineer working relationships, yet even a semblance of friction over the radio cannot be helpful in a sport decided by such tiny margins.
Red Bull have already been involved in one race engineer story this season with Simon Rennie taking over that role for Alex Albon.
We are not suggesting for a single second another change needs to be made, far from it. Just that communication could be harmonised to avoid the conflicting messages that have been conveyed in the last two races.
On a more positive note, Verstappen's confidence to call the shots to his team reflects the level he has reached as a driver – someone with so much belief in his own ability, and justifiably so, that he feels Red Bull should be dancing to his tune.
Albon compromised by strategy
Whereas Red Bull's decision to use the hard tyre last week paid the maximum dividend for Verstappen, this time the gamble backfired for Alex Albon.
The C1 tyre was described on Friday as "absolute garbage" by George Russell after he briefly tried it on his Williams during practice and it was expected to play little part in the race. But Albon made an early stop, had the hard tyre fitted and found himself down in the midfield battling rivals on the mediums and softs.
After starting in P6, Albon finished P8 and the strategy did not help him as he fell behind Carlos Sainz and Sebastian Vettel in an equivalent car to Verstappen's.
Somehow, the London-born Thai driver always seems to find himself producing 'recovery drives'. This was not one of his own making, though.
And finally…what future for Barcelona?
And we are not talking about the football team, who were tonked 8-2 in the Champions League quarter-finals by Bayern Munich on Friday.
After a race like this, which was far from a thriller, you wonder whether the Circuit de Catalunya's place on the F1 calendar is under similar threat to Barca manager Quique Setien's job.
After all, the Spanish Grand Prix only just survived the cut for the original 2020 schedule. It was rumoured to be making way for the Dutch Grand Prix but eventually room was made for both events.
There are, of course, many reasons why races are on the calendar, most of them commercial. But the problem with the Circuit de Catalunya, from our point of view, is the action – or lack of it.
This time, it was so uneventful that on lap 14 of 66, the TV coverage was focused for several minutes on a three-way battle for P14, save for a brief switch to Albon's pit stop.
It's not even as though it's a picturesque track, e.g. a street circuit like Monaco, Singapore or Baku, with some nice scenery to look at if little is happening in the race.
Then, of course, in the desperate hope of spicing things up, the camera panned to dark clouds rolling in over the hills to illustrate the potential of rain. Needless to say, it never materialised.
If it was a close call whether Barcelona would remain on the schedule, this dull race will not have helped. And it's far from the first time it has happened at this venue.
Plus, there is increasing competition for places on the schedule. At short notice, due to the circumstances of the global health pandemic, Imola, Mugello, Nurburgring and Portimao have stepped in, and at least a couple of those will hope it is not just for a one-off guest slot.
There is also talk of Jerez, which hosted the Spanish Grand Prix from 1986-1991, being added as another round later in the year.
Maybe a return to the Circuito de Jerez – Angel Nieto which, like Barcelona, has frequently held winter testing, could be the way forward for F1 in Spain.
Jon Wilde
Follow us on Twitter @Planet_F1, like our Facebook page and join us on Instagram!