Another Lewis Hamilton masterclass, whilst Carlos Sainz and Sebastian Vettel score highly in a rather forgettable Spanish Grand Prix.
Check out all the driver ratings from the Circuit de Catalunya, courtesy of Late Braking.
Lewis Hamilton – 10
The type of drive we have become accustomed to seeing from Lewis Hamilton. Pure dominance from start to finish with little doubt as to who was going to win the race from Turn 1 onwards.
Knowing that tyre management is crucial at the circuit, particularly given the time of year, Hamilton dictated the pace early on, leaving Verstappen and Bottas in the dust. His reward is a 37-point advantage in the championship over Verstappen and another six points ahead of Bottas.
Max Verstappen – 7
Another race, another podium for Verstappen who continues to be the sole threat to Mercedes in 2020. Despite keeping close to Hamilton in the first stint, Verstappen rarely threatened thereafter with Hamilton able to go longer on the first two stints.
The end result was a distant P2 for Verstappen although he can be happy to have kept Bottas behind, especially given the 2-on -1 scenario in Mercedes' favour.
Valtteri Bottas – 6
Bad starts are not desired at any race circuit around the world but there are tracks where a slow getaway can be exaggerated. Unfortunately for Bottas, the Circuit de Catalunya is one of them.
Forced to deal with Lance Stroll early on, Bottas did get back within the fight amongst the leading pair but was unable to make an impression on Verstappen's P2 place. His last stint promised a lot considering Bottas' tyre advantage but he couldn't make it count and was forced to settle for securing the fastest lap bonus point.
3rd today far from what the goal was. Will analyse and learn everything that could have been done better this weekend & find the fighting spirit back before the next one. For now will reset and make most out of some days off.. take care everyone 🙏🏼https://t.co/u1q9jPAhmL#VB77 pic.twitter.com/qZt1RKPrhs

— Valtteri Bottas (@ValtteriBottas) August 16, 2020
Lance Stroll – 7
The Racing Point duo started P4 and P5 and that's where they finished but Stroll will be glad that they did so in the opposite order. Starting P5, Stroll got one of his epic starts that we have become so used to seeing. The slipstream very nearly gave him P2 but overtaking Bottas for P3 was more than satisfactory.
Stroll's two-stop versus his team-mate's one stop looked to have settled the duel of the Racing Point cars but a five-second penalty for Perez gave Stroll the advantage on the timesheet, if not on track.
Sergio Perez – 7
With 75% of the drivers going for two stops in the race, it's of little surprise that one of the drivers opting for just one stop was Sergio Perez.
As per normal, Perez masterfully nursed his tyres home but a five-second time penalty for ignoring blue flags set him back one position and lost the Mexican two points. Even so, this was a good comeback after missing two races.
Carlos Sainz – 8
Following consecutive P13 place finishes at the races in Silverstone, Carlos Sainz was in need of a strong performance at his home circuit, and whilst the fans were not there to celebrate, Sainz certainly delivered.
Committing to a two-stop strategy early on, Sainz executed the plan which included impressive overtakes on Vettel and Albon to climb up the order in his final stint.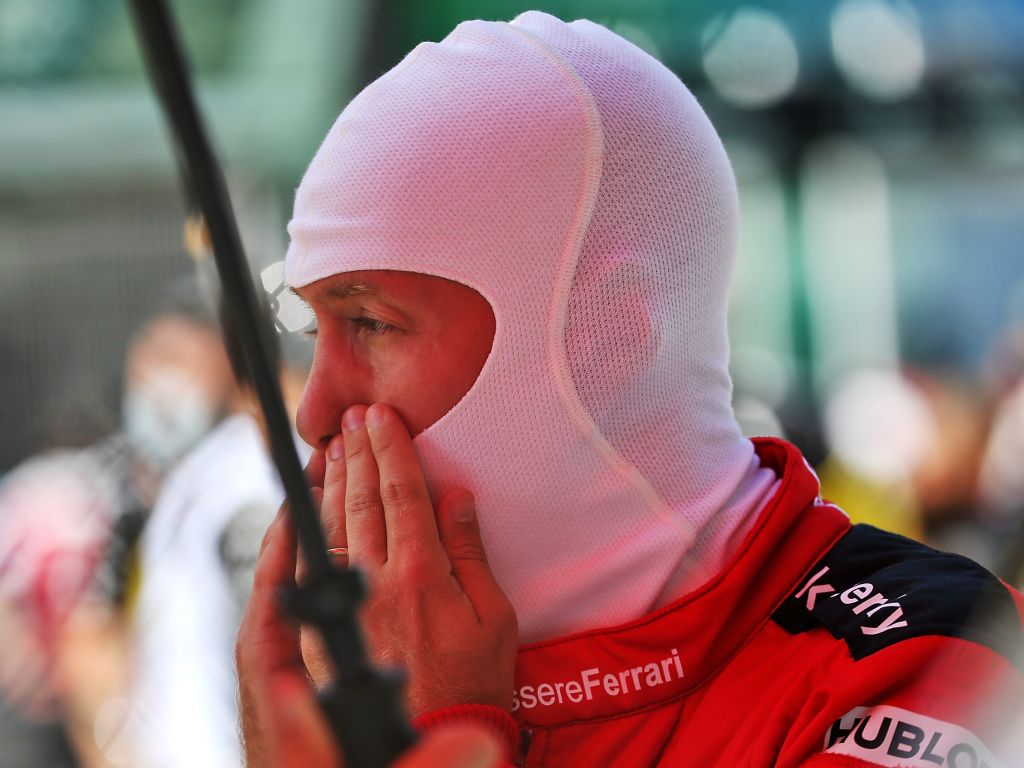 Sebastian Vettel – 8
It didn't come without more fireworks between Vettel and the team, but the four-time champion was able to produce his second best result of the season on his way to P7.
Starting on the medium tyre, the team asked Vettel midway through his second stint whether he believed a one stop was possible. Vettel, not exactly happy that this had only just crossed their mind, committed to the strategy and made it work.
Alex Albon – 6
Red Bull's strategists so often get it right but Albon's first stop must go down as a blunder.
Feeding Albon back into a lot of traffic, he remained stuck behind multiple cars on a set of hard tyres that no one else dared to use.
Once this was resolved, Albon was involved in a midfield scrap for the lower points, ultimately claiming four for P8 but his lack of pace against the McLaren of Sainz was concerning, especially given their tyre parity.
Pierre Gasly – 7
Starting from P10 on soft tyres left Gasly slightly vulnerable to those immediately behind on medium tyres but he finished inside the top 10, one position in front of where he started.
Gasly was forced to produce some resolute defence against Leclerc and Norris but was up to the challenge on both occasions.
🏁 The chequered flag waves in Spain. 🏁

Carlos finishes his home grand prix in P6 with Lando in P10. 👏#SpanishGP 🇪🇸 pic.twitter.com/TCvg9Ngfau

— McLaren (@McLarenF1) August 16, 2020
Lando Norris – 6
Rounding out the points scorers was Lando Norris who remained in touch with the cars ahead but with no means of getting through.
Arguably the tussle of the race came between himself and Leclerc where Norris had to put out all the stops to keep the feisty Monegasque driver behind.
Daniel Ricciardo – 6
Nil points for Renault in Barcelona with Ricciardo leading the yellow cars home in P11. It made sense to try something different but the one-stop race didn't work out for the Aussie in the same way that it worked out for Vettel and Perez.
Daniil Kvyat – 6
Kvyat seemed to have a decent turn of pace, particularly in the first part of the Grand Prix but he soon found out how much you can be punished for starting outside the top 10.
Whereas last time out, a recovery to the points was possible from a bad starting position, there was no such comeback here as Kvyat finished exactly where he lined up.
Esteban Ocon – 5
A long way from the young French driver's best race, Ocon could only finish P13 as slower cars such as Raikkonen and Magnussen frustrated him in the early goings.
Circumference of the Earth: 40,700 km 🌍

Kimi's done it twice in an F1 car, with change 😮

And after today in Barcelona, no driver has raced more km than him in the history of our sport 😎#SpanishGP 🇪🇸 #F1 pic.twitter.com/Ti99lGIx3T

— Formula 1 (@F1) August 16, 2020
Kimi Raikkonen – 7
There hasn't been too much to shout about for Alfa Romeo so far this season, but Raikkonen's weekend seemed to be a step in the right direction. Getting out of Q1 for the first time this season, Raikkonen backed this up with a strong showing in the race to see off both Haas cars and both Williams cars as well as his team-mate.
Kevin Magnussen – 7
One -top strategies are more difficult to pull off when there are fewer cars in your race, essentially Magnussen was only racing five other drivers but he pulled off a nice performance to see off a few of his rivals.
Antonio Giovinazzi – 6
Starting last of all, there was only one way to go for Giovinazzi and he made a few positions by the time the race was over. He finished within one second of beating Magnussen but ultimately ran out of laps on his two-stop strategy.
George Russell – 6
Russell's Q2 streak was snapped on Saturday and there was little to celebrate in the race on Sunday. It was at least another victory over his team-mate.
Nicholas Latifi – 5
After losing out off the start, Latifi trailed around in last place for much of the race and ultimately trailed the leaders by two laps.
Romain Grosjean – 4
It's not a great look when the biggest highlight of your race was a near-crash that was completely unnecessary. Grosjean's move on Raikkonen raised more than a few eyebrows, a shame that his performance certainly didn't.
Did not finish
Arghh, Top 5 was on the cards today. Unfortunately, the car switched off in the last chicane. We'll investigate where did the issue come from. Positive race otherwise but still far from where we want to be. Onto the next race 🔥 pic.twitter.com/vl92RrkkIW

— Charles Leclerc (@Charles_Leclerc) August 16, 2020
Charles Leclerc – 6
The only DNF from the race, Leclerc's race was an intriguing one that was certainly capable of strong points. After a long first stint on the soft tyres, Leclerc's second (and probably final) stint was on the medium tyres with most other drivers ahead still to pit. It's tough to say where a one-stop could have left him but a top six wasn't out of the question.
The Spanish Grand Prix driver ratings are brought to you by the good folks at Late Braking. You can check them out in the following places:
Subscribe to Late Braking on YouTube
Follow Late Braking on Twitter