It was a textbook Lewis Hamilton performance on race day in Spain, whilst it was another afternoon to forget for Sebastian Vettel. The Spanish Grand Prix driver ratings are in…
Late Braking cast their beady eye on the grid at the Circuit de Catalunya…
Lewis Hamilton – It is three Spanish Grand Prix wins in a row for Lewis Hamilton as he retakes the championship lead from his team-mate. A good start from P2 on the grid gave Hamilton the lead going into Turn 1 and it was a lead he never lost.
Tyre problems in his second stint were perhaps the only blemish on the record but an opportune safety car put any doubts to rest. He then capped off his day with his first fastest lap point. To give some context, his blistering 1.18.492 would have only been a tenth away from getting him out of Q1. 9
Valtteri Bottas – As is becoming the norm with the Silver Arrows, the driver who led into Turn 1 ended up easing to victory with Bottas left to pick up the pieces in second.
It was far from a disastrous weekend for Bottas, his stellar qualifying lap in particular should give him some confidence, but he will need to start picking up victories at some of Hamilton's favourite circuits. 8
Happy to be on the podium 💪 After a hectic start, our race pace was good and we were competitive. Thanks @redbullracing and @HondaRacingF1, and also all fans for voting me Driver of the Day 🙌 #KeepPushing 🇪🇸 #SpanishGP pic.twitter.com/hz52iz6Im5

— Max Verstappen (@Max33Verstappen) May 12, 2019
Max Verstappen – Voted Driver of the Day in F1's official vote, Verstappen realistically could not have hoped for better than third. The Dutchman had the best view in the house as the Ferrari guys came close to contact in Turn 1 and he took advantage as he soared past both.
The contrast between Verstappen at the beginning of last season compared to now is instantly recognizable and the onus is now on Red Bull to give him a car to challenge the Mercs up ahead. 9
Sebastian Vettel – This race was all about Turn 1 for Vettel. He was given half a chance after a decent getaway off the line but there was simply no room to move past either Mercedes. The unsuccessful move damaged his tyres and a two-stop strategy was the only way to go.
From there, Vettel seemed to get quicker as the day went on. The safety car gave him P4 ahead of team-mate Leclerc, although with his pace, maybe that would have been achievable without it. Regardless, P4 is not what Vettel wants to be thinking about as his rivals head to a fifth consecutive 1-2 finish. 6
This has been a hard week-end for the whole team and for the people supporting us. 2 days of testing coming up and we will try to make the best out of it to improve.
📸: Davide Pastanella pic.twitter.com/lixrGsnb8w

— Charles Leclerc (@Charles_Leclerc) May 12, 2019
Charles Leclerc – A tough race for Leclerc as he went against the strategy that his two nearest competitors went for. Both Verstappen and Vettel opted for two-stop strategies early in the day whereas Leclerc used the hard tyres to try a one-stop.
Whilst Leclerc proved quicker than Vettel on the softs, Leclerc was unable to make his one-stopper work as the Safety Car left him with little option but to come in and pit for medium tyres. One might have expected Leclerc to be a bit more of a threat to Vettel late on but instead had to focus his efforts on holding back Gasly. 6
Pierre Gasly – Whilst this is definitely an improvement from the first few races of the season, Gasly still finds himself in another league to team-mate Verstappen and will have to be content with P6.
Verstappen was able to mix it with the Ferrari drivers but Gasly never really featured in the equation. The Safety Car did allow him to have a look at overtaking Leclerc but those hopes quickly faded. 5
Kevin Magnussen – A much better weekend for Haas as both drivers returned to the points, although it's a little surprising that it was Magnussen who ended up as the lead driver for the American outfit. Trailing Grosjean all weekend, Magnussen was able to get past his teammate thanks to the Safety Car restart. 7
Carlos Sainz – For a long time it looked as if Sainz's record of scoring points at every home Grand Prix was going to come to an end but some well-timed overtakes after the Safety Car kept the streak intact. 8
Daniil Kvyat – In a race that was largely void of overtakes, Kvyat was a bright spark as he pulled off some cracking passes. The move at Turn 4 against Raikkonen might have been the best of the afternoon and he eventually came home P9 in spite of a botched pit stop. 9
Positive weekend for us. Pace was strong, feeling was very good. Team did a good job with the new aero package. Both car in the points =💪
Onto Monaco now 💯#r8g #SpanishGP pic.twitter.com/MBn6aGR0Sz

— Romain Grosjean (@RGrosjean) May 12, 2019
Romain Grosjean – Grosjean doesn't help himself a lot of the time but it's hard not to feel a little sorry for him here. Qualifying as best of the rest, Grosjean built a comfortable gap over his midfield rivals, only for it to be taken away thanks to the Safety Car. Contact between team-mates didn't help proceedings and from there it was a case of holding on until the end of the race. 8
Alex Albon – It really should have been two Toro Rosso drivers in the top 10 but Kvyat's poor pit stop cost Albon even more as he was sat there waiting for his turn. He nearly avenged this by overtaking Grosjean for P10 but it wasn't quite doable. 7
Daniel Ricciardo – Well, this isn't what Ricciardo signed up for. Five races in and it's only one points finish for the Aussie. Stuck between Sainz for a long time, it was clear the Renault just didn't have enough oomph to make progress at a circuit where it's already tough to pass. 6
Nico Hulkenberg – Starting from the pit lane hasn't been a terrible strategy for cars in recent races but there was no such luck for the Hulk here in Spain. In fairness, the experienced German gave it a good go and went as long as he could on medium tyres but he and the team walk away from Spain with zero points. 6
#Kimi 💭 "Overall it was not an easy weekend for us- having said that, at the end of the race we had the same speed as the guys in front of us but there was only so much we could do with that. Pretty disappointing but the test will hopefully help to turn things around" #SpanishGP pic.twitter.com/bPb3Gr3XOr

— Alfa Romeo Racing (@alfaromeoracing) May 12, 2019
Kimi Raikkonen – For whatever reason the Alfa seemed to struggle in Barcelona and points never seemed on the cards, although that was hardly helped on lap one as Raikkonen had a trip to the gravel. It's the first race where the veteran has missed the points this season. 6
Sergio Perez – After the highs of Baku, it was always going to be difficult for Perez to replicate that result in Spain. Another instance where the car just didn't suit the circuit, Perez must have been praying for some chaos up ahead but the race failed to unfold in that way. 6
Antonio Giovinazzi – The wait for debut points continue as Giovinazzi only managed to beat the retired cars and the Williams duo. A very early pit stop was surprising and whether this was purely strategic or a necessity is up in the air. Regardless, it failed to work out and the search for points continues. 5
George Russell – Good news is hard to come by at Grove this season but Russell was at least a little closer to escaping Q1 with a great lap on Saturday. Ultimately, Russell was still overtaken after just 19 laps on race day but what else can he possibly do? 7
Robert Kubica – Realistically the only thing that can be asked of Kubica is to beat his team-mate given the Williams' struggles against every other car but in that respect it was another disappointing weekend. A loss in qualifying and the race to his teammate makes it 0-5 in both categories. Not pretty viewing. 5
Did not finish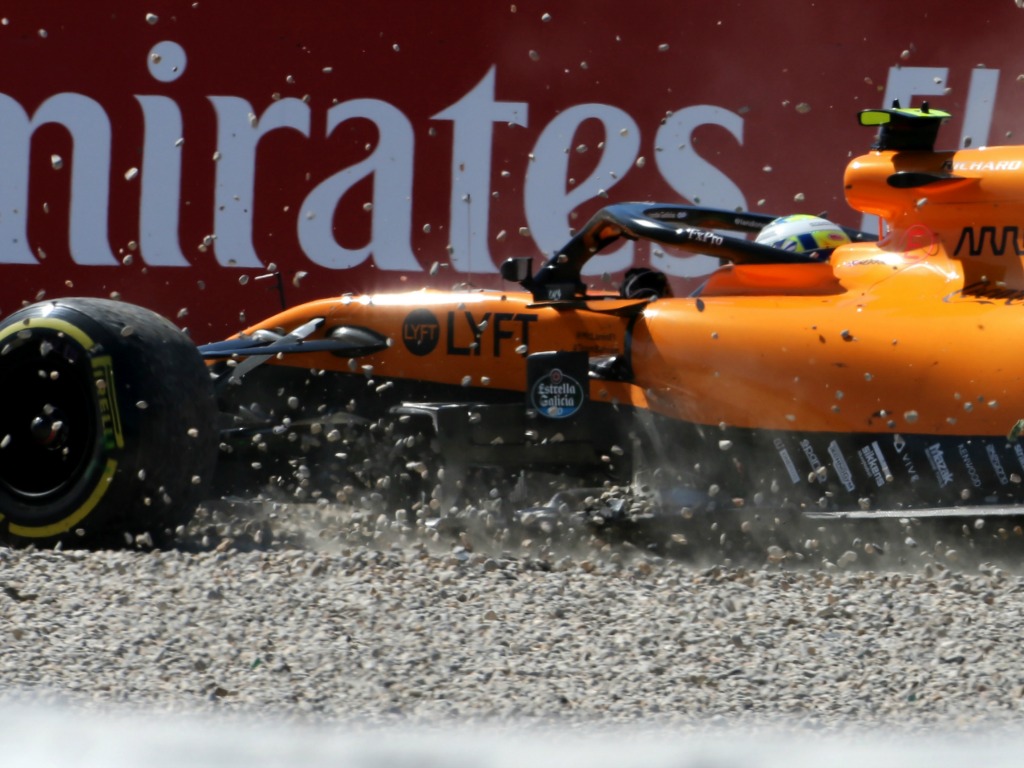 Lance Stroll – As tempting as it was to give Stroll a 10 for giving us a reason to be excited, we have put our sensible caps on and given him a 5. A typically good start was Stroll's highlight from the race but that was as good as it got. His crash with Norris ended his afternoon 5
Lando Norris – Starting P10, Norris must have fancied his chances of picking up some points in the race but it was a day of falling backwards for the young Brit. After dropping six places on the opening lap, Norris was left to fight Stroll in the lower midfield, only for contact to end their races. 5
The Spanish Grand Prix driver ratings are courtesy of the good folks at Late Braking. You can check them out in the following places:
Subscribe to Late Braking on YouTube
Follow Late Braking on Twitter