The scores are in from Austria (again) and it was a much better turn of events for Lewis Hamilton…Ferrari not so much. Here are the driver ratings, courtesy of Late Braking.
Lewis Hamilton: It's tough to find any fault with Lewis Hamilton's performance from the Styrian Grand Prix. Bouncing back from a podium-less first race of the year, Hamilton put together a scintillating lap in qualifying before winning the race at a canter.
With Verstappen and team-mate Bottas a long way back, the only thing missing from the race was a fastest lap, something he had in his pocket before Carlos Sainz fitted a new set of boots to beat it with a few laps to go. 10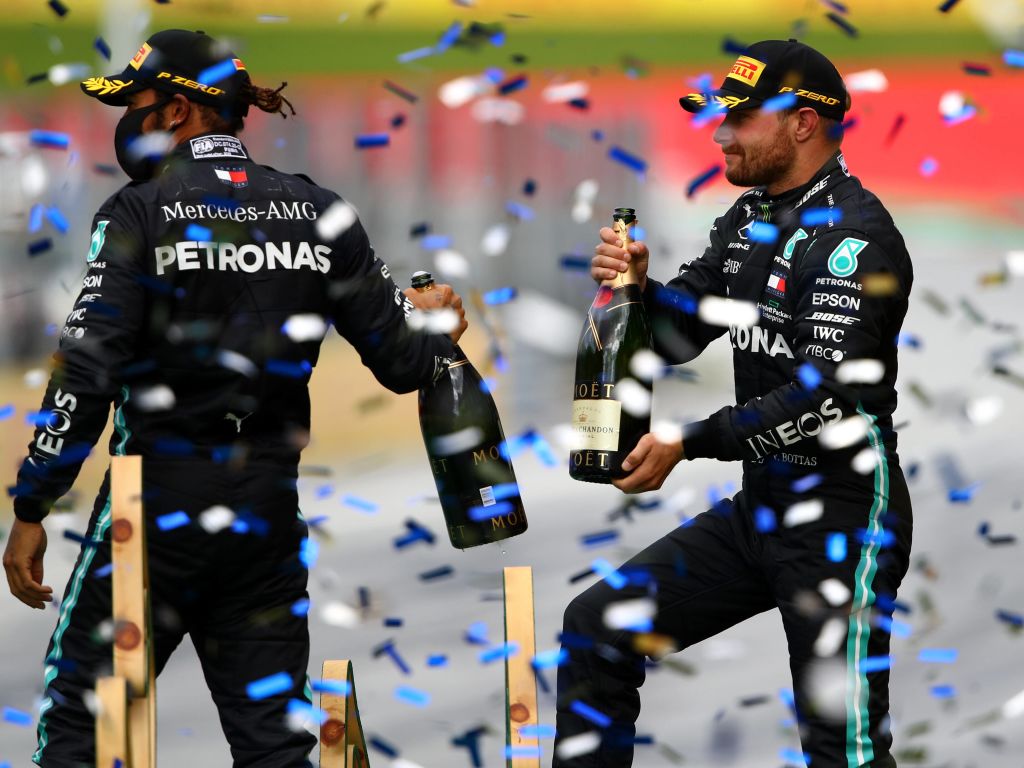 Valtteri Bottas: After making short work of Carlos Sainz early in the race, Bottas' only realistic objective was passing Max Verstappen for second place. It might have taken two attempts, and happened later in the race than most were expecting, but the fresher tyres of the Finn did eventually prevail.
Starting P4 on the grid could have caused complications but Bottas can at least be happy that the damage was limited. A very distant second place but Bottas does hold on to the championship lead for another week.  7
Max Verstappen: As Ferrari's struggles persist, it's becoming more and more likely that Max Verstappen is the only man capable of putting up strong resistance to the force that is Mercedes.
The effort was undoubtedly there, as proven by his astute defence against Bottas late on, but ultimately the car isn't quite matching that effort. Hamstrung by not having a second driver to work with on strategy, Mercedes outmanoeuvred Red Bull and third was the best he could achieve. 9
Alex Albon: The record books might show Alex Albon as being close to Verstappen at the end of the Grand Prix but in reality it was a tough afternoon as Albon found himself over 30 seconds away from his team-mate for the majority of the Grand Prix.
Albon's anonymity in the race at the front left his team in a quandary when it came to strategy with Bottas allowed to run much deeper. These 2 vs 1 scenarios are far from ideal and played a major factor in Pierre Gasly's demotion. 5
Lando Norris passes a damaged Perez at the final turn to get 5th! That's the most we've screamed at a final lap since… well, last week #AustrianGP pic.twitter.com/vgoTSYA6Xy

— iGP Manager (@iGPManager) July 12, 2020
Lando Norris: For the second week in a row a McLaren started from P3 on the grid however on this occasion it was Sainz who pulled it out the bag in qualifying as Norris incurred a three-place grid penalty for an infringement in practice.
Despite his poor starting position, and a rib injury which kept him on medication, Norris soared through the grid and took advantage of incidents late on to finish P5. 26 points from two races, P3 in the championship. Not too bad of a start! 9
Sergio Perez: Saturday did not go the way Perez had hoped, a Q1 elimination for a car competing for third best on the grid is not what was required but it did at least give us an opportunity to see the Pink Panther storm up the grid.
After some clinical overtakes, P4 was in Perez's clutches before contact at Turn 4 with Albon resulted in front wing damage. The damage caused Perez to limp to the line but not before Norris got past. A tough ending to what was a vintage Perez performance. 9
Lance Stroll: Much like his team-mate, Lance Stroll found himself out of position heading into the race and made his way up the order to secure some solid points.
As he watched Perez get by Ricciardo at the first attempt, Stroll did not have that same clinical attitude and was stuck behind the Aussie for countless laps. The result was an ill-advised lunge into Turn 3 that forced Ricciardo off the circuit. 7
Daniel Ricciardo: Before the race, Ricciardo promised a vintage performance and whilst we didn't quite get that, we did at least get a solid performance that shows the Renault has potential this year.
Going for the alternate strategy worked wonders and even though he was unable to keep Perez behind, he did a good job against the other Racing Point of Stroll. No doubt he will be disappointed at how that ended up. 8
Carlos Sainz: Starting P3, Carlos Sainz must have had dreams of his second career podium heading into the race, the reality, however, was in stark contrast to this.
Slipping back throughout his first stint, a 7.2 second pit stop dented his chances in the race and ultimately had to yield to his team-mate who had started six places lower. He did secure the fastest lap for one point but this is one display that promised a lot more. 6
Daniil Kvyat: After a few early tussles, it was a rather lonely race for Daniil Kvyat. Not quick enough to keep pace with the Renaults and McLarens, too quick for the Haas and Alfa Romeos.
Gasly has had the edge to this point in the battle of AlphaTauri but Kvyat reminded everyone of his credentials with a solid result.  7
Kimi Raikkonen: With the obvious exception of the two Ferraris, no one came out of the Turn 3 incident worse than Kimi Raikkonen. Almost forced to come to a stop on circuit, Raikkonen did a great recovery job as he worked his way past his team-mate as well as the Haas and Williams drivers. 7
Kevin Magnussen: Hopes of a Haas revival in 2020 are fading quickly as the team suffered another tough race in Austria. They can be somewhat buoyed by the fact that both cars finished but the end result of zero points remains the same.
Magnussen was the better of the two as he did get involved in some fights. Temporarily mixing it with Kvyat and at least beating one of the Alfa Romeo drivers. 6
Romain Grosjean: The Frenchman was on the back foot for most of the weekend after mechanical issues blighted his qualifying session and also his race after the Haas team broke curfew to fix the water pump problem. Starting from the pit lane, he did manage to salvage a little pride in the race but still ultimately had no points to show for it. 6.5
Antonio Giovinazzi: Giovinazzi's opportunistic attitude of a week earlier did not translate through to the Styrian Grand Prix as he trundled home to a disappointing 14th place.
In a good position to beat his team-mate early on, the Italian had trouble managing the tyres and fell victim to Magnussen late in the Grand Prix. 5
Pierre Gasly: One to forget for the Gas man, a real disappointment considering his strong qualifying performance.
Starting on the soft tyres, Gasly was one of the earliest to visit the pits as he became the only driver to try out the hard tyre. It soon became clear as to why he was the only one. The cooler temperatures did not favour the white-striped option and he soon pitted for a second time to ditch them. 5
Went for the move, didn't pull it off. Gutted for the team as they deserved more today but I'll make sure I bounce back next week.

— George Russell (@GeorgeRussell63) July 12, 2020
George Russell: One of the stars of qualifying, after coming so close to Q2 last weekend, this time Russell made the cut and very nearly found himself in the third part of qualifying.
Most were anticipating other drivers to dispose of the young Brit in the race but he did the job for them as he went off the track whilst dueling with Magnussen. A real shame but there's every reason to remain optimistic for the future. 6
Nicholas Latifi: After coming so close to points on debut, fewer retirements meant a much lower finishing position for Nicholas Latifi: 17th of the 17 drivers still running at the end of the Grand Prix.
Due to Russell's off, Latifi led his team-mate for a large portion of the race before he eventually conceded the spot. He ended up soundly beaten, now to Hungary to see if he can match-up slightly better. 5
Did not finish
Kimi's view of the Ferrari incident 👀#AustrianGP 🇦🇹 #F1 pic.twitter.com/RzxwEPYsAy

— Formula 1 (@F1) July 12, 2020
Esteban Ocon: A tough first weekend for the returning Esteban Ocon but qualifying was much more encouraging, securing an impressive P5 in tricky conditions.
Race day did not quite go as smoothly. After slowing up Ricciardo early in the race, Ocon later became the third retirement. Not the result he would have wanted but there should be brighter weekends ahead. 6
Sebastian Vettel: What is there left to say when it comes to Ferrari? Rushing through some of their upgrades, initially intended for the Hungarian Grand Prix, there was little to no chance of finding out their effectiveness as both cars exited the race early doors.
Vettel was merely a passenger as Leclerc attempted an ambitious move into Turn 3. one point from tw races is hardly the ride into the sunset that he would have imagined. N/A
Charles Leclerc: For such a young driver in a pressurised position, Leclerc shows good judgement much more often than he does bad but to describe the Styrian Grand Prix as anything other than forgettable for him would be false.
The move on his teammate was clumsy at best and it cost the team dearly. Ferrari are in turmoil and the man destined to be their future did little to help the situation. N/A
The Styrian Grand Prix driver ratings are brought to you by the good folks at Late Braking. You can check them out in the following places:
Subscribe to Late Braking on YouTube
Follow Late Braking on Twitter