Hungary GP: The final battle before the break
Heading to Hungary straight from Germany, fans are hoping for another thriller but F1's title protagonists may want something a little more straightforward – and a little less wet.
Last time out in Germany, Ferrari looked to be on course for the 1-2 with Sebastian Vettel ahead of Kimi Raikkonen only for the rain to arrive. That resulted in Vettel crashing into the barriers, Raikkonen pitting behind the Safety Car and Mercedes claiming the 1-2.
More importantly for the Brackley squad, it was Lewis Hamilton who took the chequered flag and the lead in the championship race: his eight-point disadvantage, a 17-point lead.
All though is not lost for Vettel, well, as long as Ferrari don't implode as they did last season.
In 2017, he took pole position and the win at the Hungaroring, topping a Ferrari 1-2 while Hamilton could only manage fourth place.
A tense start, and finish, to the grand prix saw the Red Bull drivers collided resulting in Daniel Ricciardo's retirement, Kimi Raikkonen wanted passed Vettel only to be told to hold station while Mercedes gave Hamilton 10 laps to make a difference after telling Valtteri Bottas to let him through.
Hamilton showed great sportsmanship to give the position back to Bottas on the line while Kevin Magnussen gave fans the gem of the season as he told Nico Hulkenberg to "suck my balls."
The result meant Vettel extended his lead over Hamilton in the championship. It was, however, the beginning of the end of his title quest as Hamilton went on to win five of the next six.
Both title protagonists are past Hungarian Grand Prix winners with Vettel twice winning in Budapest while Hamilton is the most successful driver ever at the track with five to his name.
Red Bull are hoping their tally ends there.
Read more: All you need to know about the Hungarian GP
The team deliberately took engine penalties for Daniel Ricciardo in Hockenheim with an eye on first place in Hungary. However, despite the Aussie's retirement – engine related – Red Bull are hoping to avoid further penalties as he flies the flag alongside Max Verstappen.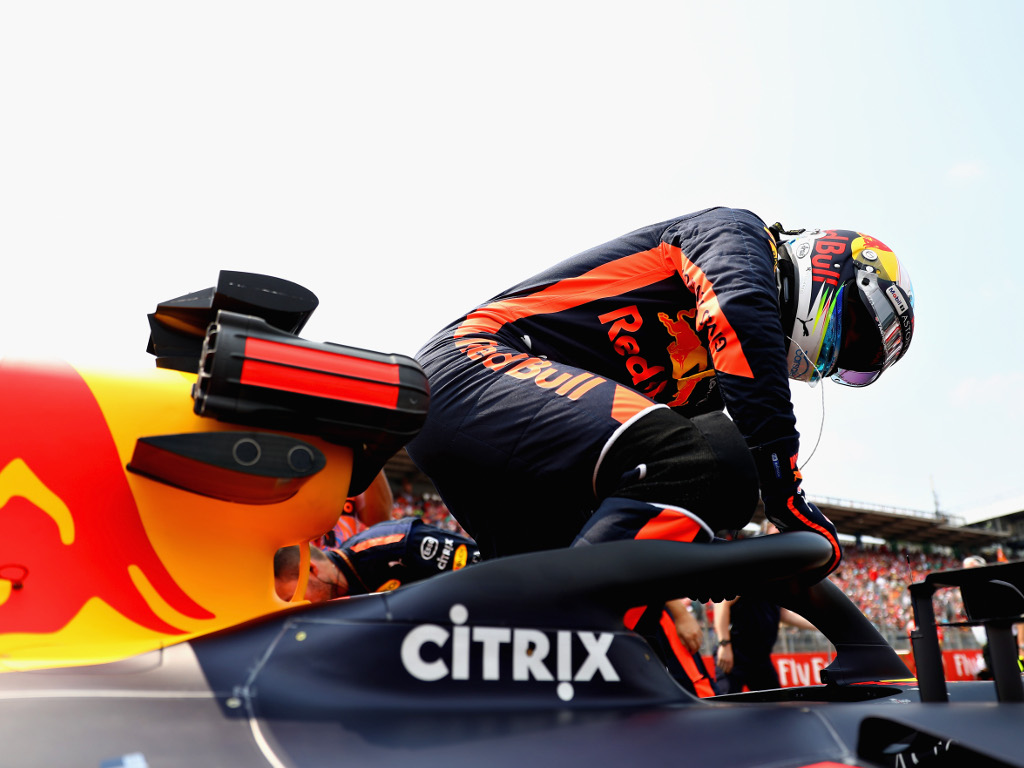 The tight and twisty Hungaroring suits the characteristics of Red Bull's F1 cars while negating any engine advantage that others have. Similar to Monaco, albeit a little faster, the track has been the scene of several memorable races.
Nigel Mansell won from 12th on the grid in 1989, beating Ayrton Senna, who a year later lost by 0.3s to Thierry Boutsen. Damon Hill almost won in an Arrows in 1997 only to be denied on the last lap by a mechanical failure.
Four drivers have claimed their maiden wins in Budapest, Hill in 1993, Fernando Alonso in 2003, Jenson Button in 2006 and Heikki Kovalainen in 2008.
It has also crowned World Champions with Mansell's runner-up race finish in 1992 handing him the Drivers' title. Nine years later Michael Schumacher wrapped up the 2001 title with a race win.
This year there'll be no such crowning glory, however, what fans can look forward to is a closely-contested midfield battle. Last Sunday fifth-placed Nico Hulkenberg was just eight seconds ahead of 11th placed Kevin Magnussen with Haas, Force India, Sauber and Toro Rosso all in the points.
With only the top-three teams having decided their 2019 line ups, the race is on not just for points, but for jobs.
Follow us on Twitter @Planet_F1 and like our Facebook page.