The good, the bad and the ugly: Nigel Mansell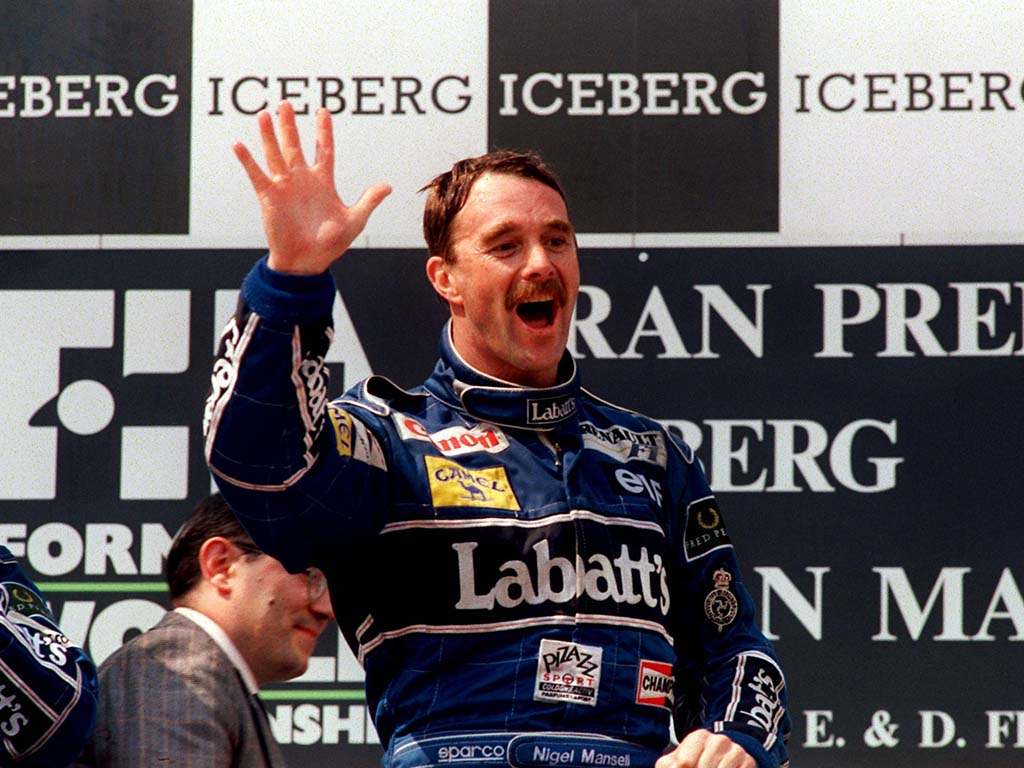 The good, the bad and the ugly series takes a look back over the defining moments of some of the biggest names to race in Formula 1.
Step forward: Nigel Mansell.
The Good
The old adage goes that two wrongs don't make a right. If anyone could disprove that, and take absolute great delight in showing you how, then it just had to be the man who became the long overdue people's World Champion in 1992.
The chip that Mansell always had his shoulder turned into a massive dent when he was twice denied the World Championship in 1986 and 1987. After a disaster of a 1988 season,when he finished his first Williams spell completing just two of the 14 races he competed in, and later emerging as the loser of the political war games with Alain Prost in a two-year spell at Ferrari, Mansell was ready to walk away for good.
But, a U-turn on retirement and a return to Williams would eventually give Mansell the silverware to further cement his place as, in his own words, "one of a very small handful of drivers in the world that are top drivers". Once he got another dose of deja vu finishing runner-up to Ayrton Senna in 1991, the following year undisputedly belonged to him.
The Williams FW14B is one of the most dominant and innovative Formula 1 cars of all time and, with a brilliant Renault engine to complement Williams' utilisation of electronics for gearbox, suspension and traction control, it was over to Mansell and Riccardo Patrese to showcase this beautiful, unstoppable force.
Mansell was hell-bent on ensuring it was left solely down to him. He fired the first warning shot in the season-opener in South Africa with a commanding performance and duly proceeded to win the next four races in Mexico, Brazil, Spain and San Marino. His five wins in a row at the start of the season beat Senna's record from the previous year. Anything you can do, I can do better…
Senna managed to get one over his old foe at the next round Monaco, though Mansell, who lost another dominant lead after being forced to pit late on because of a puncture, was so close to Senna in the last few laps that they may as well have been driving the same car.
Senna and Mansell would clash again in Canada, with the moustached maestro in typical all or nothing fashion crashing out on lap 15 following a daring lunge on the Brazilian.
But, while Mansell's crashes were almost as career-defining as his wins, they merely acted as blips in 1992 as three victories in a row followed. Sandwiched in between victories in France and Germany was the latest edition of 'Mansell Mania' at Silverstone, which erupted with a track invasion by his adoring fans before the race had even finished.
Then, after just 11 of 16 rounds, Mansell wrapped up the title with a P2 finish in Hungary. Finally a World Champion after 13 seasons, 176 races and 29 Formula 1 victories. Britain's wait for a World Champion from their shores over after 16 years.
However, we cannot move on to those two particular years of hurt in 1986 and 1987 without an insight into what it was like working alongside a man that Sir Frank Williams would call "a pain in the arse".
As retold in Adrian Newey's excellent 'How To Build A Car', with the FIA announcing that they would be weighing drivers in 1992, Patrese trained incredibly hard to be in the best shape possible. Mansell, meanwhile, at team dinners, would ask for ketchup to put on his meals.
But that didn't mean Mansell had no interest in having a lighter car than his team-mate; in fact, it was the complete opposite. While Patrese was sweating away in the gym, Mansell took out all the spare lining from his helmet and shoes and also dehydrated and starved himself to beat his team-mate on the scales.
"That really blew Riccardo's mind," Newey said.
"He was so proud of the fact that he'd lost weight over the winter and was super-fit. To be beaten by burger-chomping Nigel was a huge psychological blow."
That is just one of many examples of the games Mansell would play that season. In the official team debriefs he would spread misinformation to send Patrese's side of the garage on wild goose chases in the pursuit of speed, only to then hold another, actual debrief with his race engineer David Brown.
Mansell also readjusted his ride-height knobs to hide away pace advantages he was able to extract from the car and, at Monza, he said his trick to having so much speed through the chicane was by jamming his knuckles against the cockpit.
Patrese proceeded to follow the advice and…returned with bloody knuckles.
The Bad
But Mansell did not have it all his own way in his Formula 1 career. The respective 1986 and 1987 seasons, when he won the most races in each campaign only for it to return zero Drivers' Championship titles, are two prime examples.
Ahead of the 1986 season, Nelson Piquet, a two-time World Champion by this point, arrived at Williams from Brabham on the understanding that he would be the undisputed, undoubted number one driver and Mansell would play second fiddle. Those clearly drawn lines started to blur after just two races when Mansell showed his quality and worth when involved in an epic clash with Senna in Spain.
After Alain Prost won back-to-back races at San Marino and Monaco, Mansell would continue to make a mockery of the No.2 tag by winning four out of the next five races. The last in that sequence which catapulted Mansell into title contention came in the British Grand Prix at Brands Hatch, not only adding to the 'Mansell Mania' mystique but also creating one of the defining chapters in this bitter driver rivalry.
The Williams-Honda duo were never more than two seconds apart throughout the entire 70-lap race. Pressure from Mansell had forced leader Piquet into missing a gear on lap 23 and when the Brazilian tried to make amends by pouncing on his team-mate's out-lap, Mansell not only closed the door but triple padlocked it. As the victorious Mansell offered Piquet a handshake on the podium, it was refused.
In what was Sir Frank Williams' first race properly back at the helm following his car accident earlier in the year, all eyes were on him to see if team orders were going to be implemented so this brooding rivalry could be stopped. But, the team continued to let them race and it ultimately led to Prost being in a position to snatch the Drivers' Championship away from both Williams drivers.
In a 16-race season, Mansell was World Championship leader from rounds nine to 15. He was even World Championship leader 64 laps into the season finale at Australia until his tyre spectacularly burst, forcing him to retire and forcing him to wave goodbye to the title.
Such was the tension between Mansell and Piquet, their pain of missing out on the title themselves would have been soothed by the fact that Prost stopped the other from winning it.
1987 was a new year but the same, old story for Mansell. Eight pole positions, six race victories, another iconic 'Mansell Mania' moment created with one of the best overtakes of all time at the British Grand Prix, no World title. The difference this time was Mansell winning the battles but Piquet going on to win the war.
But while Mansell's World Championship fate was sealed with just a handful of laps remaining the year before, it was settled with two races left to run in 1987.
There was a 12-point gap between World Championship leader Piquet and Mansell after the latter won round 14 in Mexico. It would remain 12 points at the season's end.
During Friday practice in Japan, Mansell ran wide at the chicane and flew into the tyre barrier at approximately 15omph which left him with season-ending back injuries and left Piquet unopposed as he claimed a third World Championship title.
With Piquet Lotus-bound and soon to be replaced by Patrese, Mansell said whilst recovering back home in the UK: "I think that with Ricciardo Patrese, I can afford him a friendship that wasn't afforded to me [with Nelson]."
The Ugly
That, rather fittingly, leads us on to the ugly side of Mansell's Formula 1 career. This want, this need to create a siege mentality which earned him a lot of fans rooting for him but also created plenty of enemies all the way. His career was full of success, failure and conflict.
"He thinks everybody is trying to shaft him at all times," former Williams boss Patrick Head once said of the enigmatic Mansell.
He was a magnet for drama and tension. If he didn't create it himself then he was still never far away from being involved in it.
The rivalry with Piquet escalated to the point where the Brazilian, in an infamous interview with Playboy, called Mansell an "uneducated blockhead" and resorted to derogatory insults about Mansell's wife which he later apologised when legal action was threatened.
More wars were waged when Mansell moved to Ferrari. He quickly won the hearts of the tifosi when winning on debut for the Scuderia at the 1989 Brazilian Grand Prix and would earn the nickname "Il Leone', which translates to 'the lion', but the arrival of Prost as his new team-mate in 1990 represented another ugly turn.
Mansell quickly suspected Prost had put in a lot of work with Ferrari management to convince them to back one driver over the other in the World Championship battle…and that driver should be the Frenchman himself as he was the reigning champ.
"I was brought up to compete with fair play, I wasn't any good at politics," Mansell recalled in an interview with Motorsport Magazine.
"Ayrton was a ferocious competitor, but he had a lot more fair play in him than Piquet or Prost, those two were very political animals. They were prepared to do whatever it took, and they were very successful because of that."
Mansell later said he discovered the Ferrari car he stuck on pole at the 1990 French Grand Prix had been given to Prost for the next round at Silverstone.
Even with the suspected chassis swap, Mansell still claimed pole at the British Grand Prix and was in the lead for most of the race until his gearbox packed in. After watching Prost take the win, he had grown so disillusioned with life at Ferrari he announced his shock retirement (which he would later go back on).
"People said it was a spur of the moment decision because I was upset after my car broke," Mansell continued.
"Others said it was just a ploy as part of the driver negotiation market. Neither of those is true. It was a genuine decision. Rosanne [his wife] and I had talked it through before Silverstone, and we'd decided we were being manipulated.
"I felt I wouldn't have another opportunity to win the World Championship, so I decided not to play any more." It is just as well Mansell decided to keep on playing and get his reward eventually.
It did not matter whether you loved or loathed 'Nige', you certainly could not take your eyes off him.
Mark Scott
Follow us on Twitter @Planet_F1 and like our Facebook page.