The hidden element providing another layer to the McLaren v Alpine rivalry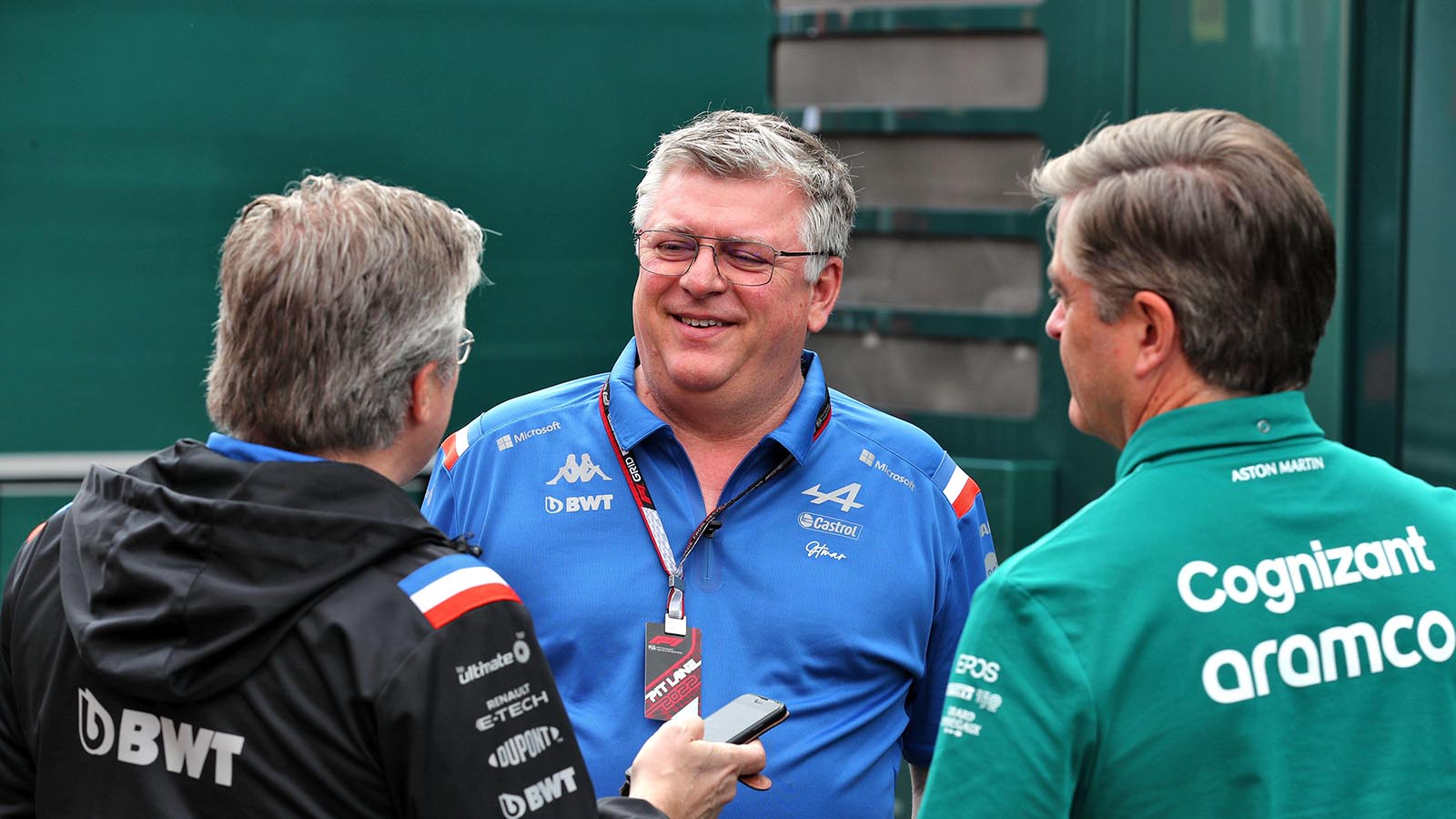 Even before the Oscar Piastri saga set alight the rivalry between Alpine and McLaren over Formula 1's summer break, the fight for fourth in the Constructors' Championship contained enough intrigue to comfortably sustain an entire season of Drive to Survive.
This, after all, is the tale of two former title-winning forces, both aiming to reposition themselves directly behind – and potentially even join – the modern elite of Red Bull, Ferrari and Mercedes.
Among those in the blue corner is Fernando Alonso, whose spirit was eroded over a disastrous four-season struggle at McLaren to the point he felt it necessary to temporarily step out and away from F1 for a couple of years.
In orange, meanwhile, is Daniel Ricciardo, who abandoned a long-term project with Alpine (then Renault) before his second season with the team even started in 2020 to sign a contract with McLaren.
There is no shortage of storylines here, the polar differences between the teams even extending to the cars themselves with the Alpine noted for its impressive straight line performance and the McLaren tending to be at its best at low-speed circuits.
Piastri's public rejection of an Alpine seat to force a move to McLaren for next season – soon followed by Alpine's stubborn (revengeful?) refusal to do the simple thing and save Ricciardo's skin, instead paying the ransom to release Pierre Gasly from AlphaTauri – only brought an extra, even spikier edge to the best-of-the-rest battle.
Yet all season there has been another hidden element linking the two teams, one altogether less likely to catch the attention of Netflix, for chief technical officer Pat Fry is now doing for Alpine what he once did at McLaren.
Formula 1's answer to 'Big Sam'
In recent years Fry has established himself as F1's answer to 'Big Sam' Allardyce – a highly experienced engineer called upon to stabilise and restore a sense of direction to teams who have lost their way.
It was he to whom McLaren turned in 2018 when, following the termination of their partnership with Honda, the team came to realise their car was not quite the rough diamond – a race-winning chassis criminally held back by an underperforming power unit – they thought it was.
Following a major restructure, it was Fry's responsibility to lead the development of the 2019 car, which secured McLaren's highest Championship finish in seven years and their first podium since the opening race of the V6 hybrid era in 2014.
Despite some odd characteristics – Ricciardo and both his predecessor Carlos Sainz and team-mate Lando Norris all referred to an unnatural feeling in the cockpit – with stable regulations that car was the foundation for the MCL35M, which in Ricciardo's hands ended McLaren's nine-year wait for a victory at Monza last season.
The team's failure to maintain that upward trajectory into 2022 – the unloved MCL36 car is the first technical director James Key, renowned for producing neat if draggy designs in a previous life at Toro Rosso, can truly call his own – only underlines the transformational impact of Fry on McLaren's fortunes.
On the day Ricciardo finally returned McLaren to the top step of the podium at the 2021 Italian Grand Prix, Fry had long since moved on to Enstone having joined Alpine in late 2019.
Despite Esteban Ocon's win in Hungary last season, the team have long suffered a perception problem, suspected of lacking the wherewithal and unconcealed commitment of rival teams – including McLaren – to return to the front.
With the sport itself moving in Alpine's direction through the implementation of the cost cap and a new Concorde Agreement, however, the 2022 rule changes represented a major opportunity to revitalise Renault's F1 program.
Alpine's A522 is fantastic, but flawed
With Fry working in conjunction with technical director Matt Harman, both promoted in February following the departure of Marcin Budkowski, the A522 is the most complete car to emerge from Enstone since the team's superficially successful but financially destructive Lotus era.
Alpine have scored points in all but three of 20 races this season, the car reacting well to the team's aggressive development plan to the point that it now stands unequivocally as the fourth-fastest on the grid and even posed a threat to Mercedes at a circuit as demanding as Suzuka last month.
Alonso's retirements from three of the last five events show reliability remains an issue and is arguably the only reason fourth place is still undecided with two races remaining.
But the enforcement of the engine freeze has made raw performance the priority for Alpine and Renault, who finally entered the 21st century this season by incorporating a split turbo – pioneered by Mercedes as long ago as 2014 – into the engine architecture.
For perhaps the first time in the hybrid era, the chassis and engine departments at Enstone and Viry respectively are working in complete harmony and it is showing on track.
Few would doubt that McLaren, with the completion of a new wind tunnel imminent, have more long-term potential at this stage.
But, suddenly, chief executive Laurent Rossi's 100-race plan for Alpine to compete for regular podiums and occasional wins – a level of attainment to which McLaren grew accustomed in 2021 – does not seem so absurd.
Separated by just seven points ahead of Brazil and Abu Dhabi, the fight for fourth remains too close to call and is likely to be won and lost on whether the Alpines can make it to the finish and Ricciardo can continue to support Norris as adequately as in Mexico.
Regardless of whether or not Alpine hang on to P4, however, they at least appear to have a promising platform from which to build over the remainder of the current rules cycle, content with what they have in stark contrast to McLaren, who face a long and uncertain winter back at the drawing board.
From McLaren to Alpine…to Aston Martin?
Fry's role in Alpine's ascent, and McLaren's loss of momentum without him, is all the more fascinating in the context of his close professional relationship with Alonso.
It has been said that Fry was the only person Alonso trusted during his first stint at McLaren in 2007, evidenced in the way he followed Fernando to Ferrari and then back to McLaren in the years since, before the pair were reunited at Alpine in 2021.
The ambitious Aston Martin team, Alonso's destination for next season, seem determined to power out of their current malaise and have made a series of fiercely impressive technical appointments of their own in recent times.
But let's imagine tangible progress is still hard to come by over the next 12 to 18 months… might Aston, at Alonso's behest, be tempted to give Fireman Fry a call?
Read more: Are the gloves now off between Fernando Alonso and Alpine?