No Northern Irish driver has ever got their hands on a World Championship in Formula 1, but in 1999, one came oh so close.
While he did take his maiden victory in the opening race of the season, Eddie Irvine's one and only title challenge truly started on a sunny July afternoon at Silverstone.
Six months prior, during a sponsorship event in a ski resort in Northern Italy, he made it abundantly clear what his job was going to be in his fourth season driving for Ferrari.
"My goal for this year is to win my first ever F1 race whilst still respecting the team objectives which are very clear – to win the World Championship," he said.
"As I said, I want to win my first race but my job is to help Michael [Schumacher]."
Seven races into the season, everything was going according to plan. He'd gotten his victory, and was now fully focused on helping his team-mate, who was six points ahead of him in the standings and eight behind leader Mika Hakkinen.
At the British Grand Prix though, one loose bolt changed everything.
Michael Schumacher (Ferrari F399) – British Grand Prix – 1999. #F1 pic.twitter.com/WxDLtUYFGi

— F1_Historical (@Historical_F1) July 14, 2019
The bolt in question was on Schumacher's car and caused a brake failure. As a result, he went crashing into the barriers at Stowe and broke his leg. His title hopes were over, and Ferrari's lay with Irvine. It's fair to say he rose to the occasion.
He kicked off his title charge by finishing the race at Silverstone in P2, behind David Coulthard. With Mika Hakkinen retiring, the Northern Irishman was now eight points behind him and well in contention.
Irvine had never been too highly thought of by those in Italy but made it clear that he had what it takes to win their beloved Ferrari a title with two wins from the next two races.
The first of them came in Austria. Things starting perfectly when Coulthard forced Hakkinen off track, dropping the Finn to the back. Irvine settled into P3 behind the Scot and Rubens Barrichello and opted to stay out as the rest of the field pitted.
This proved to be a masterstroke as, thanks to some excellent pace on his older tyres, he built a gap upfront and successfully pulled off the overcut to take the lead and ultimately the win. He was now just two points behind Hakkinen, who recovered to take P3, and told the press after the race that he had proved he could do the job. It was hard to disagree.
In the next round in Germany, he benefitted from something that had so often come at his expense: team orders. Schumacher's replacement, Mika Salo, had the upper hand on him all race, but dutifully moved aside to give his team-mate the win and, with Hakkinen crashing out, the Championship lead.
Even so, Irvine wasn't getting carried away.
"I am not even thinking about the Championship," he said.
"It's like a young boy dreaming about going to the moon. I don't even think about it. I am too much of a realist. Whatever is going to happen will happen."
Even so, with just six races left of the season and Hakkinen eight points behind – a fairly comfortable margin with the old scoring system – things were looking good.
However, the Finn was a man on a mission and, finishing ahead of Irvine in three of the next four races, was back on top of the standings by the time the circus headed to the penultimate round in Malaysia. With just two points separating them though, it was all to play for.
Irvine had a recovered Schumacher back alongside him for it, and with the German happy to play a supporting role, his return proved crucial.
After taking pole, he let the Northern Irishman through at the start and turned his attention to holding Hakkinen up for the rest of the race. In a way, Irvine was getting his reward for being a loyal wingman for three years.
With Hakkinen shackled and Coulthard out with a fuel pressure issue, he put in a flawless drive to take his fourth victory of the season and, more importantly, the Championship lead ahead of the final race.
Disaster briefly struck when both Ferrari drivers were disqualified for an infringement found on the bargeboards of the cars, thus handing Hakkinen the title. However, the decision was taken to the court of appeal and overturned, meaning Irvine headed into the season finale with his four-point advantage intact.
Unfortunately for him, Hakkinen brought his A-game to Suzuka, and he didn't.
The McLaren man passed Schumacher to take the lead at the start and quickly pulled away, while Irvine got stuck down in P4 behind Coulthard who, as he showed later in the race, was willing to do whatever it took to help his team-mate win the title.
With just under 20 laps to go, Schumacher was beginning to catch Hakkinen while Irvine had moved up to P3 after Coulthard crashed. If his team-mate could take the lead, the title would be his.
However, as the German edged ever closer, he found himself lapping Coulthard and the Scot did everything he could to hold him up, refusing to move aside until the third blue flag. This ended Schumacher's chances of catching Hakkinen and thus Irvine's chances of becoming World Champion.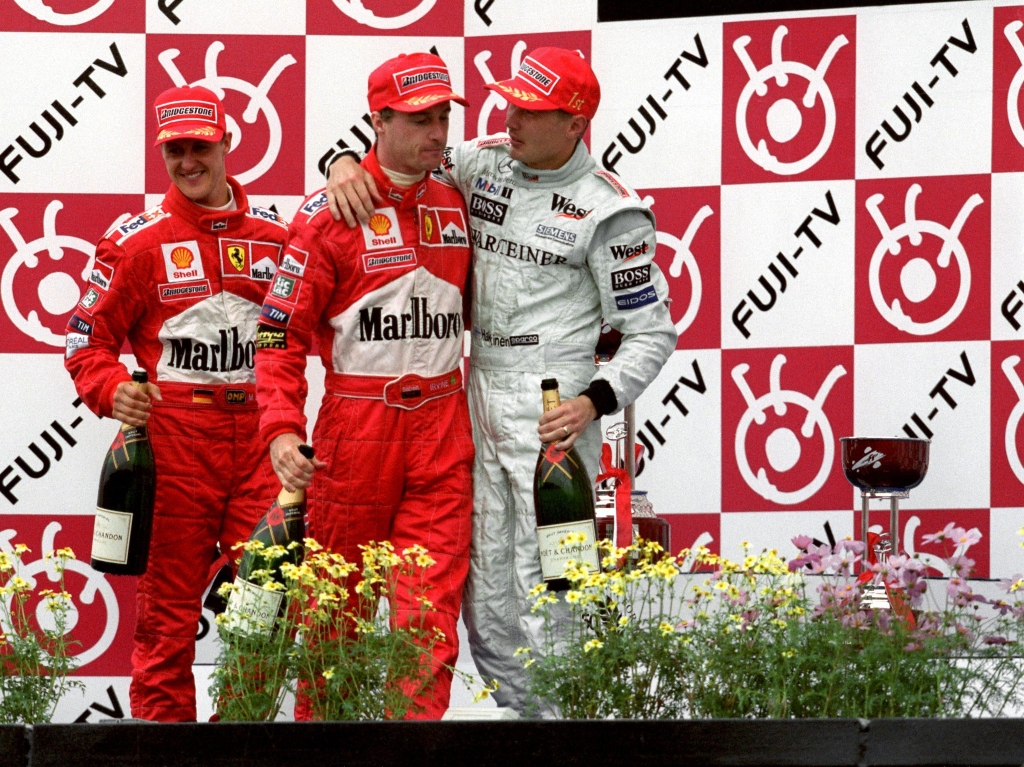 Hakkinen won the title by a mere two points in the end, and in all fairness, he deserved it. The Finn won more races than anyone and most probably would have won the championship comfortably if not for the fact that he suffered five DNFs to Irvine's one.
Even so, the Ferrari man had proved that while he perhaps wasn't at the level of the very best, he was good enough to at least win races and fight for titles, albeit with a bit of help from Lady Luck.
He never managed to do so again though, failing to win a race in his final three seasons, spent at Jaguar who he joined in 2000 in the hopes of breaking out of his number two role and finally leading a top team.
Speaking to the BBC a decade on from his most successful campaign though, he was at peace with how things panned out for him:
"It would be nice to be World Champion for sure, but there are guys that I know I was better than who are a World Champion, and there are other guys who were better than me that weren't World Champion too, but my life is good, I can't complain."
Finley Crebolder
Follow us on Twitter @Planet_F1 and like our Facebook page