The Nearly Men: Gilles Villeneuve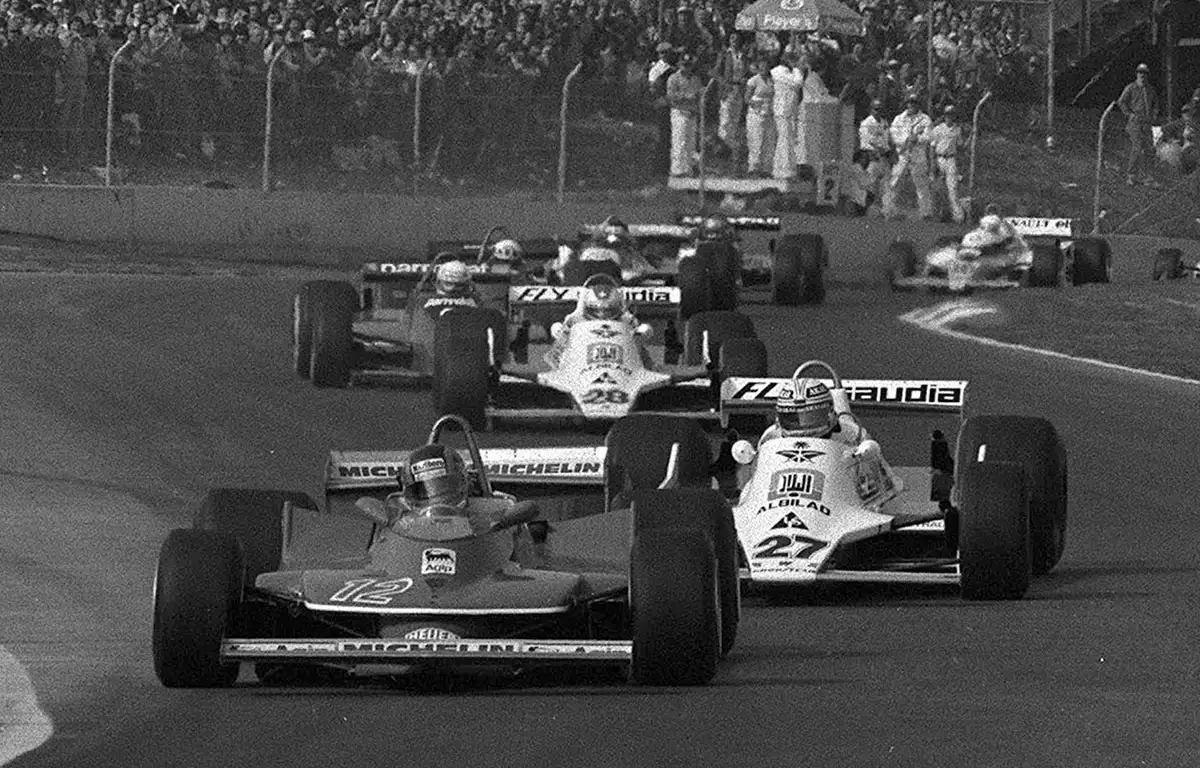 Gilles Villeneuve's time in Formula 1 was tragically cut short, but he still managed to make his mark – and so nearly became a World Champion.
In pretty much every article you can find listing the best drivers never to win a title, Villeneuve will be present and rightfully so.
After all, this was a man who Niki Lauda, the man he replaced at Ferrari, dubbed "the perfect racing driver" with "the best talent of all of us".
Unfortunately, in his six seasons on the grid, Villeneuve rarely had a car worthy of such talent. In fact, that was only the case once, in the 1979 campaign, and boy did he make the most of it.
He was heading into the season on a high after becoming the first Canadian to win an F1 race in the final round of 1978, a feat made even sweeter by the fact he did so at his home grand prix in Montreal.
He could not immediately carry that momentum into 1979 though, retiring from the season-opener before finishing P5 in Brazil. After that, he well and truly kick-started his title challenge with back-to-back wins.
The first came in South Africa on his team-mate Jody Scheckter's home turf. Starting in P3, he made a stunning start to take the lead before the race was stopped two laps later due to heavy rain.
At the restart, he again got away well and built a gap to the rest of the field. However, he had opted to use wet tyres while others, including the other Ferrari, put on slicks.
He was forced to pit after a few laps as the track started to dry and the gap to the chasing pack narrowed.
He rejoined in P2, behind Scheckter, and with excellent pace, chased him down. Ultimately, victory was handed to him when the South African had to pit for new tyres after wearing out his old set trying to stay ahead.
Villeneuve then took the lead in the standings at the next race in Long Beach with a far more straightforward victory.
He was dominant all weekend, taking pole position, fastest lap and leading for the entire race. At that point, he was the firm favourite to win the World Championship.
That quickly changed, though, as he went the next three rounds without scoring any points while Scheckter won two of them. In France, though, he returned to the podium in perhaps the most memorable race of his career as he prevailed in one of the sport's greatest battles.
Made all the better, of course, by the majestic commentary of Murray Walker.
Running in P2 with five laps to go, he had the Renault of Rene Arnoux bearing down on him and, with better pace and a slipstream, the Frenchman soon passed him. However, the battle was far from over.
With two laps left, Villeneuve took back P2 with an incredible dive down the inside. A lap later, Arnoux did the exact same thing and they fought side by side, bashing wheels until the chequered flag, with Villeneuve crossing the line 0.024s ahead of the Renault.
"I tell you, that was really fun!" he said afterwards.
"I thought for sure we were going to get on our heads, you know, because when you start interlocking wheels it's very easy for one car to climb over another."
That result put him back into contention for the title as he trailed his team-mate by just four points, and it looked set to get even smaller three races later in the Netherlands.
Starting in P6, Villeneuve got away excellently to move up to P2 and, on lap 11, took the lead from Alan Jones. He dropped back down behind the Australian on lap 47 after spinning, but still looked set to pick up a hugely important six points. And then disaster struck.
A slow puncture caused his left rear tyre to burst and soon come off the car altogether, sending him spinning.
Remarkably, he managed to make it back to the pits on three wheels, demanding his team fit a new one and send him back out, but the damage was too severe. His race was over and so too, it seemed, were his hopes of winning the title.
At Monza, though, he had the chance to reignite them as he ran close behind his team-mate in P2 and was quicker than him. However, he sportingly decided to obey team orders and hold station, handing Scheckter the World Championship.
On the final race weekend of the season, Villeneuve reminded the world that, while he may not have won the title that year, he was more than capable of doing so.
First, he put in a mesmerising lap during a torrentially wet practice session, said to be around 10 seconds quicker than any other driver, before cruising to victory on race day.
"I scared myself rigid that day," Scheckter said of the practice lap.
"I thought I had to be quickest. Then I saw Gilles' time and…I still don't really understand how it was possible."
The win ensured Villeneuve finished the season in P2 in the standings, just four points off his team-mate. Without the puncture in Holland, the title surely would have been his.
Today we remember the late, great Gilles Villeneuve, who died on this day in 1982

The memory of one of #F1's most gifted racers still lives on

Including his last – and perhaps finest – victory, at the 1981 #SpanishGP pic.twitter.com/1cwttdoLQE

— Formula 1 (@F1) May 8, 2018
He was sadly never given a car good enough to fight for titles again before his life was tragically taken at the 1982 Belgian Grand Prix.
Even with poor machinery though, he continued to dazzle in his final years with the highlights being back-to-back wins in Monaco and Spain in 1981.
Who is the best driver never to become a World Champion is a hotly-debated question and one to which there is no definitive answer. What is certain though is that Villeneuve right is up there, and one of the most widely talented drivers the sport has ever seen.
Everything about him was perhaps put best at his funeral by Scheckter, the man who beat him to the title in 1979.
"I will miss Gilles for two reasons," he said.
"First, he was the most genuine man I have ever known. Second, he was the fastest driver in the history of motor racing.
"But he has not gone. The memory of what he has done, what he achieved, will always be there."
Finley Crebolder
You can find the other instalments of our Nearly Men series below:
Follow us on Twitter @Planet_F1 and like our Facebook page.