With Father's Day around the corner, celebrate the father figures in your life with these Formula 1® gifts.
Father's Day, on 16th June, is the perfect excuse to treat father figures to some F1 goodies. But if you're stuck for ideas, here are our F1 gift suggestions.
Signed Vettel Photograph
Ferrari fanatics and followers of the four-time world champion, Sebastian Vettel, will love one of these photographs, signed by the driver himself.
The photo was taken at the FORMULA 1 SINGAPORE AIRLINES SINGAPORE GRAND PRIX 2018 in which the German driver finished third, driving the Ferrari SF71H.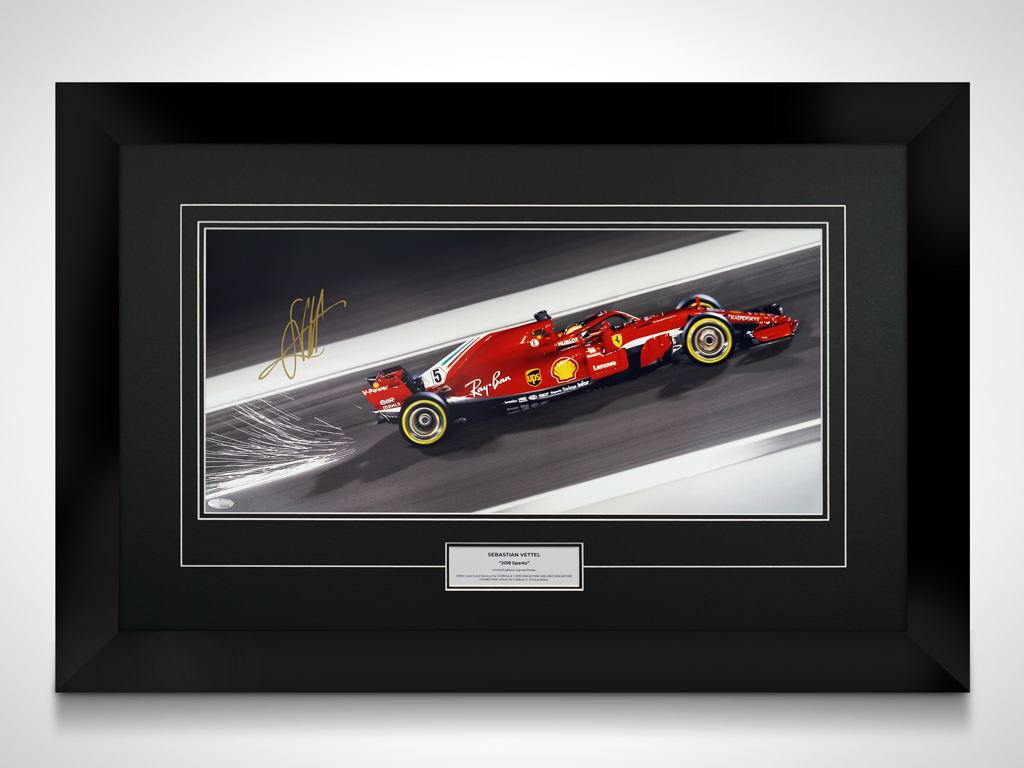 The 2018 FIA Formula One World Championship™ season was a challenging one for the German driver as he battled it out with Mercedes-AMG Petronas Motorsport driver Lewis Hamilton in the hunt of a fifth world championship title. Vettel finished the season second overall in the Driver Standings.
Measuring 48cm height x 88cm length, this photo, one of only 50 worldwide, is the ideal gift for Father's Day.
Mini Helmet Collection
During Formula 1® races, one thing that makes the drivers more recognisable as they whiz past, is their helmets, and avid F1 fans will love seeing the new designs each season. So, this Father's Day why not gift someone one of our mini helmets, which are the ideal size for showcasing on shelves and desks.
Within our collection you'll find an array of 1:2 scale licenced F1 helmets, from Charles Leclerc's 2019 and Lewis Hamilton's 2018, to Kimi Raikkonen's 2018 and Fernando Alonso's 2017 test helmet.
Want to add a display case to the gift? No problem, we also sell museum-grade helmet display cases, so the receiver of your gift can proudly and stylishly display the product.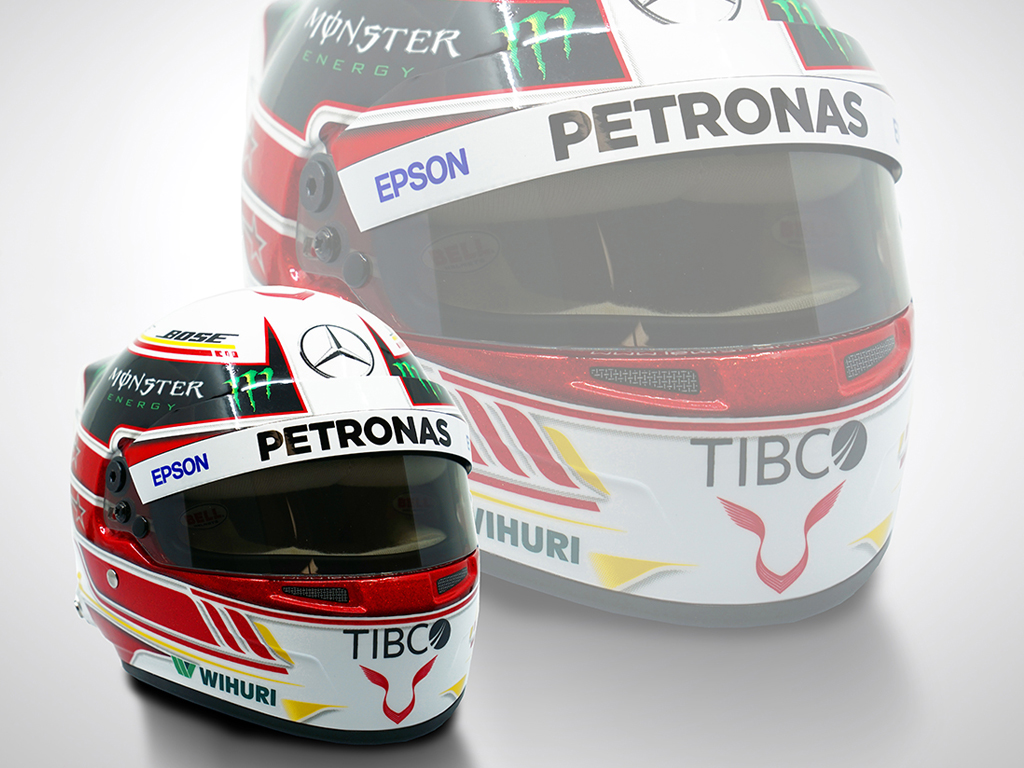 Shop our mini helmet collection
Amalgam Mini Collection
Got a favourite F1 car or driver? Get your hands on one of our Amalgam scale model cars, the perfect gift for doting fans who truly appreciate car designs. Intricately hand-crafted using CAD data supplied by the F1 teams, these models are fantastic centrepieces.
The products are created in association with original F1 engineers to provide replica interiors and exteriors and come beautifully packaged making your gifting experience even better.
In our collection, you'll find models such as Sebastian Vettel's and Charles Leclerc's Ferrari 2019 SF90s, and Lewis Hamilton's Mercedes AMG F1 W09 EQ Power+, among others. You'll also find Amalgam Nose Cones, ideal for mounting on the wall.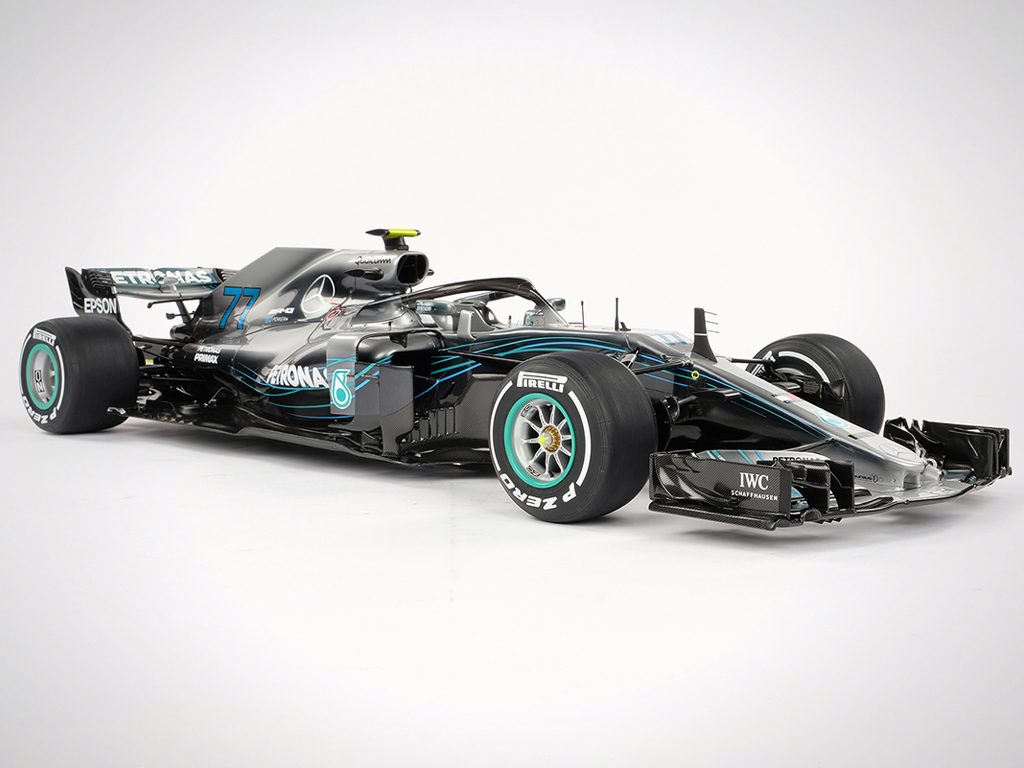 Shop our Amalgam mini collection
Mercedes Brake Disc Table
Add a piece of F1 action to your family member's living room with our hand-crafted Mercedes-AMG Petronas Motorsport table created using Lewis Hamilton's carbon brake disc.
Crafted from a piece of solid oak, the table-top has been shaped to perfectly fit the carbon brake disc. Polished with refined Danish oil and inset with the official Mercedes-AMG Petronas Motorsport plaque, the oak table top is fitted with a toughened glass to protect the original racing heritage.
Acting as a sophisticated drinks table, this re-engineered product will certainly have everyone talking at your next family gathering.
Admire our Mercedes Brake Disc Table
Lewis Hamilton Bodywork in Acrylic
Treat someone special to a piece of bodywork from Lewis Hamilton's Mercedes-AMG Petronas Motorsport car, showcased in acrylic – the ideal gift for Mercedes and Hamilton fans.
Each piece of bodywork has been hand-carved from Hamilton's race-used MGP-W06 side pod, the car which was raced in the 2015 FIA Formula One World Championship™, a winning season for both team and driver.
Looking front on, you can admire the Mercedes-AMG Petronas Motorsport livery shine, and from the back you'll see the intricate honeycomb structure of the carbon fibre. The team's logo, Lewis Hamilton's signature and a description of the embedded part are all printed within the acrylic itself.
More about the Lewis Hamilton bodywork
F1 Gear Ratio Clock
Tell time in style with our F1 Gear Ratio Clock featuring a genuine race-used F1 gear ratio. Gear ratios are placed under immense stress and are regularly retired from use. The parts play a crucial role in the F1 car set-up and can be adjusted to suit each track and determine acceleration and speed.
This gift has been mirror-polished, so wherever your father or gift-receiver chooses to place it, it will shine. The clock is a unique, contemporary timepiece, and on further examination you'll see the unique part identification number from its Formula 1® history.
This subtle gift is both practical and fun and adds a touch of motorsport to the house without taking up too much room.
If you want to explore our gift range further, you can discover all sorts of fantastic F1 memorabilia on our online store.